I enjoyed visiting must-see spots on a summer day on the Enoden, which stops at every station. For just 800 yen (400 yen for children), I got a convenient 1-day ticket "Noriori-kun", which allows unlimited rides on the Enoden for a day, and set off. Beautiful scenery awaits at the goal.
Enjoy until the end!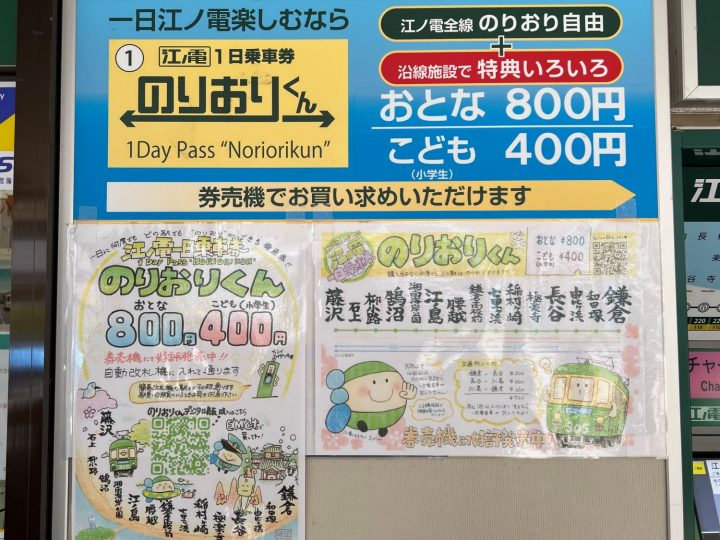 *All prices shown in this article include tax.
《Here is the route for this casual trip (Enoden and walking only)》
Kamakura Station (Great Buddha grilled at Komachi Street) → Hase Station (Kamakura Great Buddha Kotokuin, Hasedera, lunch at a cafe) → Inamuragasaki Station (Inamuragasaki Park) Shichirigahama Station (pass while enjoying the scenery) → Koshigoe Station ( Koshigoe Fishing Port) → Shonan Kaigan Park Station (Goodman Coffee) → Enoshima Station (Enoshima Shrine, Sea Candle, relax while looking at the sea) → Fujisawa Station
First, [Kamakura Station] Purchase the Enoden 1-day ticket "Noriorikun" at the ticket machine at the west exit!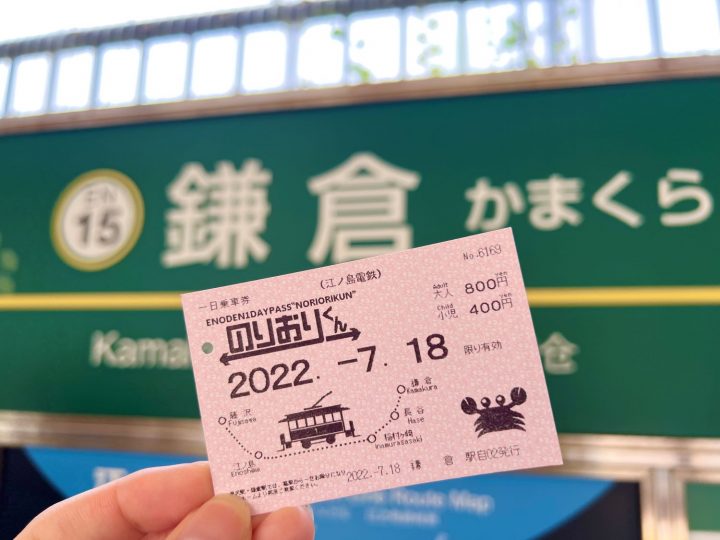 * "Noriori-kun" is on sale at all Enoden stations. Also available online. It also includes special facilities. Please check the Enoden website .
*Refunds cannot be made after the trip has started.
Before getting on the Enoden, I went to the east exit and strolled through Komachi Street, which is crowded with tourists. There are many souvenir shops, food shops, etc., and Komachi Street is fun just to take a walk. This time, since it was "Kamakura", I aimed for "Great Buddha-sama-yaki" first.
After walking for about 10 minutes on Komachi Street, you will see a Japanese confectionery and sweets shop with a blue curtain on your right, "Kamakura Tomoya". They also sell shaved ice and ice cream, and it was a sunny day, so it was crowded. Very fast service, I ordered in no time, and got Daibutsu-sama-yaki and warabi-mochi brown sugar soft-serve ice cream.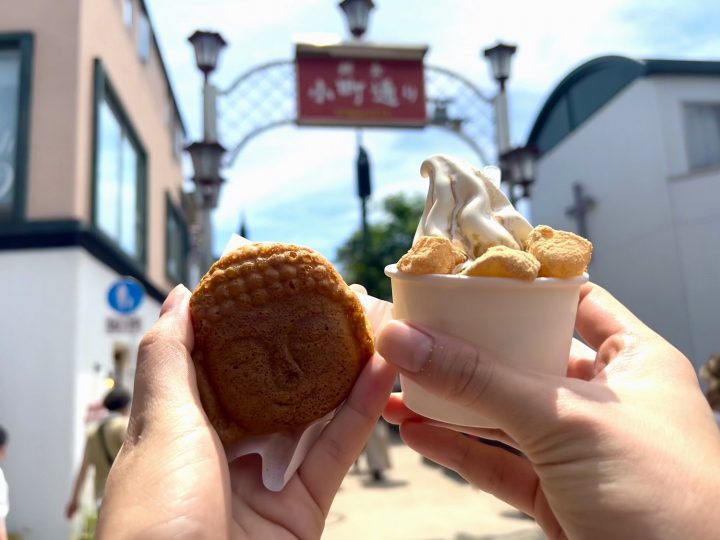 There are six flavors of Daibutsu-sama-yaki. It is said to lead to good luck, and health luck, popularity luck, money luck, beauty luck, work luck, and love luck will improve. This time, I bought a thick cut bacon cheese to improve my work luck. I received it in hopes that my work luck would improve!
《Kamakura Tomoya》
[Business hours] 10:30 to 18:00 (may close early due to self-restraint business)
[Closed] Open all year round May be closed due to heavy rain, typhoons, etc.
[Address] 1-6-8 Yukinoshita, Kamakura City, Kanagawa Prefecture
[TEL] 0467252204
[Access] About 10 minutes on foot from Enoden/JR Yokosuka Line "Kamakura Station"
[Menu] Purchased this time: Daibutsu-sama-yaki (thick sliced bacon cheese flavor) ¥250
Warabi mochi soft serve ¥450
[Official Facebook]
Click here
Return to Kamakura Station and finally board the Enoden!
First, Hase Station.
From here, you can walk to the sightseeing spots in Kamakura.
First, go to Kamakura Daibutsu, the symbol of Kamakura!
Kotoku-in's principal image, the National Treasure bronze statue of Amida Nyorai, is very famous as the Great Buddha of Kamakura. The total height is 13.35 meters, which is big and powerful, but I was warmed by the gentle face.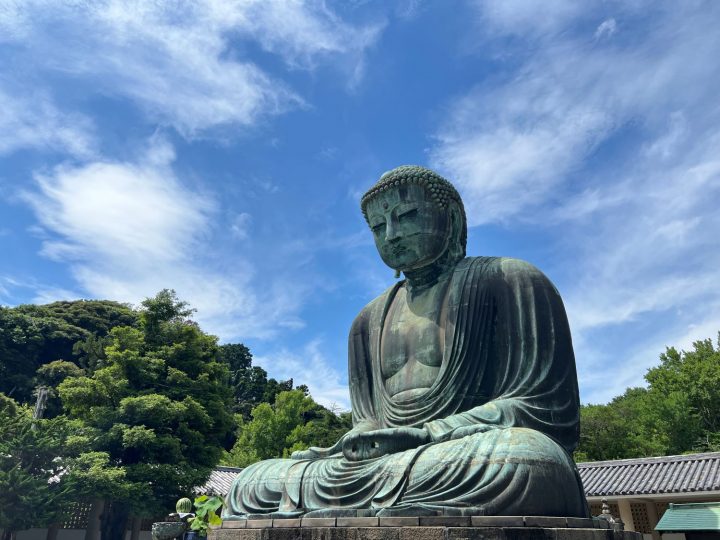 《Kamakura Great Buddha Hall Kotokuin》
[Business hours] Until September 2022: 8:00 am to 5:30 pm
*Entrance reception closes 15 minutes before closing
[Closed] None
[Address] 4-2-28 Hase, Kamakura City, Kanagawa Prefecture
[Price] General, middle and high school students 300 yen Elementary school students 150 yen
*Visiting the interior of the Great Buddha is currently suspended.
[Access] About 10 minutes on foot from Enoden "Hase Station"
[Official site]
here
Next, go to Hase-dera, a 5-minute walk from Kamakura Daibutsuden Kotoku-in.
The Japanese garden that spreads inside is very calm and beautiful. Hasedera is also known as the "Flower Temple", and it is said that many flowers can be seen throughout the year. Especially around June, many hydrangeas are in bloom, and it is a popular spot where many people visit even in the rain to see the beautiful hydrangeas.
As you stroll through the grounds, you will discover many things. First of all, good match Jizo. There are three Jizo statues in the precincts that are three bodies. It's so cute that I just want to take a picture.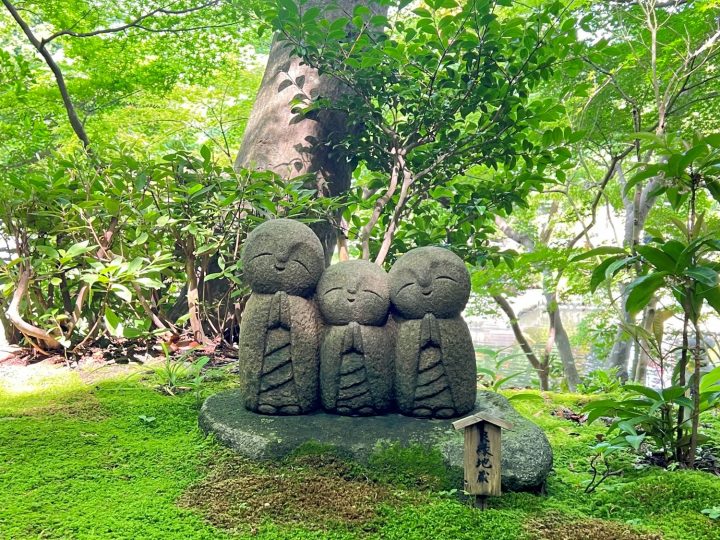 We also found a large, dark cave lined with Benzaiten and his followers, the gods called Juroku Doji.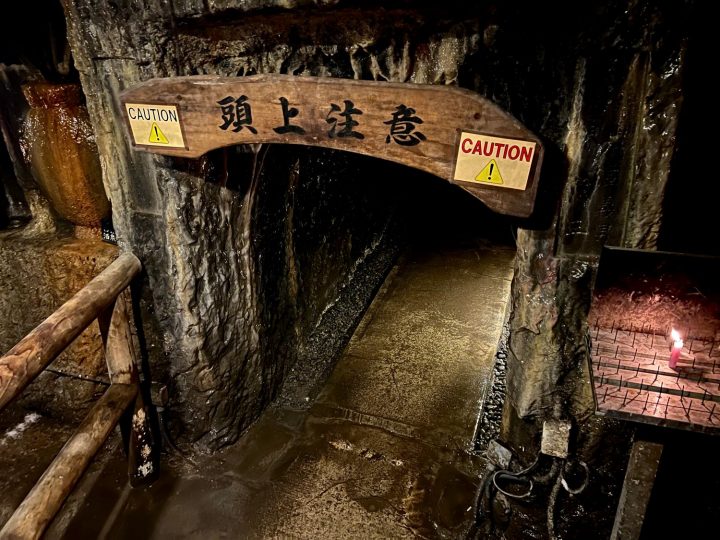 From the observatory, you can see the cityscape of downtown Kamakura, Yuigahama Beach, and Zaimokuza Beach.
《Kamakura Hasedera》
[Opening hours] <Summer time March-September> 8:00-17:00 (mine closes at 17:30), <Winter time October-February> 8:00-16:30 (mine closes at 17:00)
[Admission fee] 400 yen for adults, 200 yen for elementary school students, 200 yen for those who bring Kamakura City Fukuju Techo
[Address] 3-11-2 Hase, Kamakura City, Kanagawa Prefecture
[TEL] 0467226300
[Access] 5-minute walk from Enoden "Hase Station"
[Official site]
here
I'm hungry, so it's lunch time!
A cafe in front of the sea, "THE ORGANIC & HEMP STYLE CAFE & BAR Asshin". A restaurant that specializes in dishes made with hemp seeds. The sea spreads out from the large windows and is very comfortable.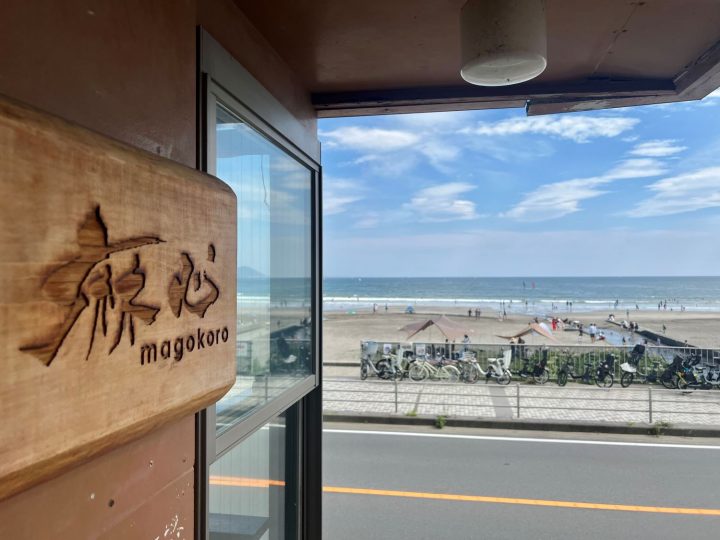 This time, we had a very healthy and delicious meal, including the fish of the day, fried salmon, hemp rice, whitebait and hemp seeds. It also comes with a number of side dishes, which is a great deal, and I was surprised at how delicious they all were!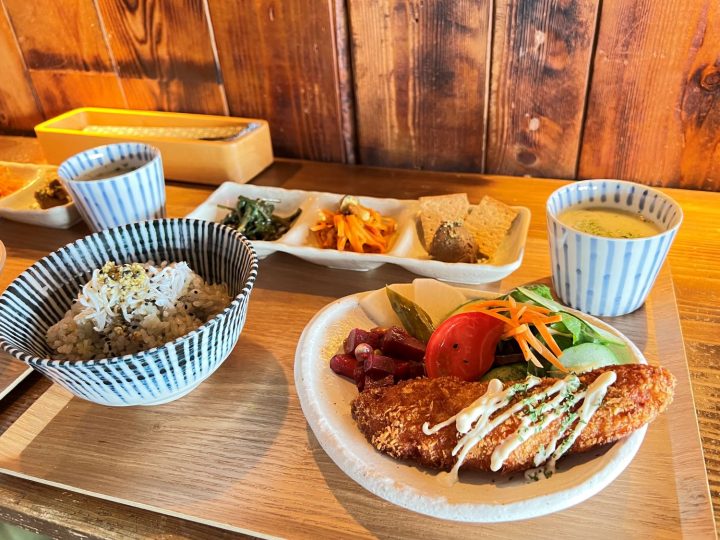 It was really delicious. Thank you for the meal!
The journey continues.
《THE ORGANIC & HEMP STYLE CAFE & BAR Asshin》
[business hours] 11:30-20:00
[regular holiday] Monday
[Address] Kanagawa Prefecture Kamakura City Hase 2-8-11 2F
[TEL] 0467395639
[Access] 5-minute walk from Enoden "Hase Station"
[Official site]
here
With my stomach full, I boarded the Enoden again and headed to Inamuragasaki Station.
Walk along the coast toward Inagasaki Park, which is about 7 minutes from the station.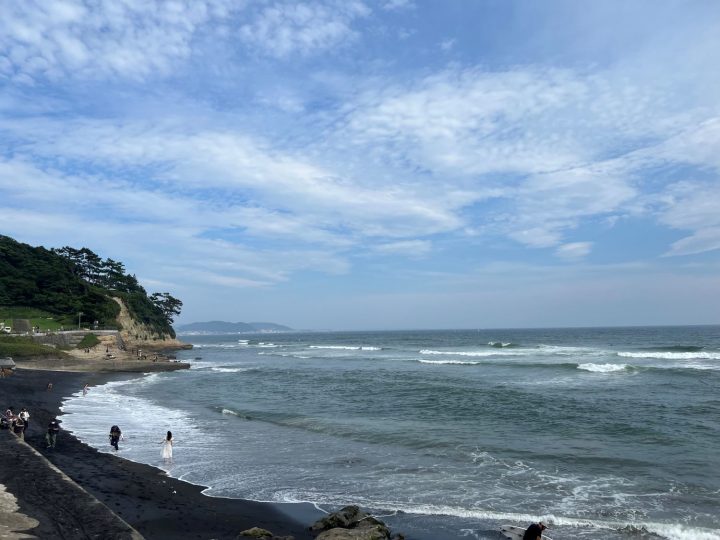 The view from the park is wonderful, and on clear days you can even see Mt. Fuji.
There is a well-maintained lawn, so it is recommended for taking a leisurely break.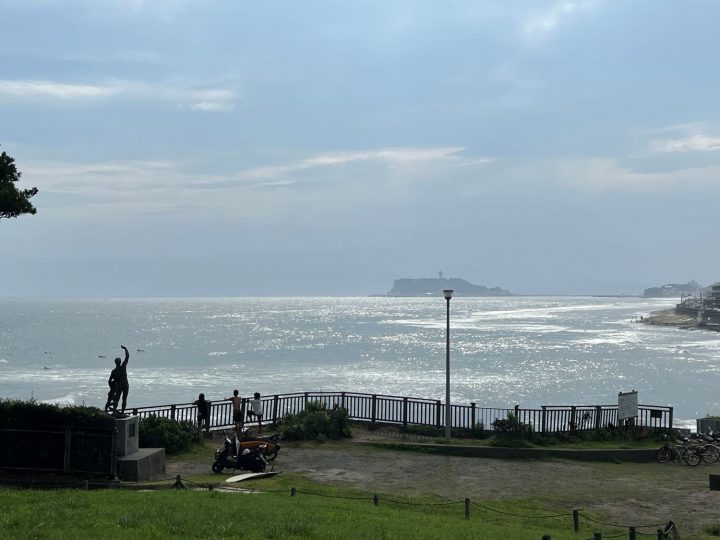 Ride the Enoden again. Head to Koshigoe Station.
The view from the window of the Enoden when passing near Shichirigahama Station is a recommended point. Don't miss it when you get on board!
The Enoden, which runs along the coast, in residential areas, and on community roads, has a different way of enjoying it than other trains.
After enjoying the scenery, we arrived at Koshigoe Station in no time.
Extend your legs to Koshigoe fishing port.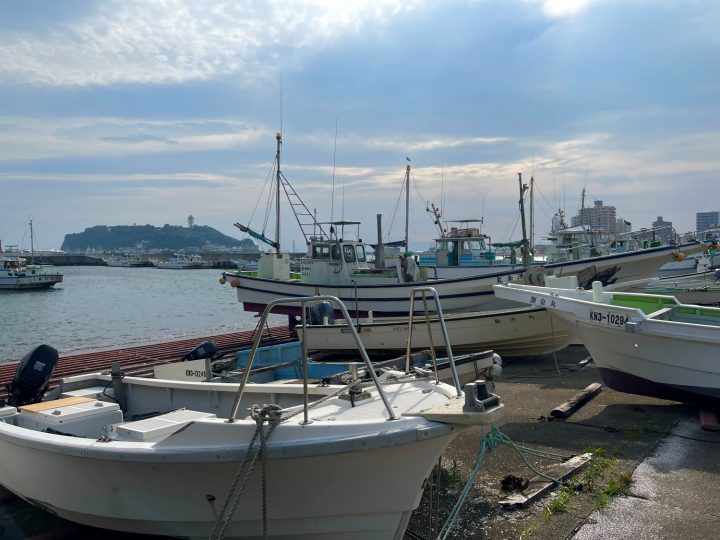 At the Koshigoe fishing port's direct sales store, you can taste local fish caught on the same day.
You can see Enoshima in the distance and it is a very calm and relaxing place.
After passing through Enoshima Station, go to Shonan Kaigan Park Station next to it.
Here, there is a recommended shop that is fashionable and delicious, and you can use the benefits of "Noriori-kun". It is a coffee stand "Goodman Coffee" 30 seconds on foot from the station.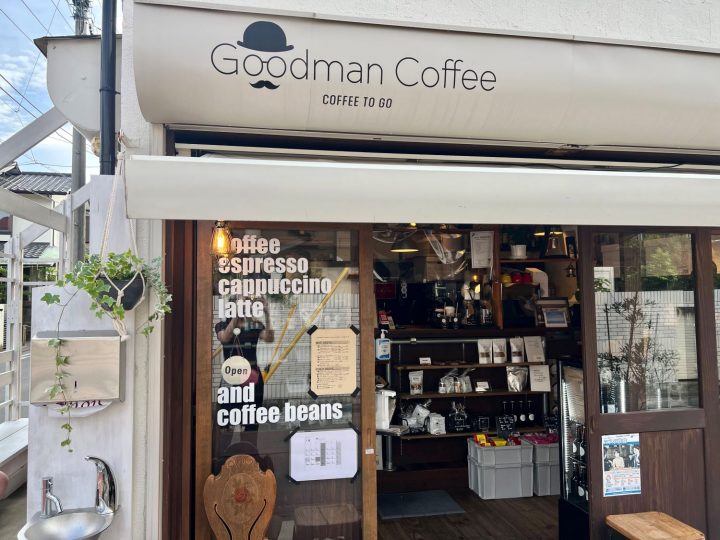 It was a very hot day with the sun shining brightly, so we needed to take frequent breaks. This shop is a member of the "Noriori-kun" special facility, so you can get 10% off when you show your ticket when ordering!
This time I ordered American hazelnut iced coffee and hot caffe latte. Even in the heat, the creamy hot latte is irresistibly delicious!
In addition to take-out, you can also purchase coffee beans that are particular about your home. The shop was very busy, enjoying coffee on the terrace and stopping by for takeout.
Very good coffee, thank you for the meal!
《Goodman Coffee》
[business hours] 10:00-19:00
[Closed] Irregular holidays
[Address] 4-10-20 Katase, Fujisawa City, Kanagawa Prefecture
[TEL] 0466539343
[Access] 30 seconds walk from Enoden "Shonan Kaigan Park Station"
[Official site]
here
Finally arrived at Fujisawa station, the last stop of "Noriori-kun". But I want to have some fun. Enoshima seen from afar. After all, I wanted to land, so I went back one station to Enoshima Station.
Get off at Enoshima Station, cross the Benten Bridge, and arrive at the island in about 20 minutes on foot.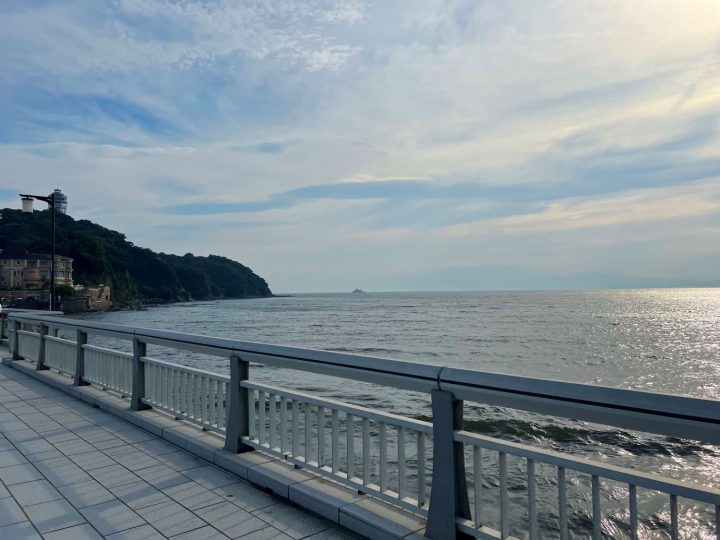 After passing through Nakamise-dori Street, walk further to the Enoshima Escar ticket office to purchase the Enoshima Observation Lighthouse Set Ticket <Enoshima Samuel Cocking Garden + Enoshima Sea Candle + Enoshima Escar> (adults 800 yen, children 400 yen) is purchased. There was Enoshima Shrine on the way to transfer Enoshima Escar three times.
There was a chinowa-kuguri at Hetsu-miya. It seems that you can purify your mind and body by going through this. There is a formal way to pass through the chinowa, and the explanation is written carefully, so there is no problem for those who do not understand.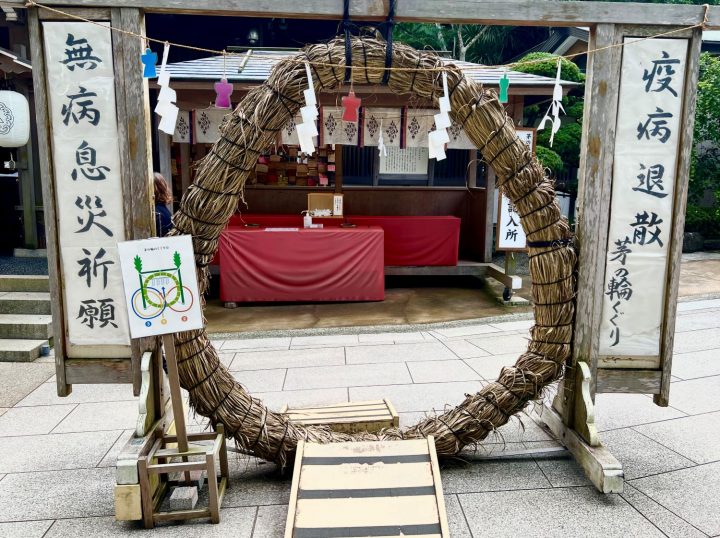 Proceeding through the beautiful garden, you will find the "Enoshima Sea Candle (observation lighthouse)" you are looking for. Almost there!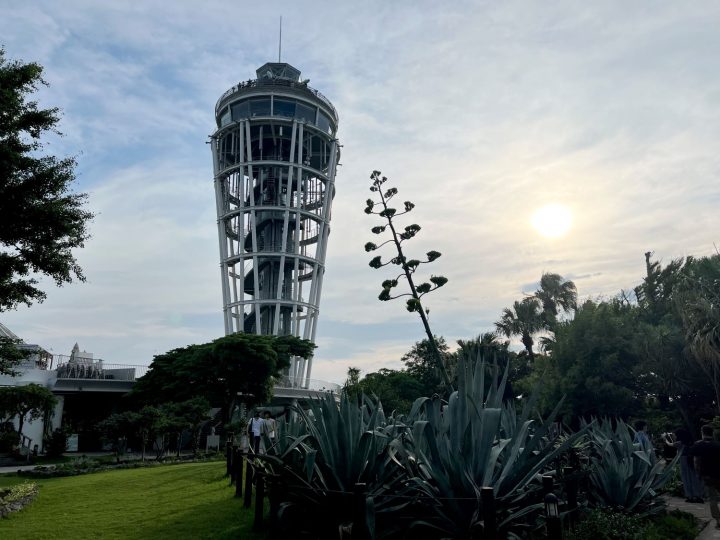 Enoshima Sea Candle can go up to the top floor by elevator. There are no glass windows on the top floor deck, so you can feel the breeze blowing from the sea of Shonan and overlook the Shonan area 360 degrees, making it the perfect place to end your trip.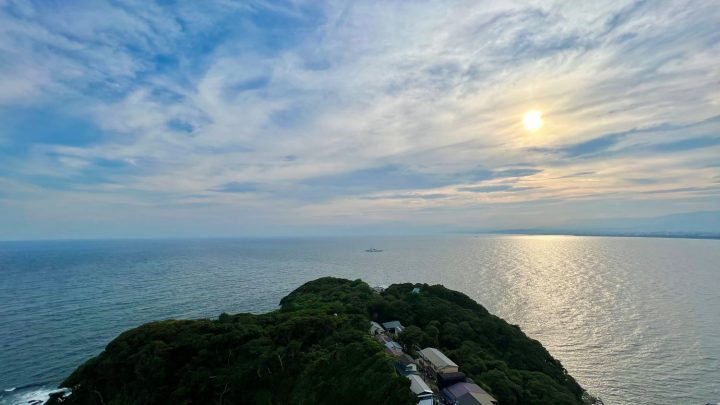 I still want to enjoy the scenery, so I decided to go down by stairs (you can also go down by elevator). And to "THE SUNSET TERRACE" in "Enoshima Sea Candle". The interior of the shop is lined with sofa seats, and it is a comfortable place where you can relax and take a break with a wonderful view. We sipped our colorful drinks while waiting for the sun to set.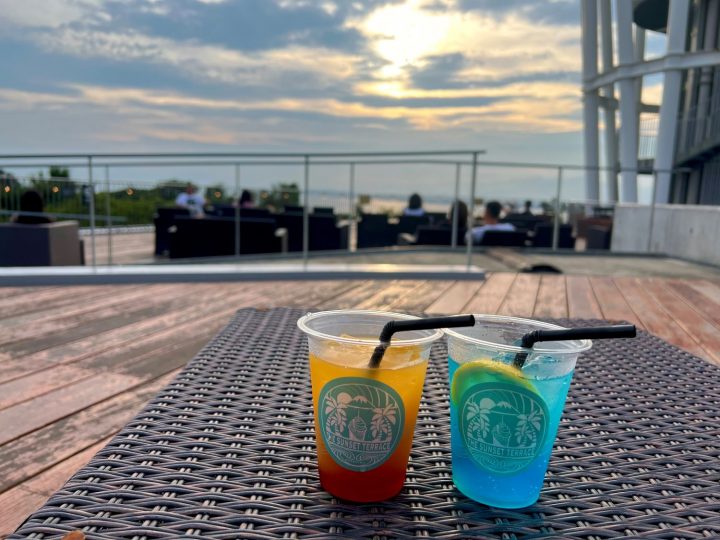 Enoshima Sea Candle also has special benefits of "Noriori-kun". Show your ticket for "Enoshima Sea Candle" (normally 500 yen for adults, 250 yen for children; 50 yen for adults, 20 yen for children), "Enoshima Escar" (normally 360 yen for adults, 180 yen for children) 140 yen discount, 70 yen discount for children).
《Enoshima Sea Candle / Enoshima Samuel Cocking Garden》
[Business hours] 9:00-20:00 (Last entry 19:30)
[Admission fee] <Enoshima Sea Candle> Adults 500 yen, Children 250 yen
<Enoshima Samuel Cocking Garden> 200 yen for adults, 100 yen for children
《Enoshima Esker》
[business hours] 8:50-19:05
[Entrance fee] Adults 360 yen, Children 180 yen
[Access] 25 minute walk from Enoden "Enoshima Station", 20 minute walk from Odakyu Enoshima Line "Katase Enoshima Station", 26 minute walk from Shonan Monorail "Shonan Enoshima Station"
*Although we are open all year round, please note that we may be closed during stormy weather to ensure the safety of our customers.