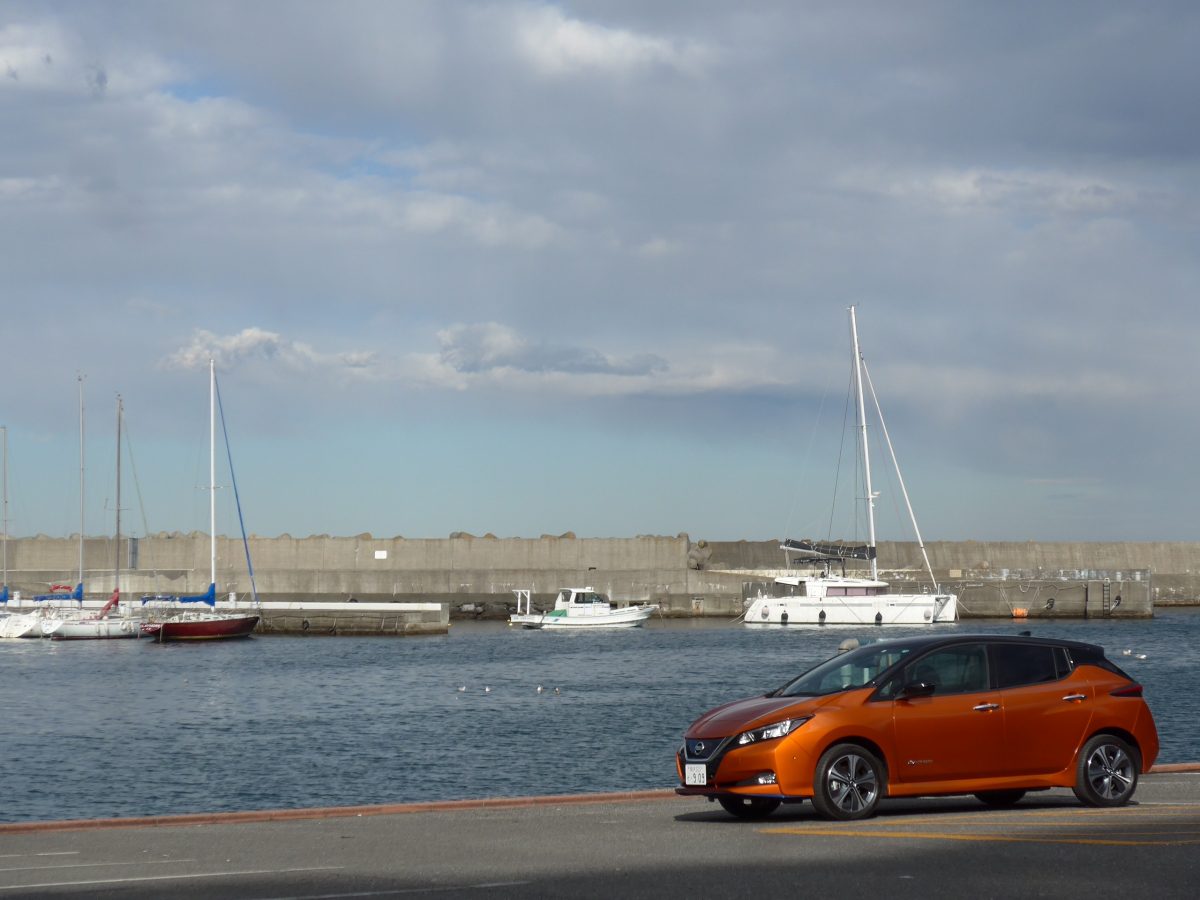 An eco-friendly trip by EV-Running on the sea and green peninsula that the artist loved!
(Please note that this page was created using Google's automatic translation service and understand that because of this, its translation may not necessarily be accurate.)
Manazuru Peninsula is a small peninsula that pops out in the southwestern part of Kanagawa prefecture. Located between the bustling towns of Odawara and Yugawara, the town that has chosen to create a town that meets its own "standards of beauty" has abundant nature and a quiet life.
I visited the scenery of the peninsula, which was loved by painters, with an environment-friendly EV.
《Click here for this wandering trip route》

09619! 4m5! 1s0x6019bbe845b9c68d% 3A0x7d8b15ec3d794927! 2z5aCA55Sw6auY5rSL55S76aSo! 3m2! 1d35.149899! 2d139.14086! 4m5! 1s0x6019bbed37a02837% 3A0x951374d9dd67ccce! 2z6I2S5LqV5Z-O5Z2A5YWs5ZyS! 3m2! 1d35.1544867! 2d139.13436339999998! 4m5! 1s0x6019bbf2636dfe5d% 3A0x5435c7f3514f7cbb! 2z56aP5rWm5ryB5rivIOOBv-OBquOBqOmjn- WgguOAgeOAkjI1OS0wMzExIOelnuWliOW3neecjOi2s-afhOS4i-mDoea5r-ays-WOn-eUuuemj-a1piDmtZwg77yR77yQ77yZ4oiS77yS! 3m2! 1d35.1506804! 2d139.13328439999998! 4m5! 1s0x6019bb927fbd248f% 3A0xff496d14ee6be611! 2z55yf6ba06aeF44CB44CSMjU5LTAyMDEg56We5aWI5bed55yM6Laz5p-E5LiL6YOh55yf6ba055S655yf6ba0! 3m2! 1d35.156808999999996! 2d139.13234! 5e0! 3m2! 1sja! 2sjp! 4v1585214316723! 5m2! 1sja! 2sjp "width =" 600 "height =" 450 "frame border =" 0 "allowfullscreen =" allowfullscreen ">
The start is the intersection in front of JR Manazuru Station. If you turn National Route 135 to the sea side and enter Prefectural Route 739, there is basically one straight road that goes around the peninsula, so you do not have to worry about getting lost.
When you go down the hill, you can see Manazuru Port.Almost there. There is also a yacht harbor next to the fish market, so you can feel a little resort.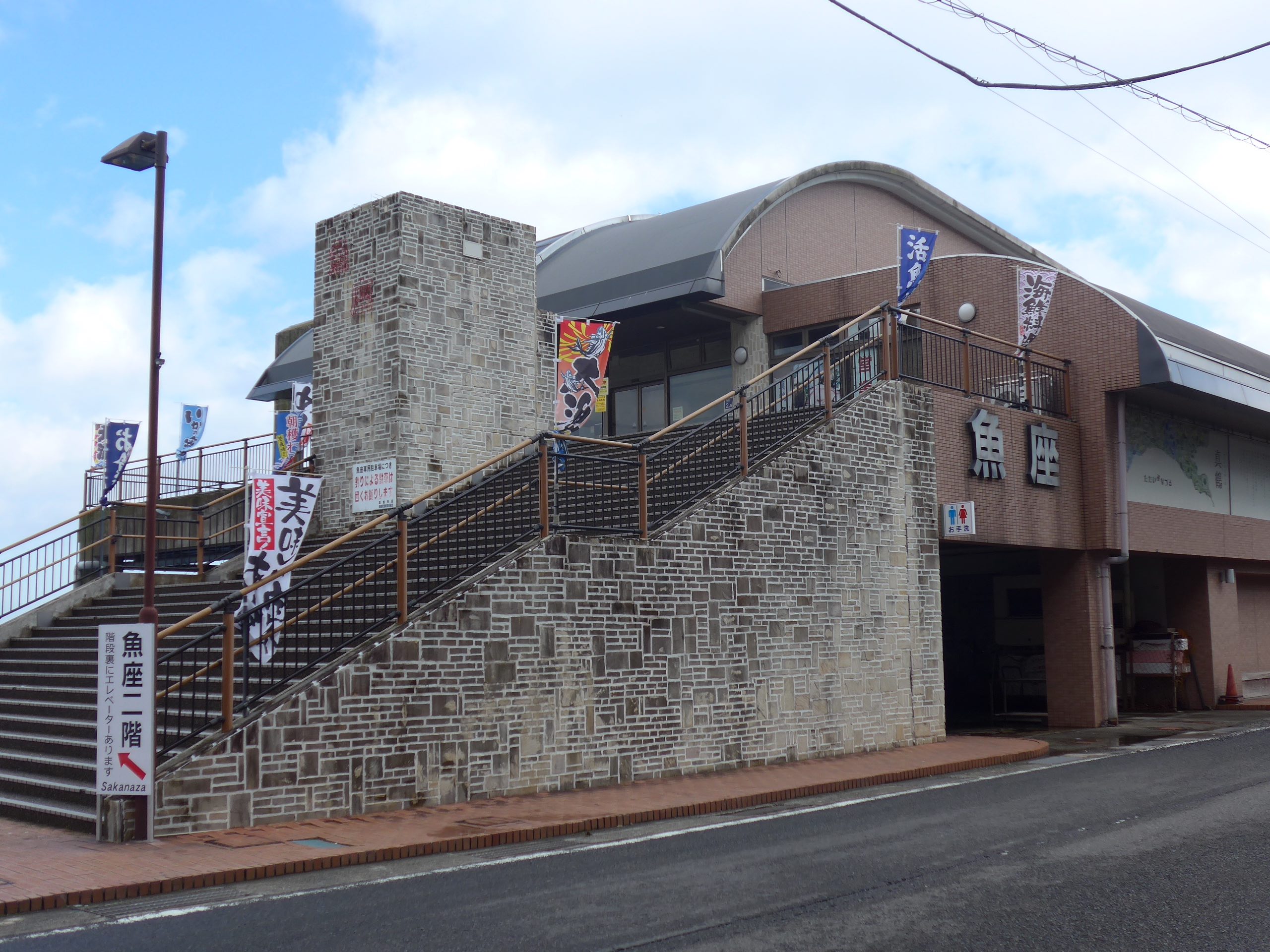 On the second floor of the fish market, there is a Japanese restaurant , Sakanaza, where you can enjoy freshly caught seafood. When the weather is nice, the terrace seats with ocean view seem to be comfortable.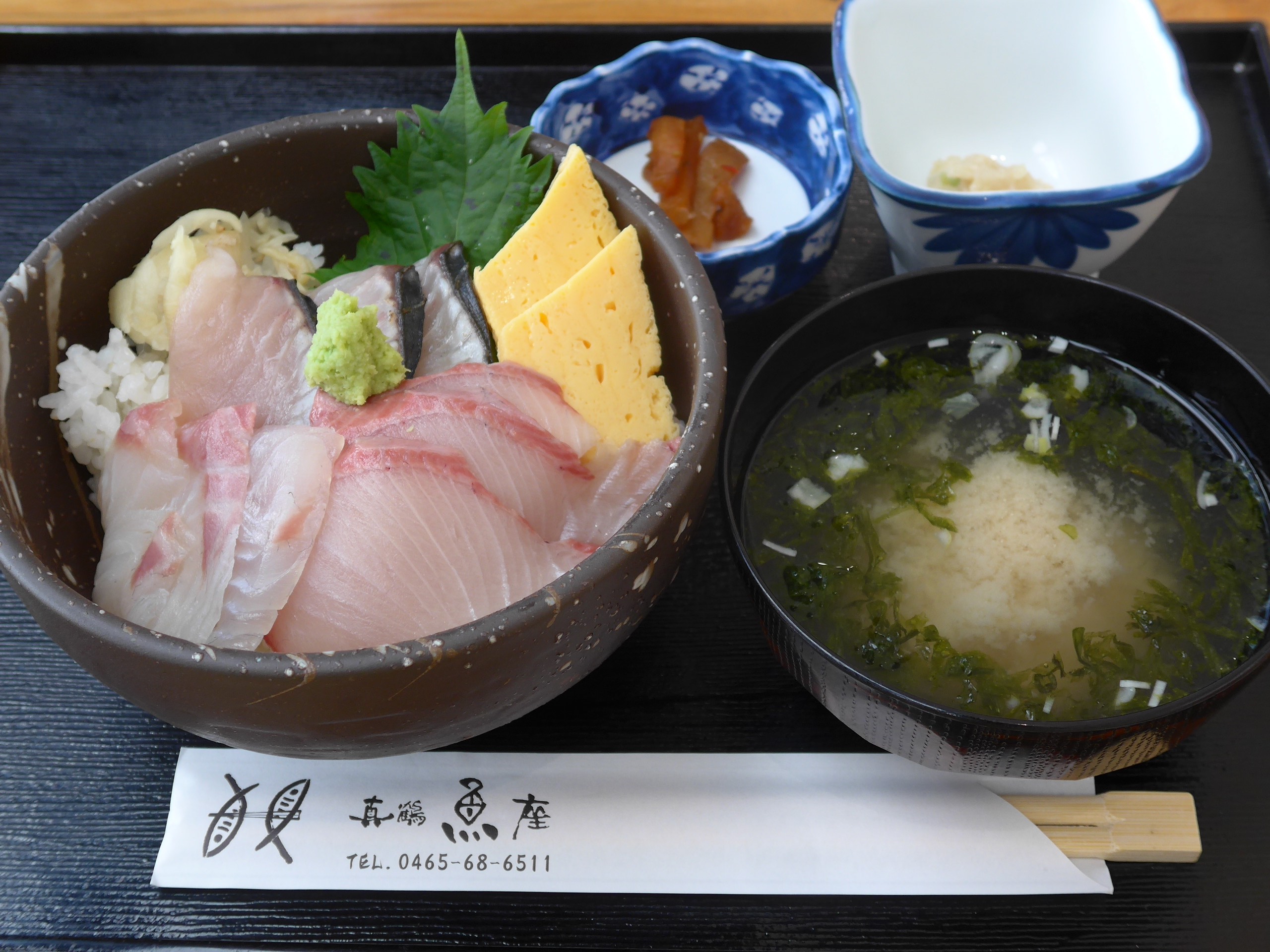 It's open from 10am, so I had a little late breakfast.
There are various set menus such as set meals, so I'm at a loss, but on this day I chose "Local fish three-kind bowl" (1,780 yen + tax). I am very satisfied!
"Pisces"
[Business Hours] 10: 00-15: 00
[Regular holiday] Irregular holiday
[Address] 1947-2 Manazuru, Manazuru-cho
[TEL] 0465-68-6511
* You can see the official website from here.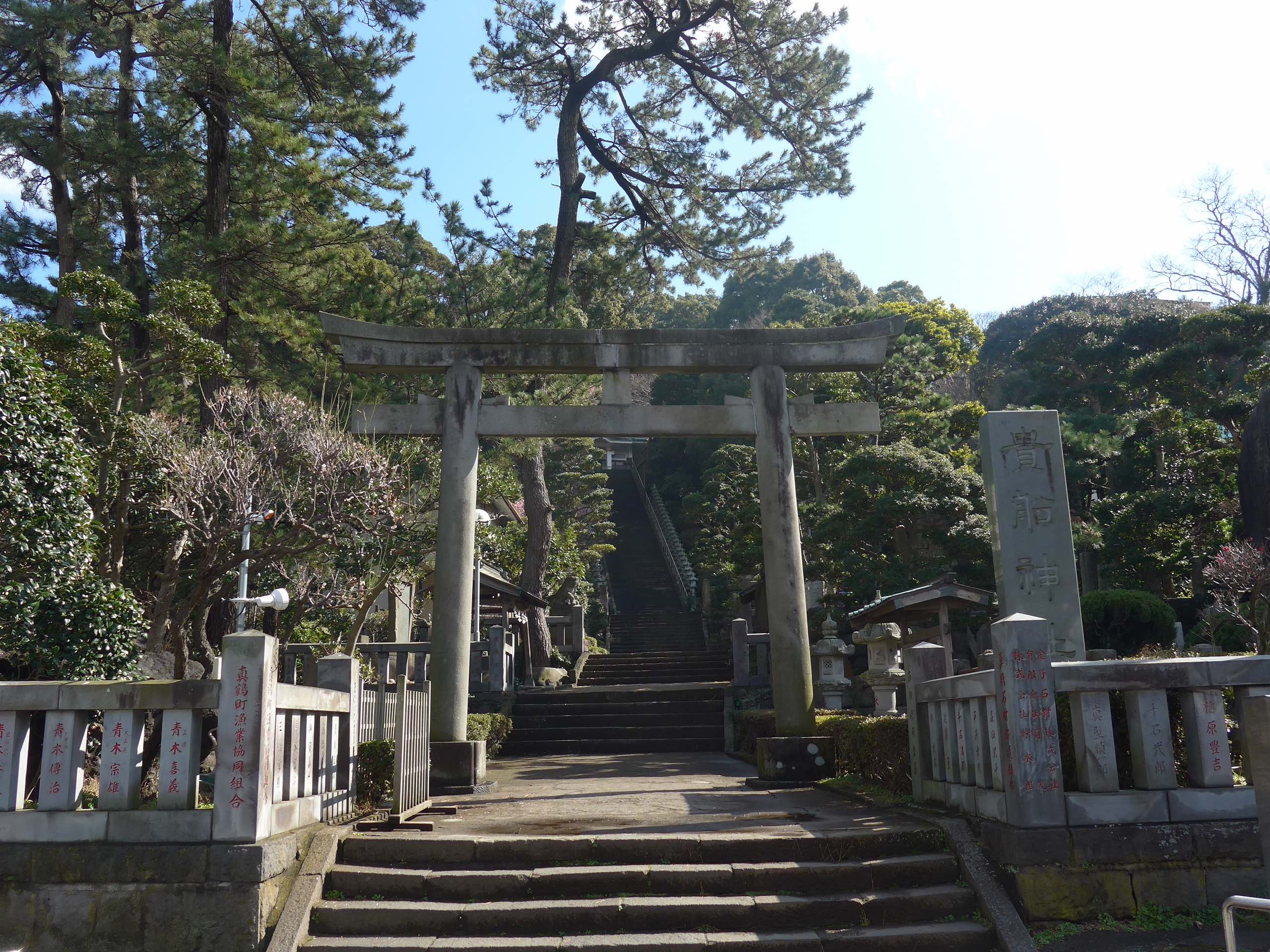 Kifune Shrine is very close to the harbor, so don't forget to say hello.
It has a long history and is said to have been built in the first year of Kanpyo (889), and enshrines Okuninushi, Kotoshironushi, and Sukuna bi kona.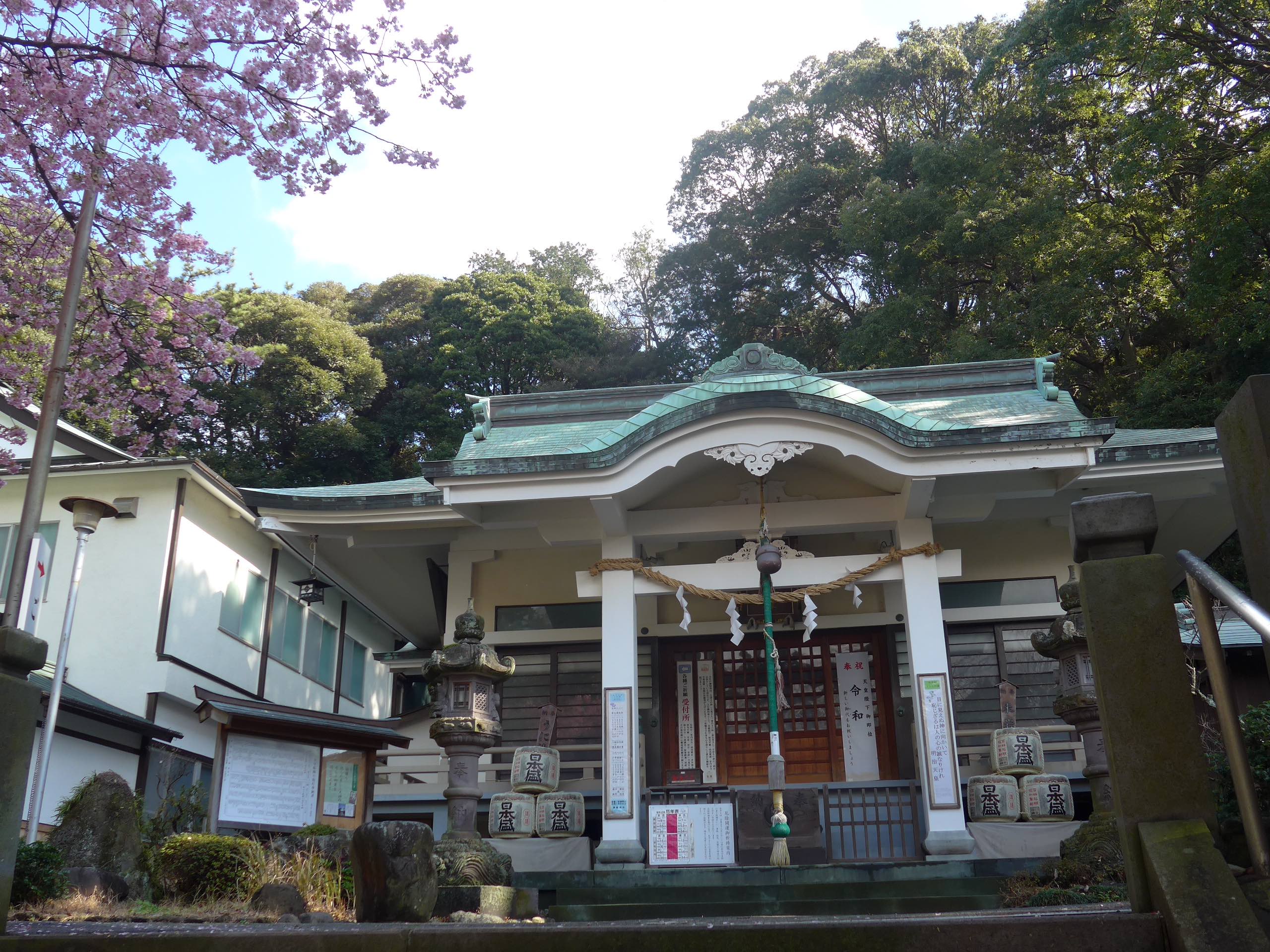 Speaking of Kibune Shrine , the magnificent Kibune Festival, which is held on July 27th and 28th every year, is famous. It is characterized by the fact that a portable shrine passes over the sea from the shrine on the mountain and goes out into the town, and it is also designated as a national important intangible folk cultural property.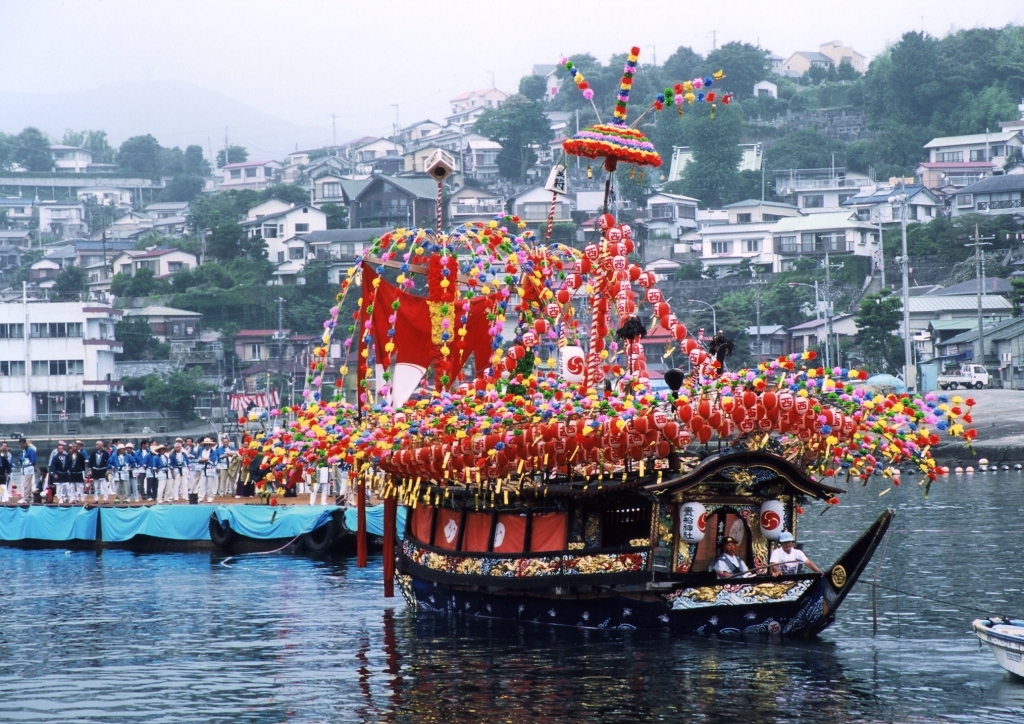 《Kifune Shrine》
[Address] 1117 Manazuru, Manazuru-cho
[TEL] 0465-68-0066
* You can see the official website from here.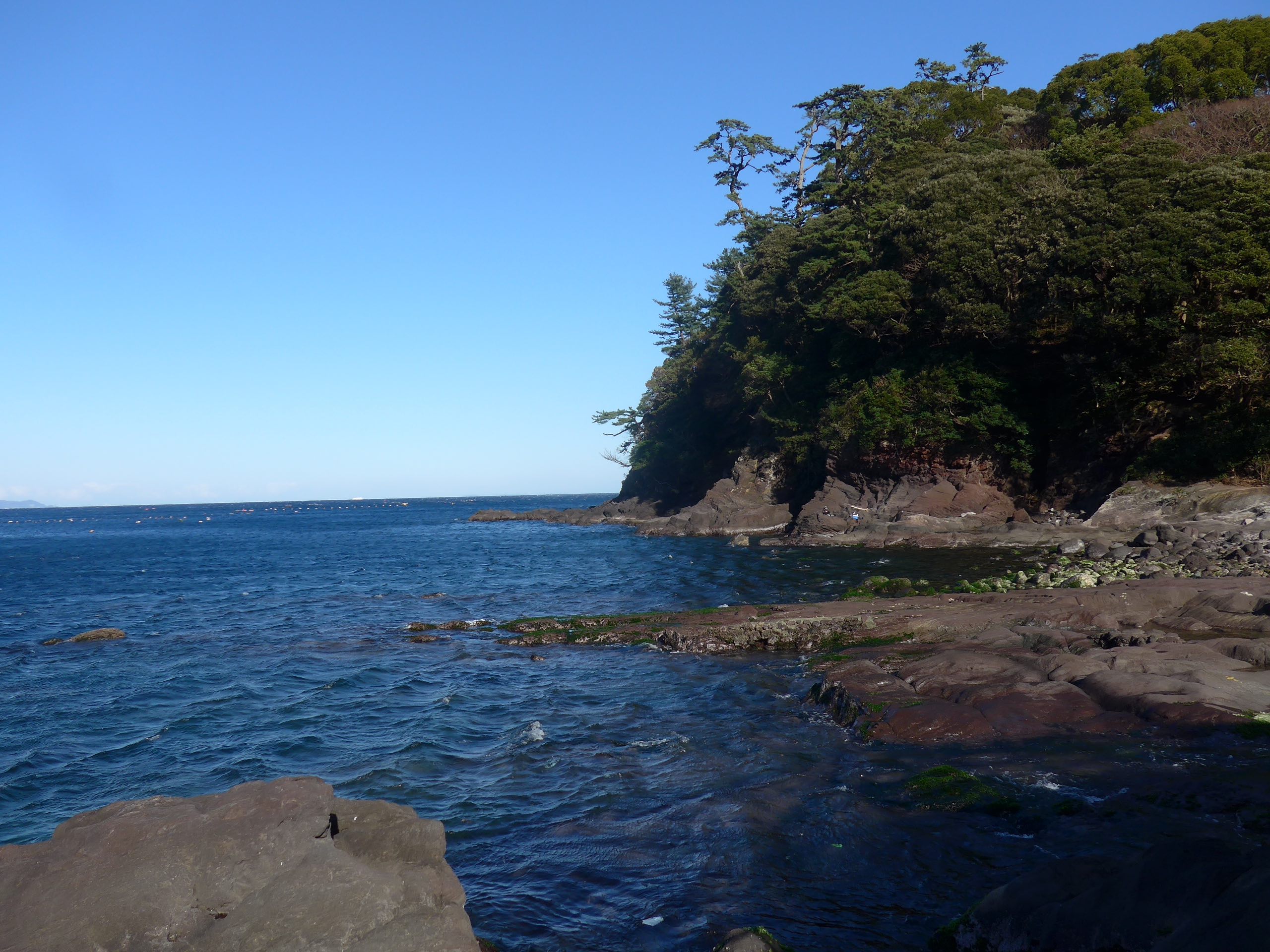 If you run along the coastline for a while, You can see the Kotogahama coast. As it is known as the birthplace of diving in Japan, the transparency of the sea is wonderful!
Parking lots and promenades are maintained, so many families with lunch boxes can be seen on holidays.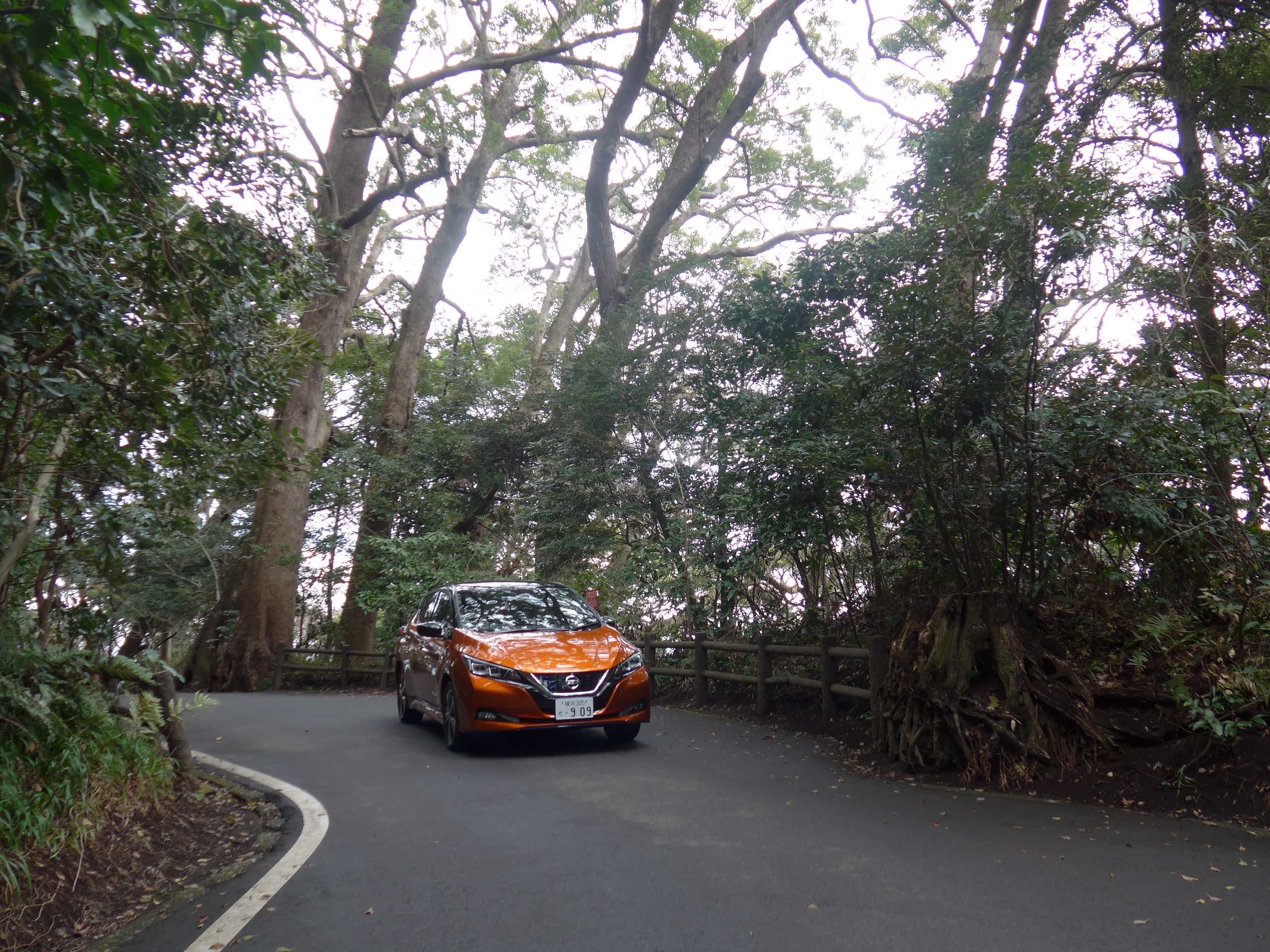 After climbing a slightly steep slope, the road continues into the forest.
Obayashi began by planting pine seedlings assigned to the Odawara domain by the shogunate when a large amount of timber was needed due to the great fire of the Meiji era in the Edo period. Since it became an imperial forest after the Meiji Restoration, access to the general public was restricted, but it became a national forest after the war and was sold to Manazuru Town in 1952.
Today, it is a primeval forest inhabited by hundreds of species of plants and wild birds, including Japanese black pine and camphor tree, which are over 30 meters high, and is carefully protected as a "protection forest with fish".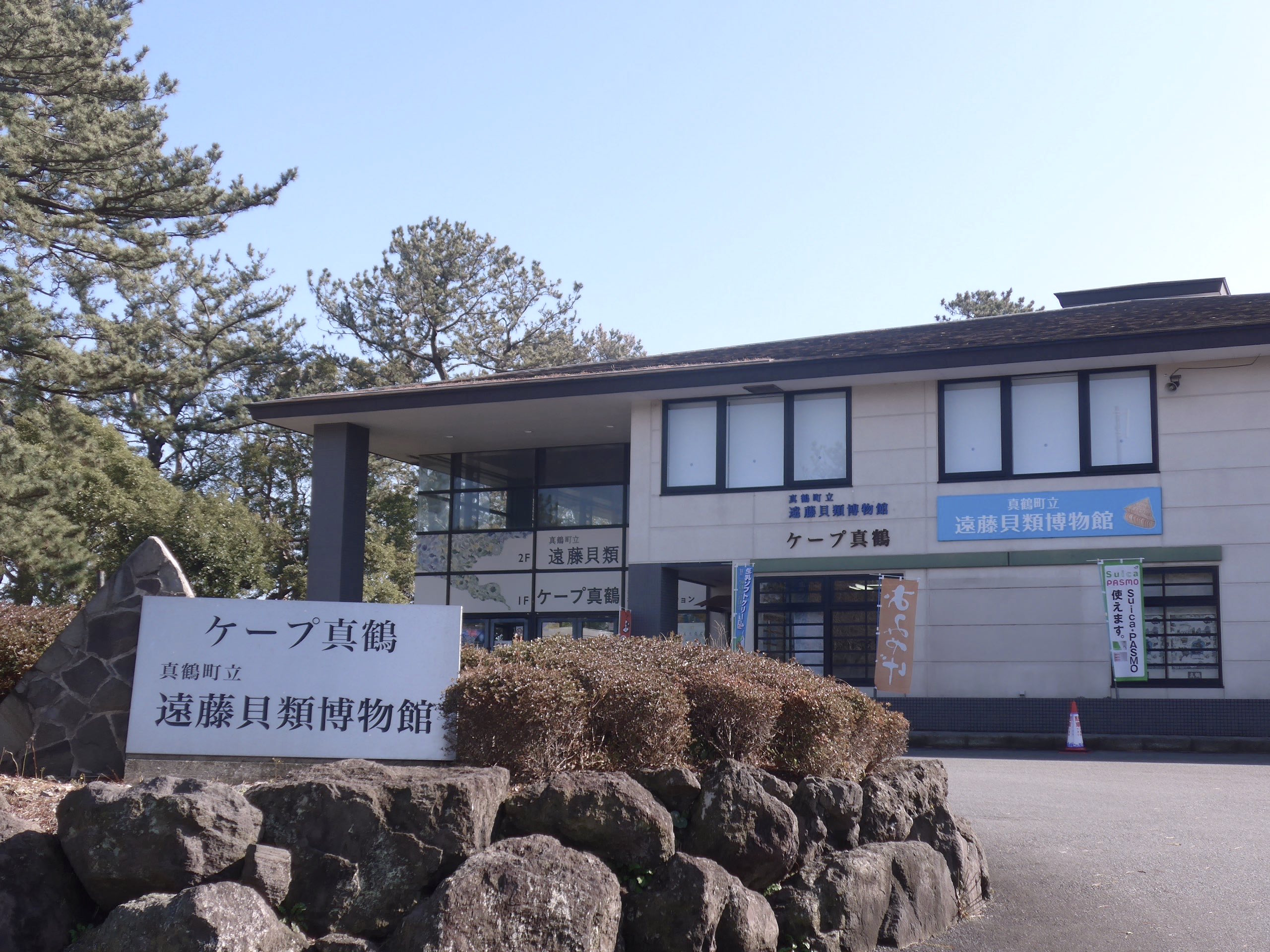 After passing through the forest, you will arrive at Cape Manazuru at the tip of the Manazuru Peninsula. The scenic spots and Mitsuishi are just around the corner. In addition to the shop, Cape Manazuru also has a coffee shop and a free break room, so let's take a break before going out.
《 Cape Manazuru 》
[Business Hours] 9: 00-16: 00 (Coffee is 10: 00-)
[Address] 1175-1 Manazuru, Manazuru-cho
[TEL] 0465-68-1112
* The official website is# 33cccc; "> You can see it from here.
* Cape Manazuru will change its business from April 1, 2020 due to the change of operator. Please check the website for details.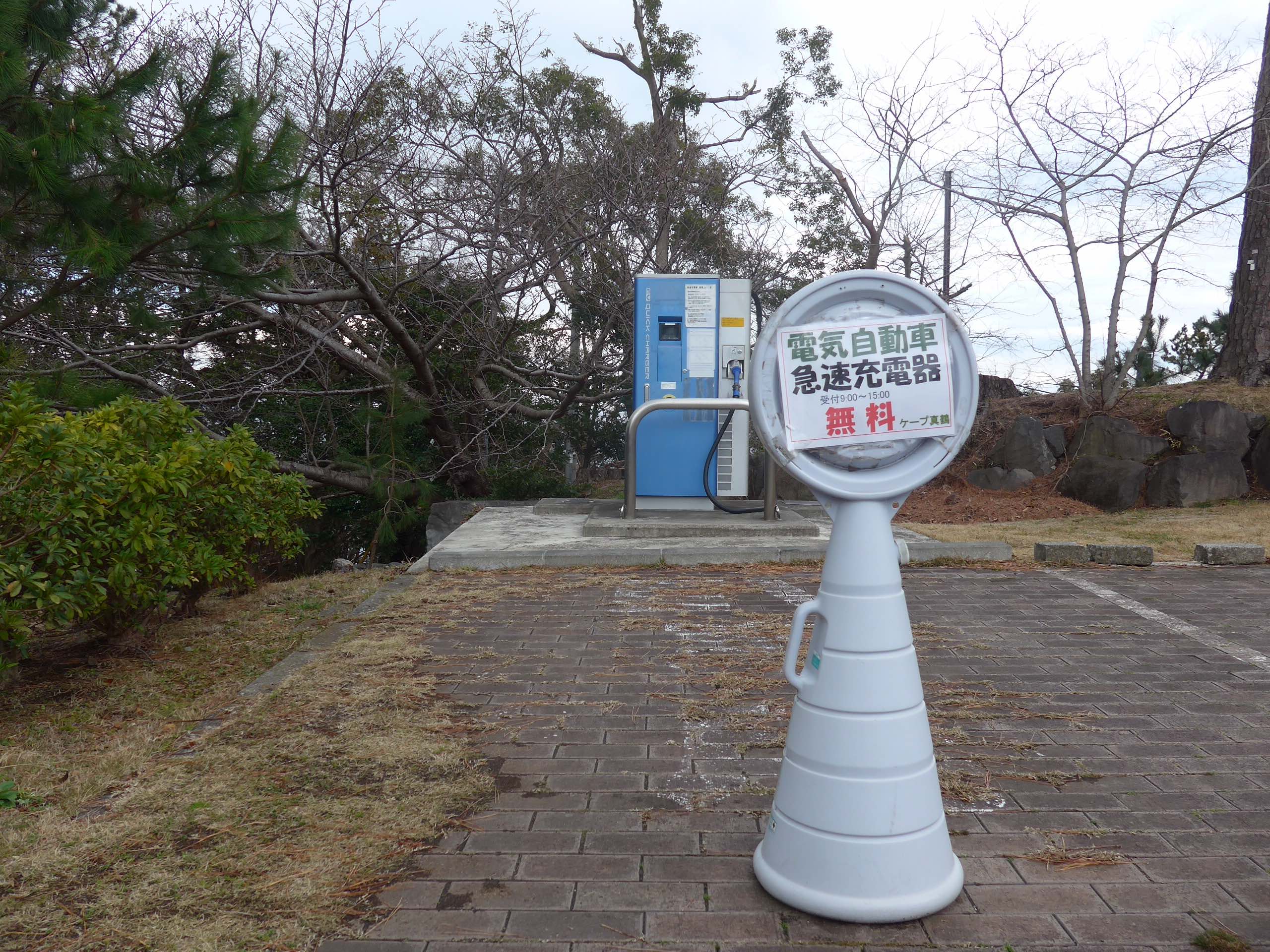 I found an EV quick charger in a corner of the rotary in front of the facility! How free!
Reception is from 9:00 to 15:00. You can use it by borrowing the key at the reception desk of Cape Manazuru. However, from Yokohama, I could make a round trip without charging, so I parked at a general parking lot on that day.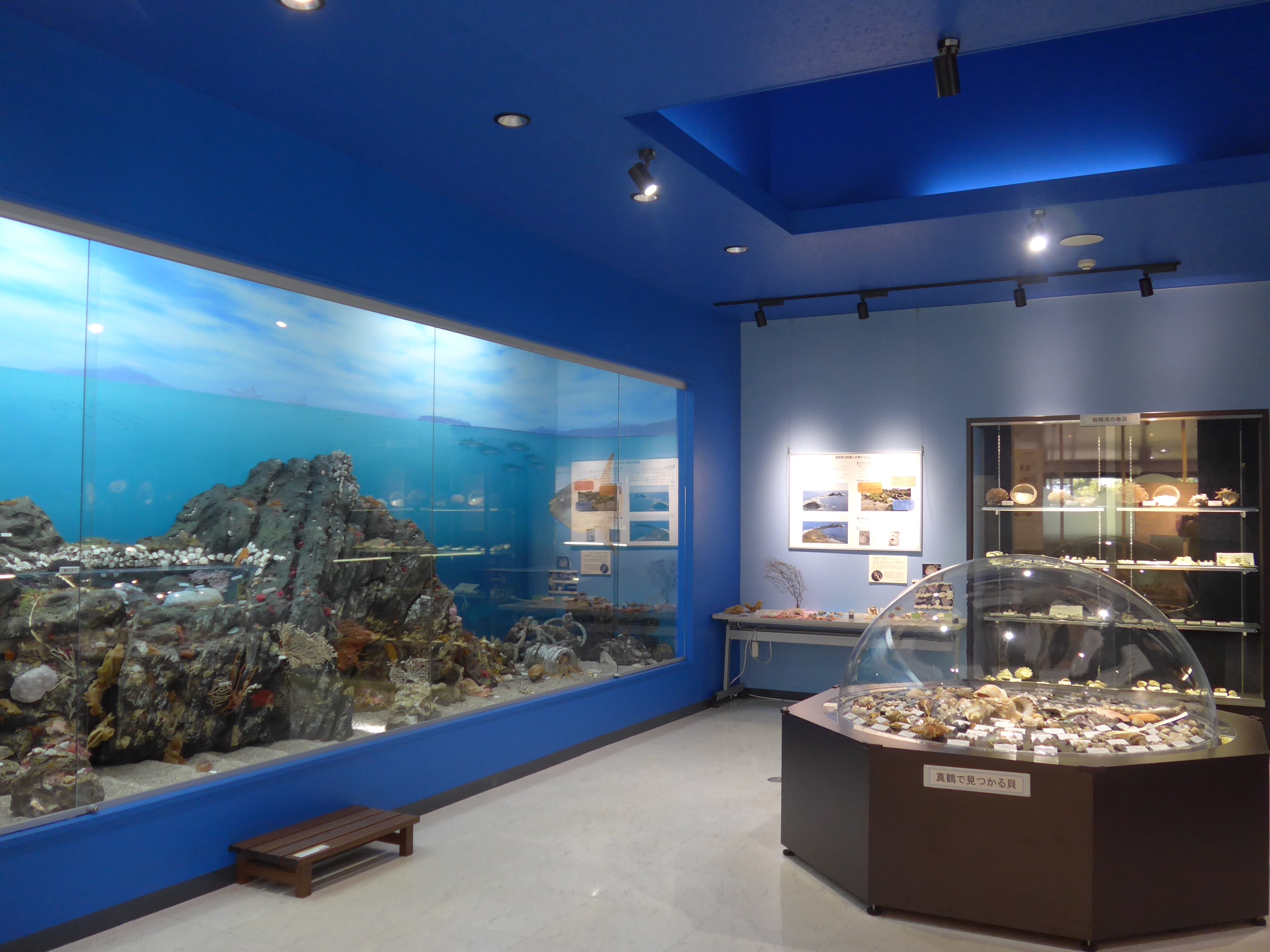 Don't miss the Endo Shell Museum on the 2nd floor of Cape Manazuru. Don't miss the collection of 4,500 specimens and 50,000 specimens collected by Haruo Endo, a shellfish researcher from Manazuru Town, over his lifetime. In addition, as a "museum of the sea," we hold various events to experience the natural charm of Manazuru Peninsula.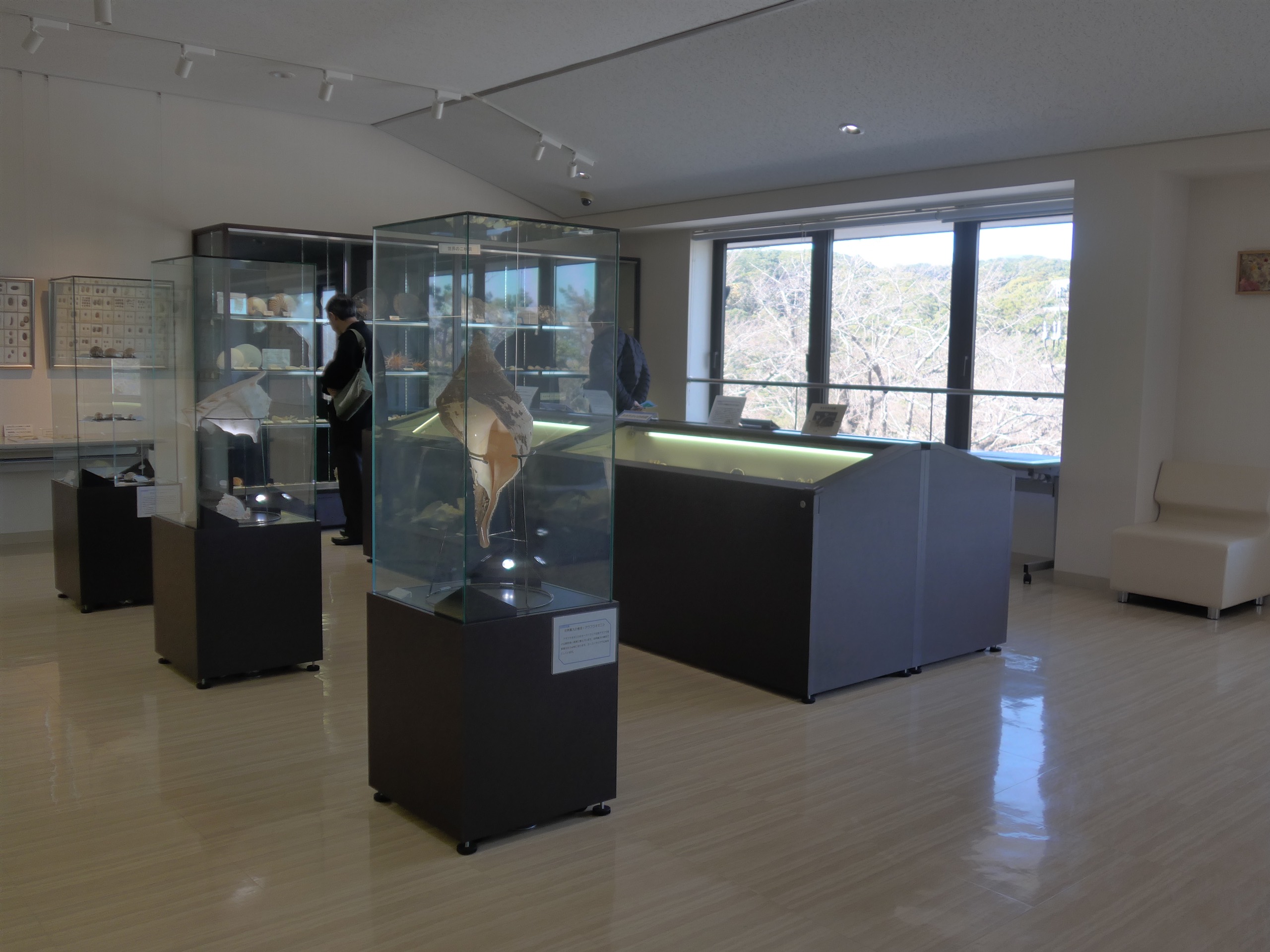 "Glittering shell craft kit" is on sale in the hall. There is an abalone shell chip inside, so if you polish it with the enclosed file and attach a strap, you will have a glittering key chain. Only one original accessory in the world will be a wonderful memory of your trip.
《 Manazuru Municipal Endo Shell Museum 》
[Opening hours] 9: 30-16: 30 (Admission is until 16:00)
[Closed] Thursday
[Admission fee] Adults: 300 yen, Elementary school students to high school students: 150 yen * Manazuru / Yugawara Townspeople: Free
[Address] 1175 Manazuru, Manazuru-cho
[TEL] 0465-68-2111
* You can see the official website from here.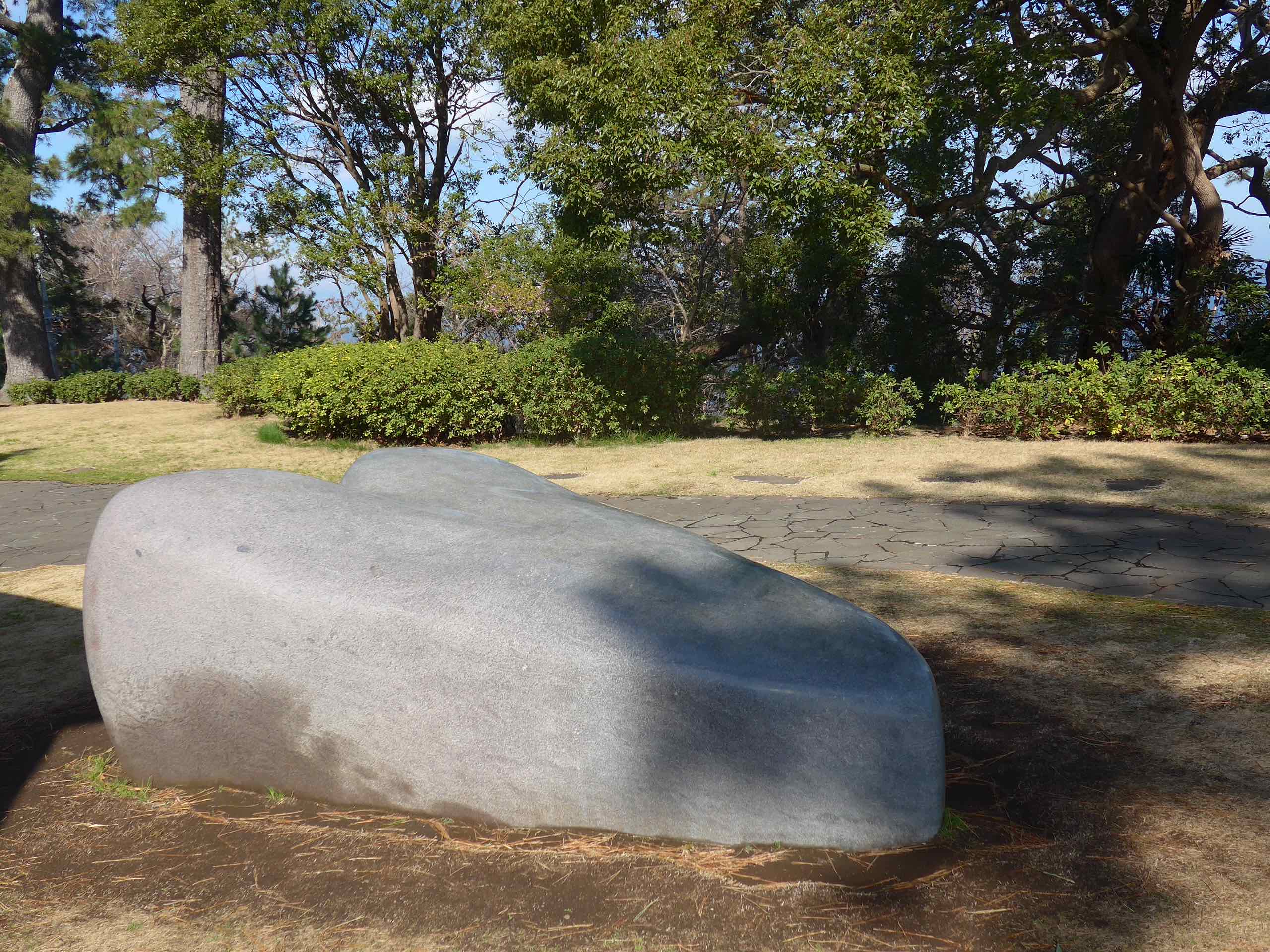 A sculpture made of Manazuru's specialty, Komatsu stone, is set up outside the museum. The work of sculptor Atsuya Tominaga, created for the "Manazuru Town Stone Sculpture Festival" held in September 2019, has the title "Heart-shaped stone".(Love Stone) ". If you touch it gently, there seems to be something wonderful.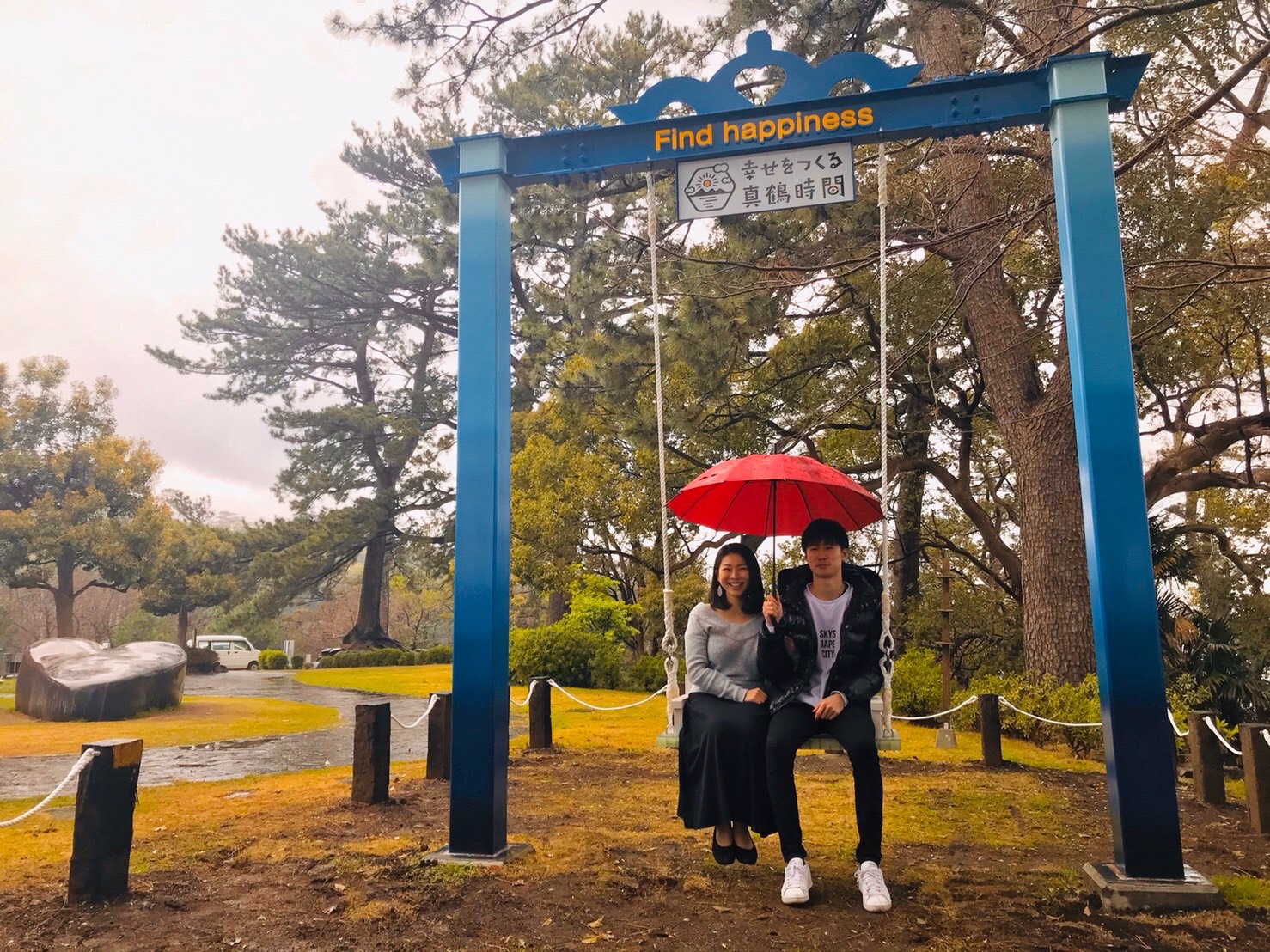 Image courtesy of Manazuru Town Tourism Association
A wonderful spot like this is born right next door!
Since it is a two-seater, you can enjoy it as a couple or as a parent and child.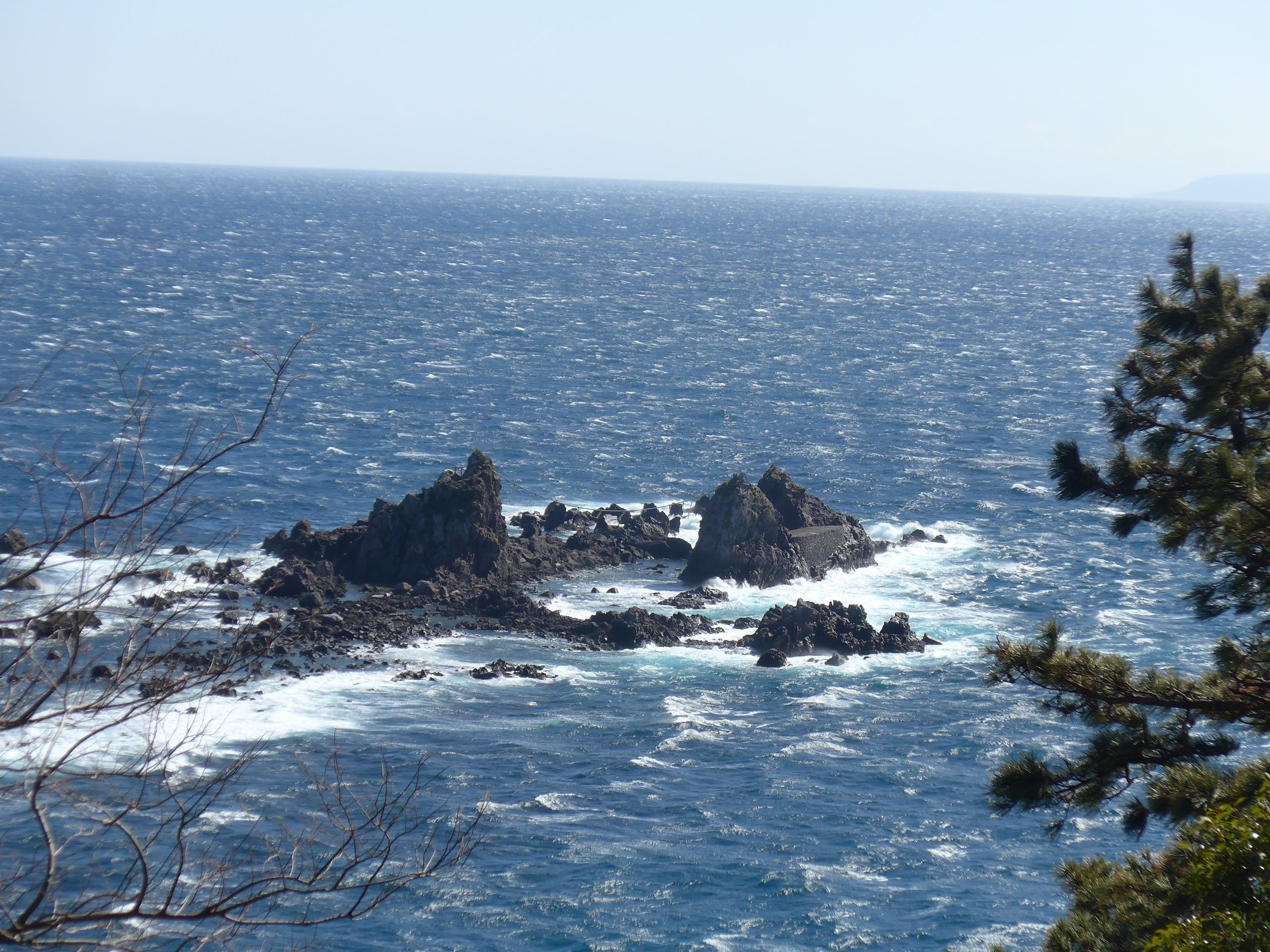 From the observatory at the tip of the cape, you can see Mitsuishi, which is famous as a spot for the first sunrise of the year. If you look around, you can see Hatsushima, Izu Oshima, and Izu Peninsula.
From the left side of the observatory, there is a staircase leading to the coast. There are nearly 300 steps, so it seems difficult to come back when you get down to the bottom, but it's a big deal, so let's get off.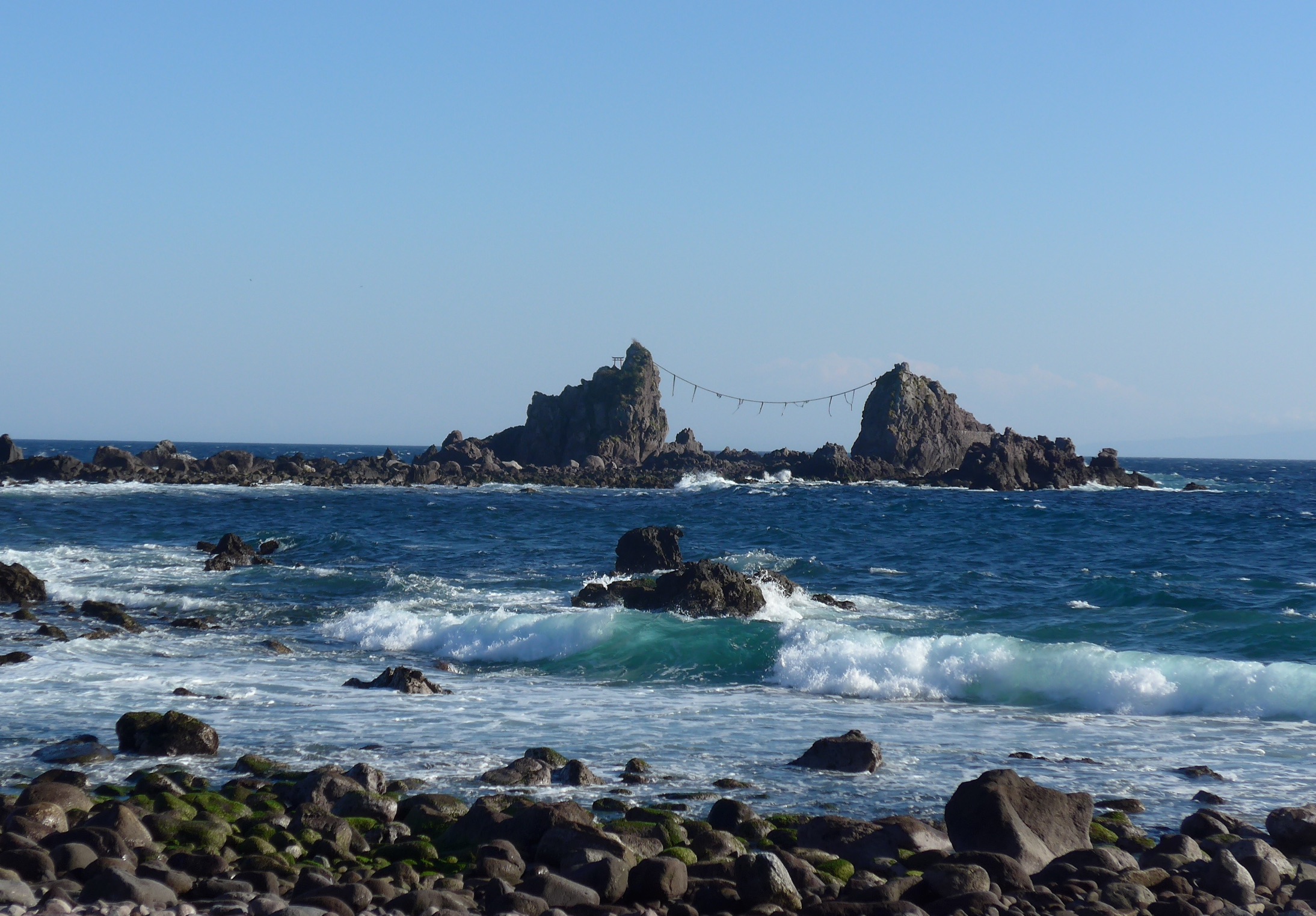 The power is different when you look at it up close!
The coast around here is made of lava that erupted 150,000 years ago, and is said to be home to a variety of organisms such as shellfish, shrimp, crabs, and fish. At low tide, a reef that extends about 200 meters offshore appears and you can walk across to Mitsuishi, but it is very slippery, so be careful of your feet.
wp-image-211188 "src =" https://magcul.net/wp-content/uploads/2020/03/a59b26b9e0be468e3db0f1deed6e2690.jpg "alt =" "width =" 2560 "height =" 1920 "/>
After climbing the 300 steps, drive again!
Most of the roads that run through the forest are one-way streets, so you can enjoy different views on the way back and forth. The quietness without engine noise is a good point of EV. Let's run leisurely while feeling the noise of the trees and the tide in the distance.
There is also a promenade in the forest , so you can see hikers here and there. There are places where giant trees stick out on the road, so be careful when driving.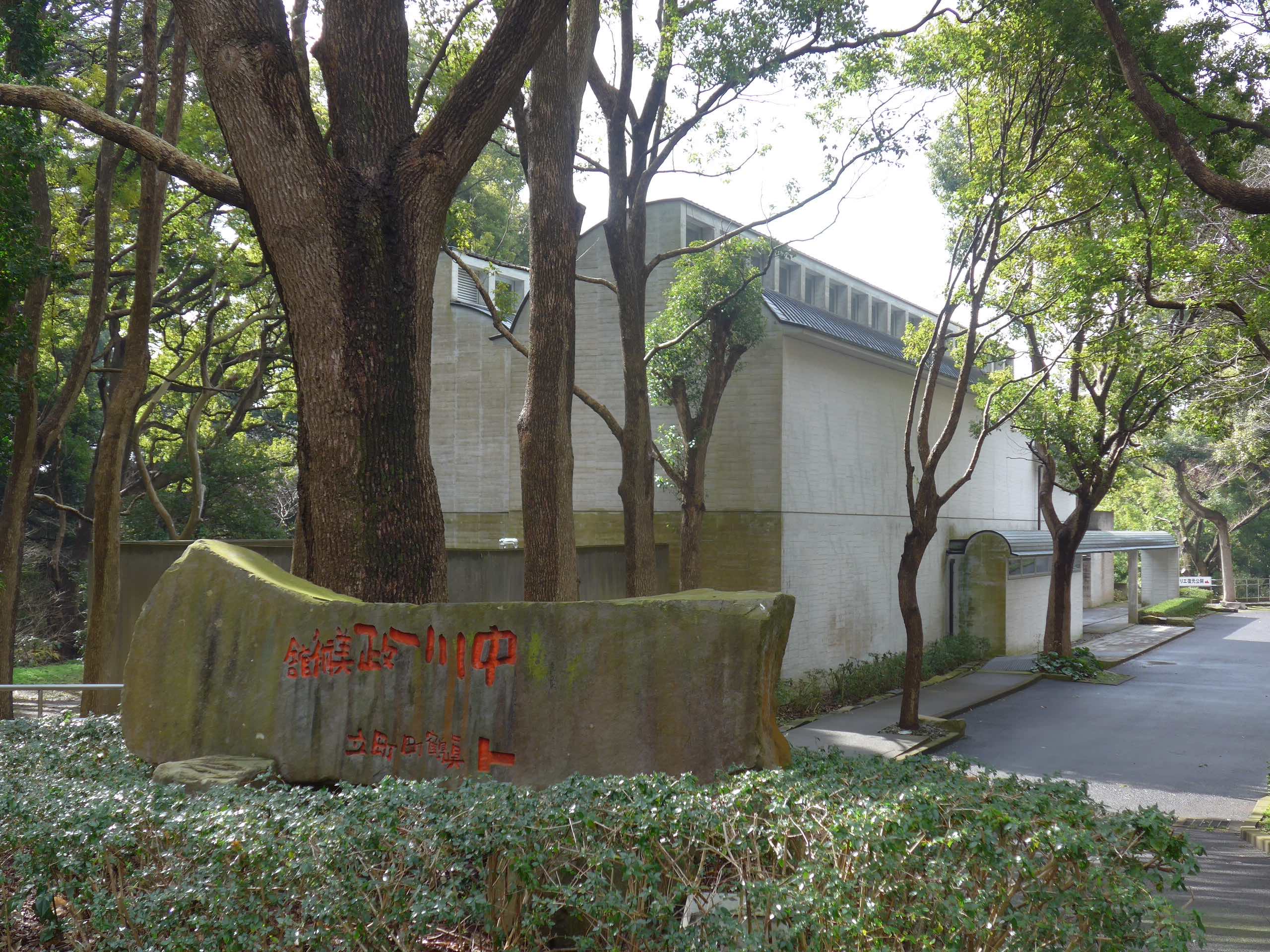 After passing through the one-way section, you will see the Nakagawa Kazumasa Art Museum.
Born in Tokyo in 1893, Mr. Nakagawa set up an atelier in Manazuru Town in 1949 after the end of the war, and based there, he was engaged in creative activities.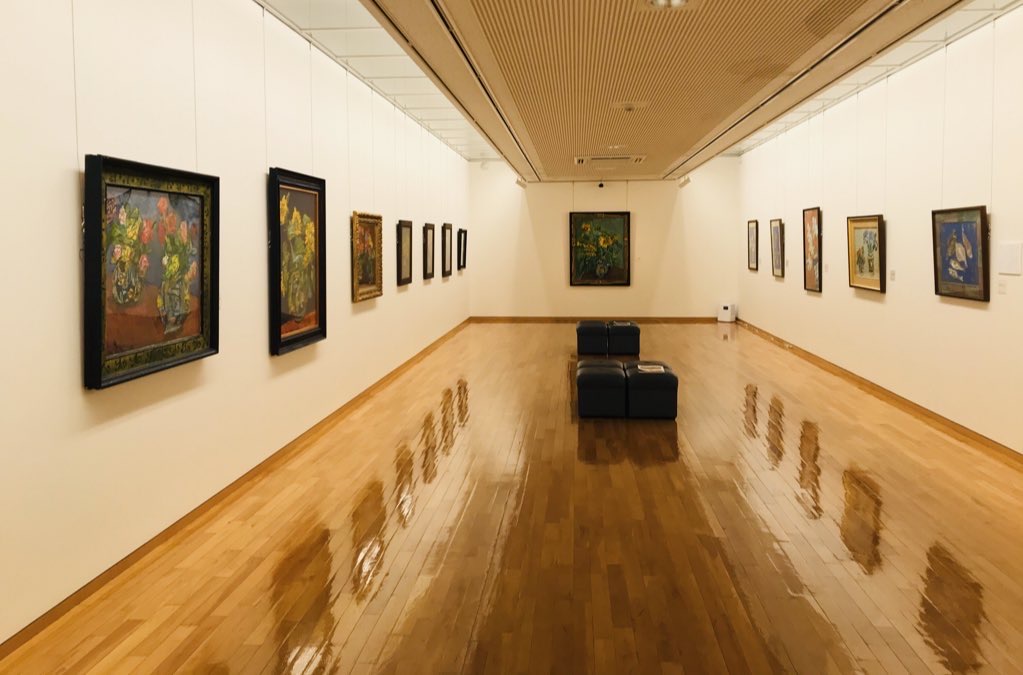 Mr. Nakagawa, who loved Manazuru, liked to draw "roses" and "sunflowers" as well as the fishing village "Fukuura" at the base of the western part of the peninsula. In addition, works such as mineral pigments, calligraphy, and ceramics using mineral pigments are also left behind, and the more you visit museums, the more you will be fascinated by their wide range of talents.
bd160e4c75d07ff4c31145eecc5.jpg "alt =" "width =" 2560 "height =" 1920 "/>
Mr. Nakagawa's atelier is reproduced near the museum. The space where the paints, canvases, furniture, etc. that were actually used were transferred as they are is as if the painter is still working on his creations.
《 Manazuru Municipal Nakagawa Kazumasa Art Museum 》
[Opening hours] 9: 30-16: 30 (Admission is until 16:00)
[Closed] Wednesday (open if it is a national holiday), December 28-January 3
[Admission fee] Adults: 600 yen, High school students and younger: 350 yen
[Address] 1178-1 Manazuru, Manazuru-cho
[TEL] 0465-68-1128
* You can see the official website from here.
Mr. Nakagawa is not the only painter who loved Manazuru and moved to Manazuru. Takashi Hotta, who has been active as a painter in Cagnes, Southern France for 40 years, is one of them. When he returned to Japan, he met Manazuru while searching for a "landscape similar to Southern France." In 2014, he opened the Takashi Hotta Museum to display his work.
560 "height =" 1920 "/>
Open to the public as a Western-style painting hall is a building built by a businessman and later used as a doctor's villa. From the large window of the living room, you can see the Hakone mountain range, the Izu Peninsula, and Sagami Bay, which is very comfortable!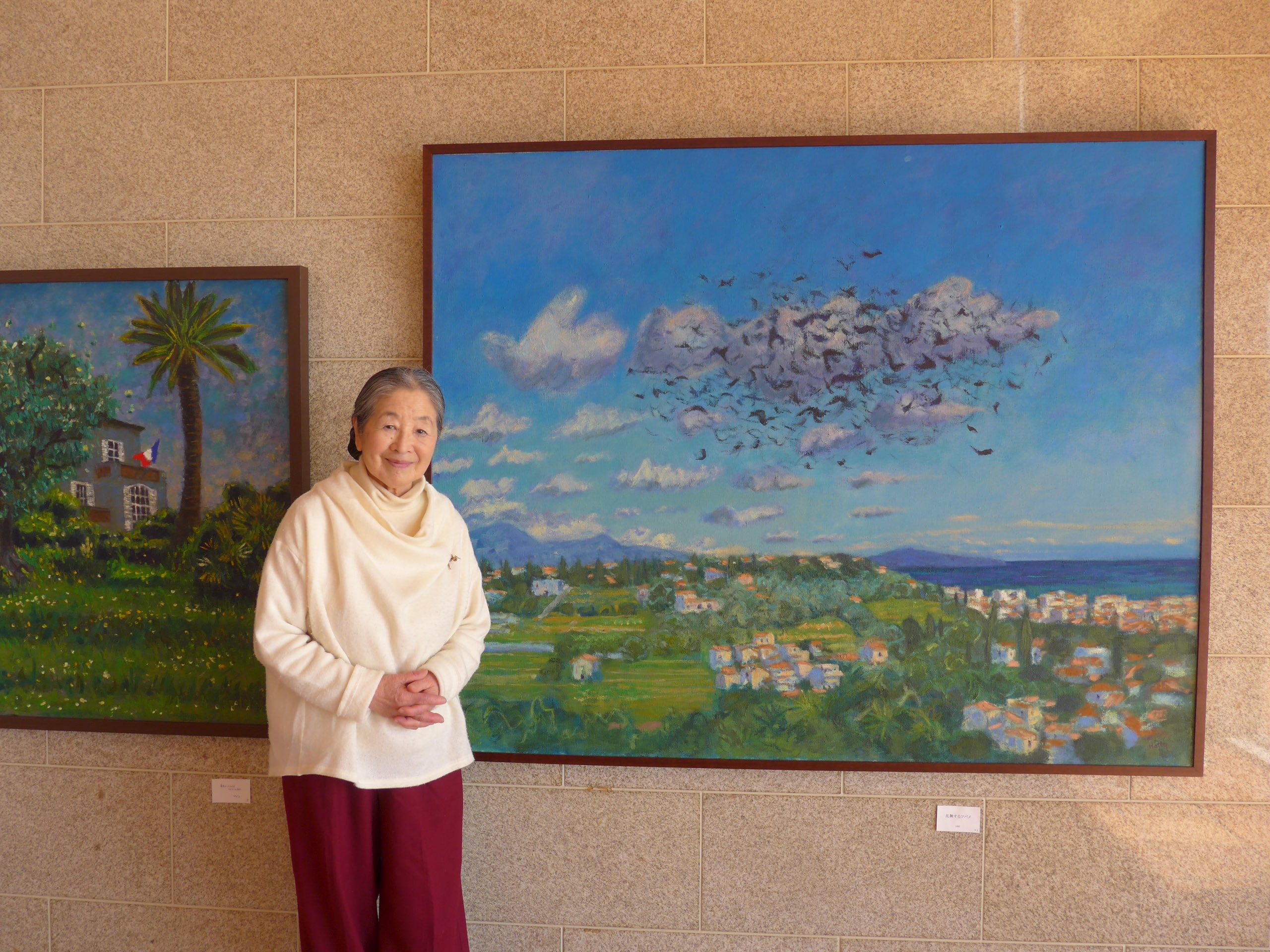 Mr. Hotta died a few years ago, so now his wife is almost alone. Surrounded by brightly colored works, when you hear the memories of your days in Southern France, you may forget that this is Japan.
《 Takashi Hotta Museum 》
[Opening hours] 11: 00-16: 30
[Opening days] Saturdays, Sundays, and Mondays
[Admission fee] Free
[Address] 1414 Manazuru, Manazuru-cho
[TEL] 0465-68-5032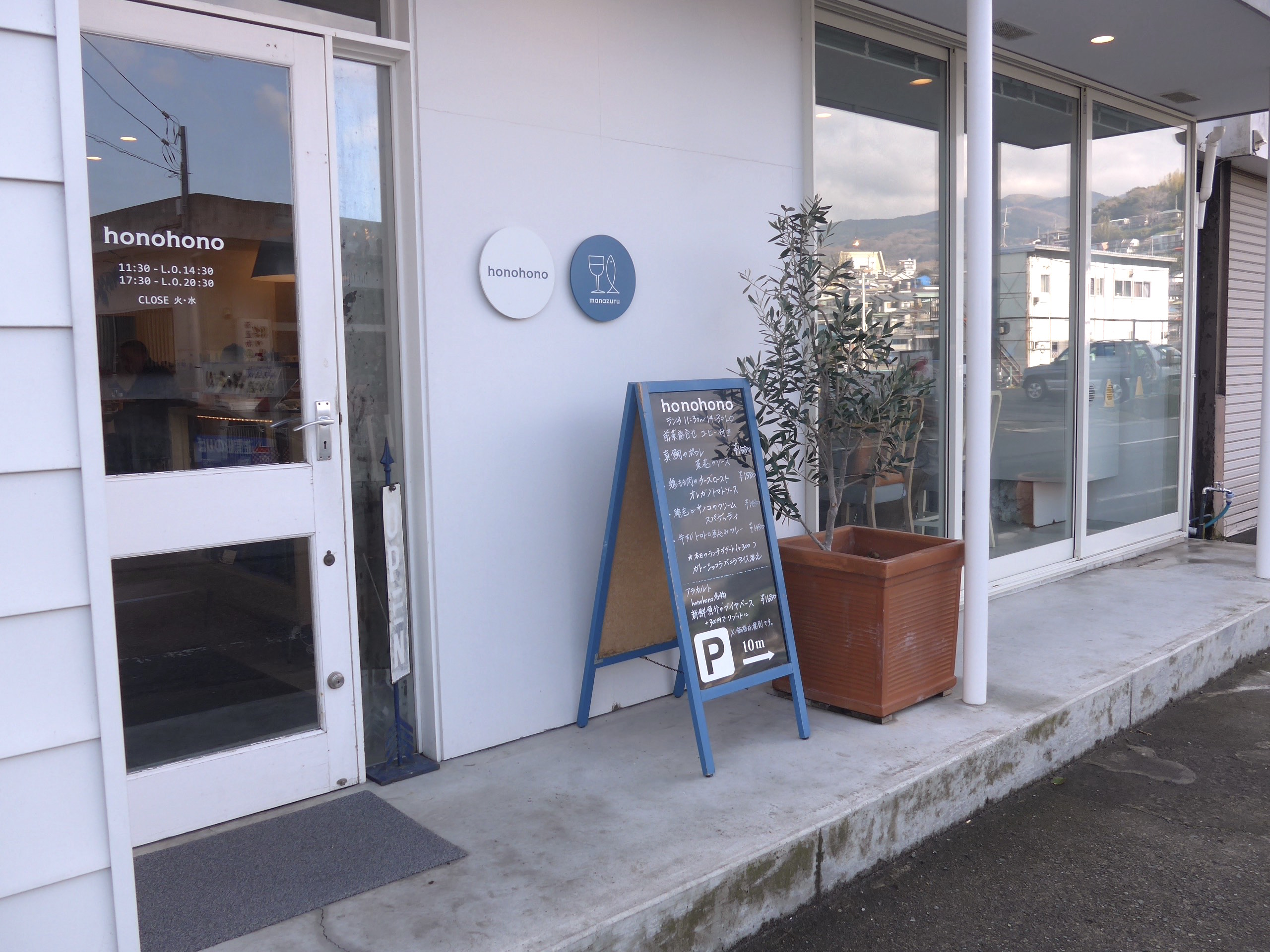 When I returned to Manazuru Port, I found a cute restaurant, honohono. The white walls and large windows facing the sea give it a stylish look that is typical of European resorts.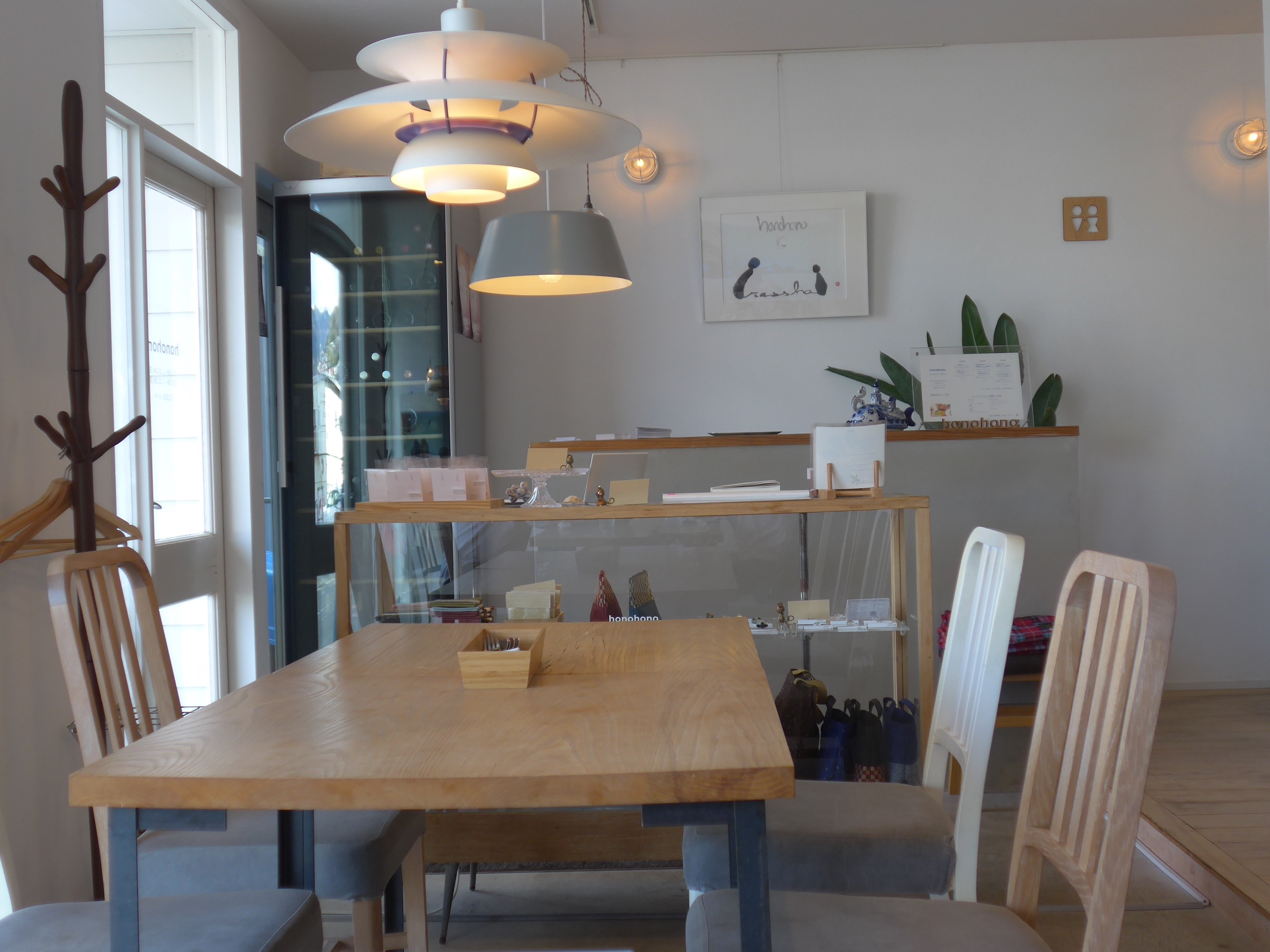 The inside of the shop is a cozy space with plenty of natural light. Scandinavian style inte such as loose chairsSurrounded by the rear, it seems that you can have a calm meal.
By the way, the store name is said to be derived from Hawaiian, and "hono" means "cove" and "honohono" means "walking".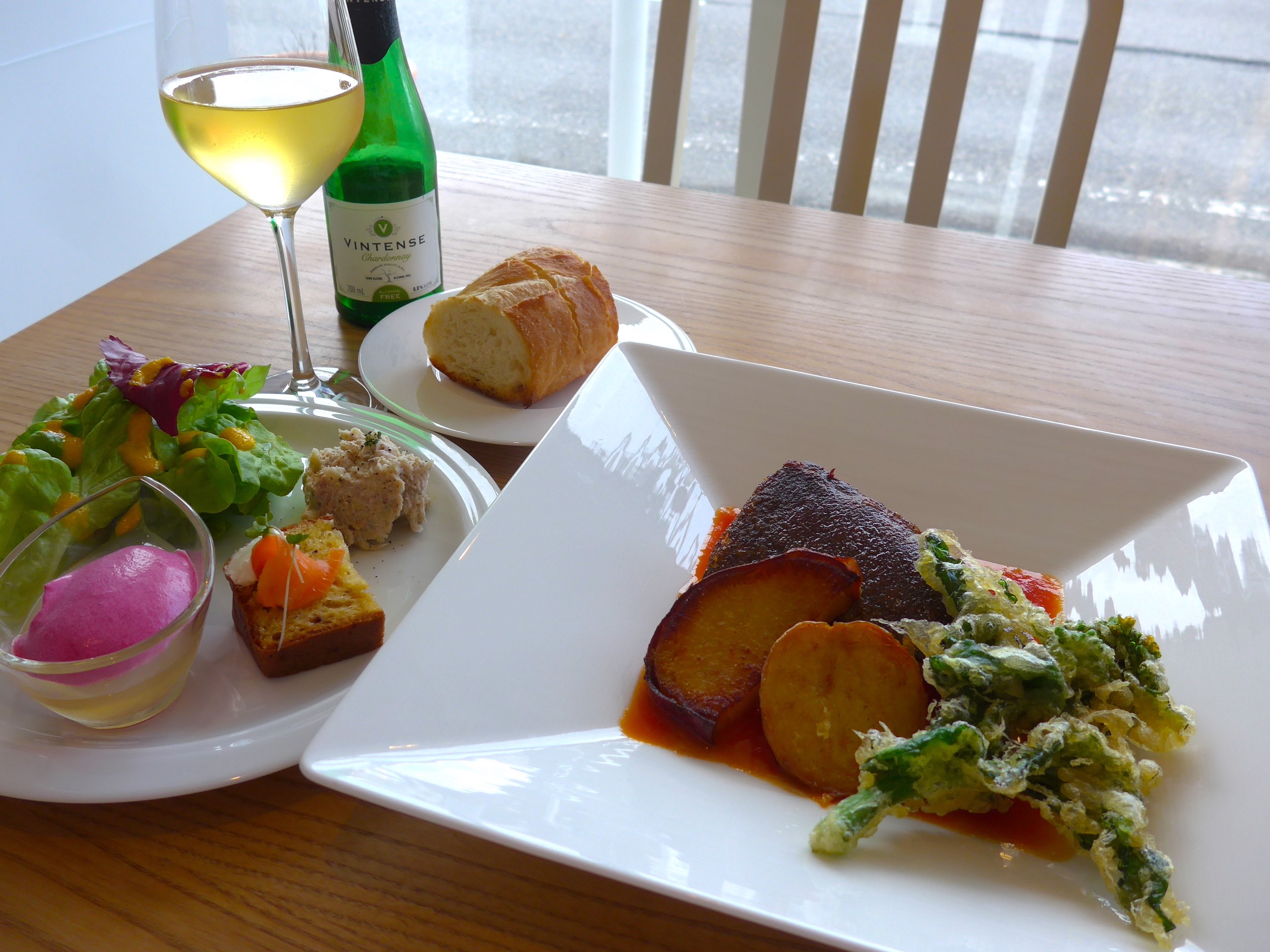 Lunch is a set menu, and you can choose the main from fish, meat, 2 types of pasta, and curry. After all, "fish lunch (1,580 yen + tax)" is the choice here. Since it's a big deal, I also added non-alcoholic wine.
The main course of the day was yellowtail confit with fresh tomato Ario Orio sauce and local nabana frit. It looks a little plain, but the taste is so impressive that you can think "what is this?"! The appetizers, including the salad dressing, have been taken care of one by one, and one dish is happy. Is clogged.
When I heard that the fish were sent directly from the fisherman who landed at Manazuru Port in front of me, and the vegetables were sent directly from Takahashi Farm on the peninsula, I was convinced that it wasn't delicious.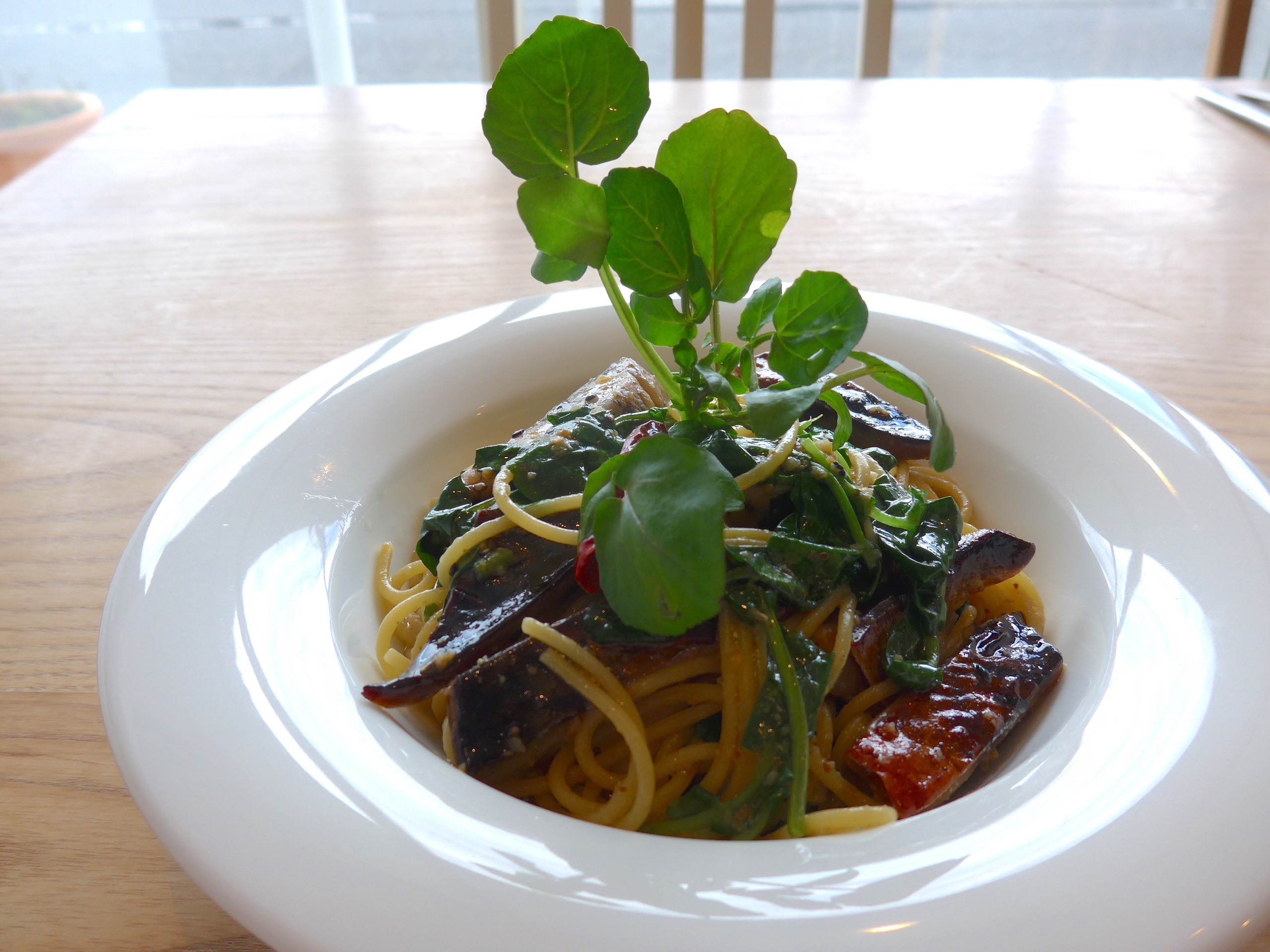 This is "Mackerel Black Shichimi Pasta Ario Orio (1,280 yen + tax)". Mackerel black shichimi is said to be one of the "Atarashiihimono" developed by adding an arrangement to Manazuru's traditional dried fish technique, and it is also delicious that I have never eaten. Originally it was a dinner menu, but this time I made a reservation and made it specially.
A number of original dishes filled with Manazuru's treasure. I enjoyed it!
ntent / uploads / 2020/03 / P1120521.jpg "alt =" "width =" 2560 "height =" 1920 "/>
One of the bonuses.
There is an aquarium in the store where tropical fish swim, so I thought it might be an interior ... but this tropical fish was also "landed" at Manazuru Port. Although they came to Sagami Bay by ocean current, they could not return to the south sea, and they seem to be fish protected by fishermen.
《 Honohono 》
[Business Hours] Lunch 11: 30-14: 30 (LO) / Supper 17: 30-20: 30 (LO)
[Regular holiday] Tuesday and Wednesday
[Address] 1027 Manazuru, Manazuru-cho
[TEL] 0465-20-8556
* You can see the official website from here.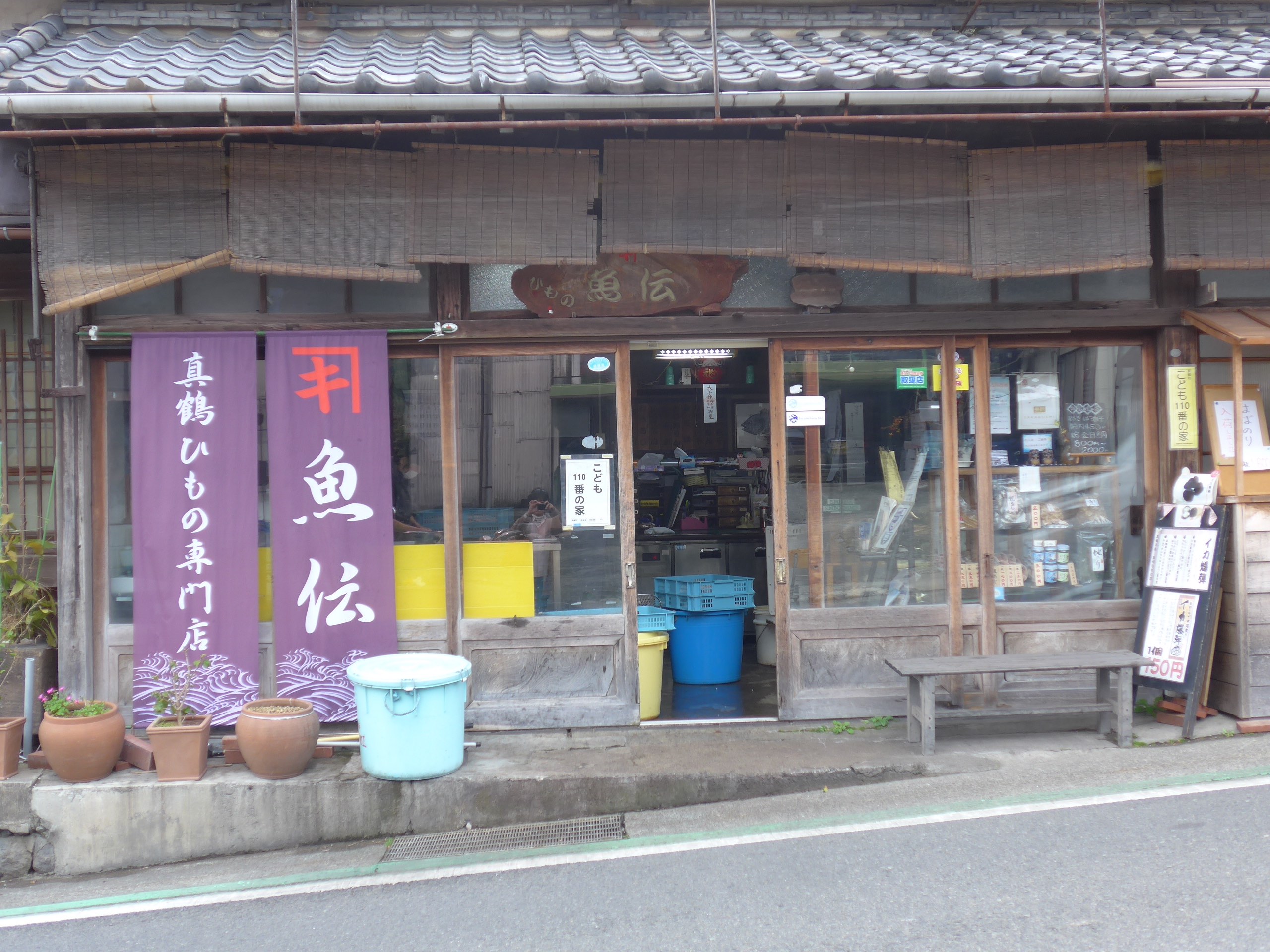 I heard that there is a dried fish shop nearby that developed the "Atarashiihimono" that I received from honohono, so I visited it. It is a fish biography founded in 1877.
At the storefront, we are in the middle of making dried fish by rushing to judge the fish that arrives from Manazuru Port. When I was looking for dried fish for souvenirs, I saw a sign called "Squid Bomb" in the store. When I asked the shop staff, they answered, "I'll fry it right away, so please wait about 5 minutes." Yes, of course wait!
//magcul.net/wp-content/uploads/2020/03/P1120272.jpg "alt =" "width =" 2560 "height =" 1920 "/>
This is the "squid bomb".
Briefly, it is a croquette made by putting cheese in potatoes, squid and candy-colored onions, and fried bread crumbs with squid ink in a batter. It looks pretty impactful, but I found a new taste! It's the perfect size for a guy, but it seems to fit perfectly with wine, so I bought it in bulk and made it a souvenir.
《Uoden》
[Address] 671 Manazuru, Manazuru-cho
[TEL] 0465-68-0467
* You can see the official website from here.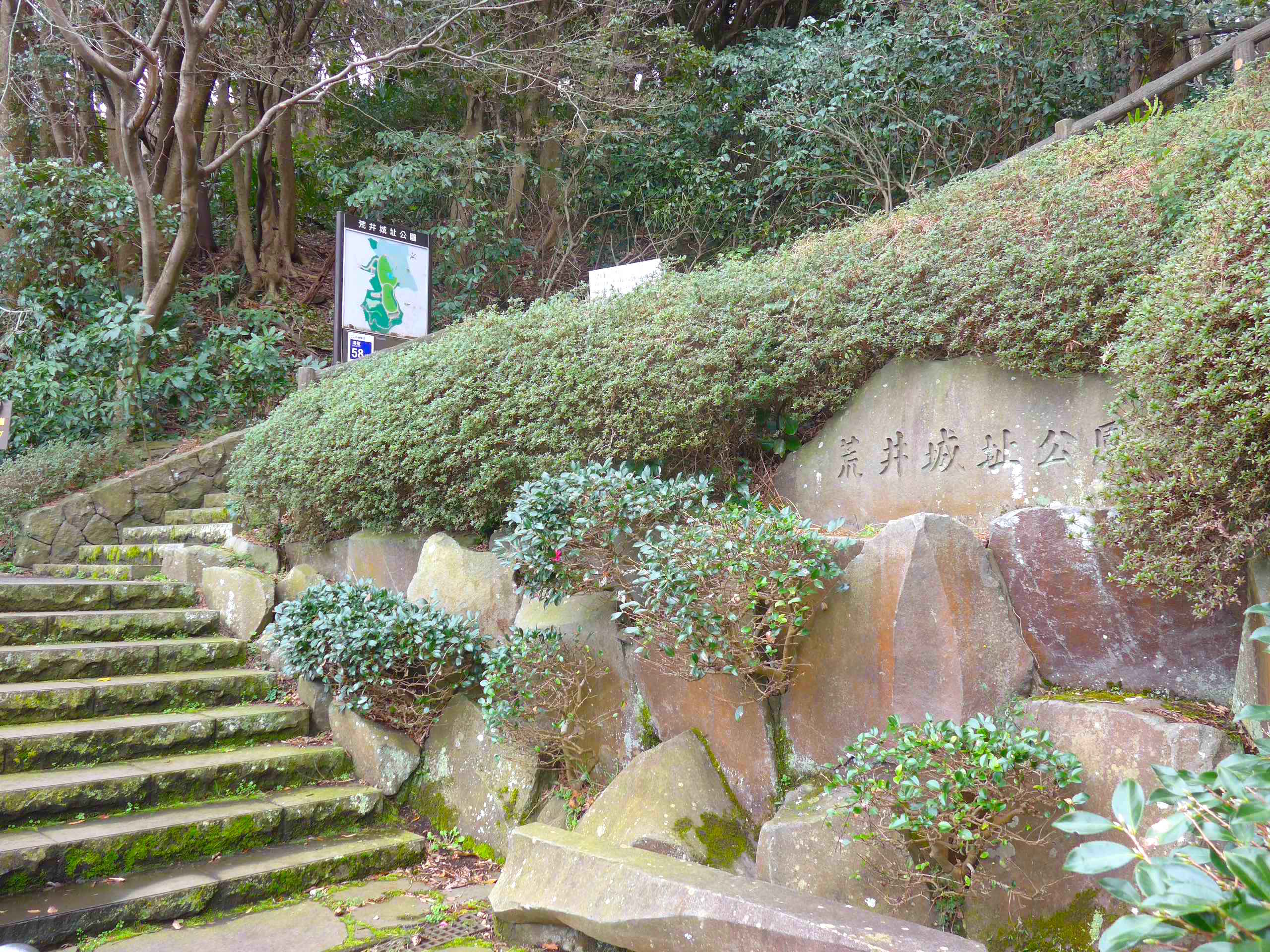 Arai Castle Ruins Park is a must-see in Manazuru. It is a site where the castle of Mitsutsugu Arai was located in the 11th century, and since it is located on the mountainside, it is a good exercise to go around the park.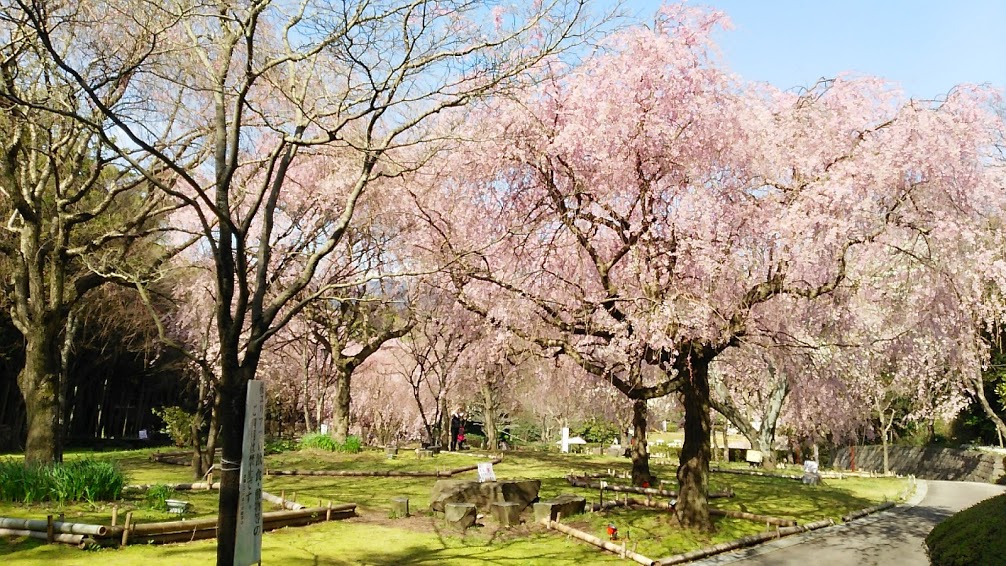 The normally quiet parks are usually crowded during the cherry blossom season in late March. Weeping cherry blossoms in the park bloom all at once, It's a stunning sight.
《Arai Castle Ruins Park》
[Address] 1789 Manazuru, Manazuru-cho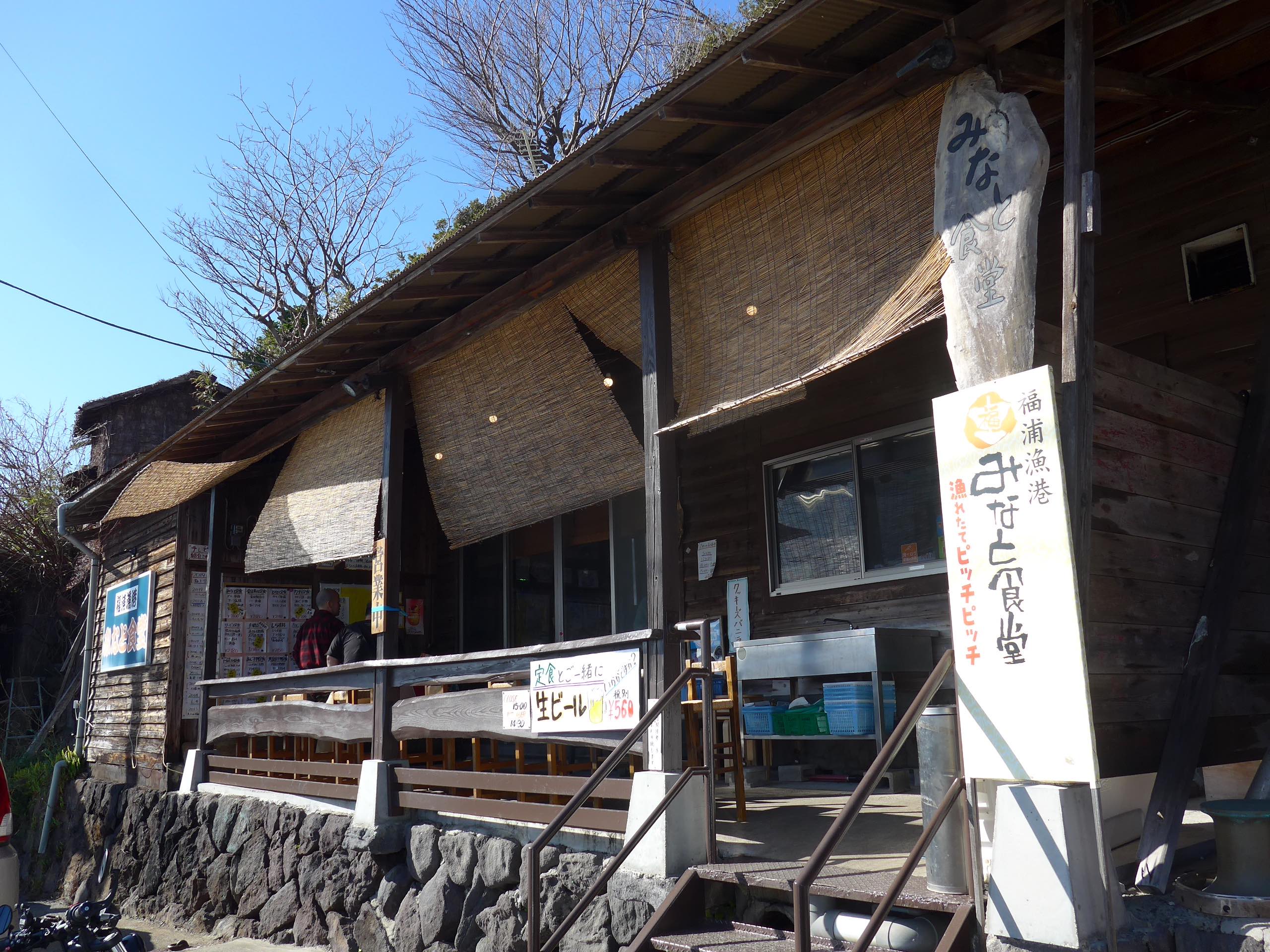 There is another restaurant on the Manazuru Peninsula that you definitely want to visit. It is Minato Shokudo in the back of Fukuura fishing port on the west side of the peninsula.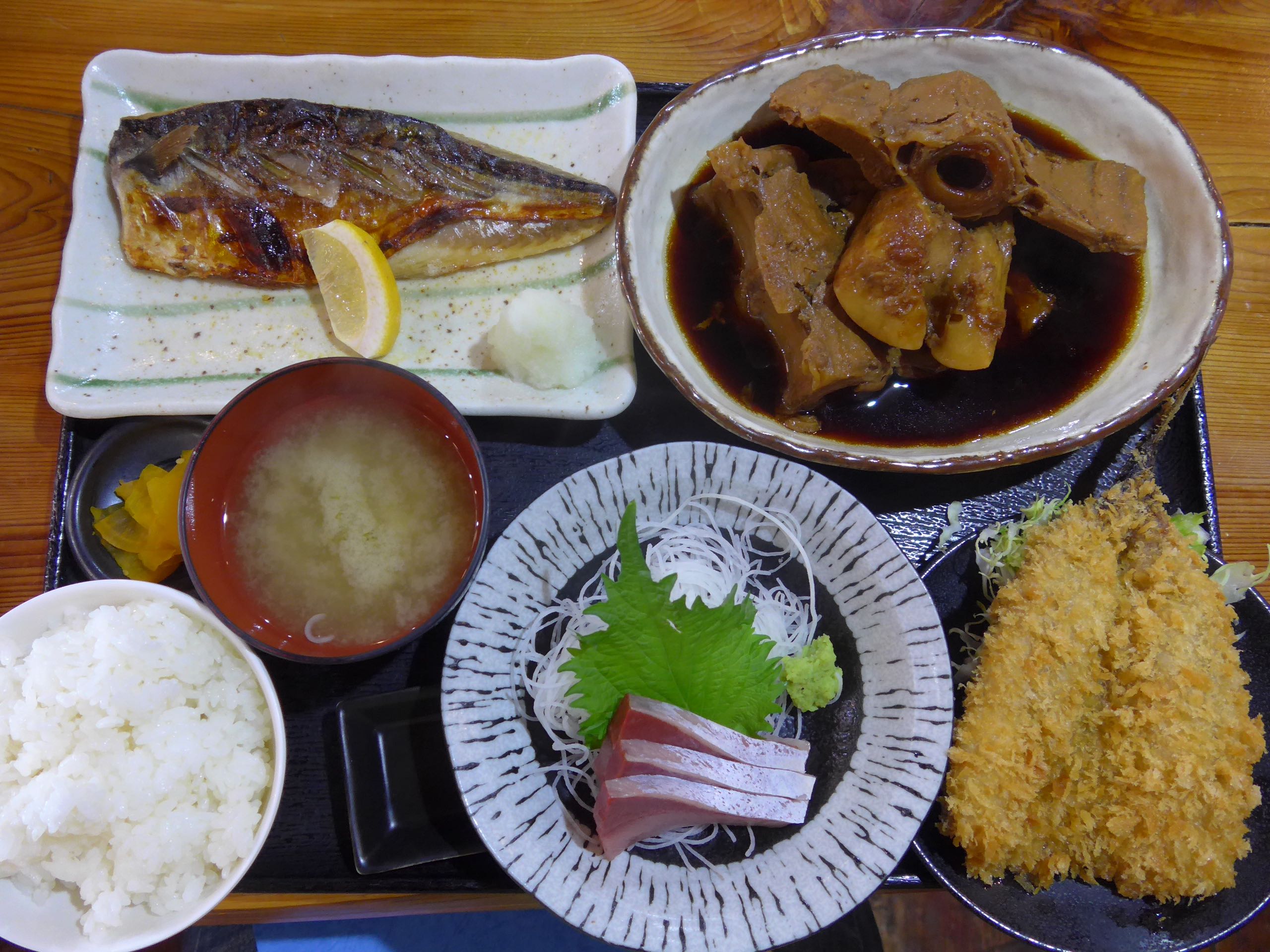 The feature here is this volume as well as the freshness and deliciousness of the fish. Starting with the "sashimi set meal" where you can taste 4 to 6 kinds of fish, simmered fish, grilled fish, fried fish, etc. are all impressive. There are more than 20 types of menus, so if you get lost, we recommend the Minato Set Meal (2,100 yen + tax), which you can enjoy in various ways.
《Minato Shokudo》
[Business Hours] 11: 00-15: 00 (LO 14:30)
[Regular holiday] Wednesday
[Address] 109-2 Fukuura, Yugawara-cho
[TEL] 0465-20-7005
* You can see the official website from here.
t / wp-content / uploads / 2020/03 / e8221d483745388369a682c6a9f41a21.jpg "alt =" "width =" 2397 "height =" 1833 "/>
When you get back to the station, don't forget to buy souvenirs at the pastry shop Takayanai.
The aim is "Aji Sable"!
You can buy it at Cape Manazuru, but you can buy it from one at the manufacturer's shop, so you can get both for souvenirs and for snacks. (130 yen per sheet, tax included)
It is not a "hydrangea sable" because it has the shape of a horse mackerel. The dough is kneaded with sun-dried horse mackerel powder!
Of course, even if it contains horse mackerel powder, it doesn't smell like fish, so don't worry. The unique mismatch between the dried fish-designed package and the crispy and delicious sable is guaranteed to make everyone smile.
《Takayanai》
[Business Hours] 9: 30-19: 00
[Regular holiday] Tuesday (the next day if it is a national holiday)
[Address] 1812 Manazuru, Manazuru-cho
[TEL] 0465-68-0304
Shooting cooperation: Nissan Motor Co., Ltd.
Vehicle used: Nissan Leaf e +