Views and scenery that can't be found anywhere else! Let's visit Mt. Oyama!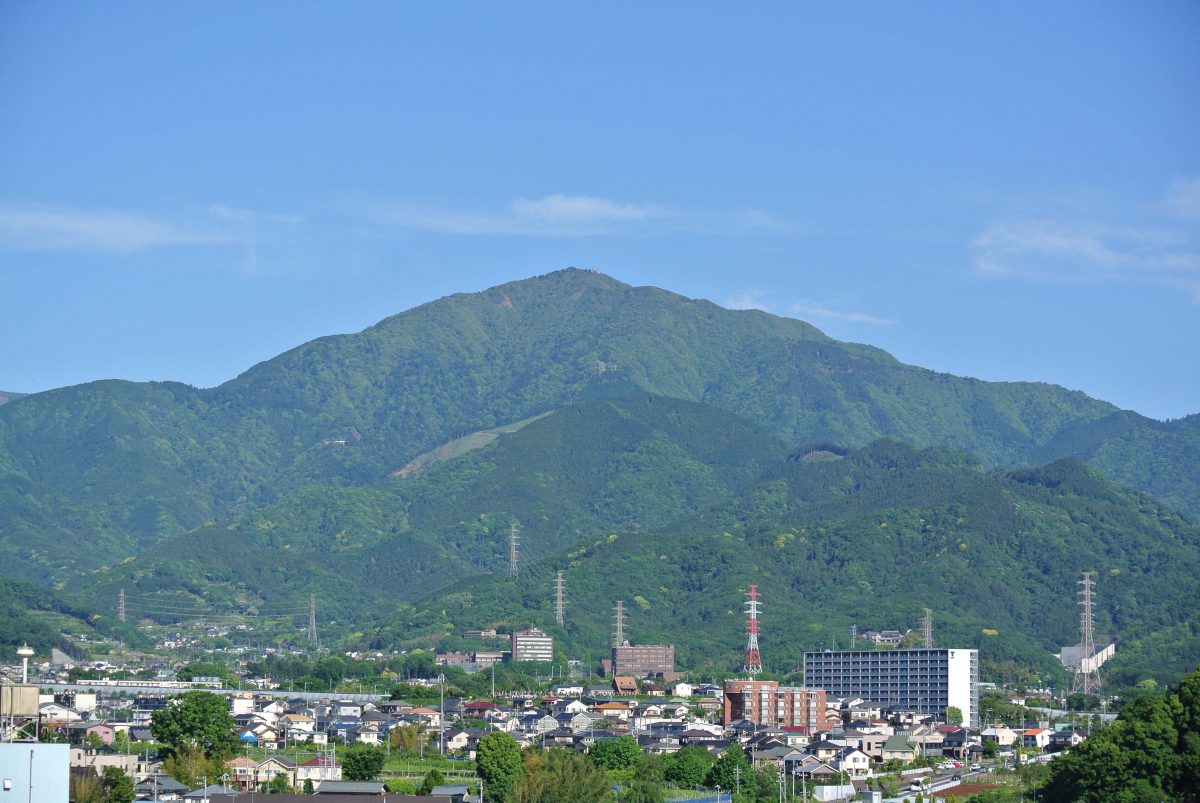 Mt. Oyama is located in Tanzawa-Oyama Quasi-National Park, which is located in the northwest part of Kanagawa Prefecture. Due to its geographical location, rain clouds often shroud the top of the mountain, and because of this, it is called "Amefuriyama" or "Afuriyama," both meaning a mountain with lots of rainfall. Farmers who wish for a good harvest have long revered it as a symbol to pray to for rain, but the mountain became a popular place to visit during the Edo period. You may be surprised to learn that when the population of Edo was about 1 million people, around 200,000 visitors, or 1/5 of the population of Edo at the time, is said to have traveled to Mt. Oyama in a year.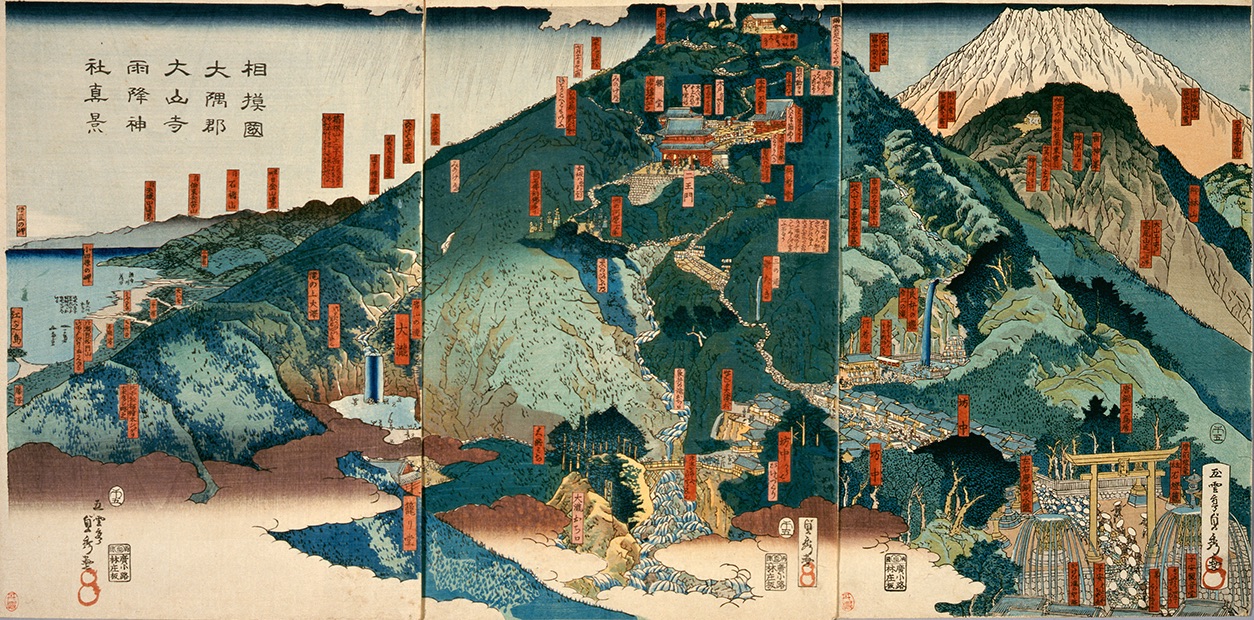 * "Sagaminokuni Osumi-gun Oyama-dera Amefuri-jinja Shinkei" by Gountei Sadahide Image provided by Kanagawa Prefectural Museum of Cultural History
Mt. Oyama, which is easily accessible from urban areas by many forms of transportation, can be climbed even by beginners, and has been attracting attention again in recent years. In 2015, Mt. Oyama and the view from Oyama Afuri-jinja Shrine were introduced in the Michelin Green Guide, with one star and two stars respectively.
Mt. Oyama has been revered by people for thousands of years and has nurtured its own culture and customs. A short trip to experience the history and culture of Japan while being embraced by the beauty of nature... Why not make Mt. Oyama part of that experience?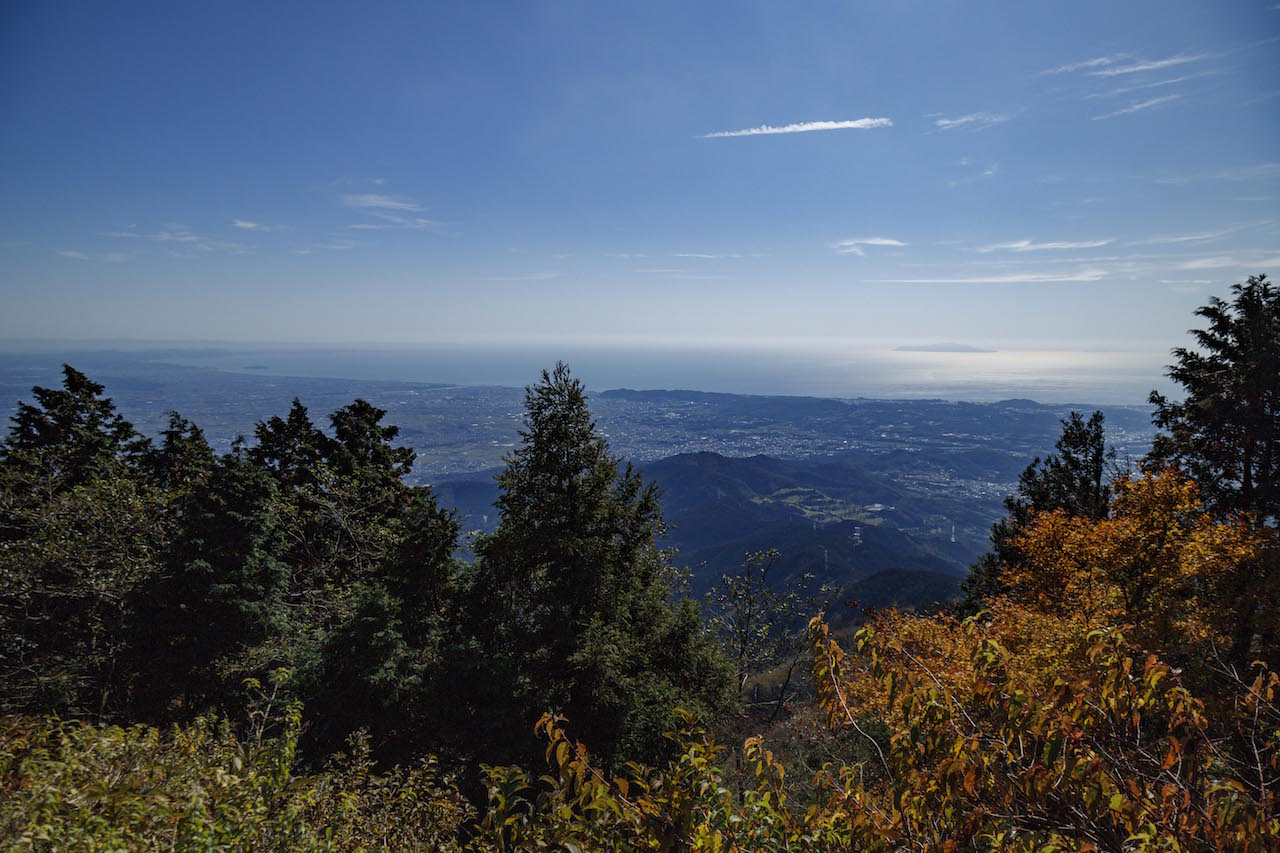 * View from near the summit
There are several climbing routes on Mt. Oyama, but we took a cable car to Afuri-jinja Shrine Shimosha and climbed the route from there to the summit, which sits at an altitude of 1,252 meters. The first thing you should see before making the climb is Roben Waterfall.
It is said that Roben, who opened
Oyama-dera Temple (described later) on the hillside of Mt. Oyama, used this waterfall for cold water cleansing before he became the chief priest. In the ukiyo-e works from the Edo period, when many people went on pilgrimage to Mt. Oyama, worshippers are often drawn to Roben Waterfall to practice cold water cleansing.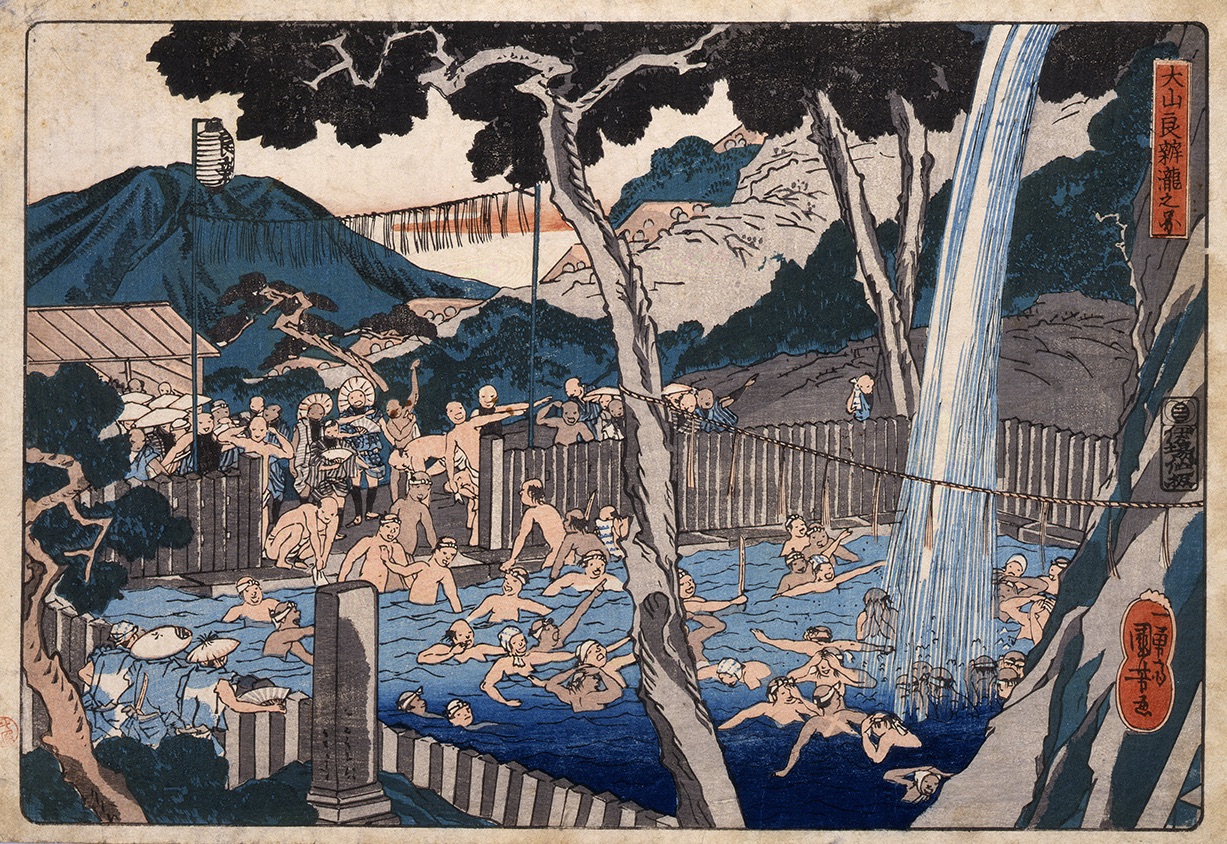 * "Oyama Roben Taki no Zu" by Utagawa Kuniyoshi Image provided by Kanagawa Prefectural Museum of Cultural History
To get to Roben Waterfall, take the Kanagawa Chuo Kotsu bus from the north exit of Odakyu Isehara Station and get off at Roben Waterfall, which is one stop before the Oyama Cable station bus stop. The waterfall is located right after you cross the red bridge, Kaikibashi.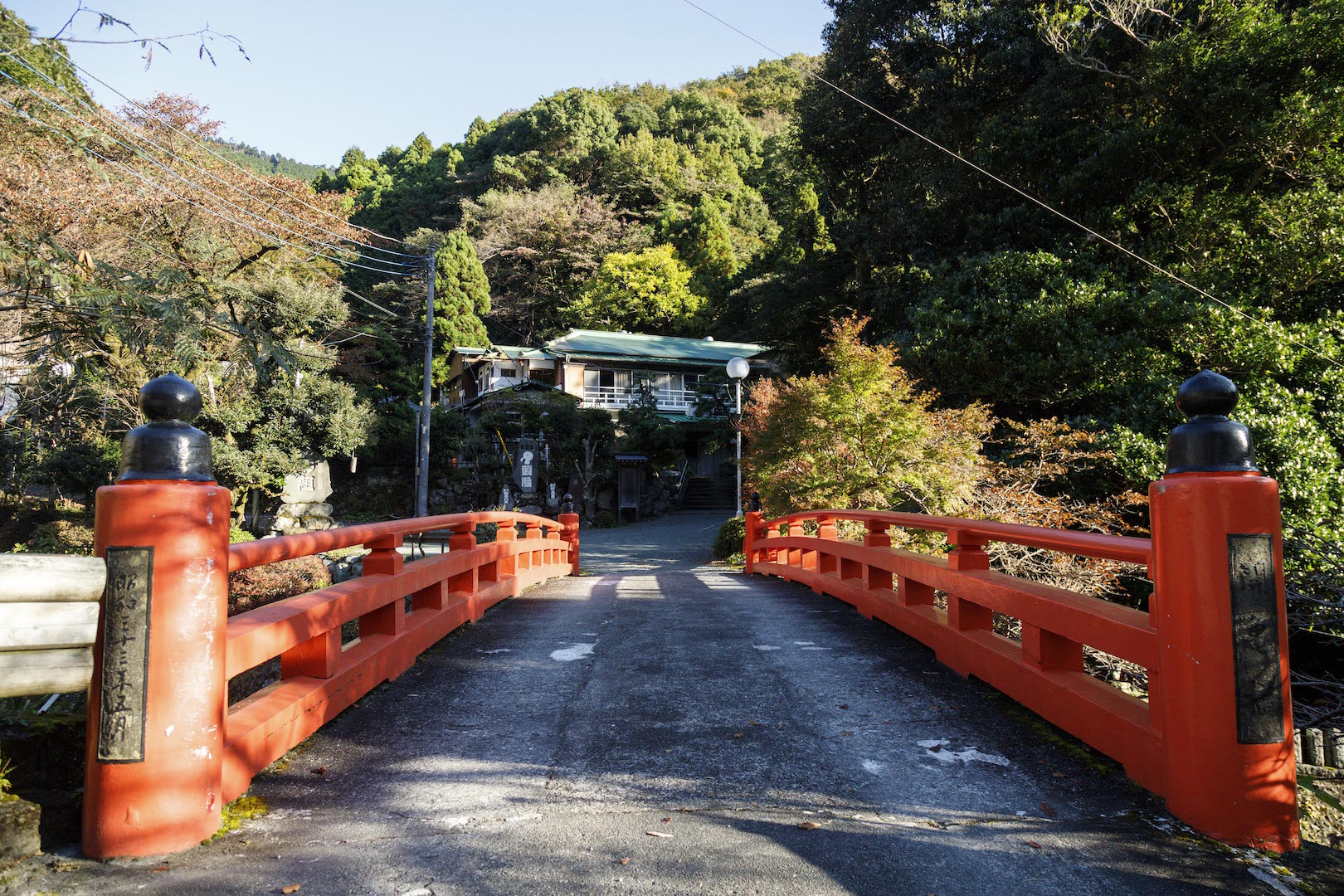 Roben Waterfall is about 4 m in height. The scale of the waterfall has become smaller due to the reclamation of the Oyama River, but cold, pure water still flows down.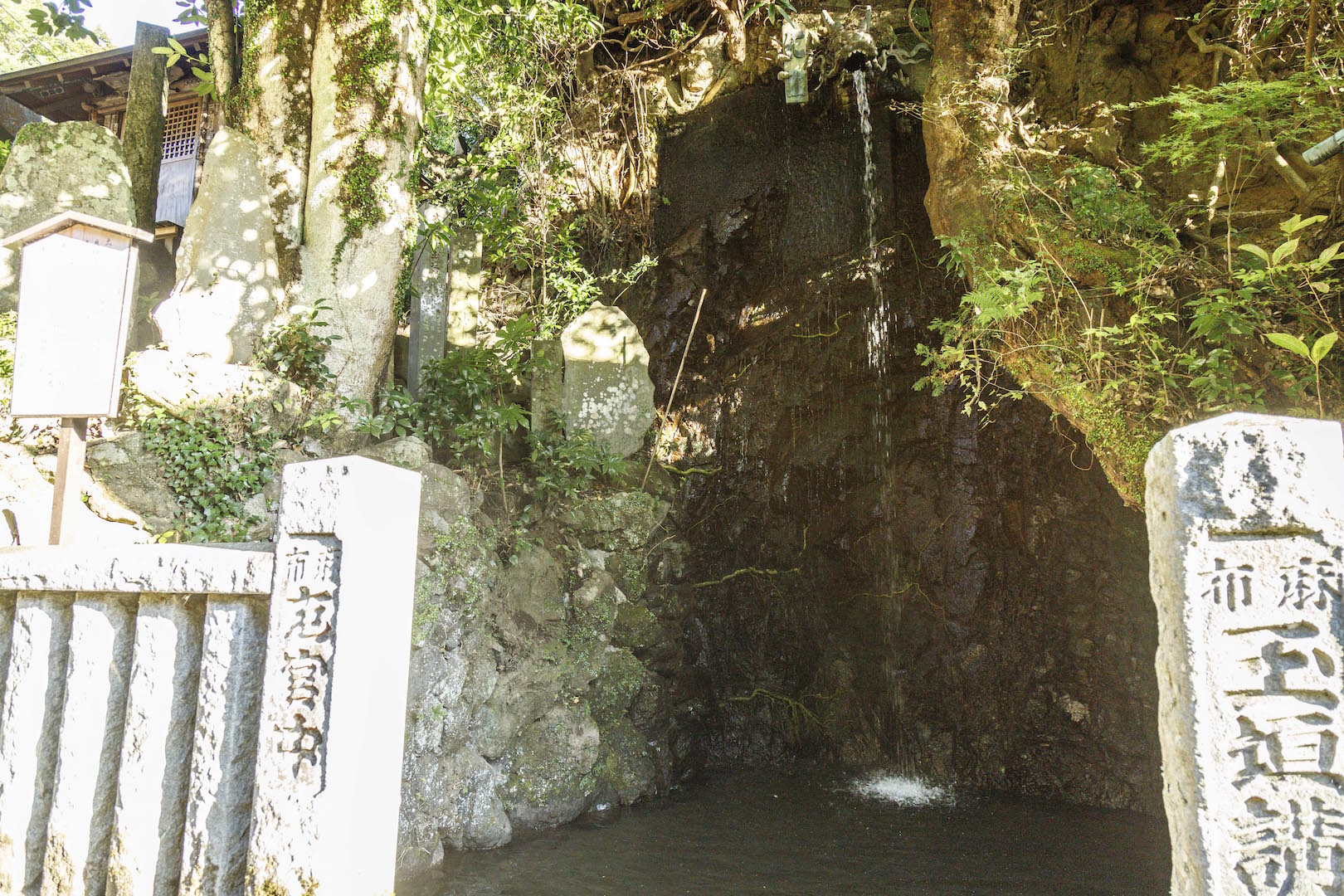 Since the outlet of the waterfall is a dragon head, it feels spiritual and cleansing.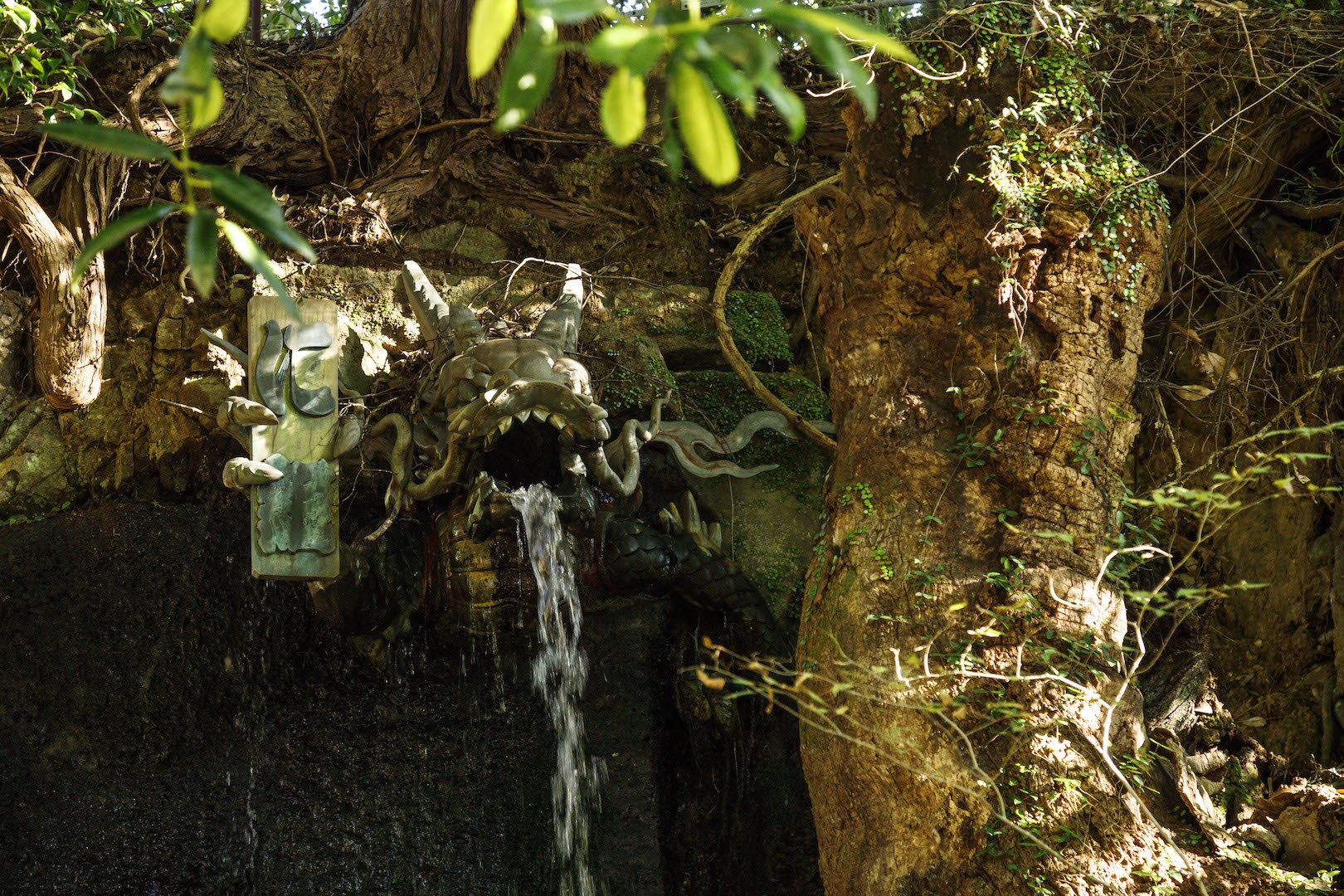 In the kaisando (founder's hall) building next to it is a statue of the monk Roben when he was 42 years old, and a statue of a monkey holding Konjudoji (Roben) based on the legend told in "Oyama-dera Engi Emaki."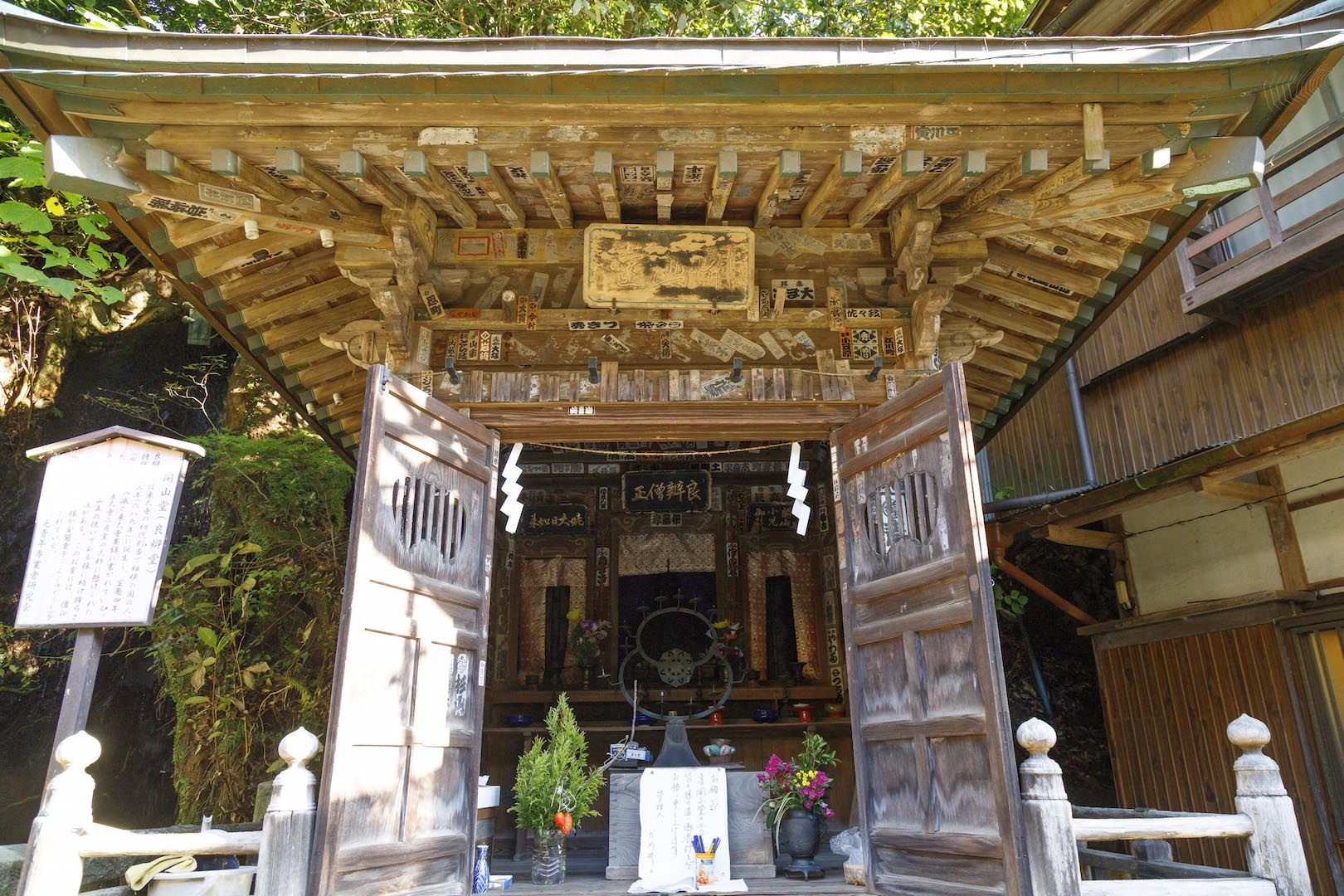 From here, you can go to the Koma Sando that leads to the first station of the Oyama Cable Car. There are restaurants and souvenir shops along the road, but we recommend that you save these to enjoy on your way home.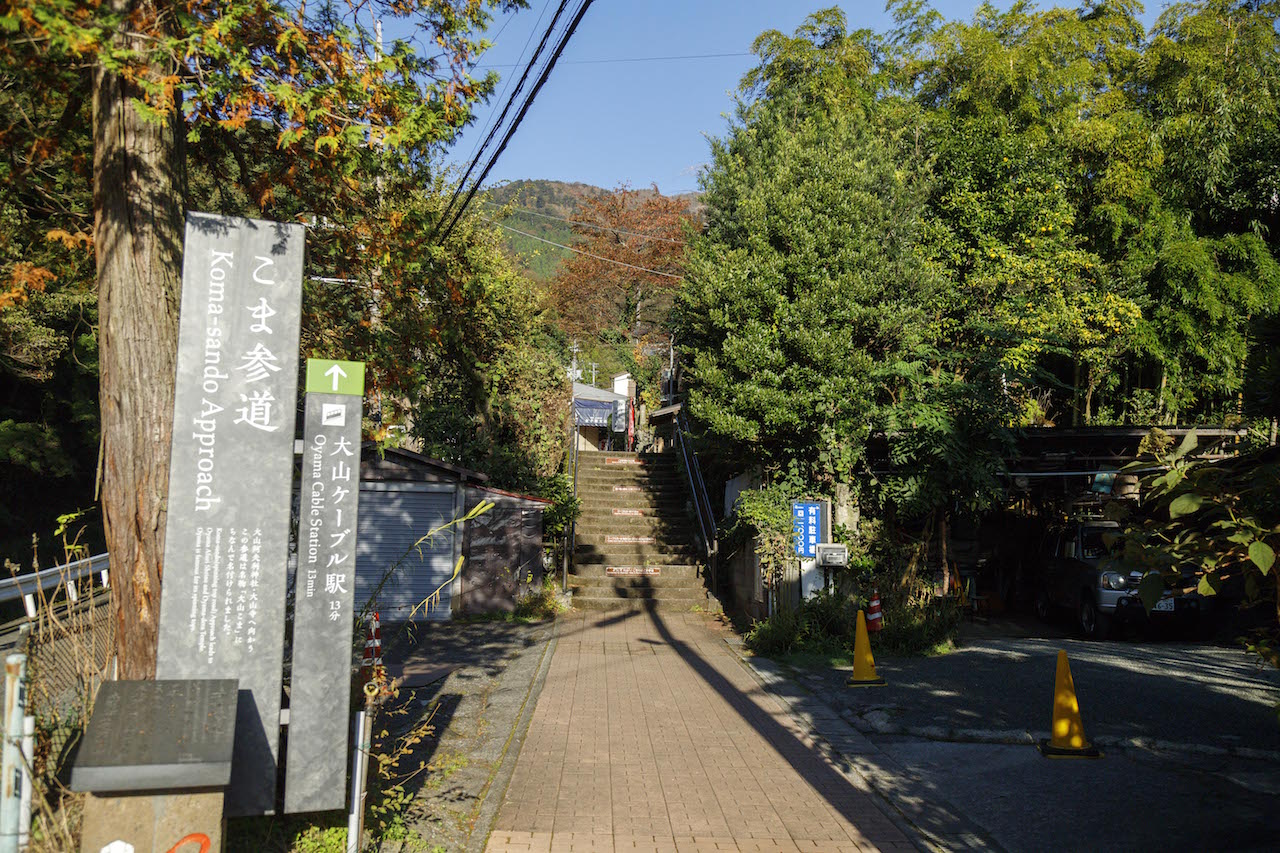 It takes about 15 minutes to climb the 362 steps to reach Oyama Cable Station.
There is a mountain trail, so you can walk up if you wish, but we used the cable car here so as not to overdo it.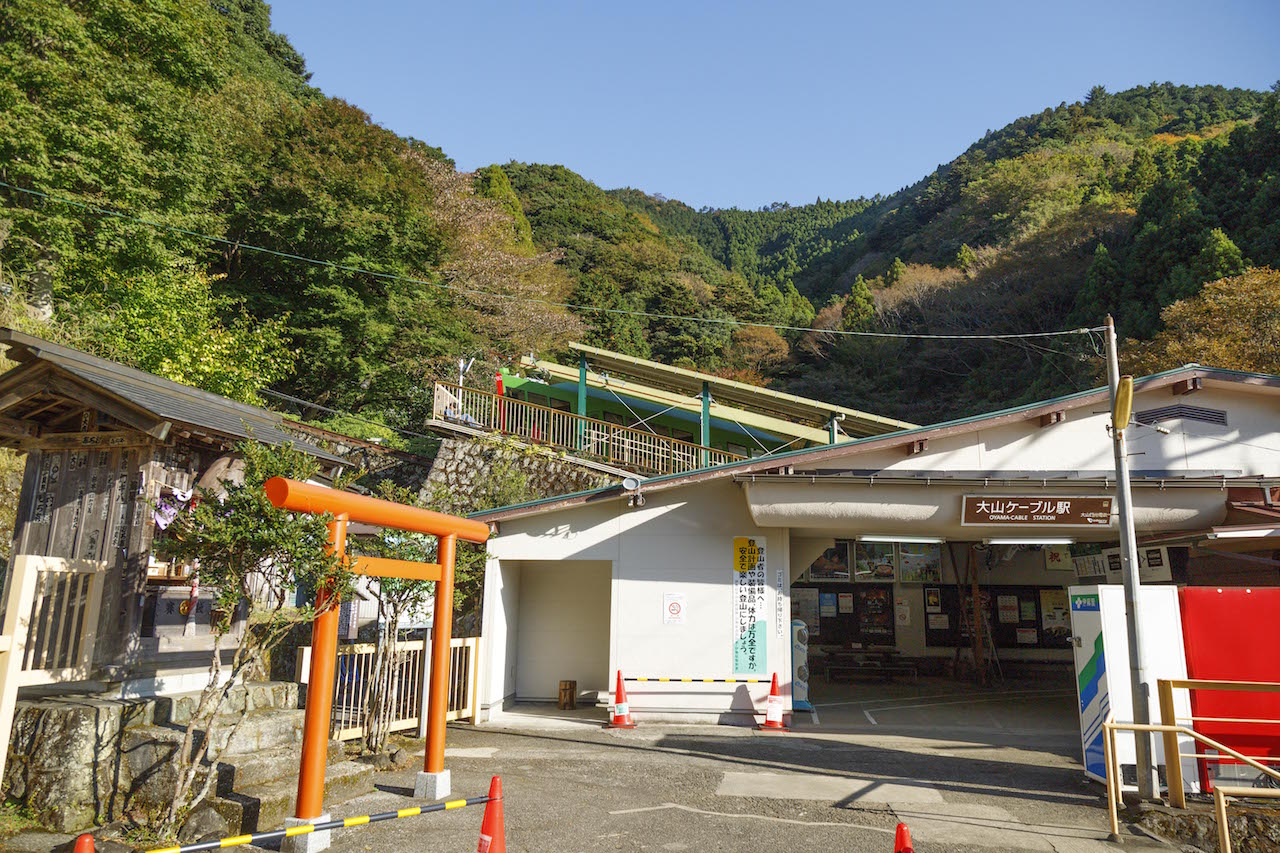 The Oyama Cable Car opened in 1931. Service was discontinued in 1944 due to a shortage of materials needed for the war, but was reopened in 1965 and continues to the present day. Completely renovated in 2015, not only was ride comfort and safety improved, but also the car was upgraded to a stylish design which has won the Good Design Award! It runs every 20 minutes from the first train at 9 a.m. and is so popular that it runs even more frequently during the high season.
* Click here for the official website of the Oyama Cable Car.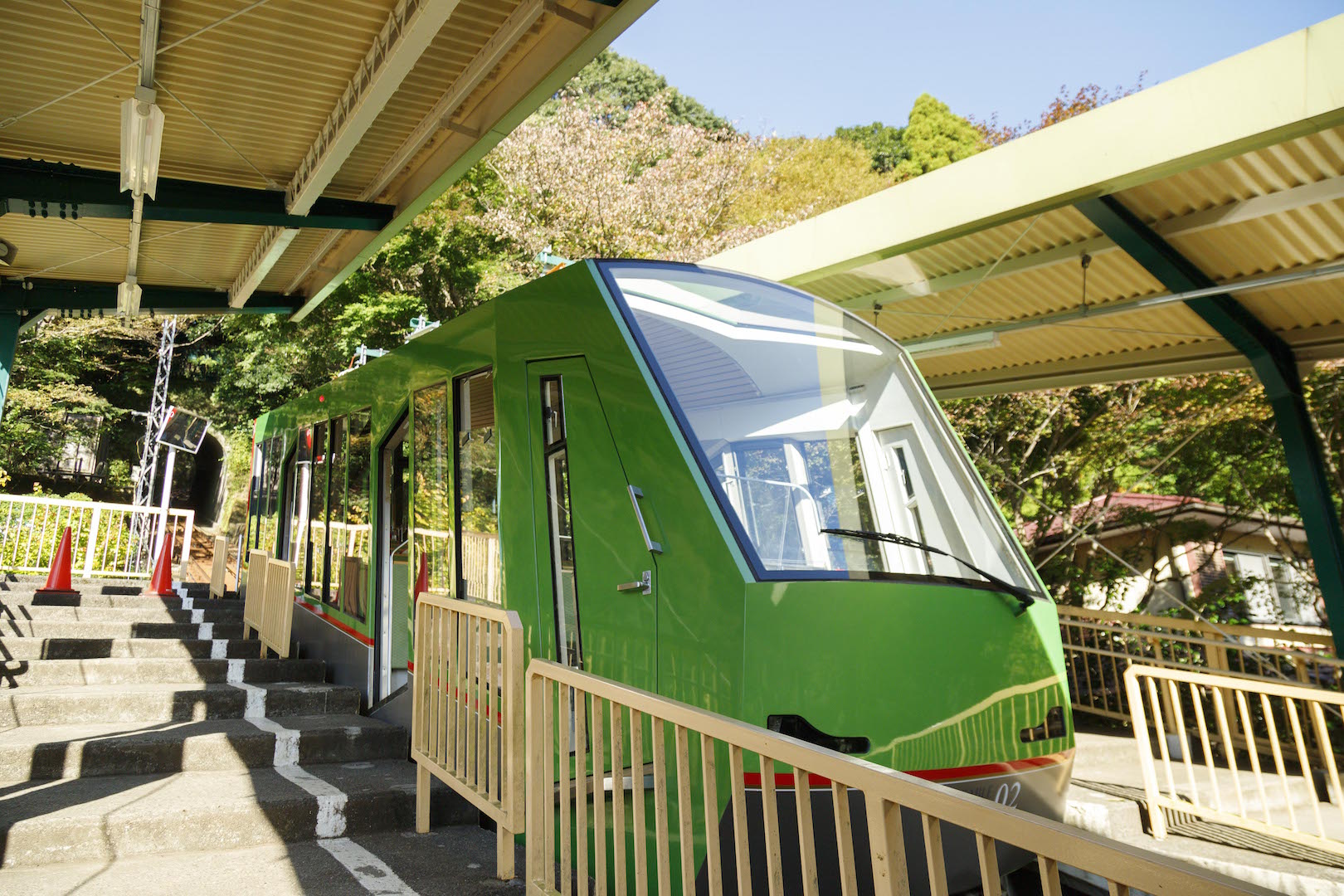 Shortly after departure, a splendid view to the rear appeared and cheers rose in the car. At the end of the plain, Sagami Bay can be seen shining, in which rests Enoshima Island. It's a little surprising to find that we are not that far from the sea.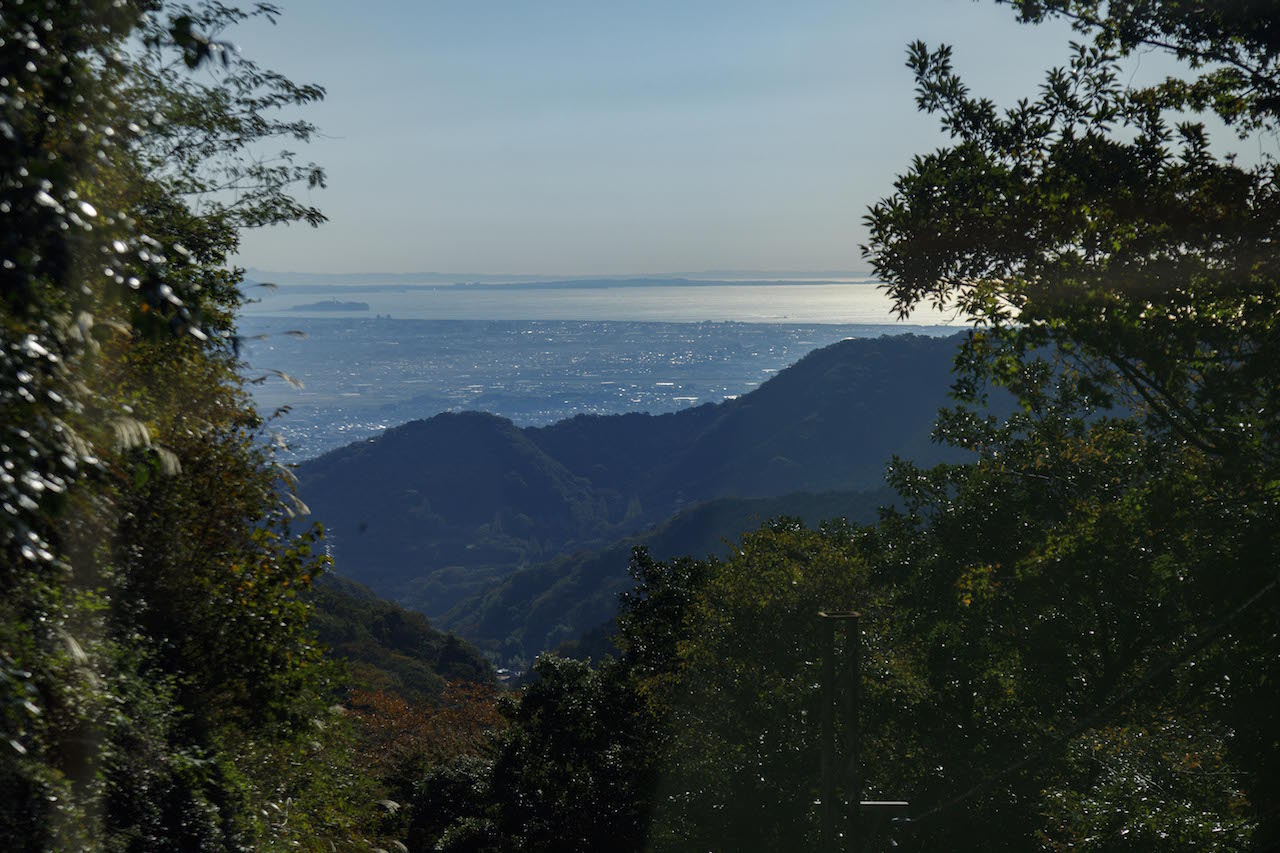 At Oyama-dera Station, which is the midpoint of the trip, we passed the cable car going down. It's a nice scene for railroad fans.
You can also get off here.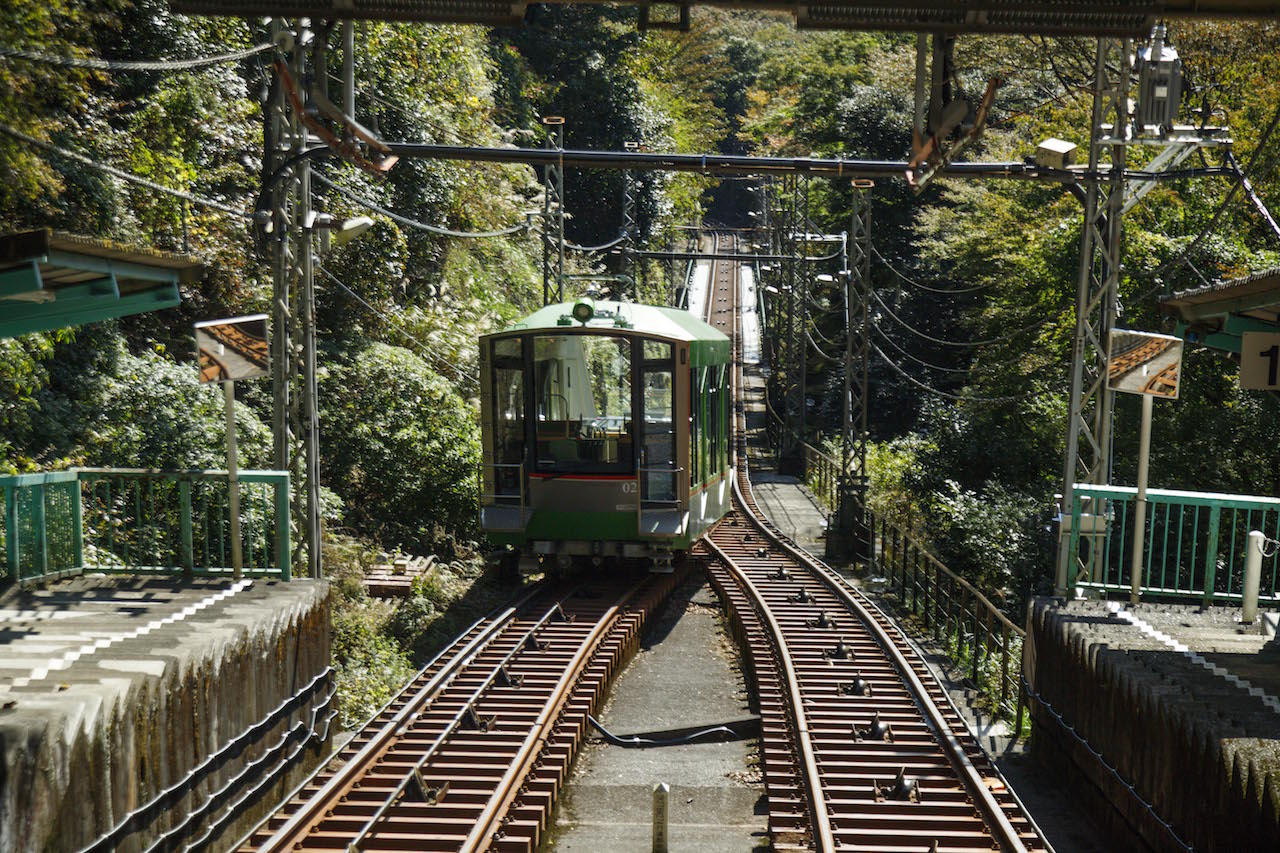 About 6 more minutes of riding, and we reached Afuri-jinja Station. The station is about 700 m above sea level, so you can feel the cool mountain air that is different from what you find at foot of the mountain.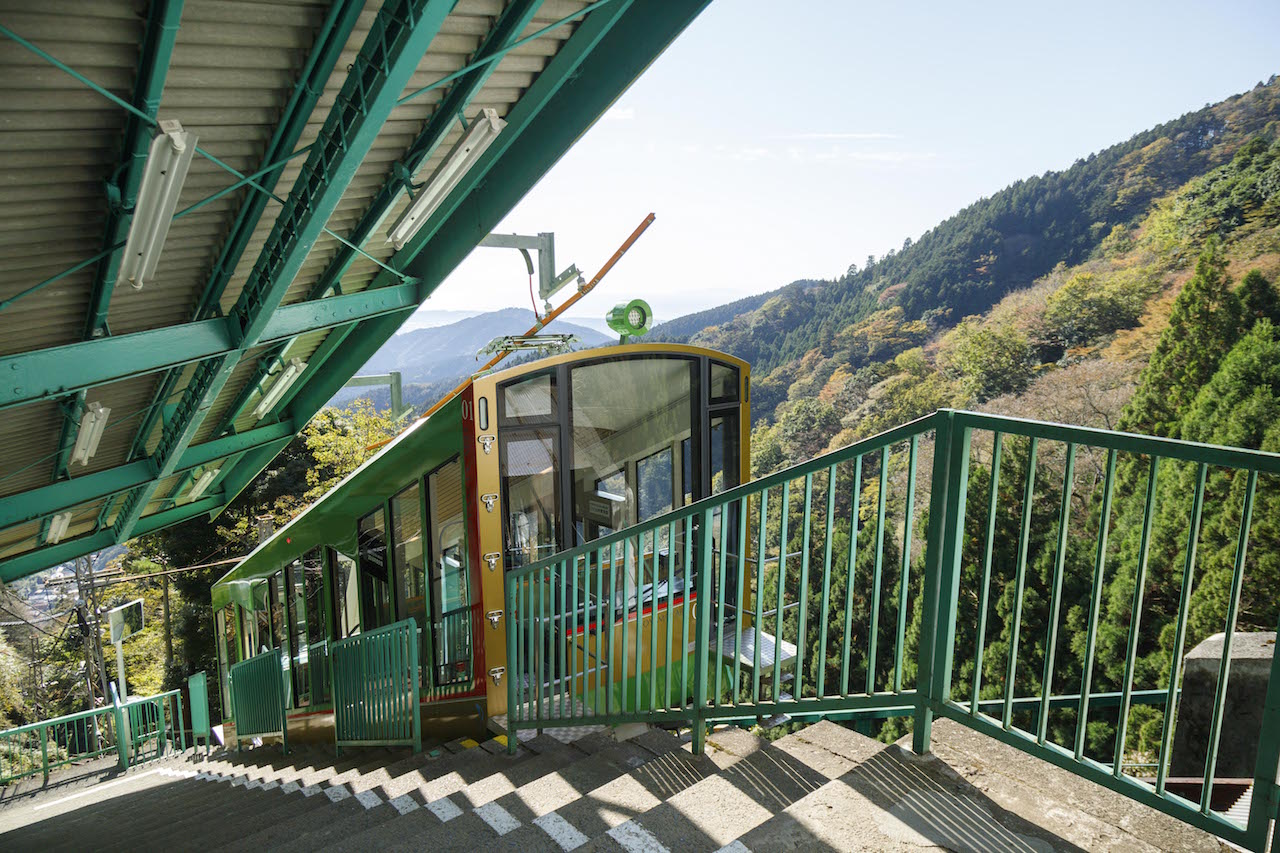 Dedicated stone lanterns are lined up along the approach leading to the worship hall of Afuri-jinja Shrine Shimosha. If you follow these, even first-time visitors will not get lost.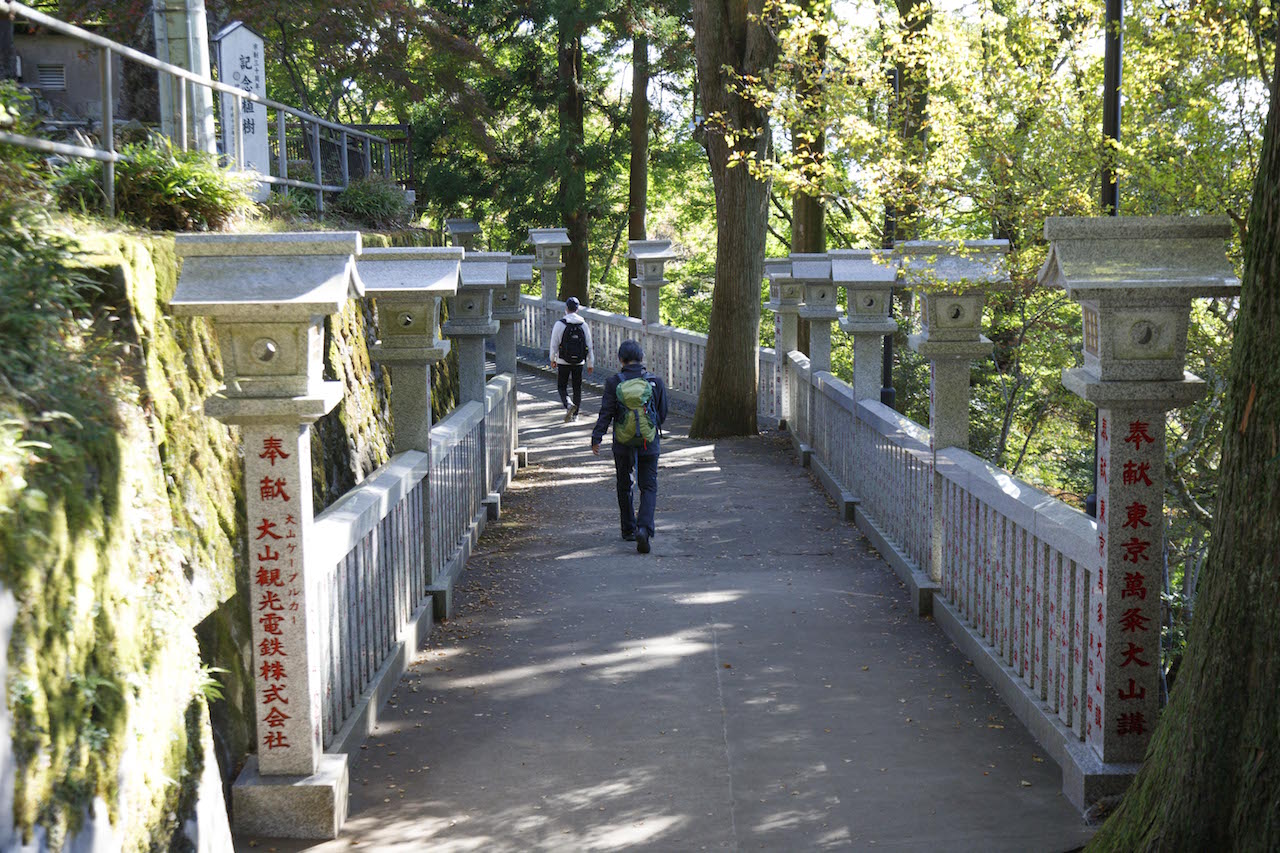 Teahouses are lined up in the square on the way. They offer a variety of light meals such as soba, udon, and ramen as well as sweets such as rice dumplings and soft serve. There is a wide selection of menus, but we will wait to enjoy these after visiting the shrine.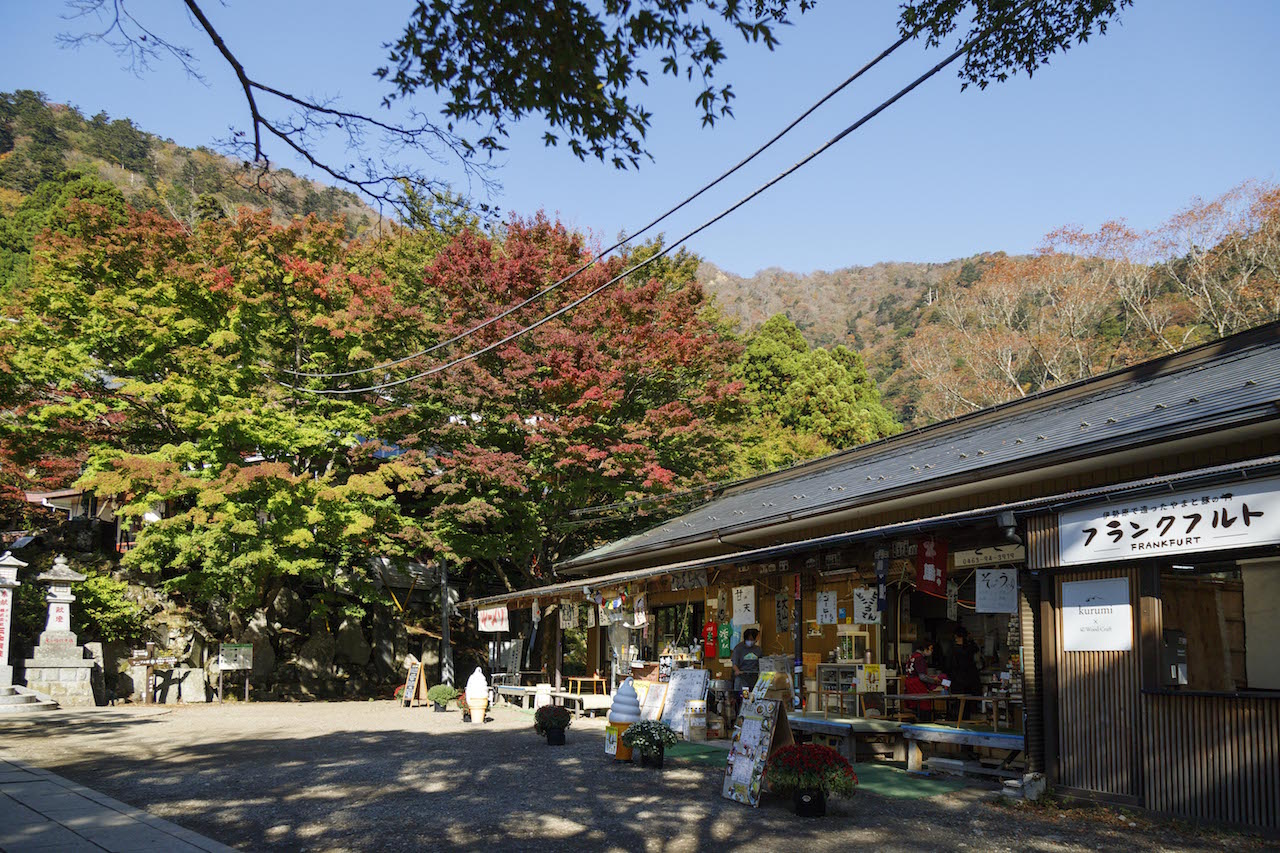 We climb another 108 stone steps to Shimosha's worship hall.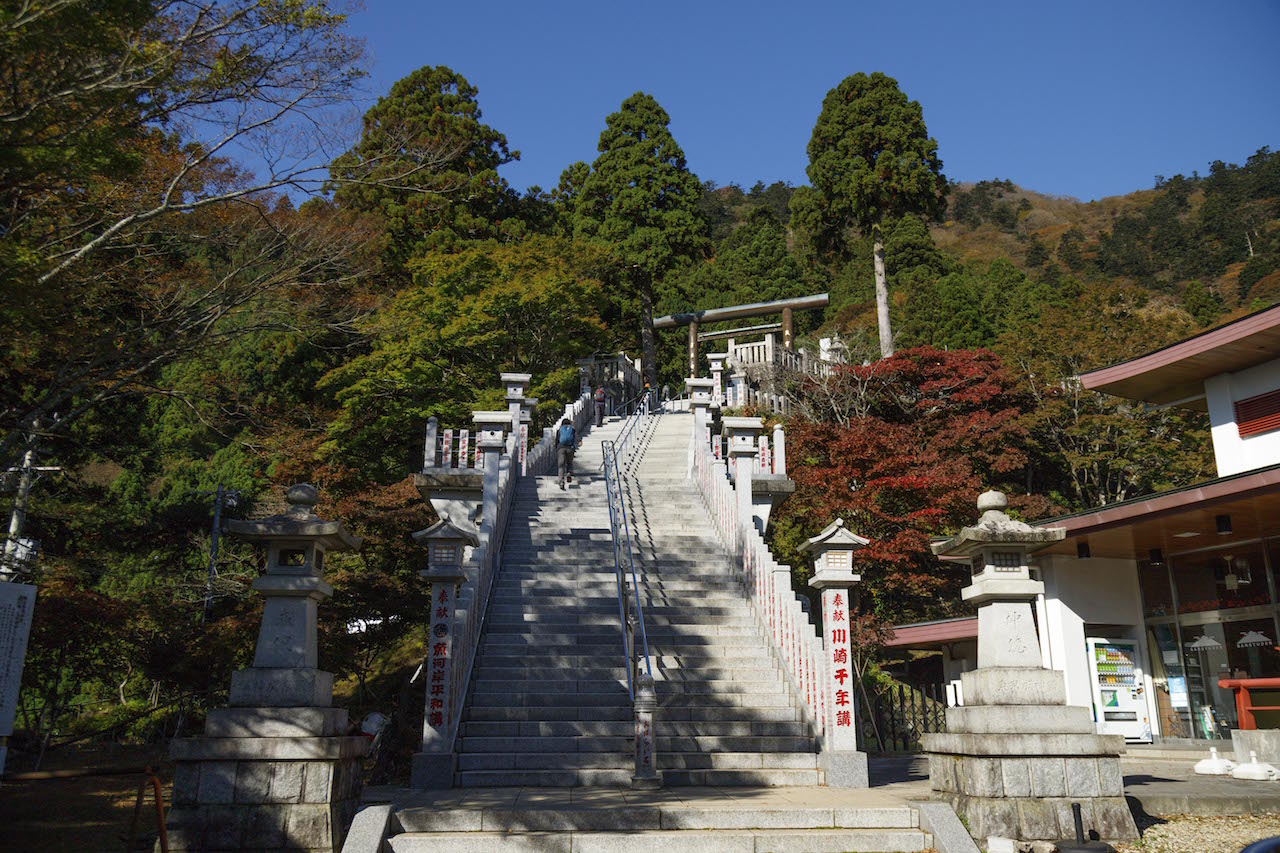 Looking back from the top of the stairs, there was a wonderful view below!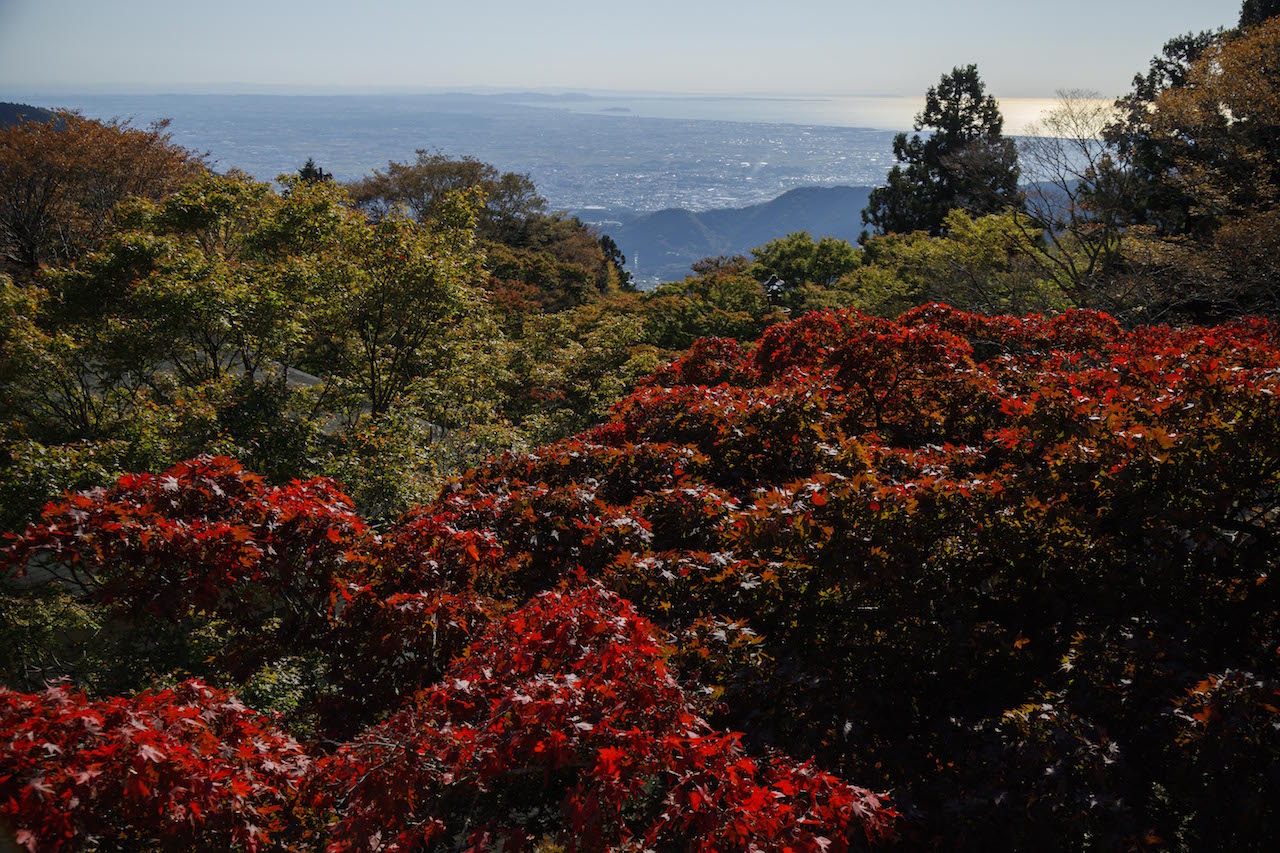 On a clear day after the rain, you can see a scenic view of Enoshima Island in Sagami Bay, Miura Peninsula, and even the Boso Peninsula. Known for its splendid night view, the cable car "night view trip" is held for a limited time during the summer season and the autumn foliage illumination period.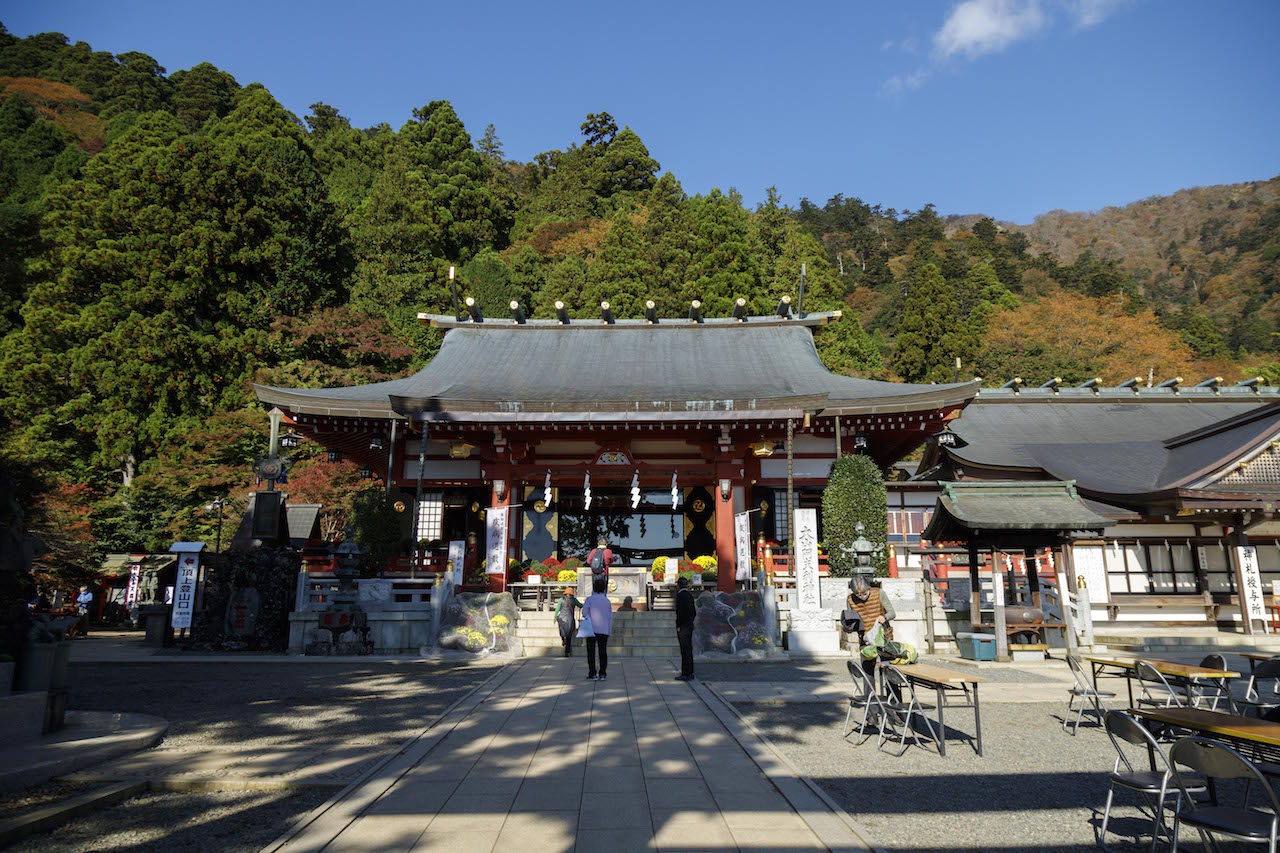 The construction of Oyama Afuri-jinja Shrine is said to have taken place around 97 BC. Since the Kamakura period, the shrine has been revered by samurai families such as Minamoto no Yoritomo. It wasn't until the Edo period that the Oyama pilgrimage experienced a popularity boom, and 170 temple lodgings were lined up along the approach, and it seems that it was very crowded with the worshippers from among the common people.
* Click here for the official website of Afuri-jinja Shrine.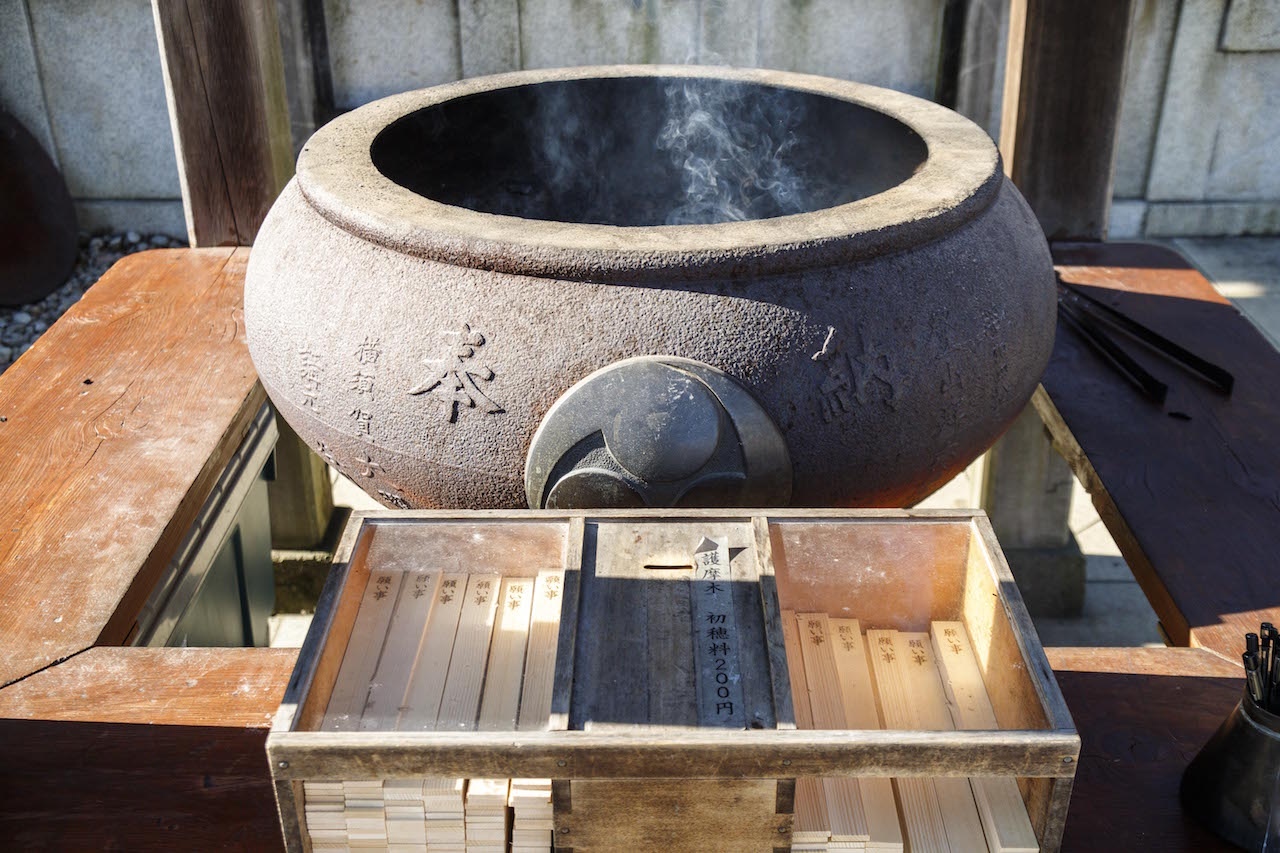 We saw homa sticks being burned in front of the worship hall. This is a method of wishing for the fulfillment of something that is desired by writing a wish, address, and name on the provided homa stick (offering fee of 200 yen) and burning it in a fire pot lit by holy fire. It would be good to pray for peace and health for yourself and your family as you place your hands together and face the quietly rising smoke.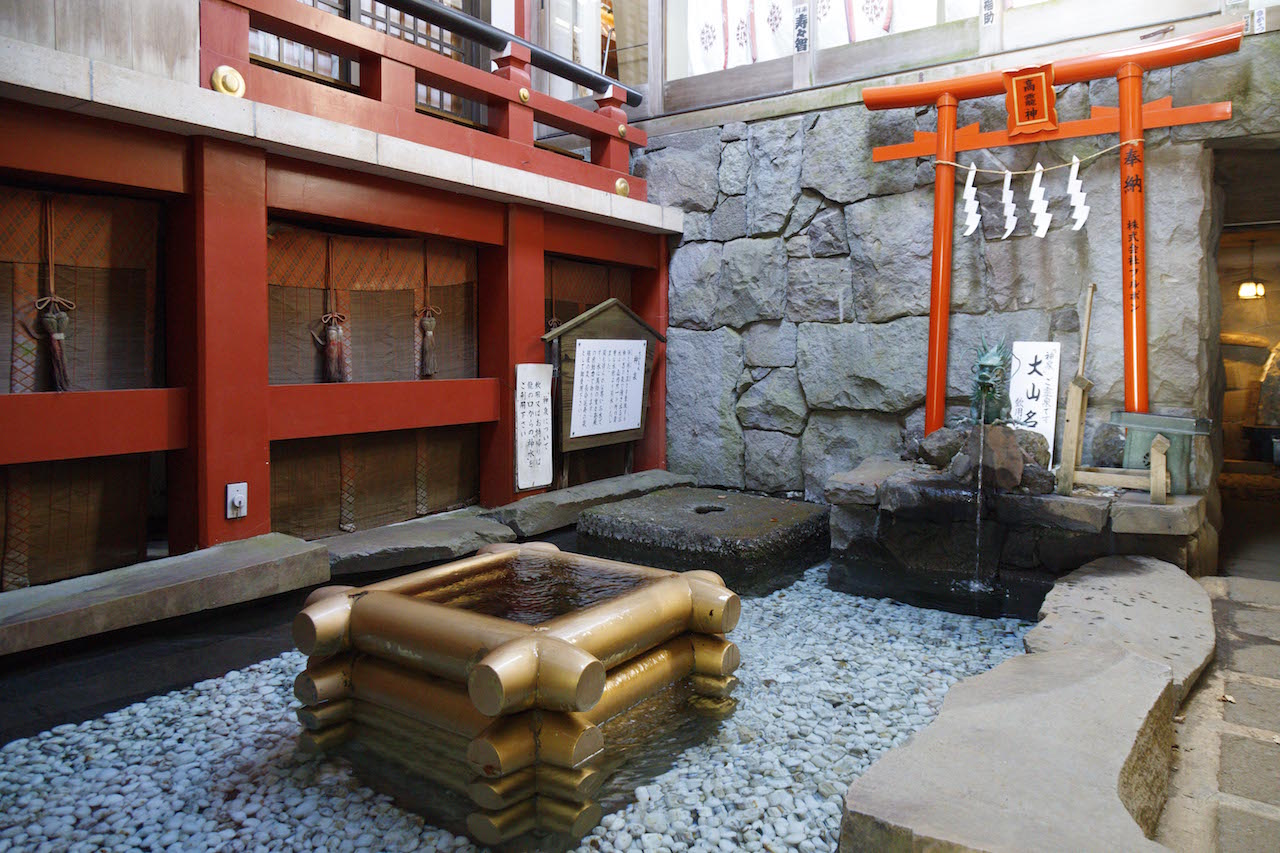 On the right side of the worship hall is Oyama Meisui Iriguchi (entrance to famous water of Mt. Oyama). As we entered, we saw a fountain where everyone can draw the sacred water "shinsen" that springs from the basement of the worship hall. Shinsen is known as a fountain for bestowing reproductive health and longevity, and is a famous water source used for Mt. Oyama's renowned sake. Anyone can draw it freely, so it seems that there are many people who use it for hydration during mountain climbing. PET bottles are sold for those who do not have a container.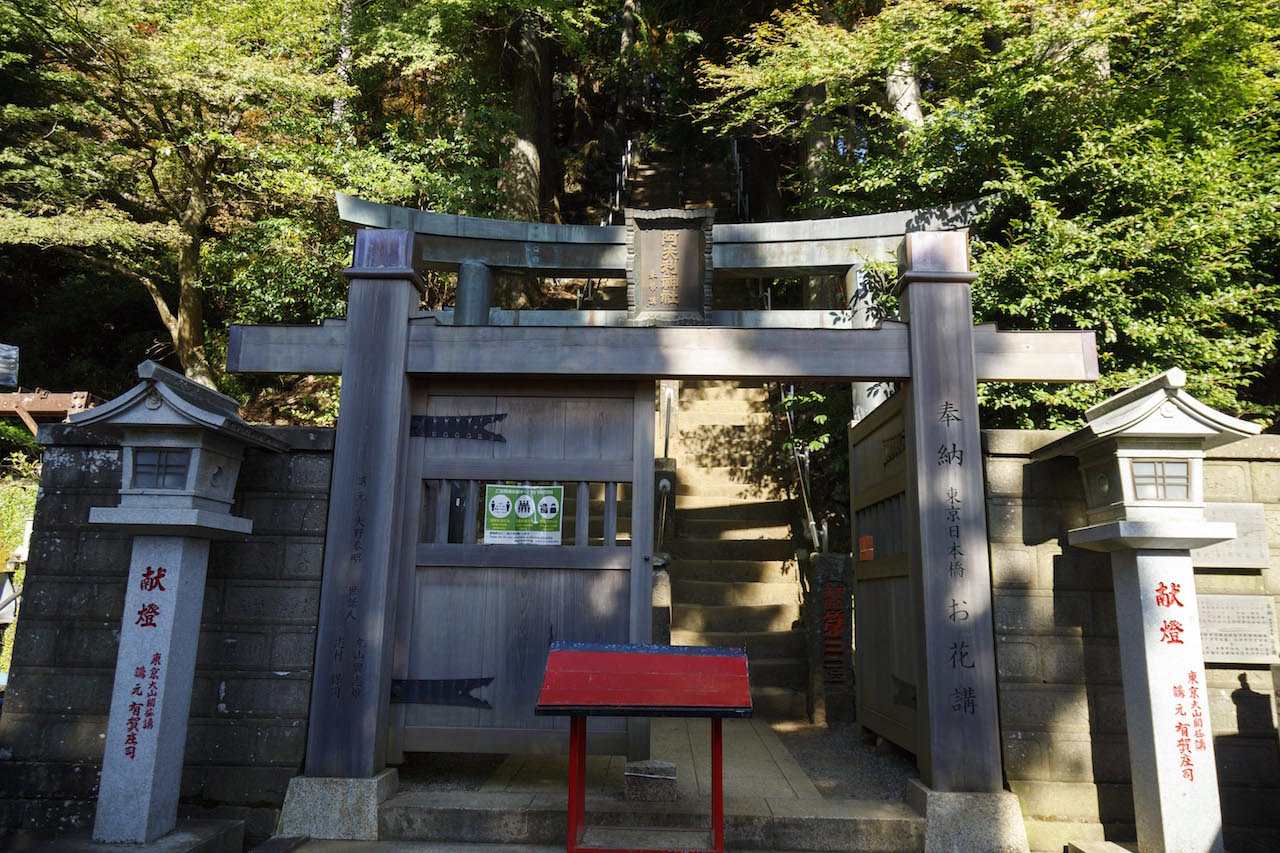 After passing through the worship gate on the far left of the worship hall, our mountain climbing actually started. We're suddenly faced with steep stone steps, which are a bit daunting, but it'll take about an hour and a half to climb from here to the main hall where the main deity is enshrined.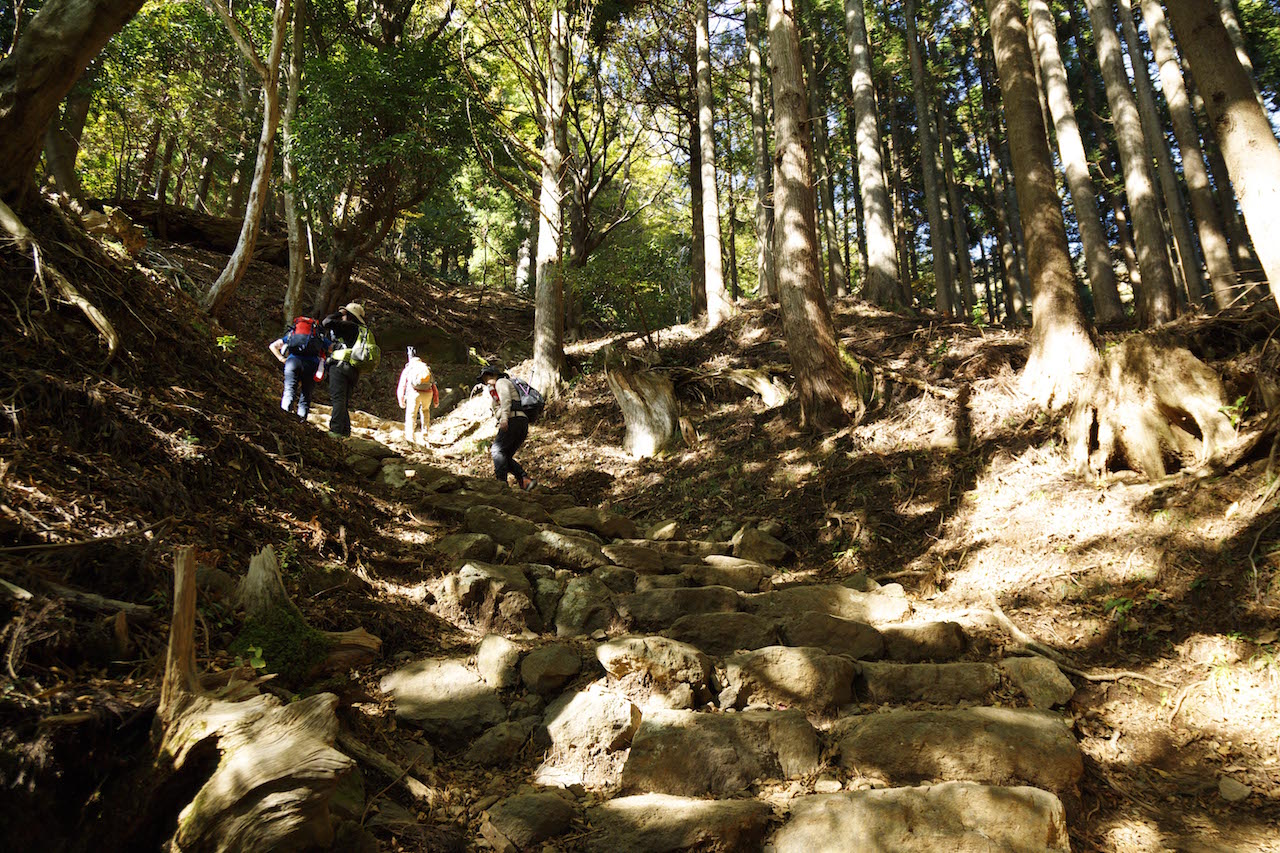 After climbing up the steps, the rest is a rocky mountain trail. Even though it is a beginner level path, it is still "mountain climbing," so equipment such as trekking shoes are essential.
The summit where the main hall is located is "28-chome." We climb step by step while counting the signposts marked as "○-chome."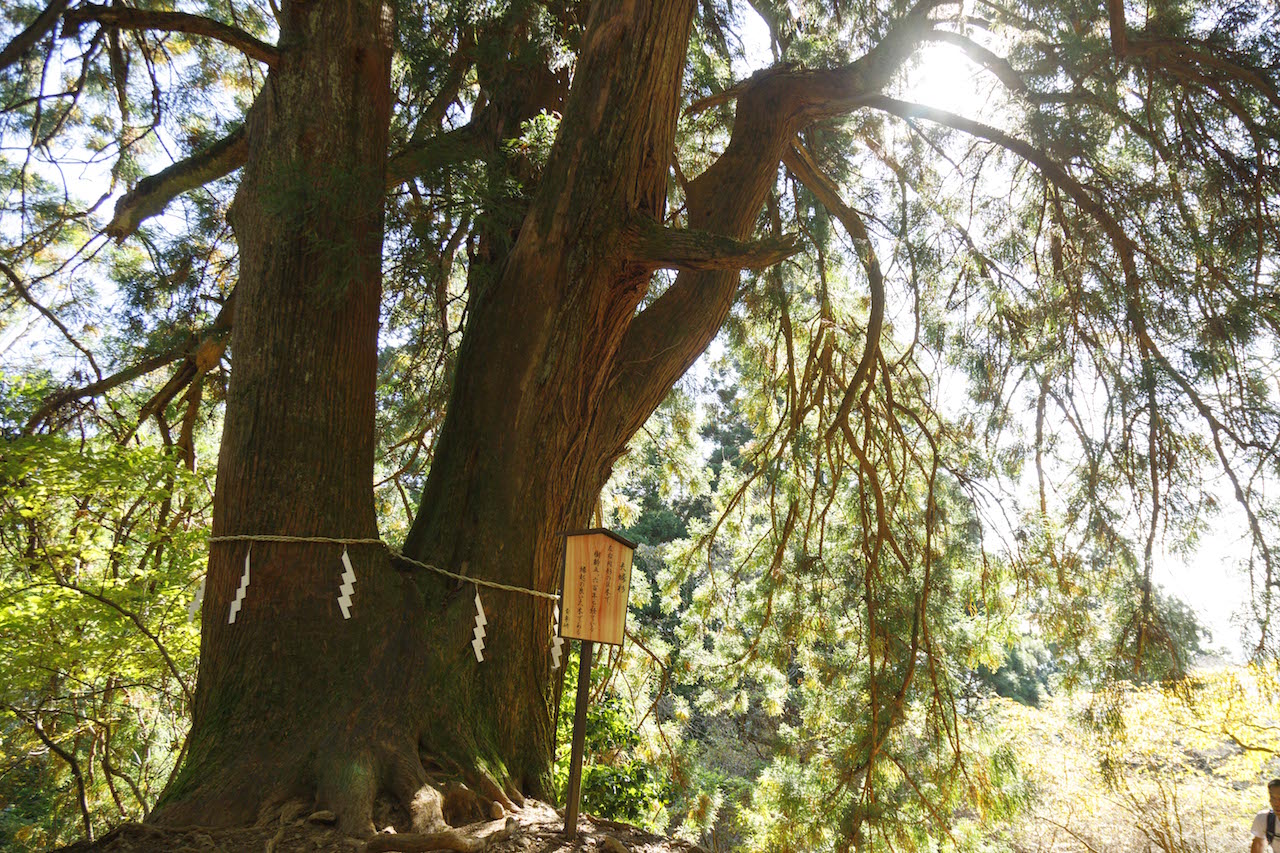 The Meotosugi (fused cedar tree pair) around 8-chome is 500 to 600 years old. There are many other giant mossy trees in Oyama, and it almost feels like being inside a painting.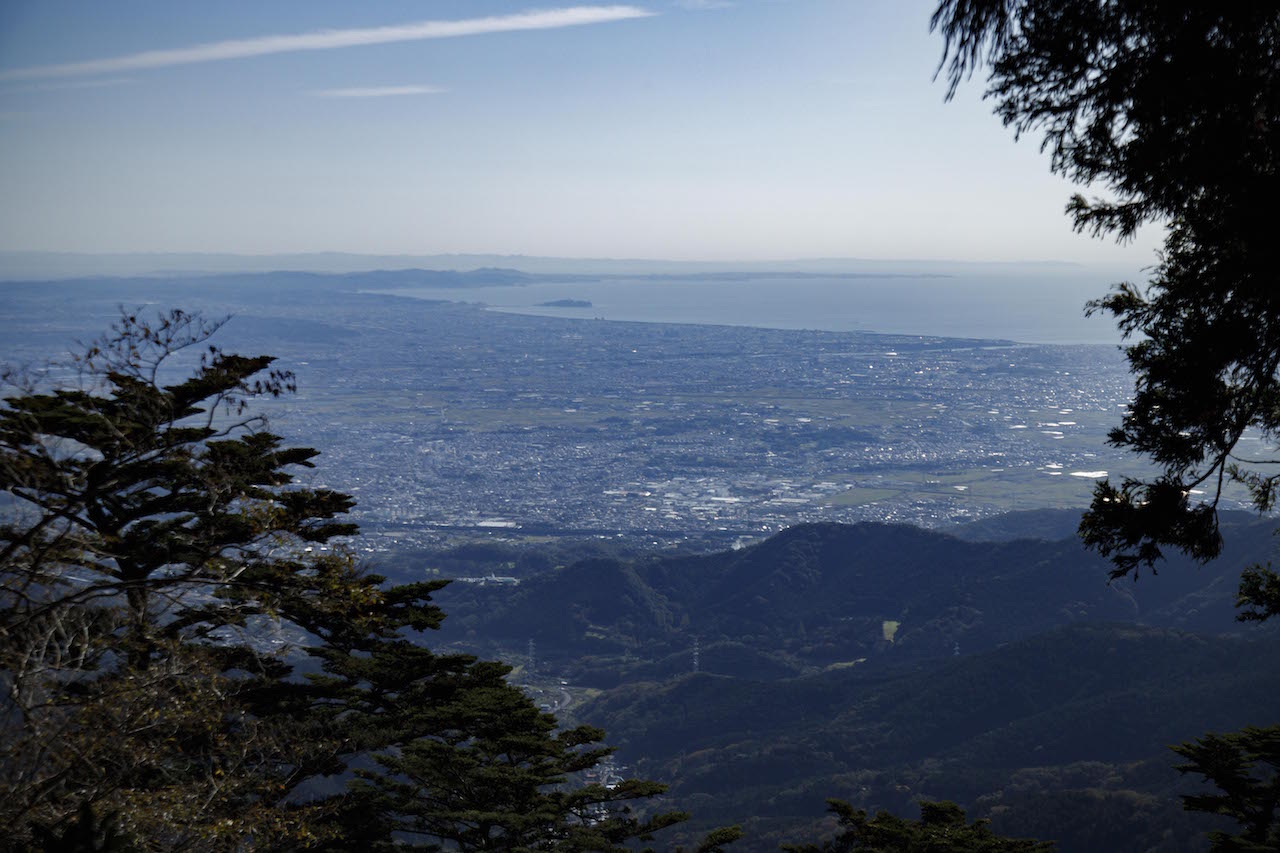 We took a rest at a point where we could see in the direction of Sagami Bay.
When looking closely at the wide plain, the buildings of Minato Mirai in Yokohama looked small. There are also points overlooking the Izu Peninsula and Oshima Island, so climbing slowly while enjoying the scenery is recommended. Fujimidai at 20-chome is unquestionably the best point to enjoy the spectacular view of Mt. Fuji, but unfortunately we couldn't see Mt. Fuji on the day of our trip. But...!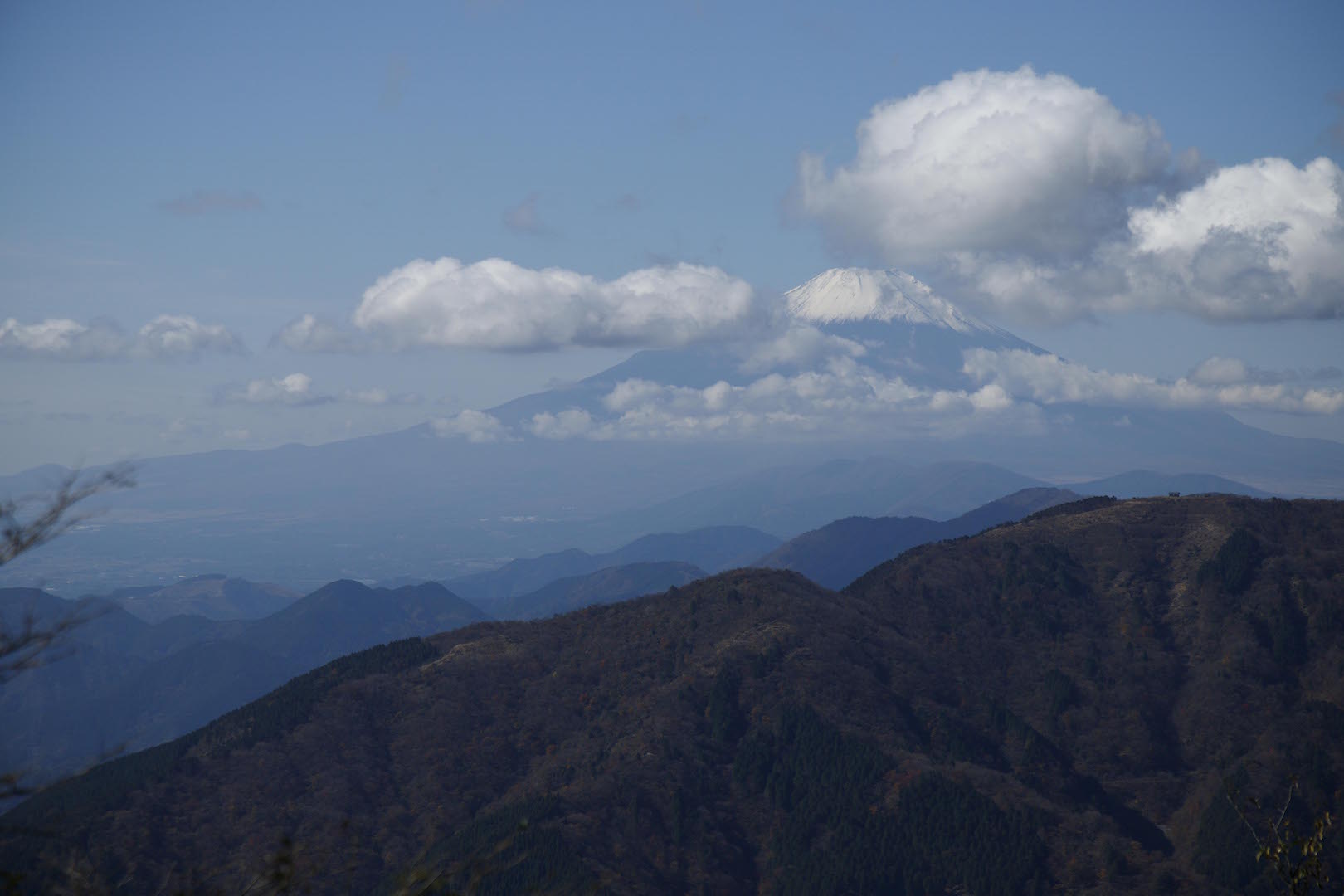 Just as our climb was nearing the summit, the clouds started to dissipate, and Mt. Fuji appeared. This is definitely a Michelin-class vista!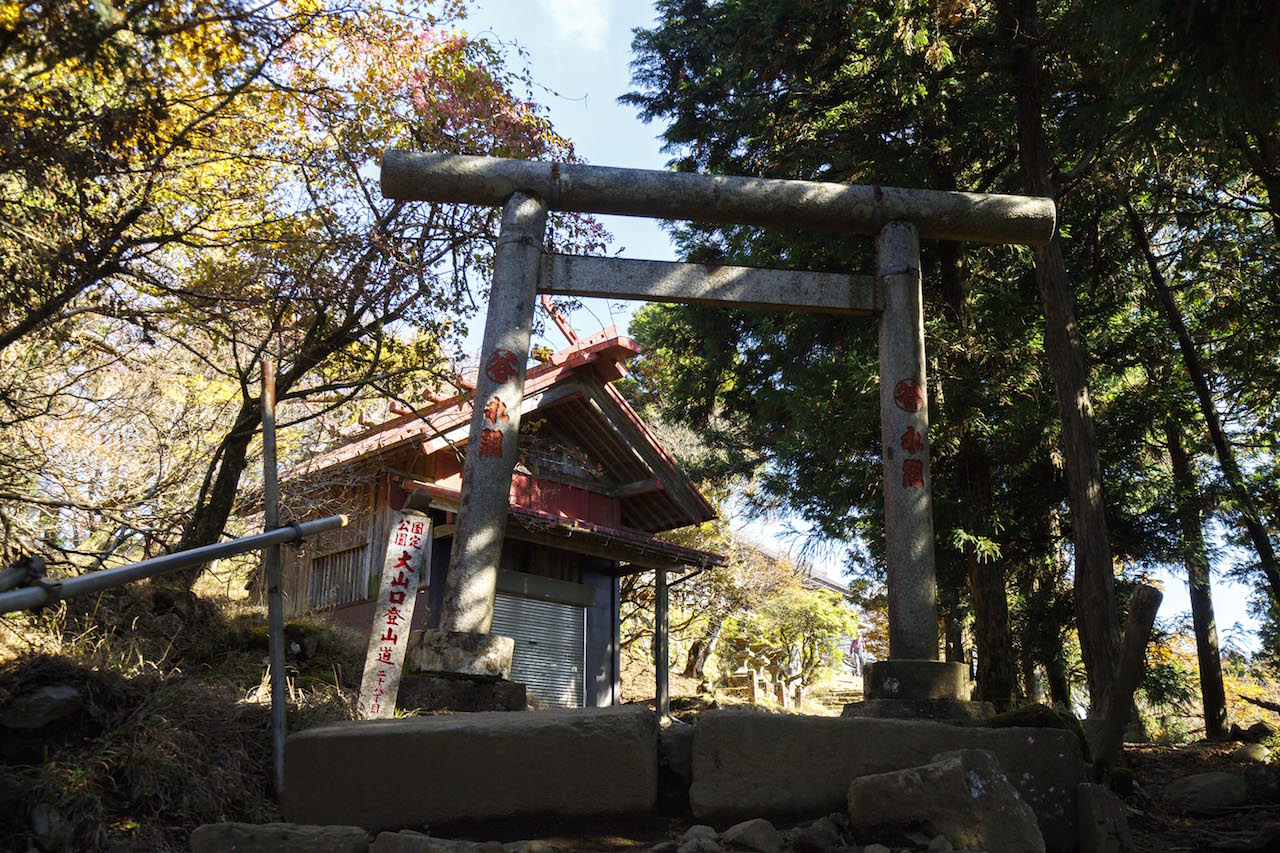 Finally, we arrived at the summit. It was a climb of about 1.5 hours from Shimosha.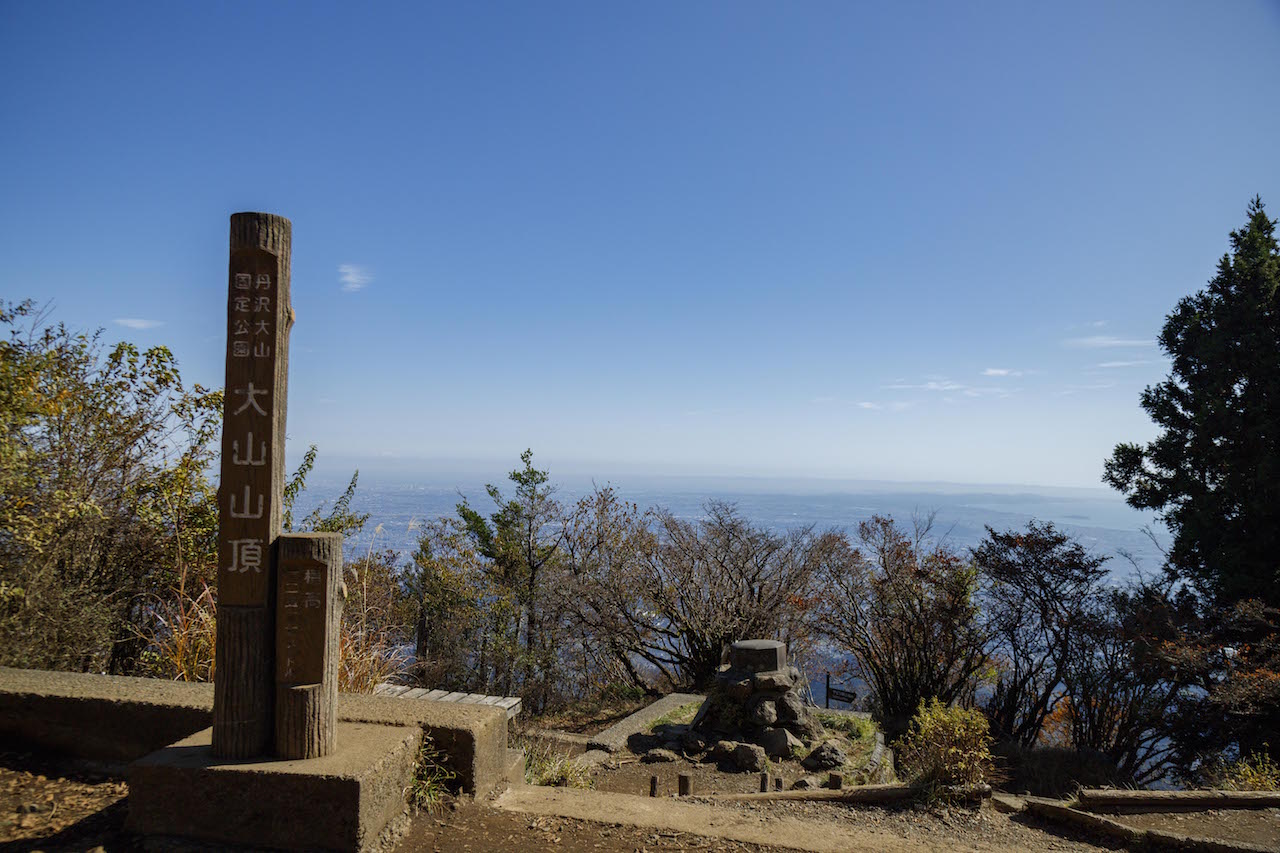 First, we paid our respects at the main hall of Afuri-jinja Shrine, offering thanks for having been able to reach the summit safe and sound.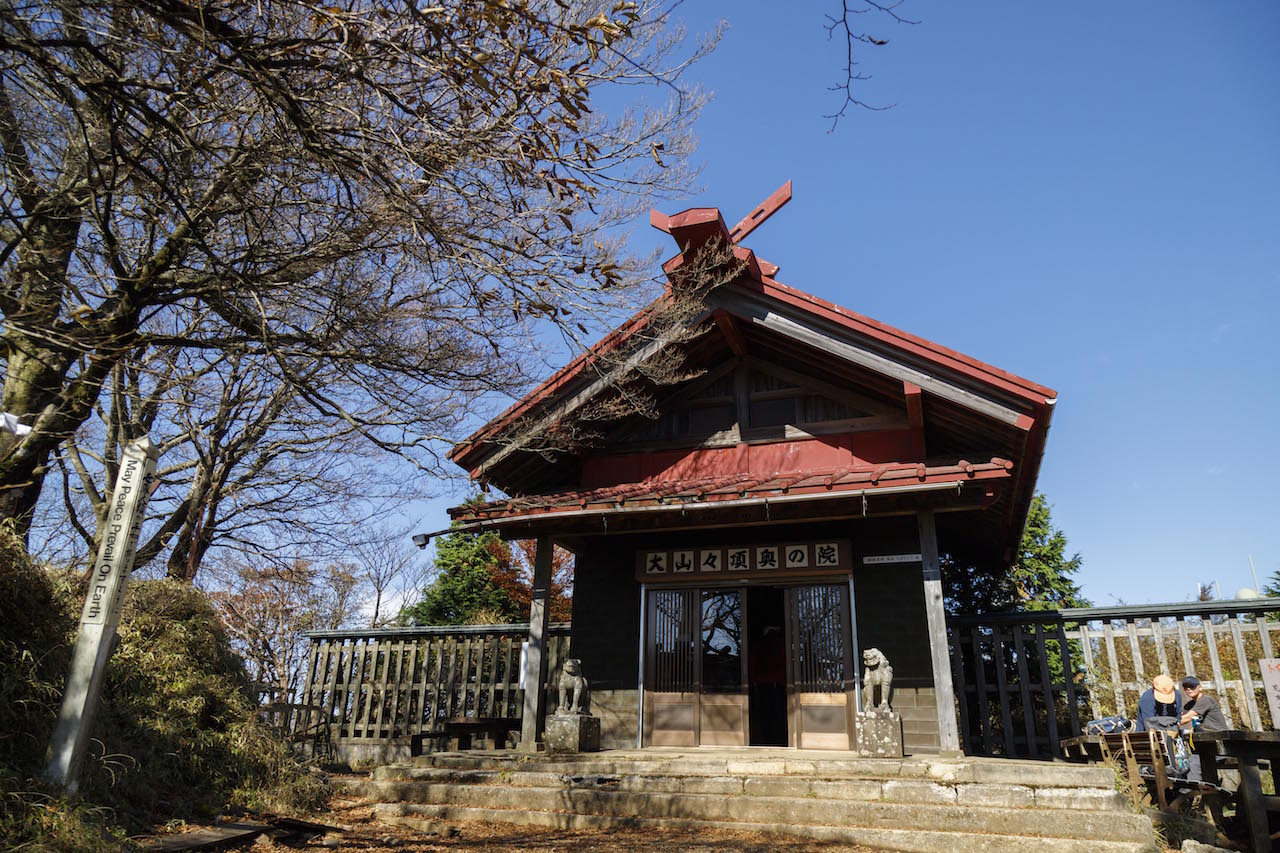 At the summit, there are benches and tables, so it was a great feeling to eat the boxed lunches we brought with us under the blue sky!
Teahouses at the summit offer light meals such as sansai (mountain vegetables) soba and tonjiru (miso soup with pork and vegetables). The warm soup was exceptionally delicious as a reward for climbing hard.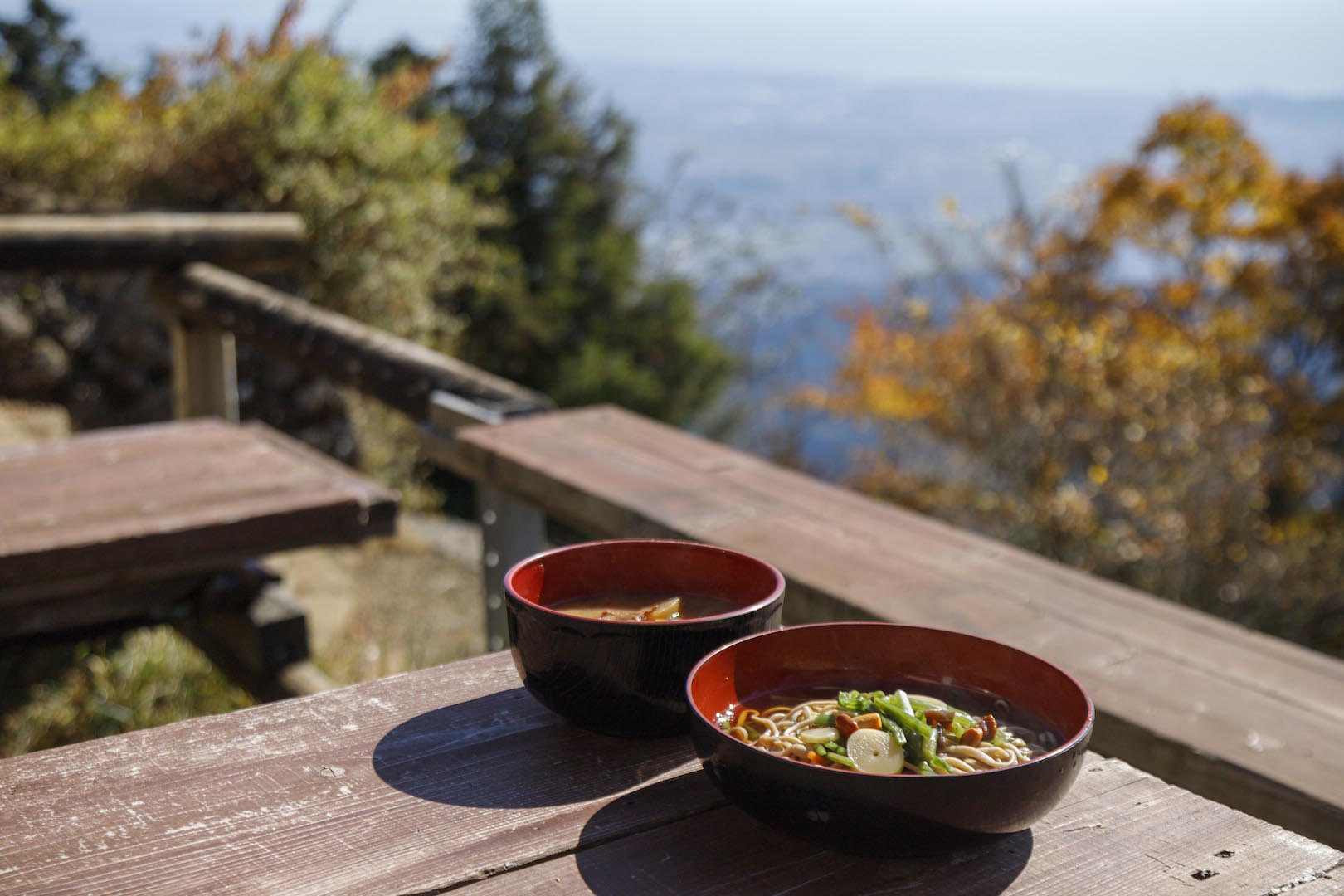 We chose a walking path with a view of Sagami Bay and the large Kanto Plain for our trip down the mountain.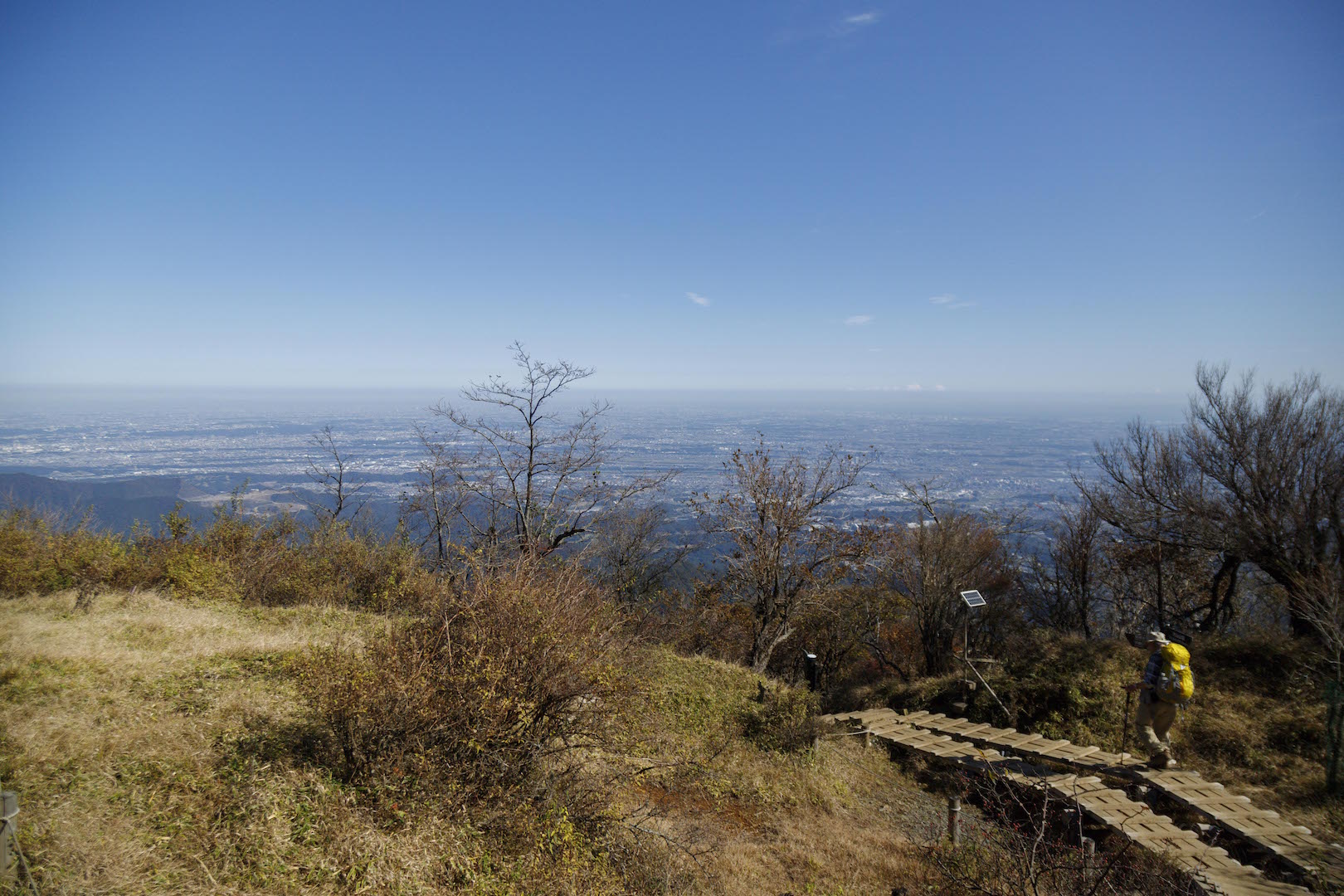 Our visit took place in early November. Near the summit, the leaves of the trees began turning colors and the contrast with the blue sky is beautiful.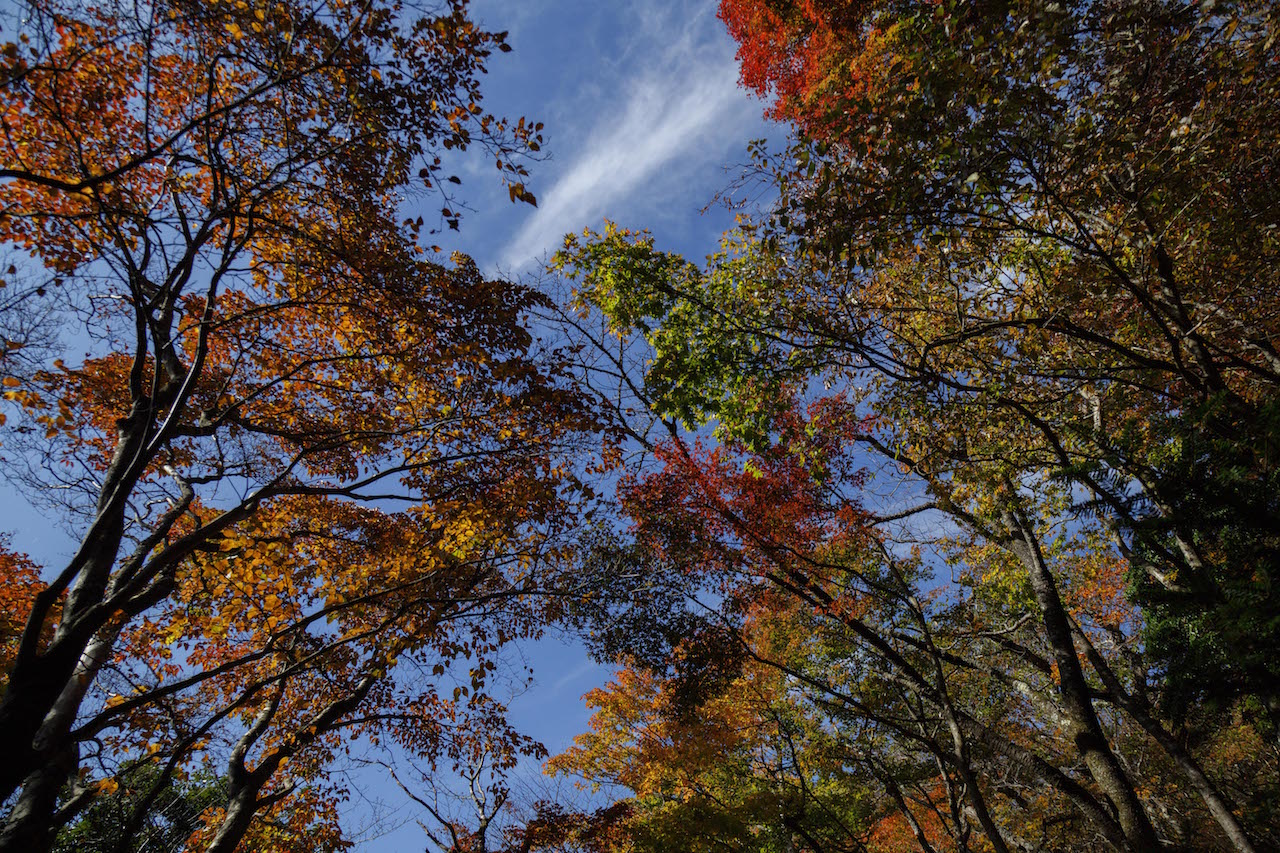 About an hour into our descent, we arrived at Miharashidai (scenic spot). This is a superb view point overlooking the area from Yokohama to the Tokyo metropolitan area.
There is also a route that goes directly from Shimosha to Miharashidai, which is about a 30-minute walk. Light footwear such as sneakers are enough to walk this path, so it is recommended for those who want to enjoy the spectacular view of Mt. Oyama.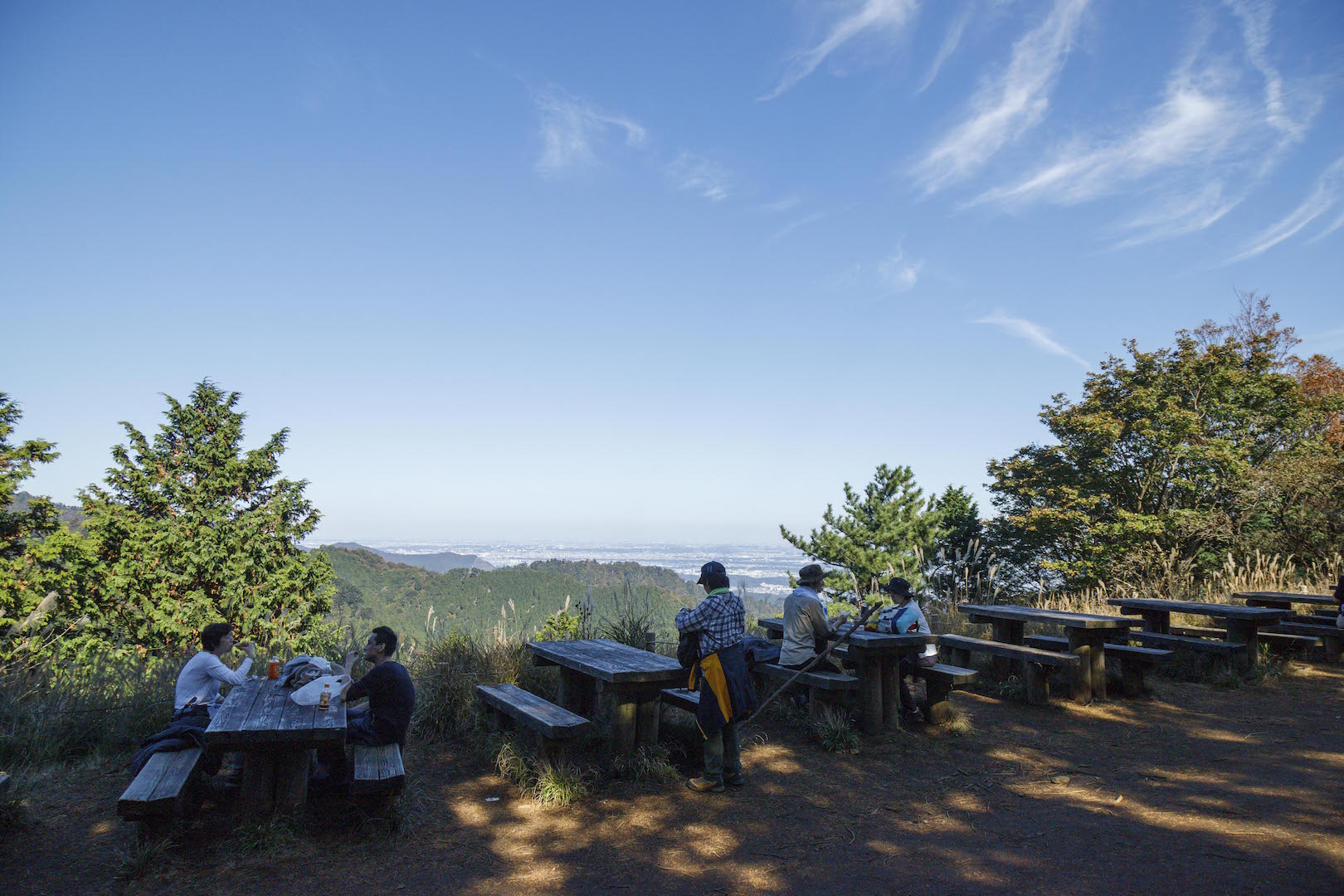 There are no shops, but if you prepare light meals and drinks, it will be like a little day camp. There are many benches and tables, so it's a perfect spot for people coming down from the mountain to take a break.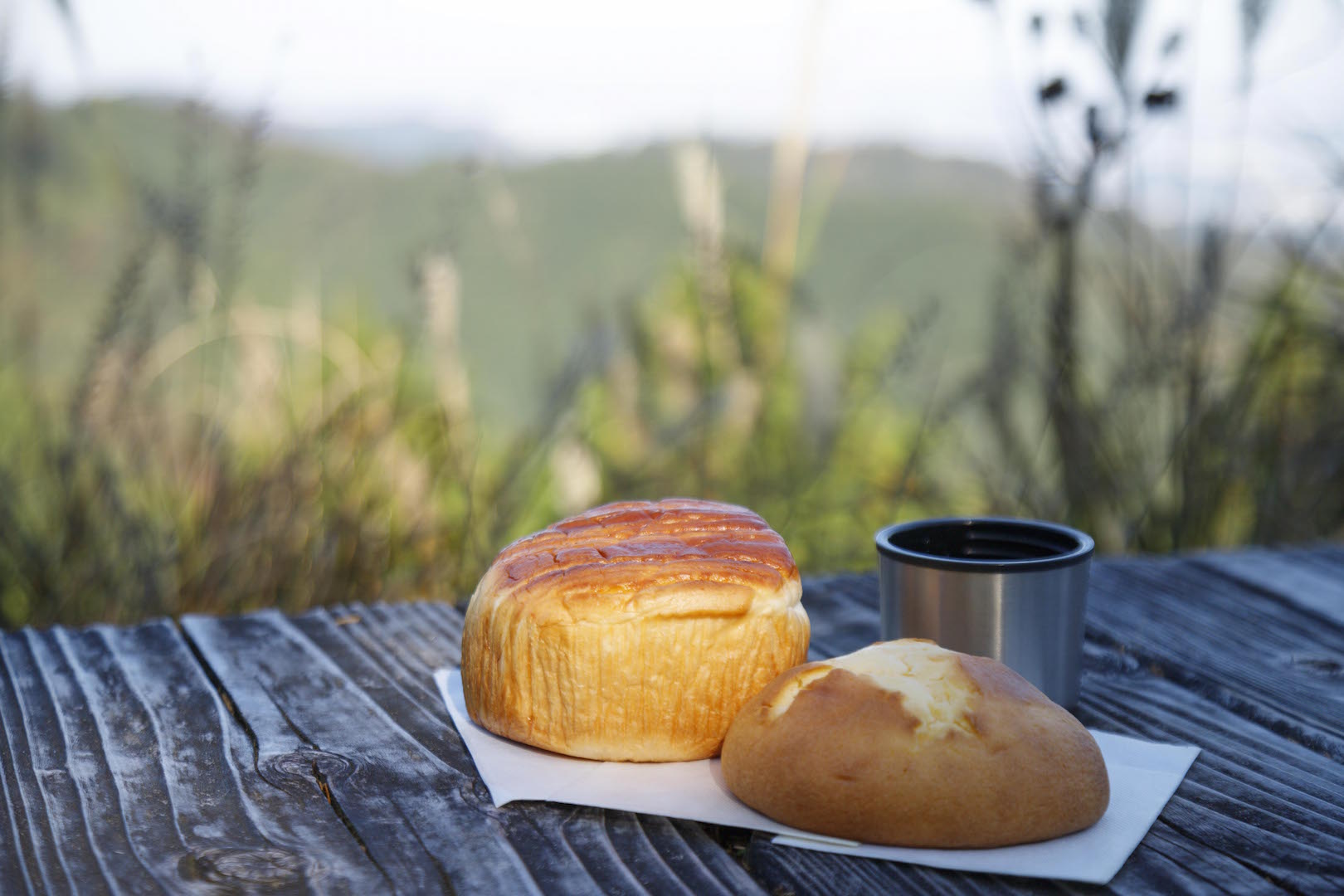 After passing Miharashidai, the path becomes a gentle downhill mountain road. Enjoy the glittering sunlight through the trees here!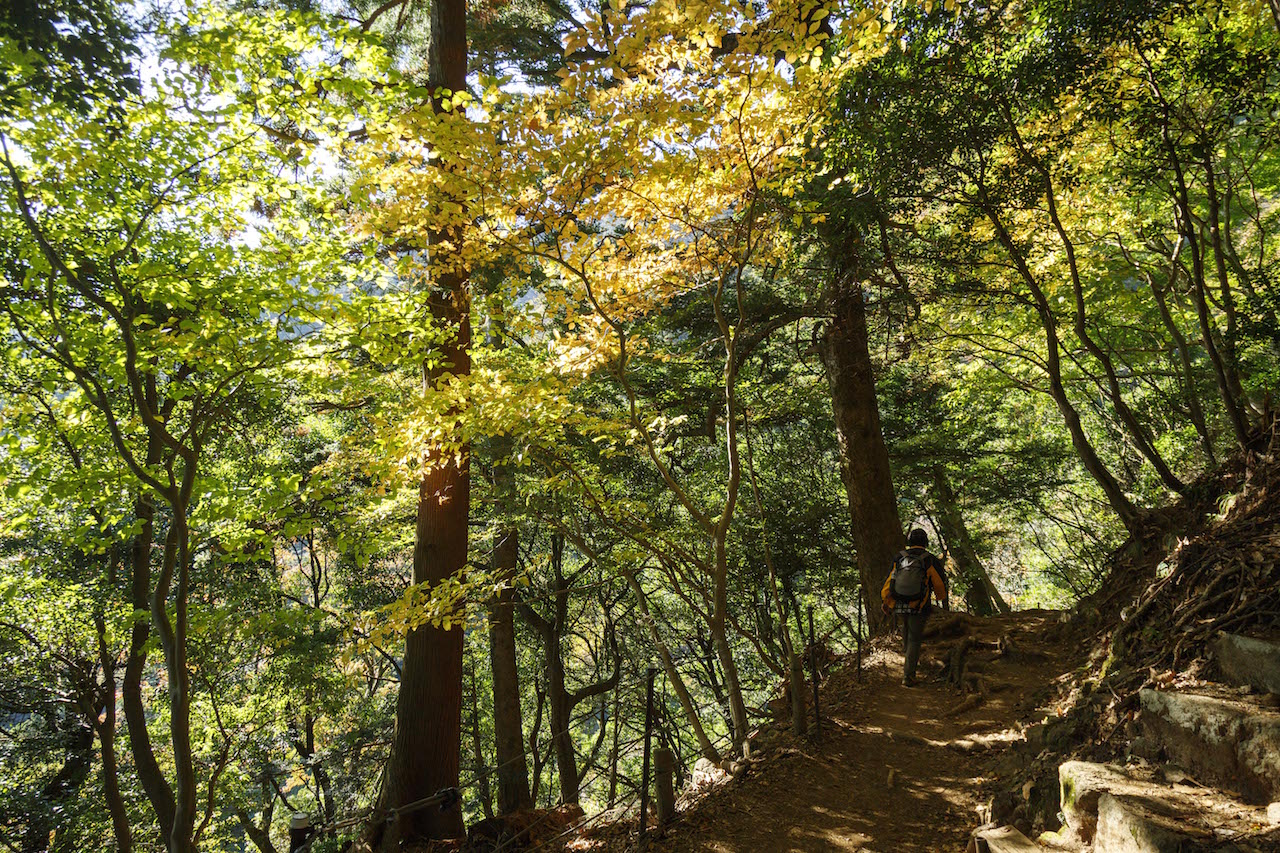 We thought we could hear the faint sound of flowing water, and then we saw the Niju-sha miniature shrine.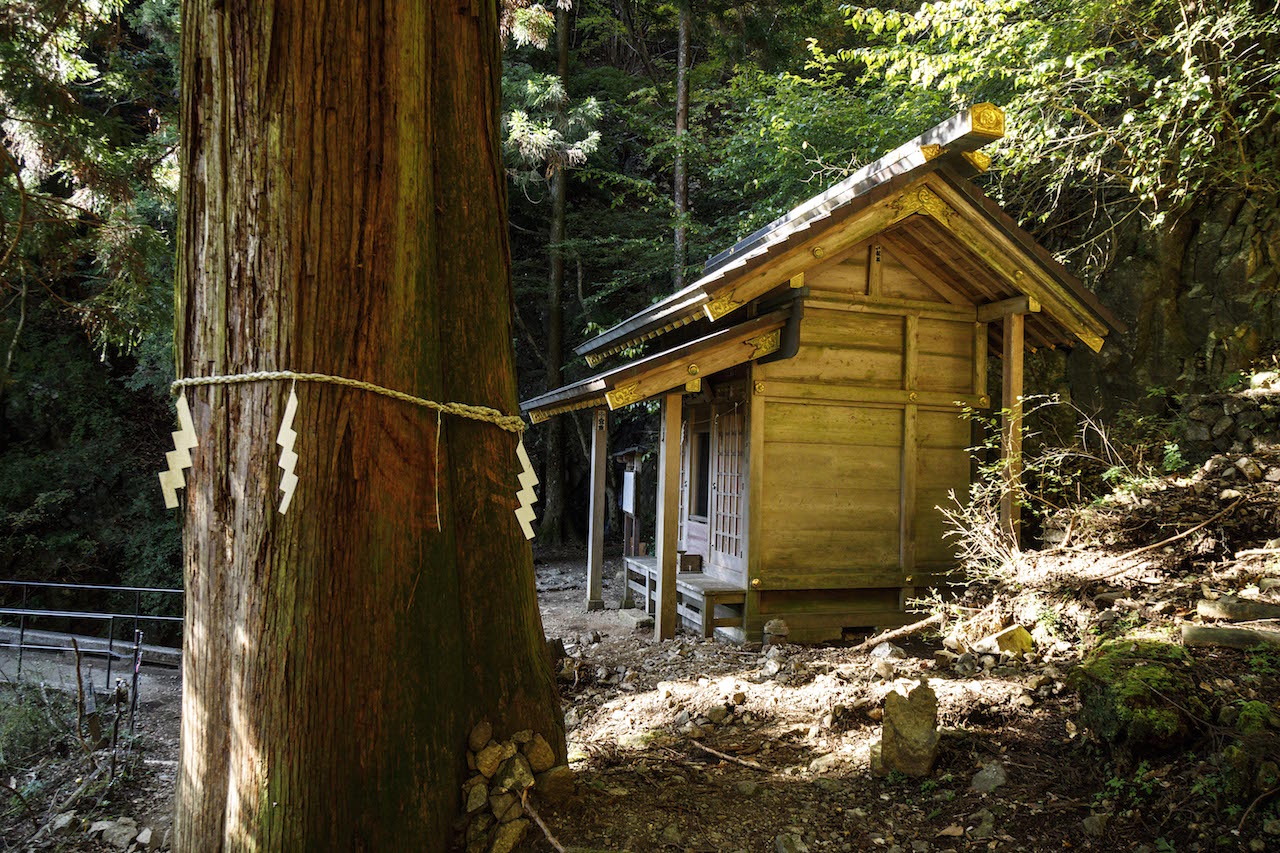 Niju no taki Falls, which is flowing down alongside it, is said to be a place for Shugenja (practitioners of Shugendo) once.
It takes about 5 minutes to go from Niju no taki Falls to Shimosha. Even though it's not far away, this scenery seems like a different world from the hustle and bustle.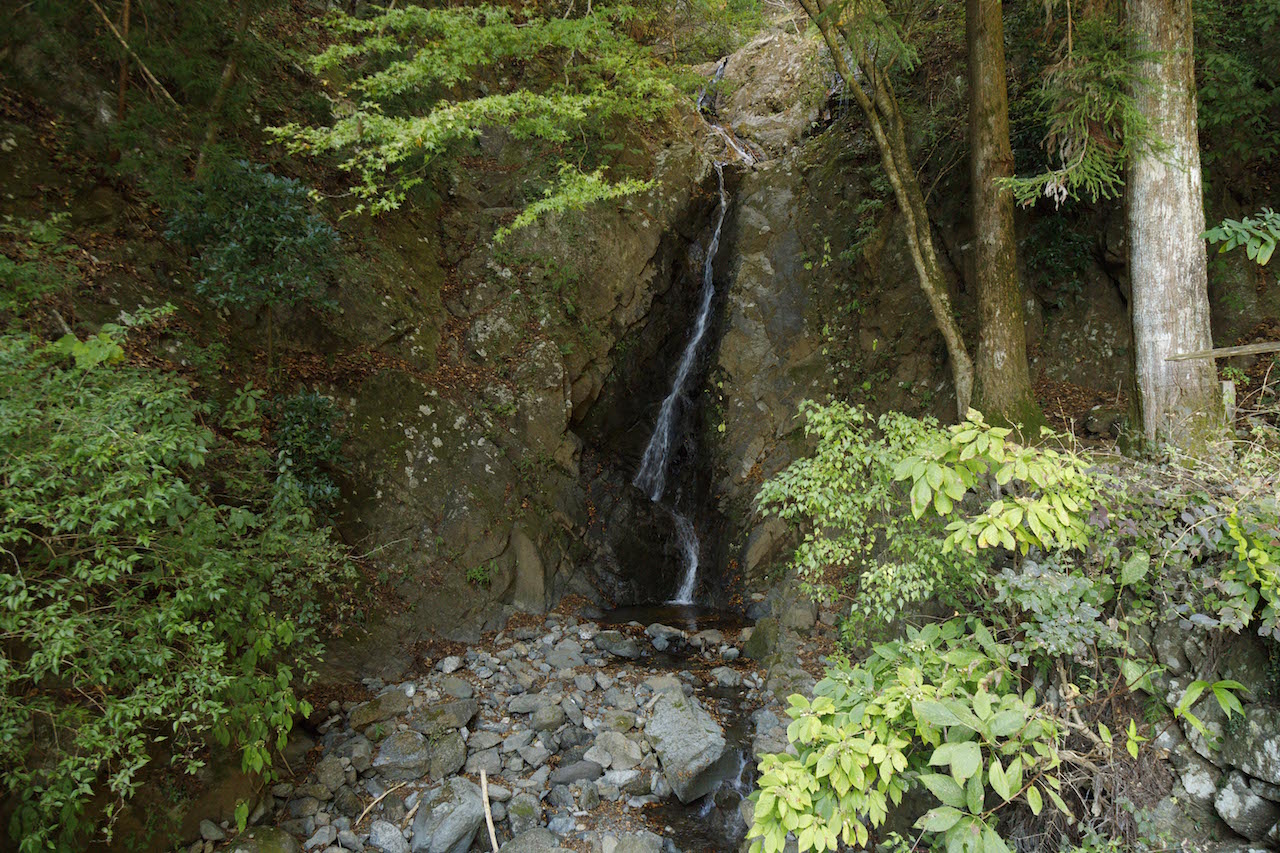 Upon returning to Afuri-jinja Shrine Shimosha, please drop by the Saryo Sekison teahouse on the grounds of the shrine. It is a fashionable cafe where you can enjoy not only the spectacular Michelin-starred scenery, but also matcha and coffee brewed in Mt. Oyama's famous water, as well as original sweets.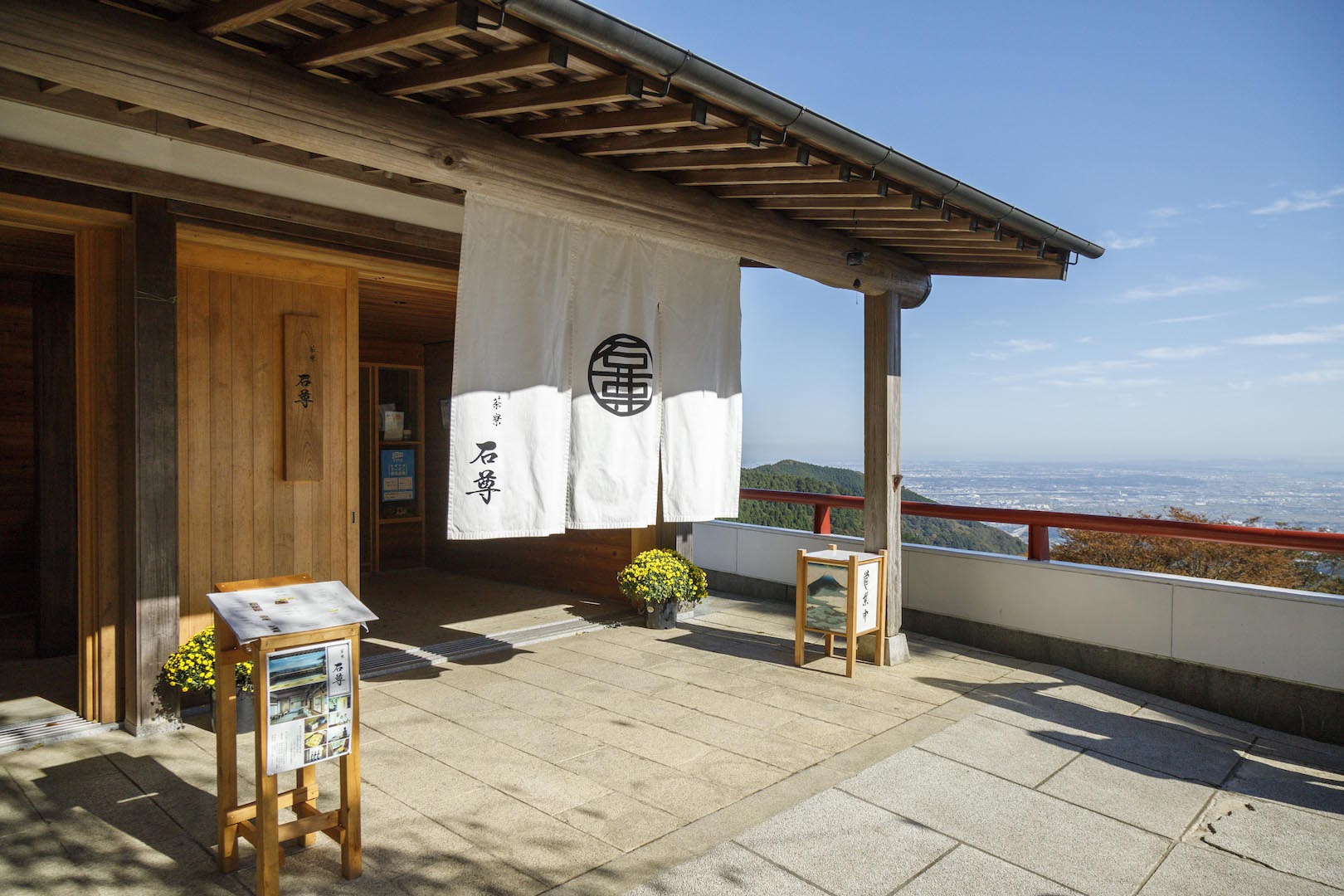 The cafe was designed by architect Yasushi Horibe and Yukio Uchida, a carpenter specializing in the construction and repair of shrines and temples. Yukio Uchida is also involved in the restoration of national Important Cultural Properties. From the tatami area to the table seats, the porch, and the counter on the terrace, the cafe has a sense of openness, and you can feel the pleasant nature and breeze of Mt. Oyama so much wherever you sit that you might accidentally stay longer than you anticipated.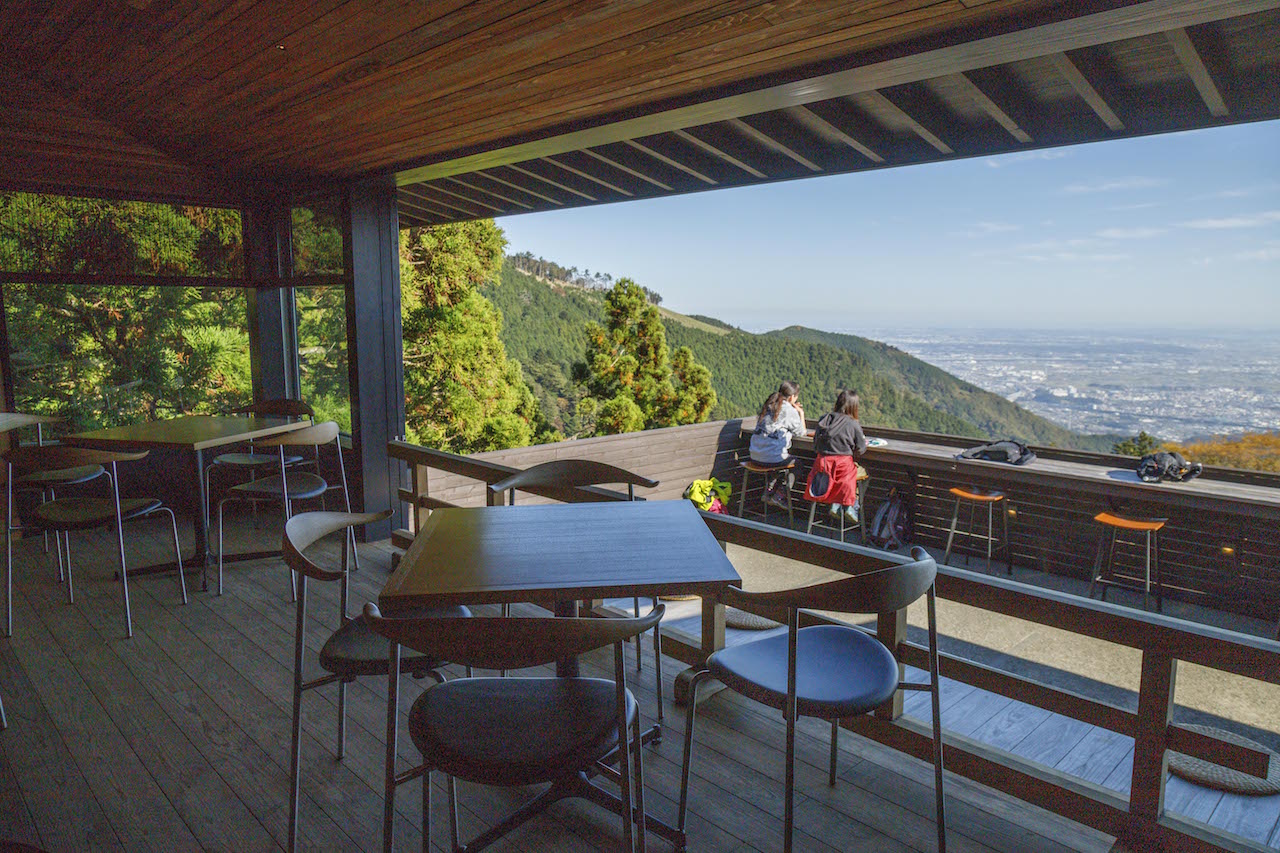 The cafe offers a wide variety of delicious and stylish menus such as galettes made with toasted soybean flour and bean paste, and matcha tiramisu sprinkled with matcha powder from the long-established tea wholesaler in Isehara, Cha Kato. Coffee brewed using the sacred water of Afuri-jinja Shrine seems like it could bring good luck by drinking it.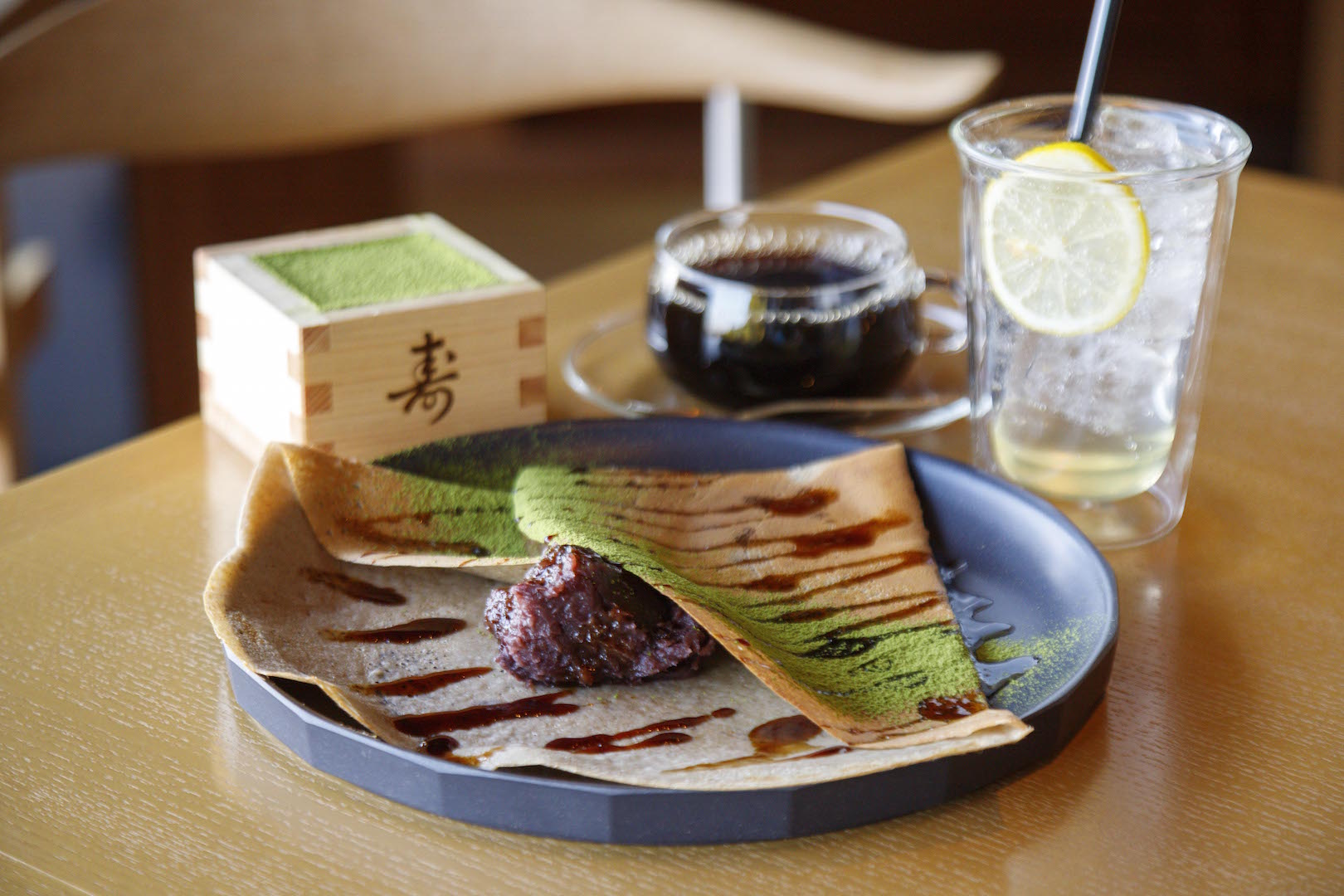 《Saryo
Sekison》
[Hours] 9:30 a.m. - 5:00 p.m. (until 30 minutes before the finish of service of the cable car)
[Tel] 0463-94-3628 [Closures] Subject to change
* Clickhere for the official Facebook page of Saryo Sekison.
There is another place worth visiting before taking the cable car down to the foot of the mountain.
It is Oyama-dera Temple which was opened in 755 AD by the monk, Roben, who opened Todai-ji Temple in Nara.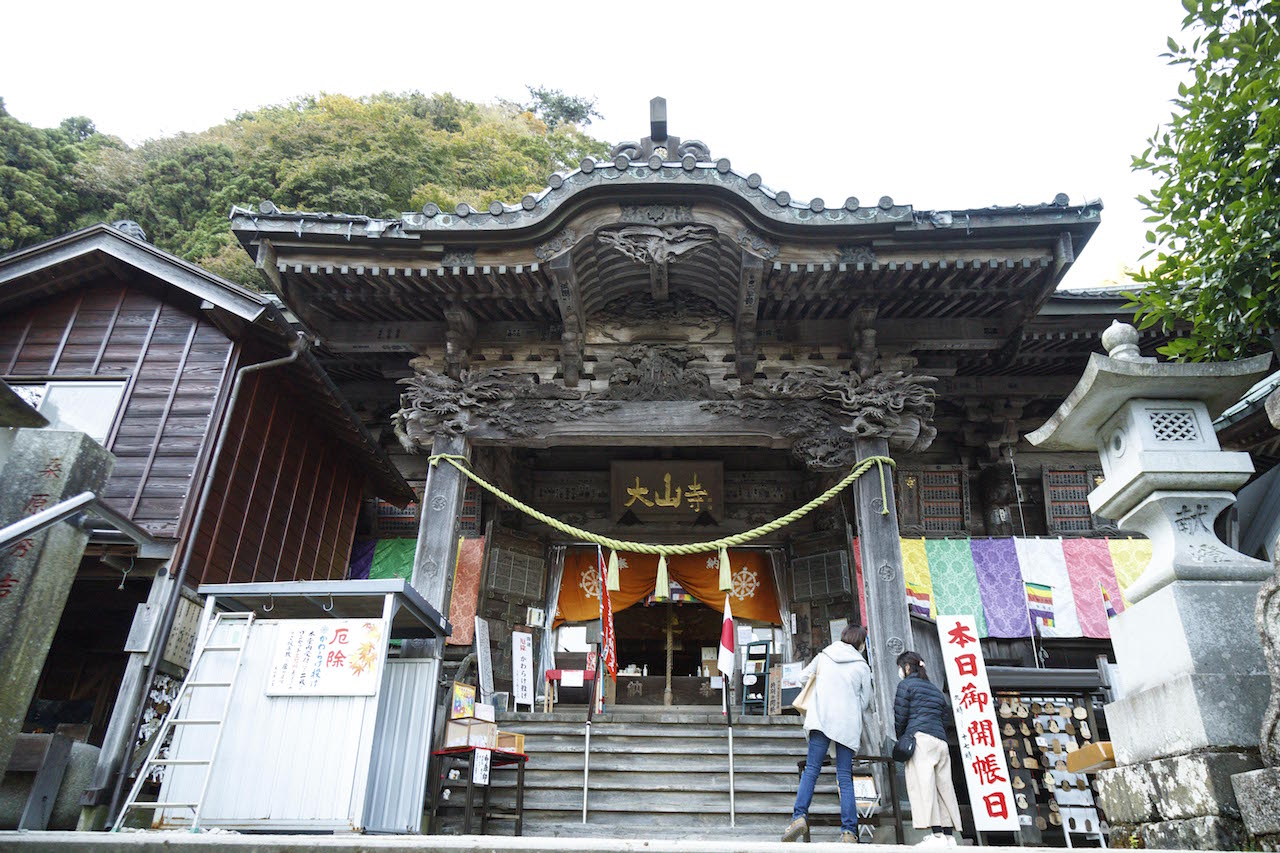 The main hall was destroyed with the abolition of Buddhism in the Meiji era, and was rebuilt in 1885 through the donations of believers all over the country. The sculptures around the main hall are wonderful, and you can see the skill and soul of the craftsmen at that time.
* Click

here

for the official website of Oyama-dera Temple.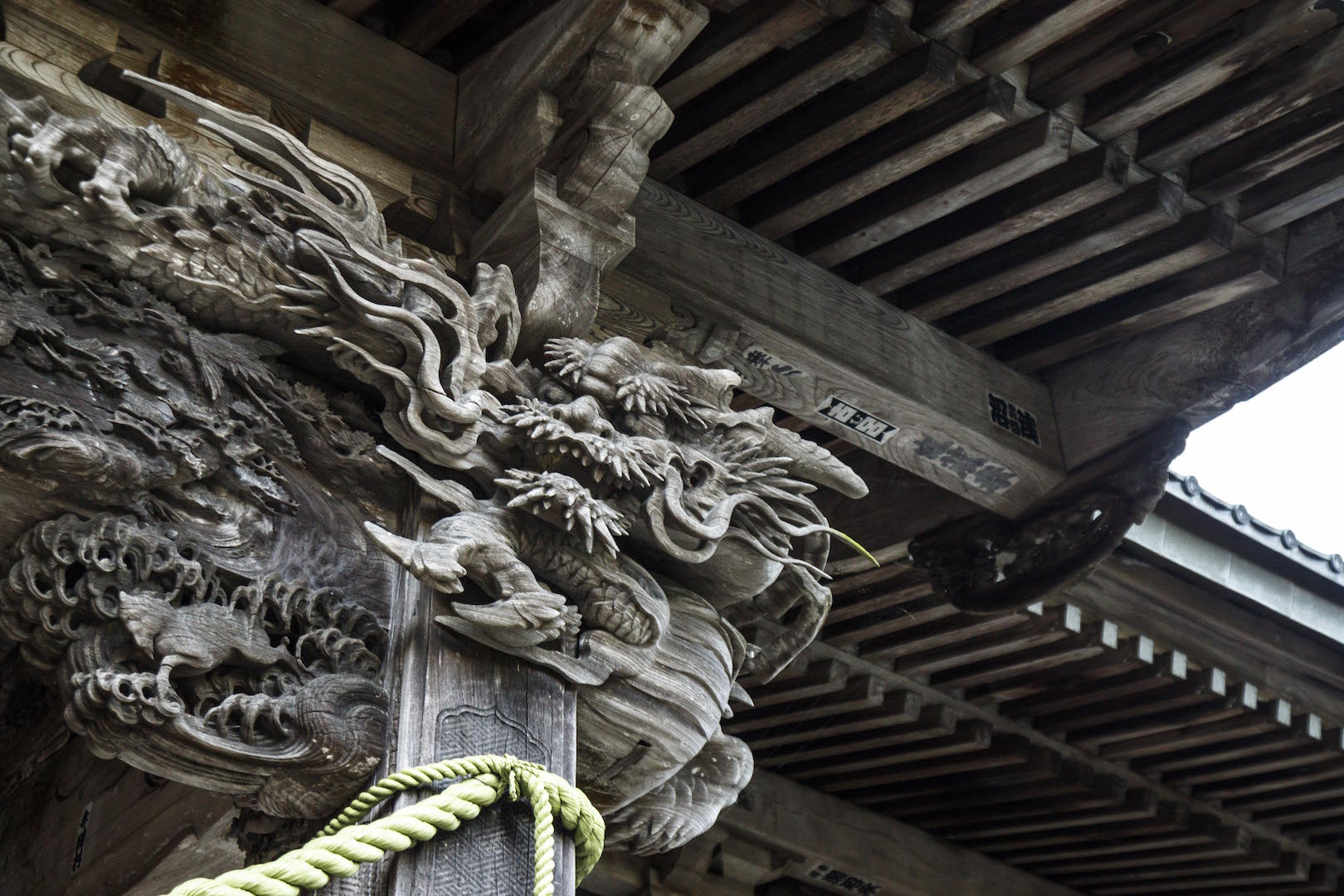 Please note that when you climb down the mountain on foot from Afuri-jinja Shrine Shimosha, if you pass Otokozaka, you will not be able to stop at Oyama-dera Temple.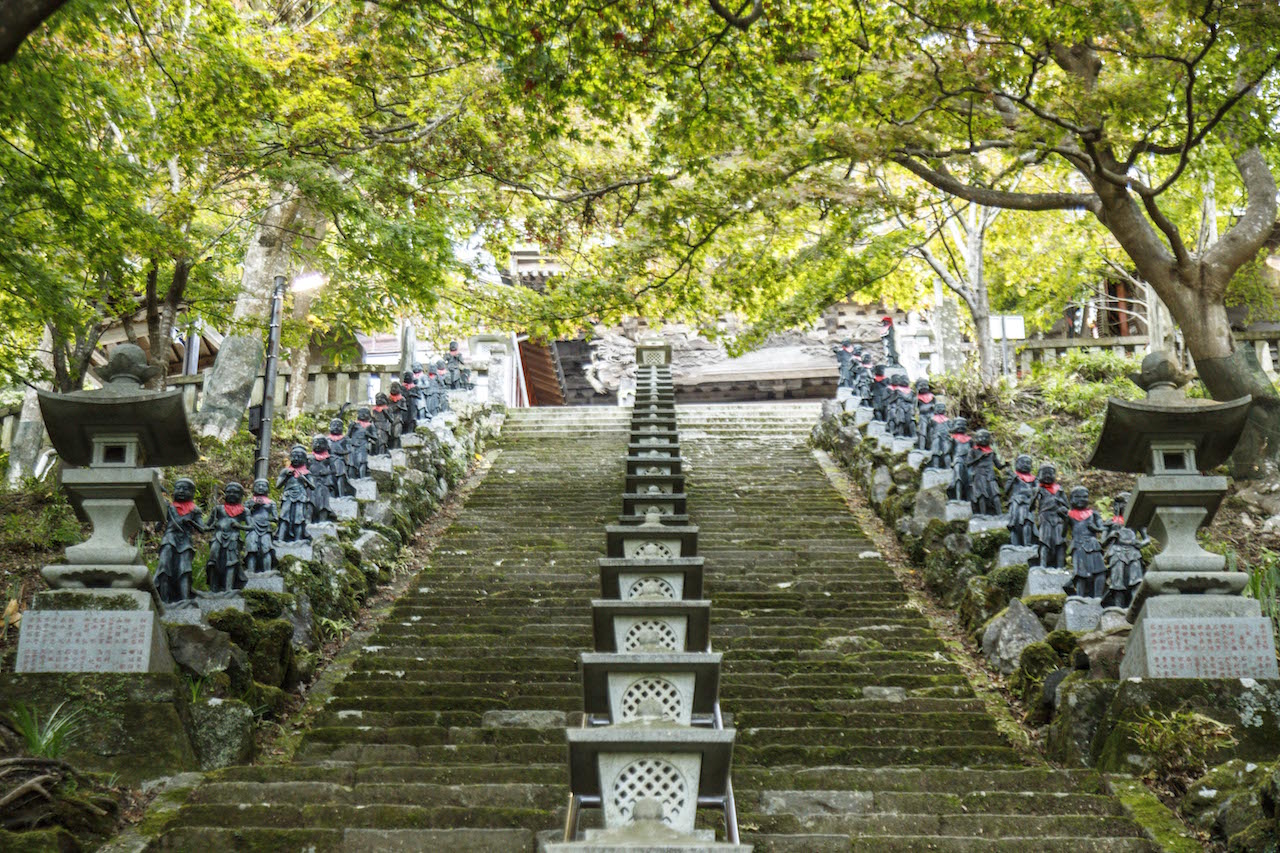 The Oyama-dera Temple approach is also known as a famous spot for autumn leaves. Since the altitude is lower than the summit, it was a little early for the autumn leaves, but the orderly appearance of the Buddha statues was so beautiful that it felt like it washed our hearts.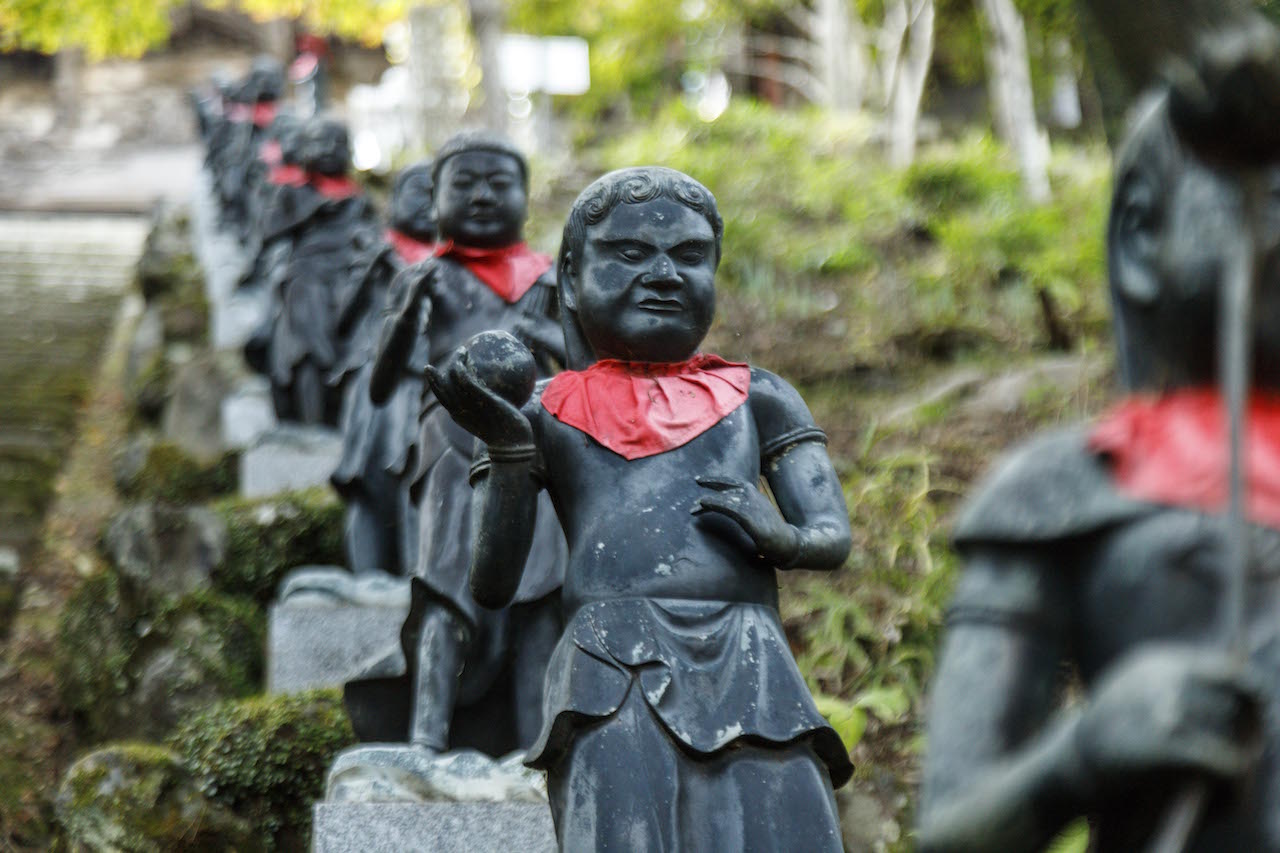 One of Mt. Oyama's specialties that must not be forgotten is tofu made with Mt. Oyama's famous water. You can enjoy various styles of tofu dishes at the teahouses and restaurants along Koma Sando, so please try them. Tofudokoro Ogawaya is a long-established restaurant that started as a temple lodging for worshippers. Currently, Ogawaya offers a variety of tofu dishes in a kaiseki style.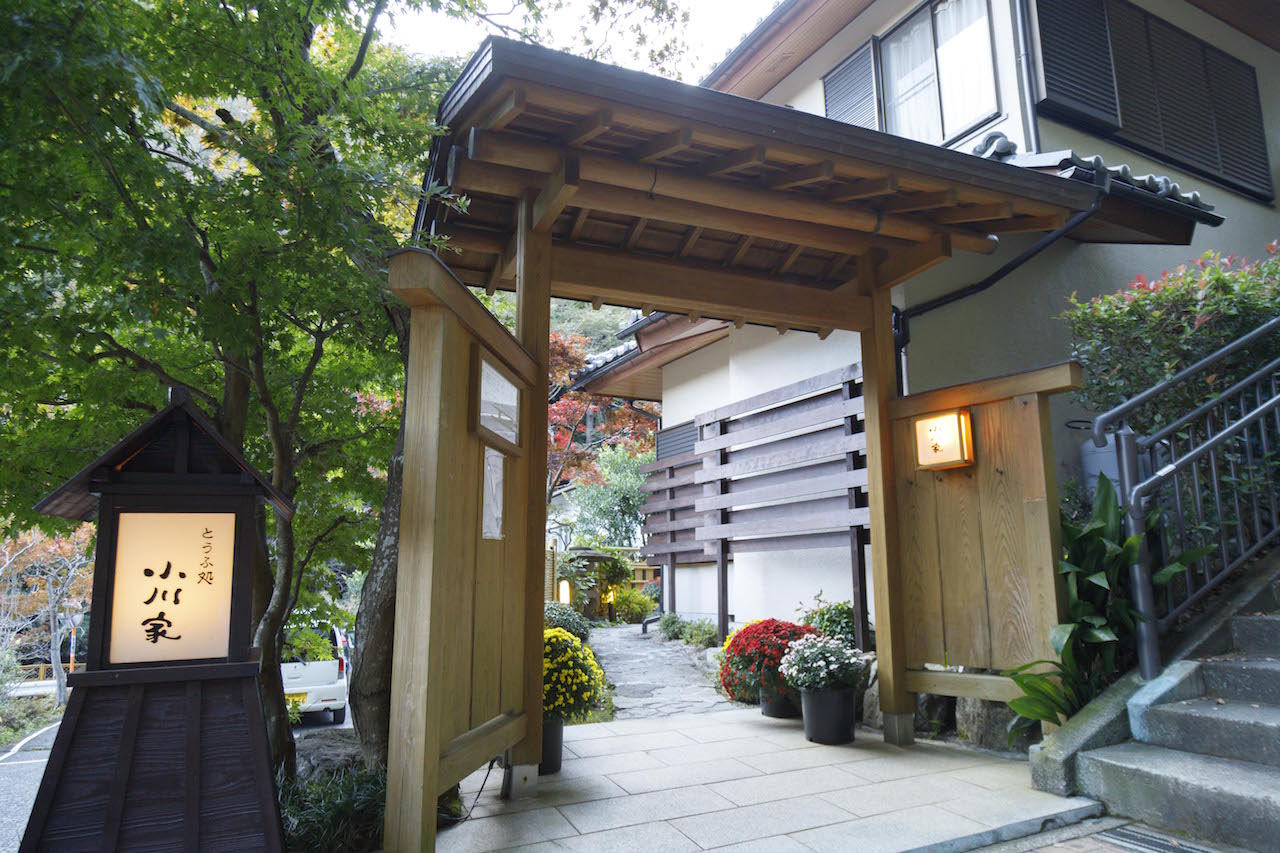 From classic dishes such as sesame tofu and yuba (tofu skin) to shiraae (tofu and vegetables in a sesame sauce) that incorporate seasonal ingredients such as chestnuts, persimmons, and mushrooms, to soy milk hot pot tofu, gratin, and almond tofu using soy milk, you can feel the careful work in all the dishes, and will be amazed at the depth of the tofu dishes. The owner laughed and said, "Tofu is simple, so we have to devise various things." However, we can only say that the variety of flavors that make use of that simplicity is just extraordinary. The contents of the dishes change with the seasons, so no matter how many times you visit, you will find different flavors.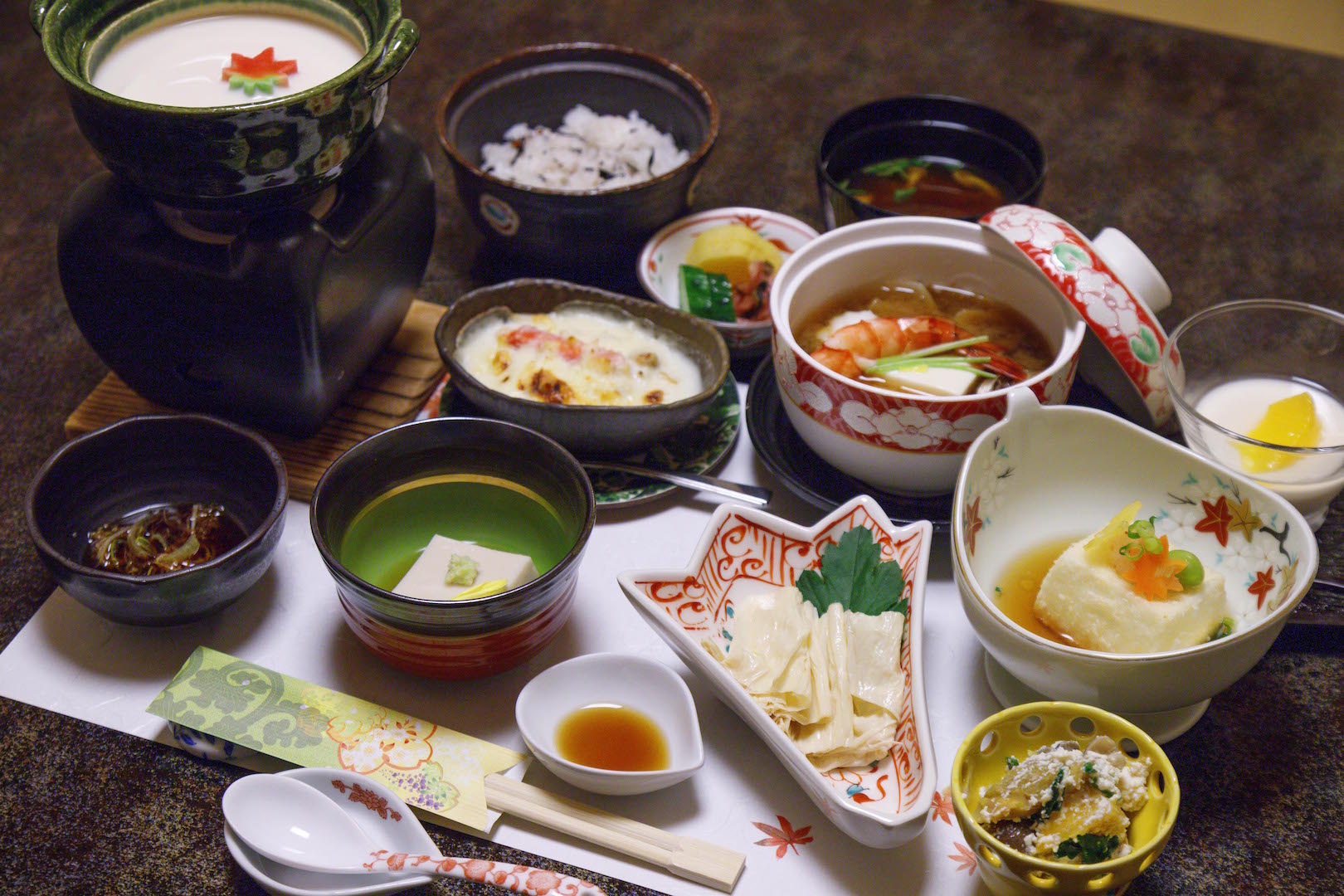 《Tofudokoro
Ogawaya》
[Hours] 11:30 a.m. - 4:30 p.m. [Tel] 0463-95-2270 [Closures] Subject to change Following the delicious Mt. Oyama foods, let's look at some Mt. Oyama souvenirs. We took a look at the store of Mr. Yoshinobu Kaneko, who is still making Oyama Koma (spinning tops) that originated in the middle of the Edo period.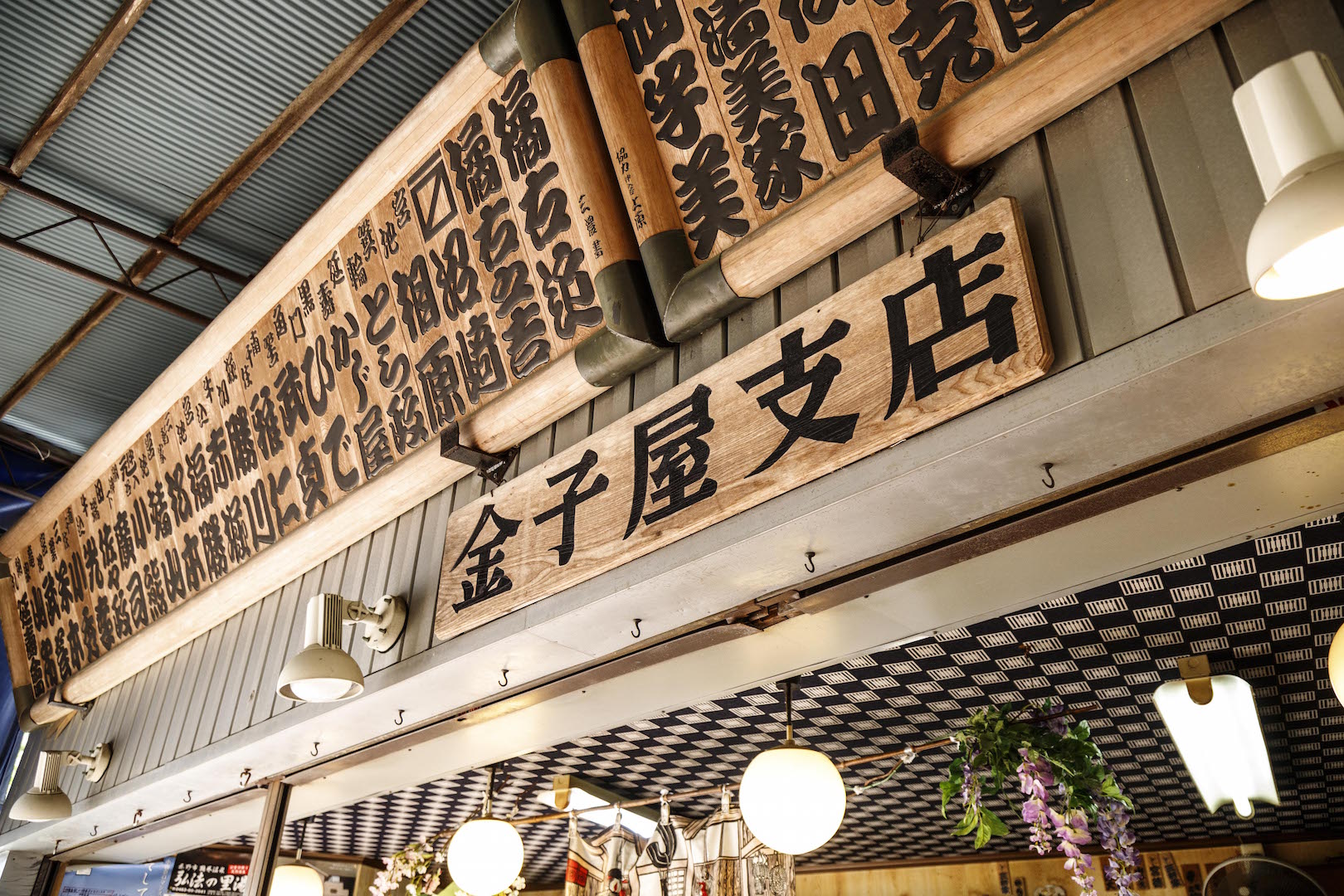 The characteristics of an Oyama Koma is that the spindle is thick, the shape is solid and stable, and the colorful top is patterned in colors such as indigo, red, and green. Since it spins well, it is associated with sayings of good luck such as "life goes around without delay" and "luck with money goes around," making it popular as a lucky charm.
《Kanekoya Shiten
》
[Hours] 8:00 a.m. - 5:00 p.m. [Tel] 0463-95-2262 [Closures] Subject to change
* Click

here

for the official website of Kanekoya Shiten.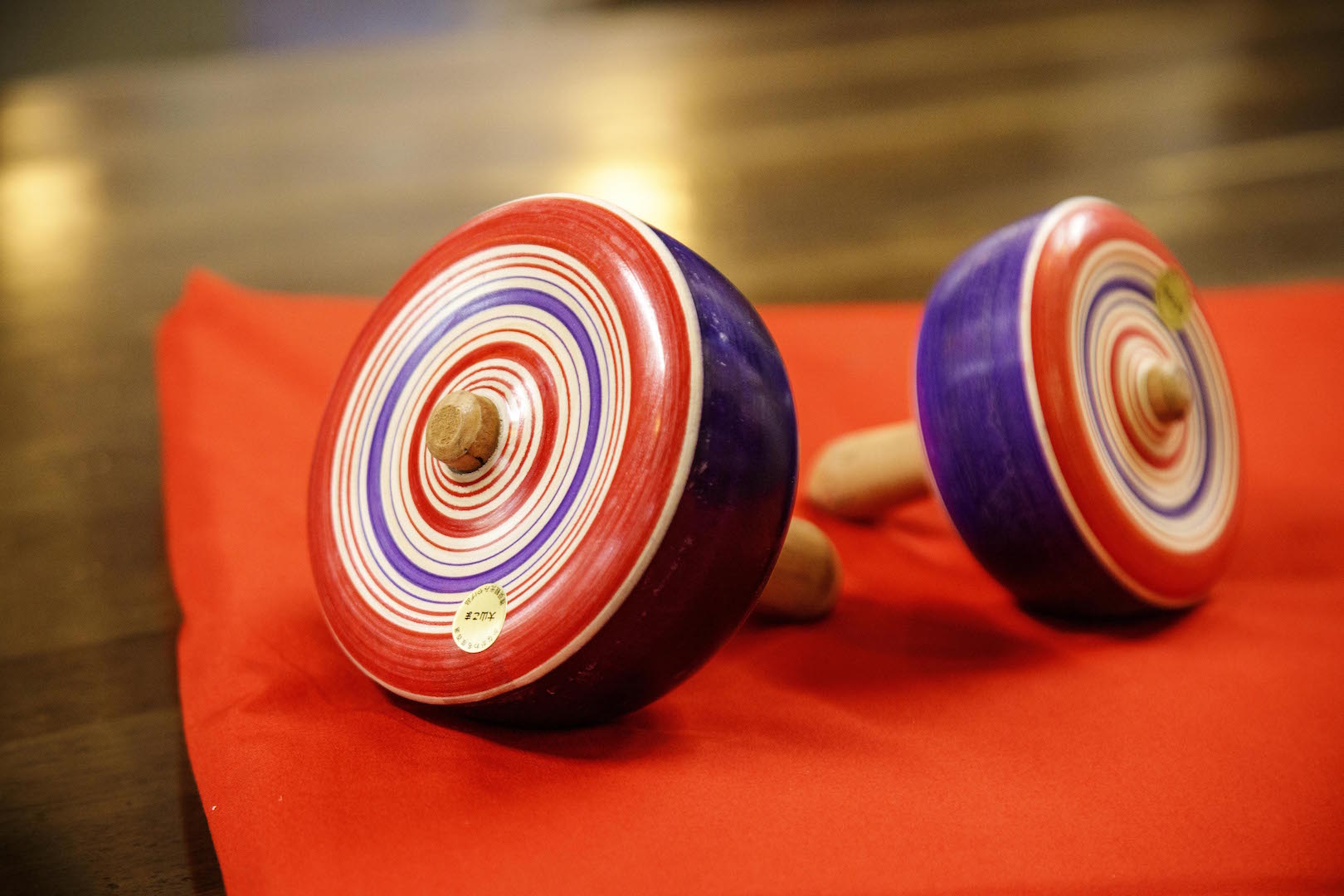 The process of carefully finishing each spinning top from carving to coloring is a hallmark of skilled craftsmanship. If the timing is right, you may find Mr. Kaneko making spinning tops at the workshop in the store.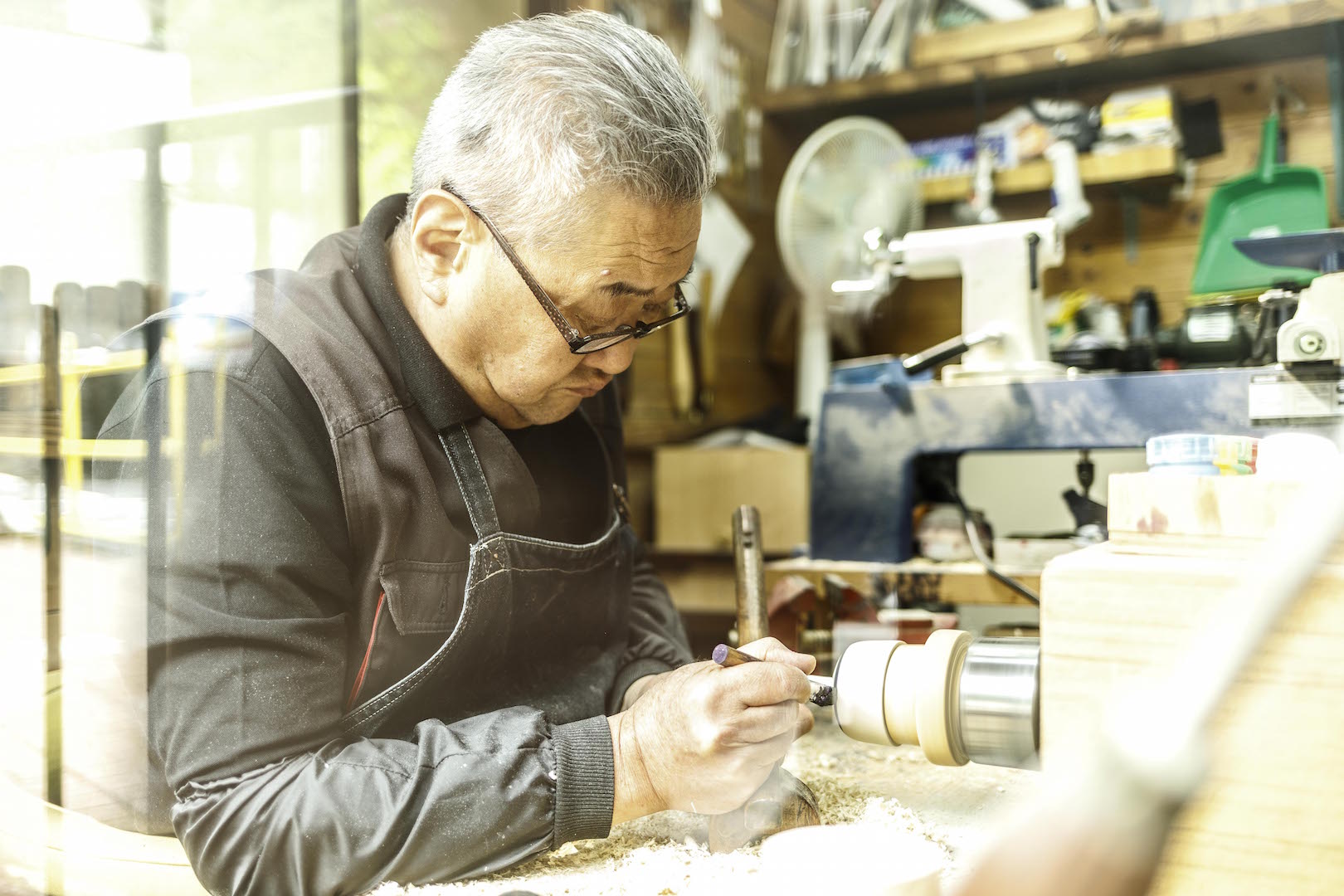 At the store, there are about 15 types of spinning tops, from oversized tops with a diameter of 12 cm to small tops with a diameter of about 3 mm. Everything is handmade, so take a closer look at the subtle differences in color and shape and choose your favorite spinning top.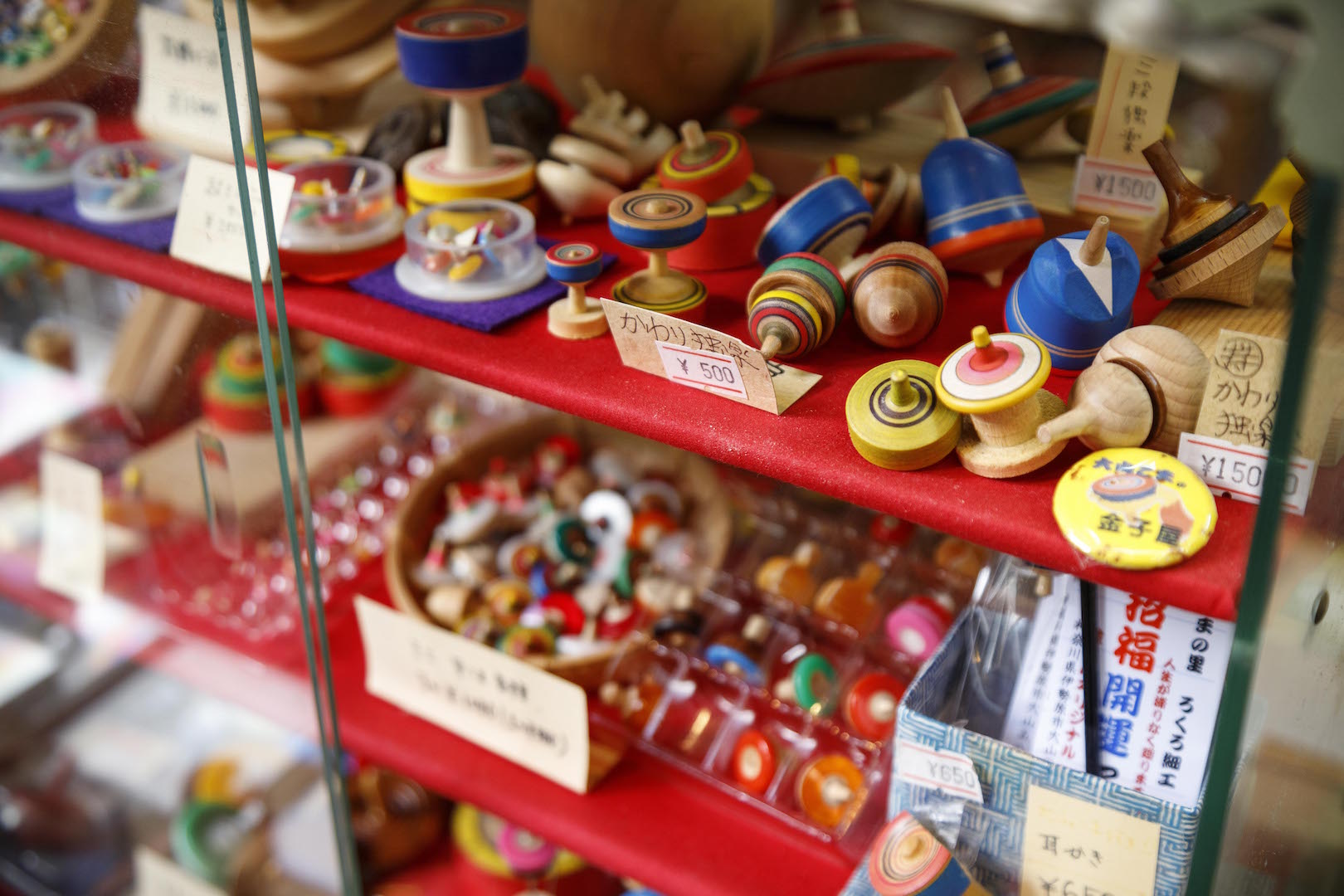 * Oyama Koma has also been introduced in one of theback issues of magcul.net.
In addition to Oyama Koma, there are also many delicious edible souvenirs of Mt. Oyama such as konjac and warabi mochi (dumplings made of starch from a type of fern). Searching for souvenirs while walking along the approach is one of the unchanging pleasures of visiting Mt. Oyama.