Theater / Dance
2017.07.30
Workshop by Kaiji Moriyama "Dor! Let's draw!"
(Please note that this page was created using Google's automatic translation service and understand that because of this, its translation may not necessarily be accurate.)

Mr. Kaiji Moriyama
<After the workshop with children>
How was the workshop with the children?
I had fun. It was the first time that I had a drawing workshop with my children, so I felt uneasy about what to do. But don't think too much about this. It was good to make it while feeling and actually touching the children.
The workshop is not good enough to plan out. Because today's movement can only be done today no matter how much you plan. In today's workshop, I tried to "follow the line I drew and check the trajectory". Approach by moving the drawn line. Actually, I came up with this on the spot. I want to praise myself when I realized it well. (Lol).
I like to draw myself, and I always move in the air while drawing various patterns. I was doing "character dance" today, but this time was an opportunity to try it with my children.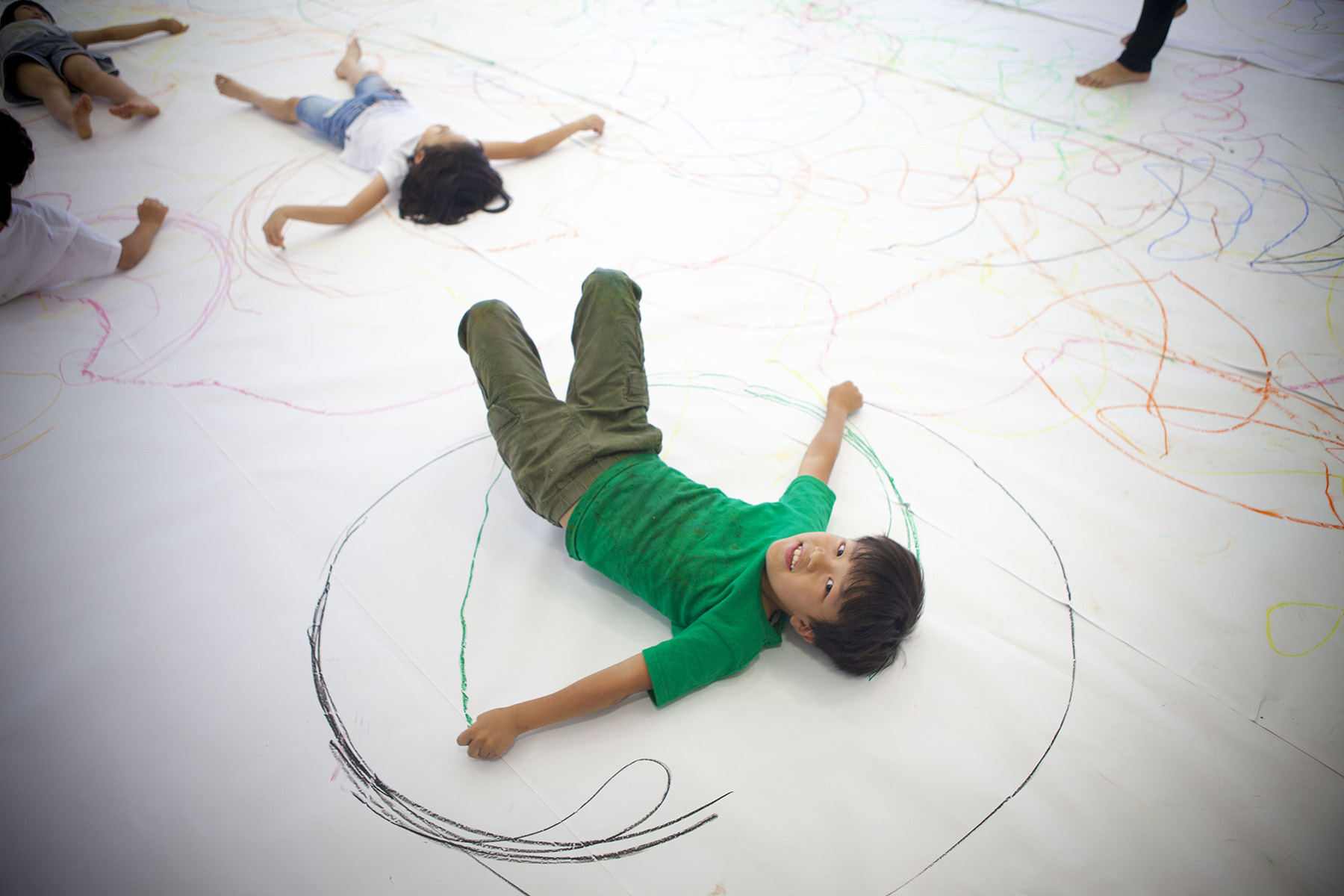 Hold a crayon in both hands and draw an arc by moving only your hand around yourself.
The subjects were first to fourth graders, but how were the children?Or?
The lower grades of the elementary school that participated this time are honest and flexible. I was able to return to my childhood with my child. This time I freely drew it on paper that looked like a large canvas. Recently, there are fewer places you can open, especially in the city. Children are restricted to something like "Do n't do that". But only today, you can graffiti on a large piece of paper. I had fun.
What about the experience of drawing while dancing?
I don't think there's a difference between art and dance. In terms of expression, for example, music and calligraphy are linked little by little. It's the same that you are using the body as a medium. Drawing a picture together with dance is one of the expressions of the body. Isn't this the difference between what you use to spit out the image? Any expression cannot be made without physical qualities.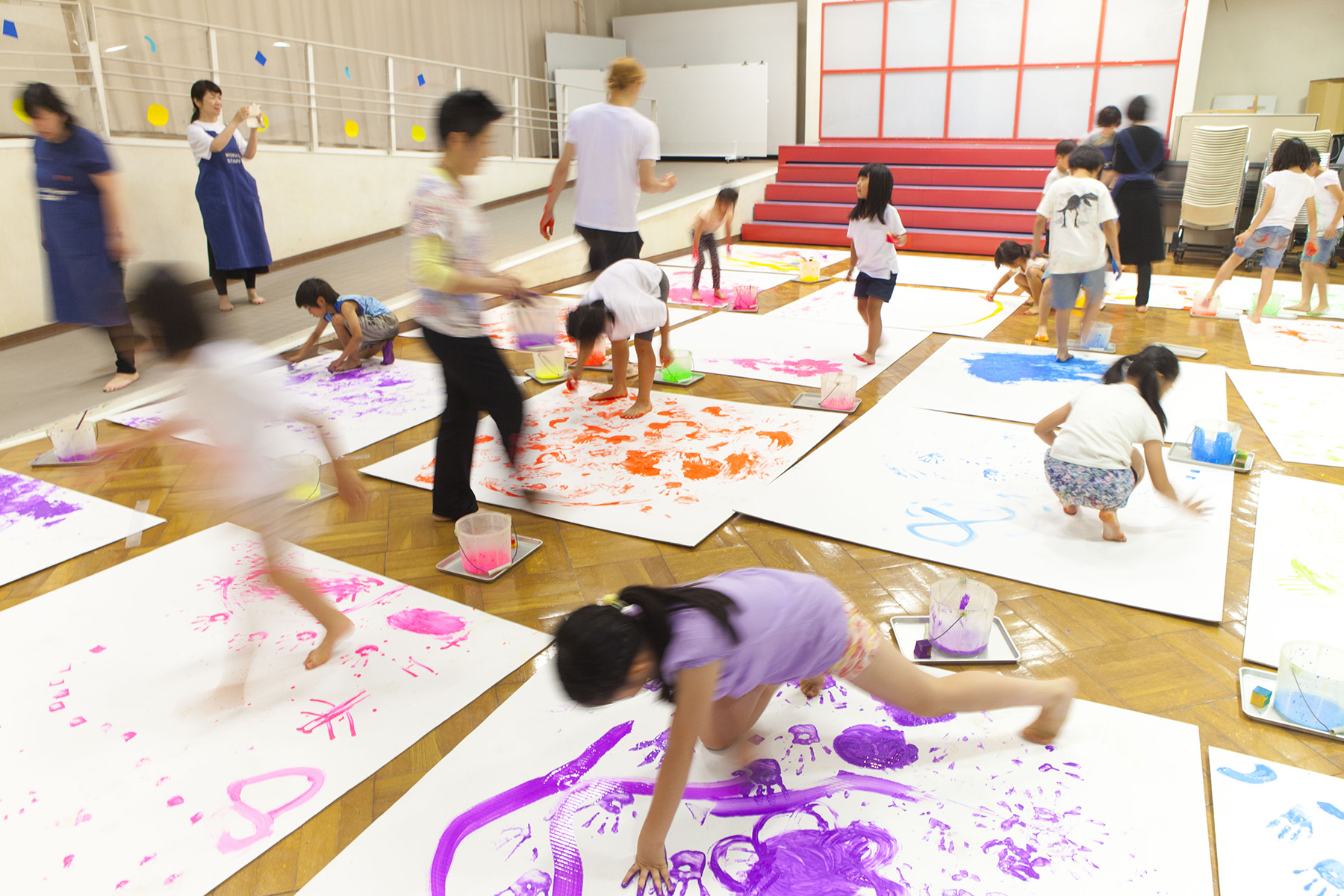 Color each large canvas by hand or sponge.
How do you feel about the collaboration between KAAT and Yokohama Museum of Art?
I think that art is for people to have contact. In that sense, it is good for the community that the theater and the museum hold hands.
I think there is a kind of local love unique to the people who live there. There is a culture unique to Kanagawa Prefecture.I feel that it is very nice to follow.
Mr. Moriyama is from Sagamihara, Kanagawa. How do you feel about working in Kanagawa?
Since I was born, I grew up in Sagamihara. When I entered the world of the stage, I moved to Tokyo and left home. I am still active in Tokyo, but Sagamihara is a place where I can go home immediately.
I'm happy to be able to work in a home town called Kanagawa. Dance sometimes plays such roles as hometown or prayer. For example, dances are often used as mediators, such as praying for something in the area, such as a shrine maiden dance and a Bon dance. You have a strong sense of dancing in the land. So I'm really happy to be able to dance in my hometown.
What is the highlight of the new work "Alice in Wonderland" created by KAAT?
Now in the middle of production. I have various dancers express myself with my body, and I am fighting right now. Originally the work is based on the theme of Louis Carroll's child's imagination, depicting the world of imagination that Alice sees in her dreams. When an adult expresses a child's world, the imagination of an adult is so great that it can't be defeated by a child. Adults want to show their imagination. My expression is dance, so I want my children to see the imagination born from the body and what I imagine and create with the body.
Did you find any discoveries that led to the new stage at this workshop?
The white canvas was dyed with crayons in no time. It was made in no time. Color, line, drawing. Their imaginationI felt the energy that was born. The imagination is expressed concretely and energy is born. I want to make use of such energy on stage. I don't want to lose the energy of these children.
I can draw a picture, but I tend to arrange it and draw it cleanly. I can't draw today's children's drawings. Sometimes I'm jealous of what comes out of improvisation beyond creativity and the imagination of children.
Since it is a stage, there is a script and a script. It's not possible to just explode the image freely. Make it while balancing improvisation and planning.
However, like a child who does not calculate to "draw well", I want to create a stage with parts to remove and to assemble. Although there is a script, I wanted to leave a part of improvisation that can be made raw, and I thought while watching the children today.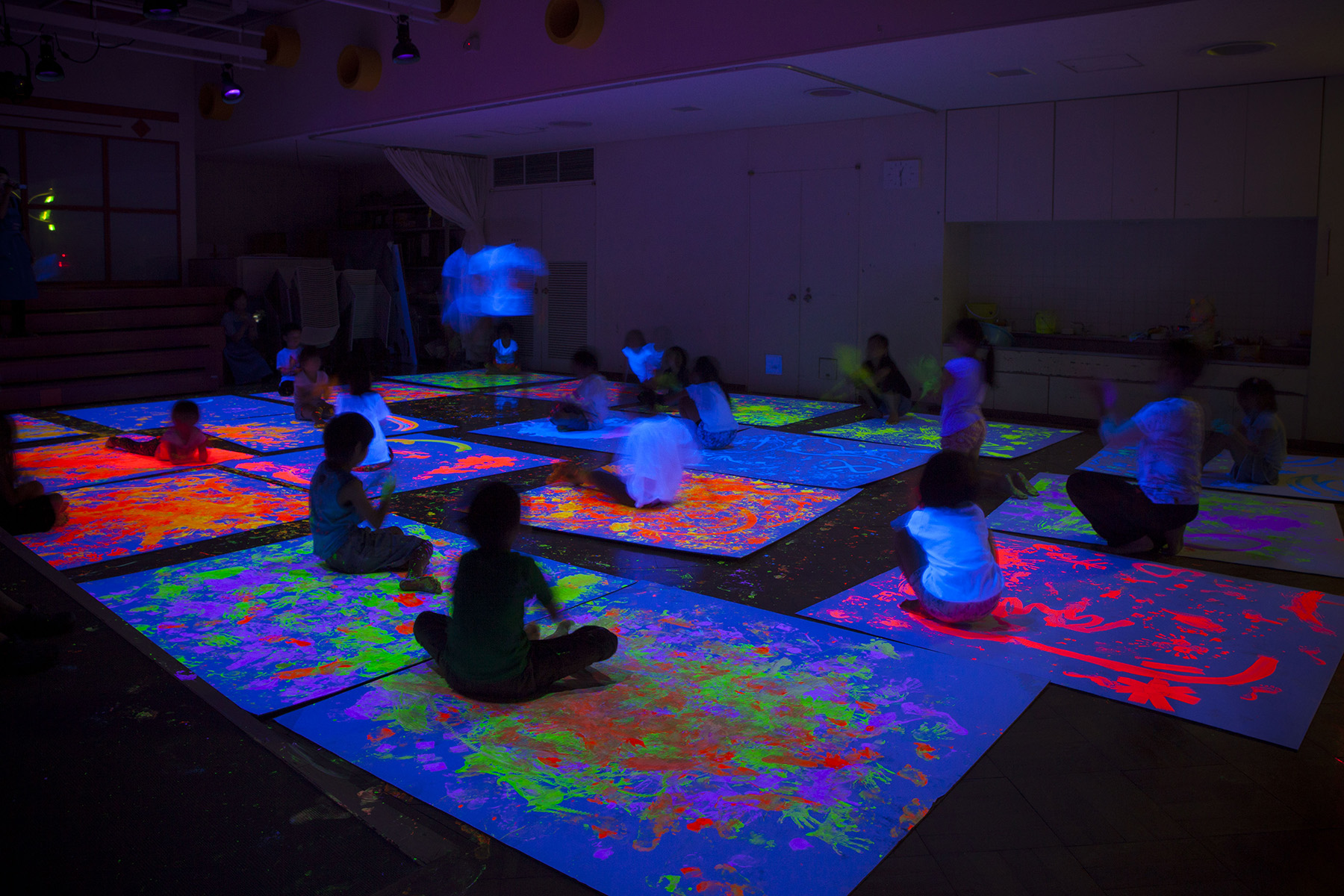 When you cast a spell, the light goes off, and only the part you paint with paint comes up with black light.
Hands and faces with paint will also glow.
<Theater and museum collaboration>
KAAT produces various performances titled Kids Program every year. The audience is children and adults. "Never deceived by children, but by creating cutting-edge and rich performance works that will be mirrors of the times, true to reach children and adults with artists, actors and artists who are active at the forefront. We create works with the goal of "creating creative works in the future".
In addition to the exhibition space where many exhibitions are held, the Yokohama Museum of Art has its own atelier for children, which is rare throughout the country. The popular "parent and childIn "Leazone," we provide an environment where children can draw freely, play with clay, and draw out their children 's "want to do" feelings and enjoy modeling with their free ideas. It is.
This workshop was planned and produced jointly with the Yokohama Museum of Art Children's Atelier as part of the "KAAT Kids Program 2017" at the Kanagawa Arts Theater. A new dance workshop and a new modeling workshop were planned in collaboration with the KAAT Kanagawa Arts Theater, which knows the possibilities beyond the dance of Mr. Moriyama, and the Yokohama Museum of Art, a children's modeling education professional. It was.
`` I felt that the children would loosen up as their bodies moved, but dancing with Kaiji-san seemed to open up the children's heart more and more despite the short time of one hour. "That's what I saw," says Tomomi Okazaki, chief educator at the Yokohama Museum of Art.
"Drawing tends to be something concrete, but the lines I drew today are as a trajectory of dance. I can't draw this consciously. It was a natural thing, but I think it was well communicated to the children. " Skilled staff in the children's atelier who fully supported the workshop also expressed their admiration for the expressions that the children opened up and created and the skills of Mr. Moriyama who brought it out.
Also, Tomoko Onuma, producer of the Kanagawa Arts Theater Productions Division, said, "I thought it would be good to see Mr. Kaiji again. And the sense of security of the child 's atelier. I felt the depth of the experience.It was a really good workshop because the paper was spread out brilliantly, it was in a space that is not everyday, and each child was able to express their individuality. '' I felt a response.
• KAAT Kids Program 2017 "Alice in Wonderland"
Date July 22-August 6, 2017
Fee Adult 3,500 yen Child (4 years old and up-high school student) 1,500 yen Child (adult + child) 4,500 yen
Organizer / Planning Production Kanagawa Arts Theater
Director, Choreographer, Art Moriyama Kaiji
Based on Louis Carroll