Theater and dance
2017.07.30
Workshop by Kaori Moriyama "Let's Do This! Let's Draw!"

Mr. Koji Moriyama
<After the workshop with children>
Would you like to do a workshop with the children?
I had fun. It was the first time I had a workshop with children to draw a picture, so I felt uneasy about what to do. But thinking too much like this is no good. It was good to try making contact with a child and to feel it.
Workshops can not do anything good for planning. Because no matter how much you plan, you can only move today. In today's workshop, I tried to "follow the line I drew and check the trajectory". I approach with the movement that I drew. Actually, I thought about the flow of the place. I want to give up myself when I notice well. (Lol).
I like to draw my own paintings, and I'm always working in the air, drawing various patterns. Today, I did a "character dance", but this time I had a chance to try it with my children.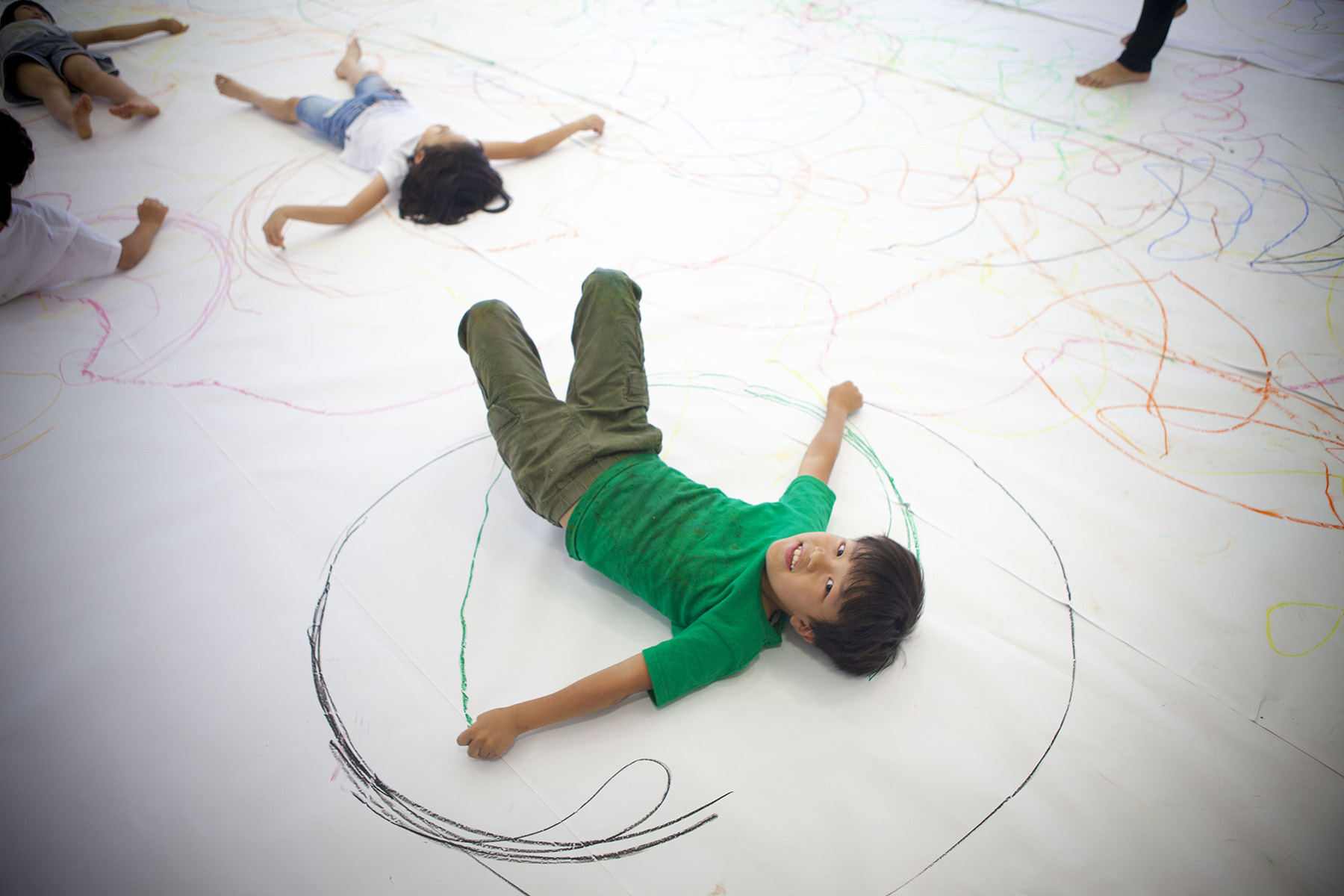 Holding the crayon in both hands, turn on your back and move the hand around it to draw an arc.
Target was primary school 1-4 grade, but children were how?
The lower grade of the elementary school I participated in this time is a straightforward and flexible age. I was able to return to my childhood with my children. This time, I was allowed to draw freely on paper that looked like a large canvas freely. Recently, especially in urban areas, the number of places I can open is decreasing. Children are limited to something like "Don't do that". But only today, I can doodle on a big sheet of paper. I had fun.
How was it about the experience of drawing while dancing?
I think that art and dance have no difference. In terms of expression, for example, I think that music and calligraphy are linked little by little. It is the same as having the body as a medium. Drawing is also one of the expressions of the body along with the dance. Isn't it the difference of what to use and spit out the image? It is something that can not be done without any physical expression.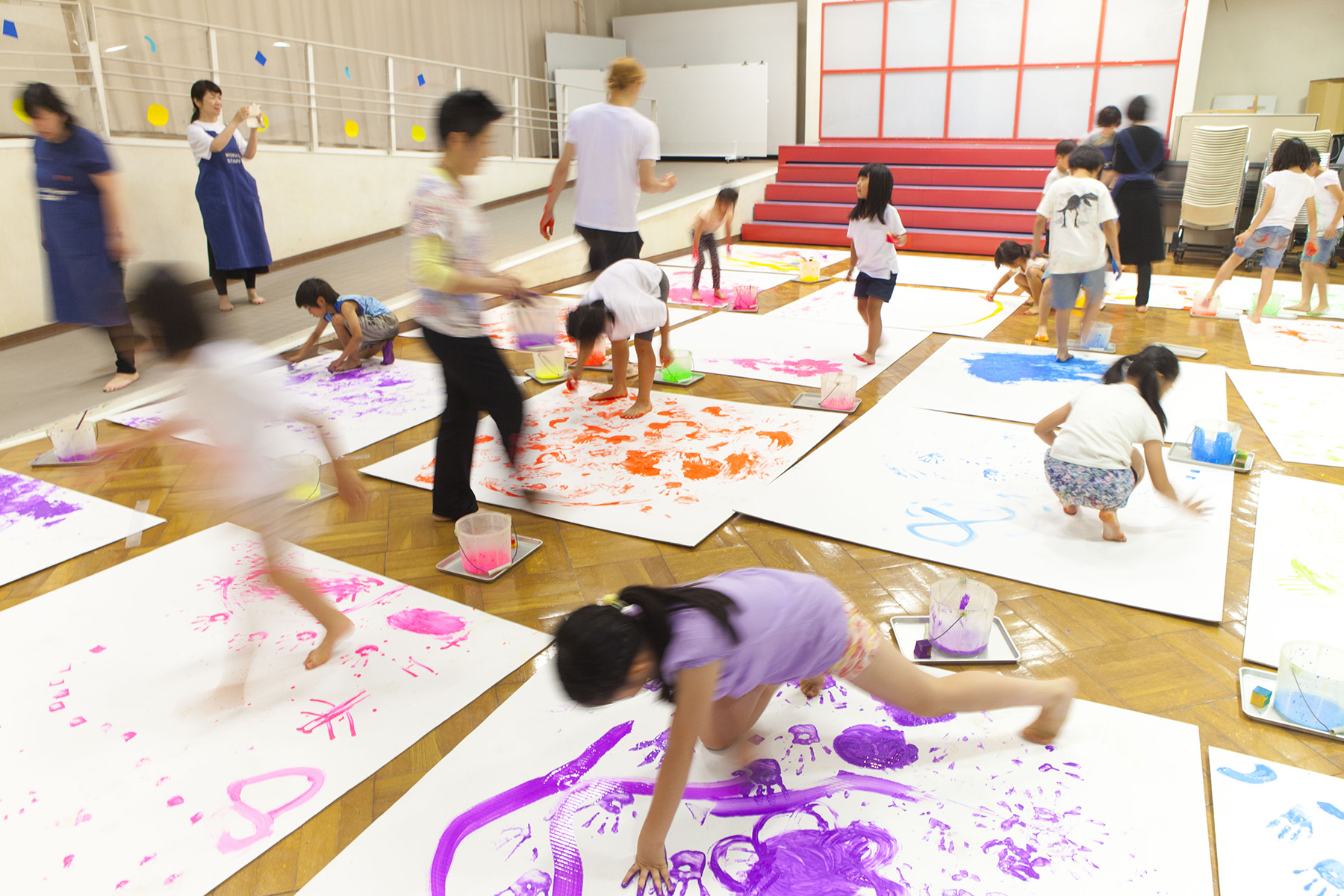 We will color each hand canvas with a hand or sponge.
How do you feel about the collaboration between KAAT and Yokohama Art Museum?
I think that art is for people to have contact. In that sense, it is good for the area that the theater and the art museum meet each other.
I think there is something like local love unique to those who live. There is a culture unique to Kanagawa Prefecture, a theater and an art museumI feel that it is very nice to go along.
Mr. Moriyama is from Sagamihara, Kanagawa Prefecture. How do you feel about working in Kanagawa Prefecture?
Since I was born, I grew up in Sagamihara, and when I entered the stage world, I moved to Tokyo and left the local area. I am still active in Tokyo, but Sagamihara is a place where I can return soon.
It is nice to be able to work in the hometown of Kanagawa. Dance sometimes plays such a role as for the local community or prayer. For example, there are many things that pray for something in the area, such as Maiden dance and Bon dance, and dance is the medium. You have a strong sense of dancing in that land. So it is really nice to be able to dance in your hometown.
What is the sight of the new work "Alice in Wonderland" produced by KAAT?
I'm in the middle of production now. We have various dancers express in body, and we are fighting right now. The original work is based on the imagination of Louis Carroll's children, depicting the world of imagination that Alice looks at in her dreams. The fact that adults express the world of children means that the imagination of adults is as great as children. Adults also want to show their imagination. My expression is dance, so I want children to see the imagination that comes from their bodies, and the things that they can imagine and create.
Were there any discoveries that led to the new stage in this workshop?
The white canvas was dyed with crayons in no time. It was made really quickly. Color, line, drawing. Their imaginationI felt the energy born from The imagination is expressed in concrete terms, and energy is born as "blow". I want to make use of such energy in the stage. I do not want to lose the energy of these children.
I can draw, but I will try to make it or draw it clean. I can not draw today's children's pictures. From time to time, I am overwhelmed by improvisational things beyond creativity and children's imagination.
Because it is a stage, there is a setup and there is a script. It does not hold true just to explode the image freely. It makes while measuring the balance of both improvisation and planning.
But I would like to create a stage where there are parts to be removed and parts to be assembled like a child who does not calculate "let's draw well". Although I have a script, I thought while looking at the children today that I wanted to leave some improvised room that could be made live.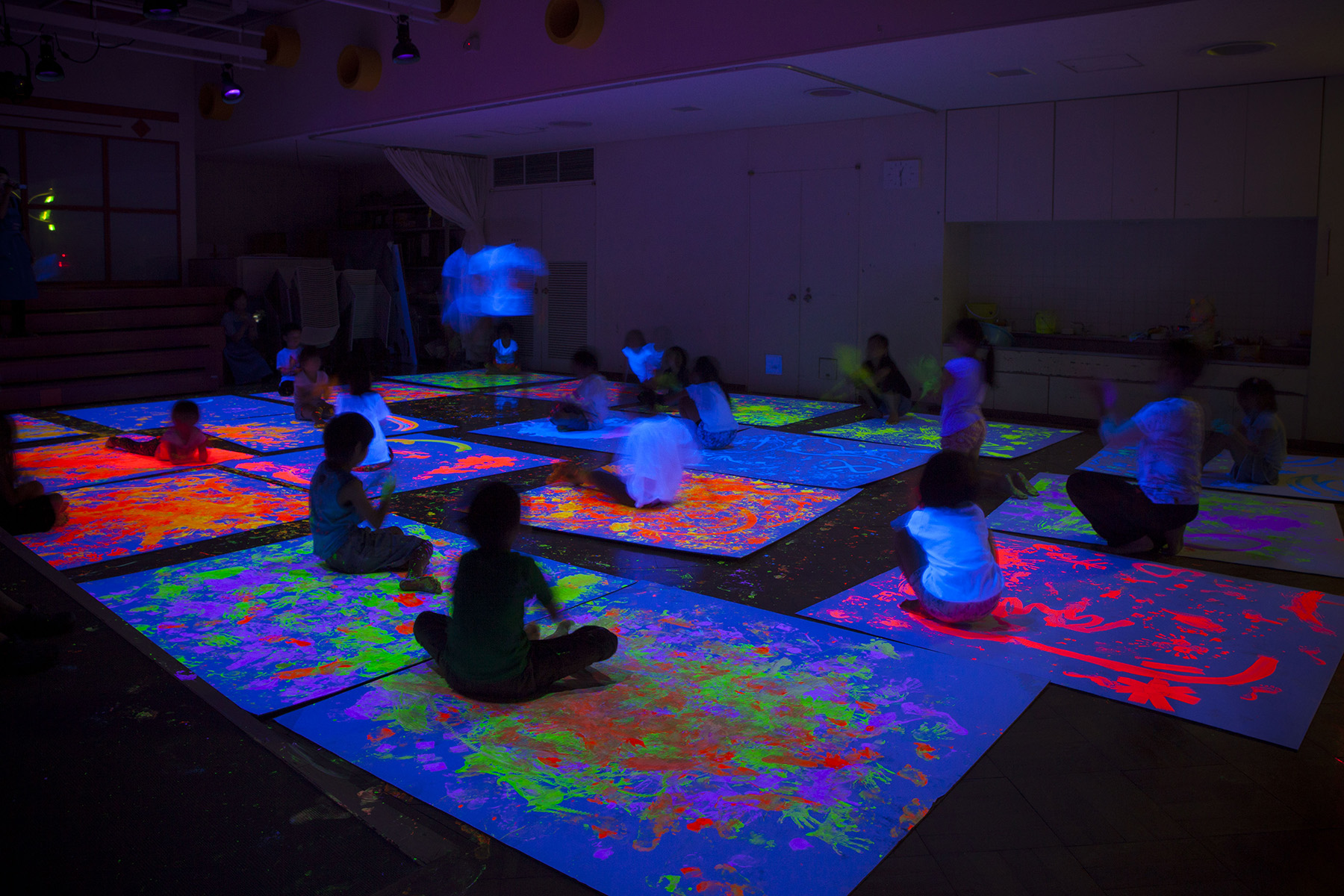 When you cast a spell, the light goes out, and only the part painted with paint floats up with black light.
The hands and face with paint also shine dimly.
<Collaboration of theater and art museum>
KAAT produces various programs titled Kids Program every year. The audience is children and adults. "It is not a kid's play, but create a sharp and rich performance work that will be a mirror of that era, reach to children and adults as well as artists, actors and expressists who are active in the front line, Create works with the goal of creating creative works.
The Yokohama Museum of Art has a dedicated atelier for children that are rare throughout the country, in addition to the exhibition space that holds numerous exhibitions. Most popular "parent and child's"Lezone" provides an environment where children can draw pictures, play with clay, and not "teaching art", but rather draw out the children's "want to do" feelings and enjoy modeling with free ideas. You are
This workshop was planned and produced by the co-sponsored by the Yokohama Art Museum Children's Atelier as part of the "KAT Kids Program 2017" at Kanagawa Art Theater. A new dance workshop and a new modeling workshop are planned by the collaboration of KAAT Kanagawa Art Theater, who knows the possibilities beyond Mr. Moriyama's dance, and the Yokohama Art Museum Children's Atelier who is a specialist in modeling education for children. The
"I felt that when my body moves, I feel that my heart is loosened, but dancing with Mr. Kaiji shows how the children's heart gets more and more open despite the short time of one hour. "I saw it and understood it," said Tomomi Okazaki, the atelier chief educator of the Yokohama Museum of Art child.
"Drawing tends to be in a concrete form, but the line I drew today is as a trajectory that I danced. I can not consciously draw this. Drawing the line as a line is abstract It was an important thing, but I think it was transmitted to the children properly. " The well-trained staff in the atelier's atelier who fully supported the workshop also exclaimed the expression that the children opened up and created, and the skill of Mr. Moriyama who pulled it out.
Also, Tomoko Onuma, Producer, Production Section, Kanagawa Art Theater, said, "I thought that Mr. Kaiji had been renewed. And I feel that my child's atelier feels safe. I felt the depth of my experience, and I was able to spread out the paper, and in a space that is not everyday, each of the children had a good face to show their individuality, and it was a really good workshop. " I felt a good response.
• KAAT Kids Program 2017 "Alice in Wonderland"
Session period July 22-August 6, 2017
Rates Adult 3,500 yen Children (4 years old or older-high school students) 1,500 yen oyako (adult + children) 4,500 yen
Sponsorship / planning production Kanagawa Arts Theater
Directed ・ choreographed ・ art Koji Moriyama
Original Louis Carroll