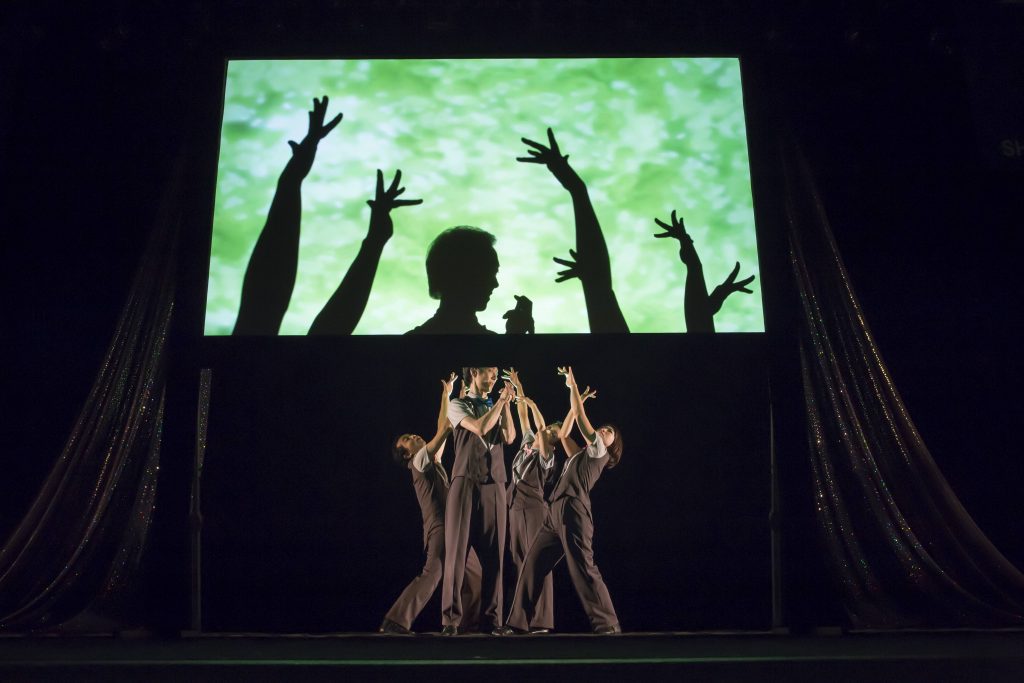 The scene where the play is born
File.4 AniMare "Hand Shadows ANIMARE"
Koichi Imai (editing writer)
Since its inauguration as Japan's first shadow puppet theater company in 1952, it has been performing mainly in domestic and foreign masterpiece fairy tales, leading the genre of "shadow puppet theater ". I think you all have come into contact with it somewhere, such as on stage or on TV.
Did you know that there is an artistic side to such a seat ? "Hand Shadows ANIMARE" is that. "ANIMARE" is a Latin word meaning "to bring life to life and cheer up". In other words, "Hand Shadows Animale" is an omnibus-style performance that creates various shapes with just your hands and body, and you can feel a fresh surprise in your nostalgia.
We asked Kei Goto, the representative of Kakashiza , about "Hand Shadows Animale".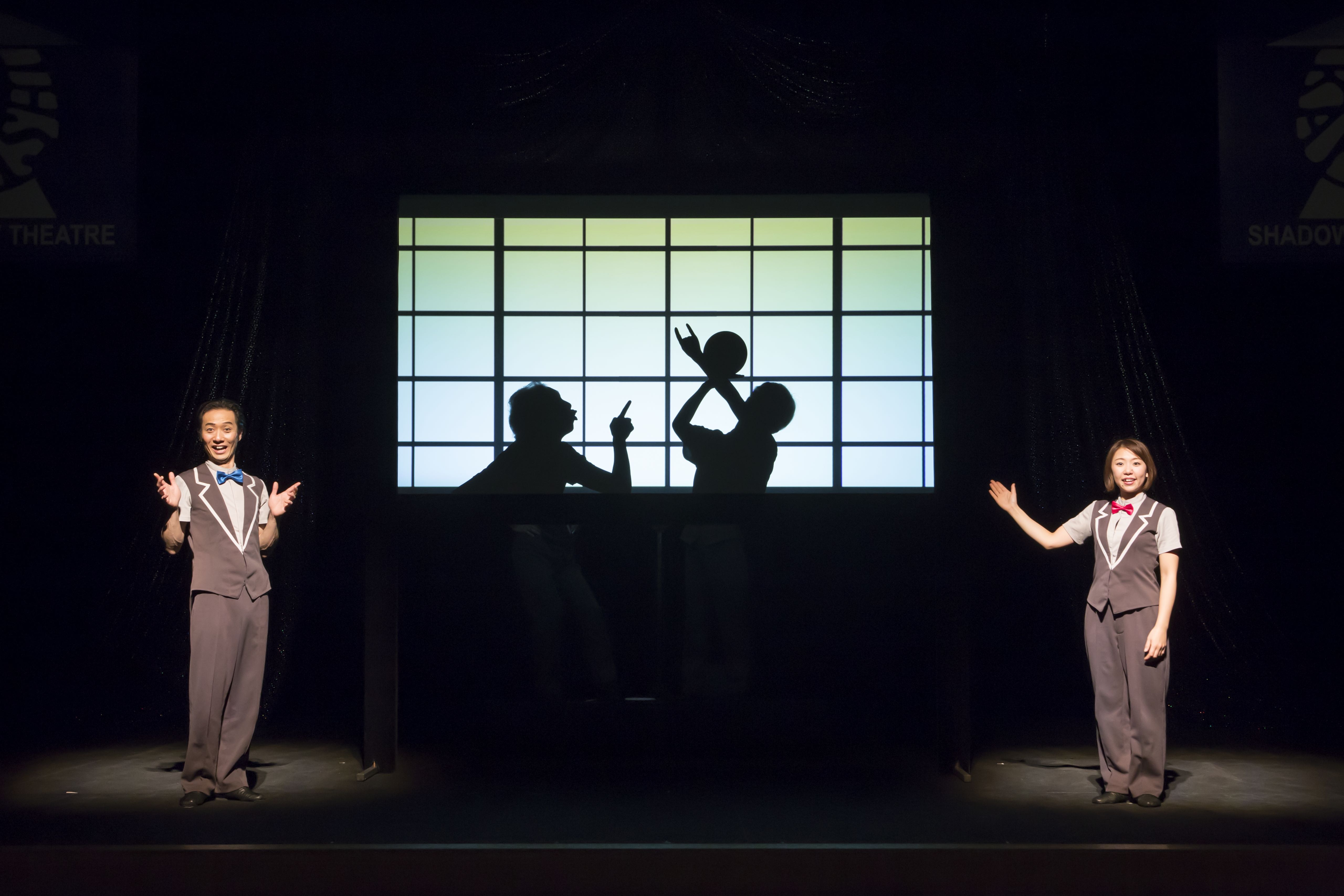 "Is it about 30 years ago? A famous director said,'You guys are a shadow troupe, why don't you do shadow puppets?'. Hand shadow puppets have a very rich expression. You should try because you can.
At that time, we mainly cut paper and shadow puppets using plate dolls. I think of hand shadow puppets as "traditional play" and never thought that a modern stage could be created. However, because that person says, there may be something possible, so I started researching little by little, trying to do it. Among them, if I could do that, and if I could do this, the repertoire of hand shadow puppets would increase. However, since the expression of hand shadow puppets uses a lot of physical strength, I thought it would be difficult to create a one-hour stage by itself. "

On the other hand, at Kakashiza, I was thinking of expanding overseas in earnest. However, overseas, it takes time and money to carry luggage, so you must move with the minimum equipment. It is an urgent problem that companies that challenge overseas, not just Kakashiza , always face.
In addition, Mr. Goto thought, "If you go abroad, there is no point unless you challenge yourself with a work that is premised on international communication, not a work that you have produced in Japan so far." Therefore, I decided to challenge the world with "Hand Shadows Animale", which develops speedily and sometimes danceably with music without any dialogue, by using mature hand shadow puppets.
Sometimes in 2009, at the 8th Schwäbisch Gmund International Shadow Play Festival in Germany.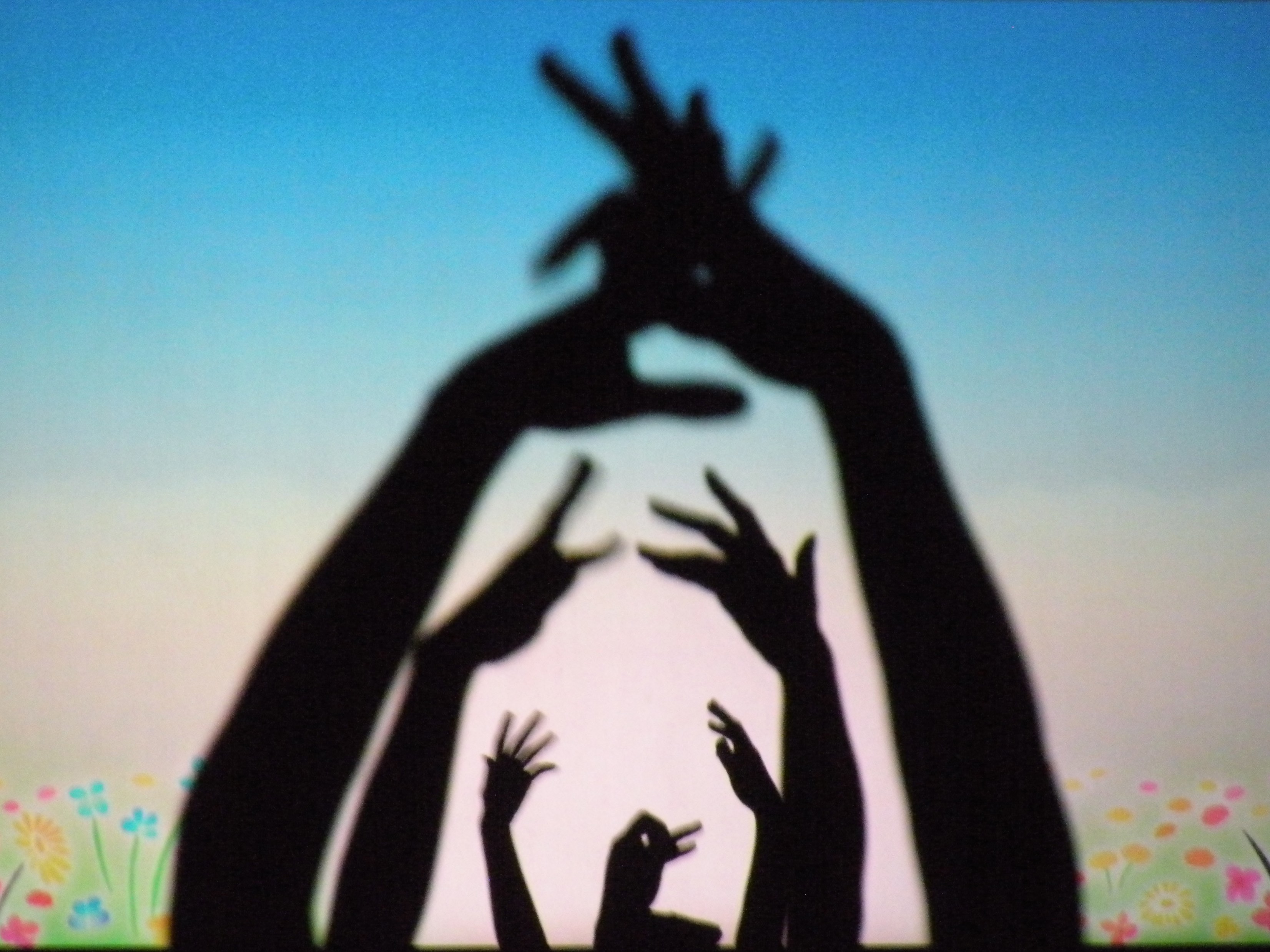 "Until then, I had included the scene of hand shadow play in my work, but this was the first time I did the whole story with hand shadow play. The most difficult thing was only hand shadow play. It was common sense that no one had thought that a work of time could be made. First of all, I had a hard time reforming that consciousness, and a week before I left for Germany, I tried to the last minute. The work was finally completed by mistake.
The members who participated in the German festival first said in the same way, but the venue was heated just by making a shadow picture by hand. It was a wonderful experience, such as receiving tremendous applause during the performance. There is no such ensemble in the world, and I was happy because I didn't know what kind of evaluation it would get until I actually tried it. On the spot, various overseas festivals asked me to come to my house next time, and it was a tremendous response. "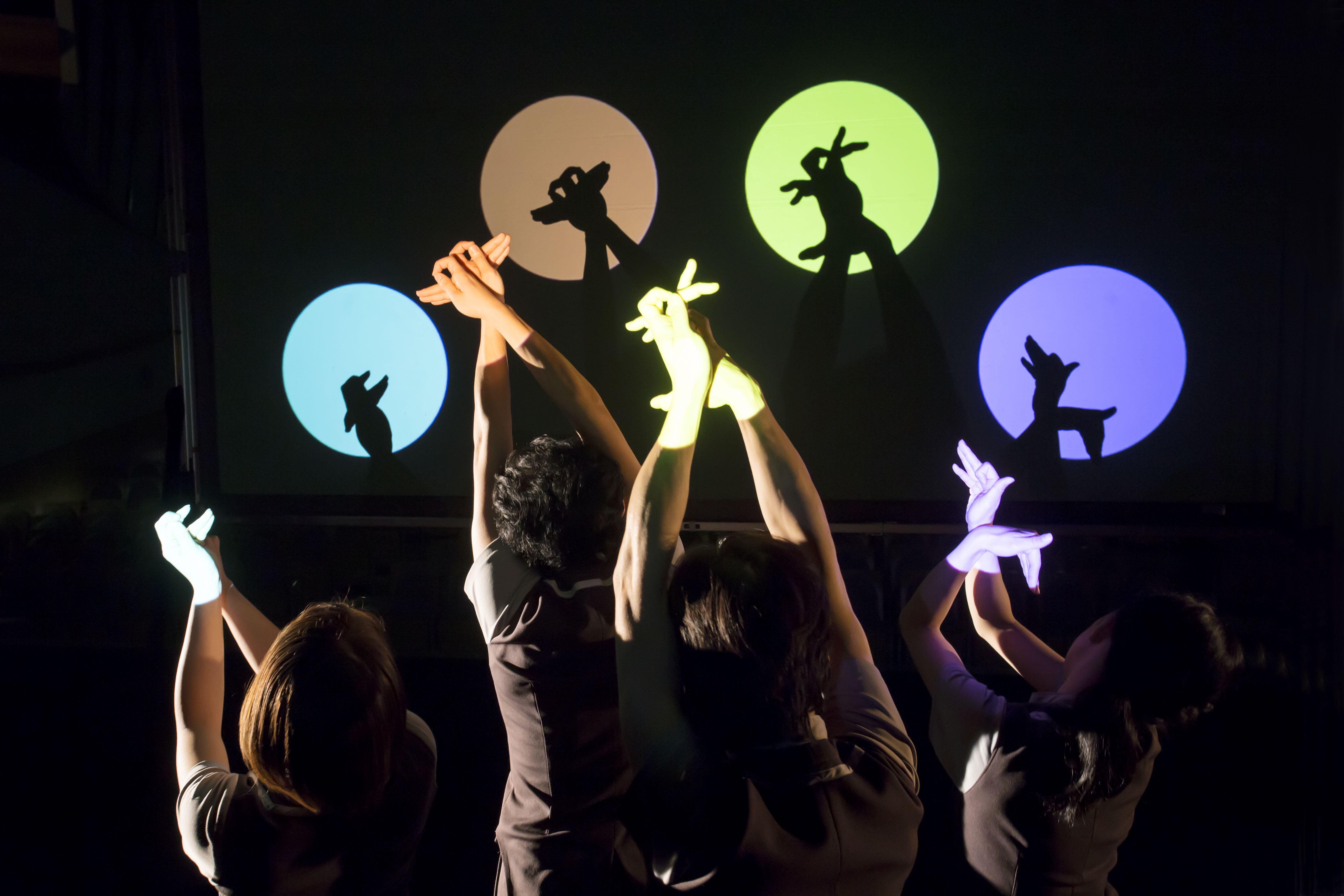 After that, he participated in overseas festivals in the Netherlands, Germany, Spain, Finland, Czech Republic, Brazil, etc. Today, the repertoire of hand shadow puppets is about 100, and there are 50 to 60 works incorporated in "Hand Shadows Animale". From among them, the stage is composed of various combinations.
However, not all members of the troupe can participate here. Of the 20 people in the stage, 5 or 6 people who meet the conditions such as outstanding technique of hand shadow puppets, physical strength to withstand one hour of performance, and training in a certain position . Of course, there are also activities of the main body of Kakashiza , so the performance of "Hand Shadows Animare" is valuable.
This year marks the 10th anniversary of the premiere of "Hand Shadows Animale", and the performance will be held in Yokohama for the first time in three years. A fringe performance will be held as a program of "TPAM" (International Performing Arts Meeting in Yokohama).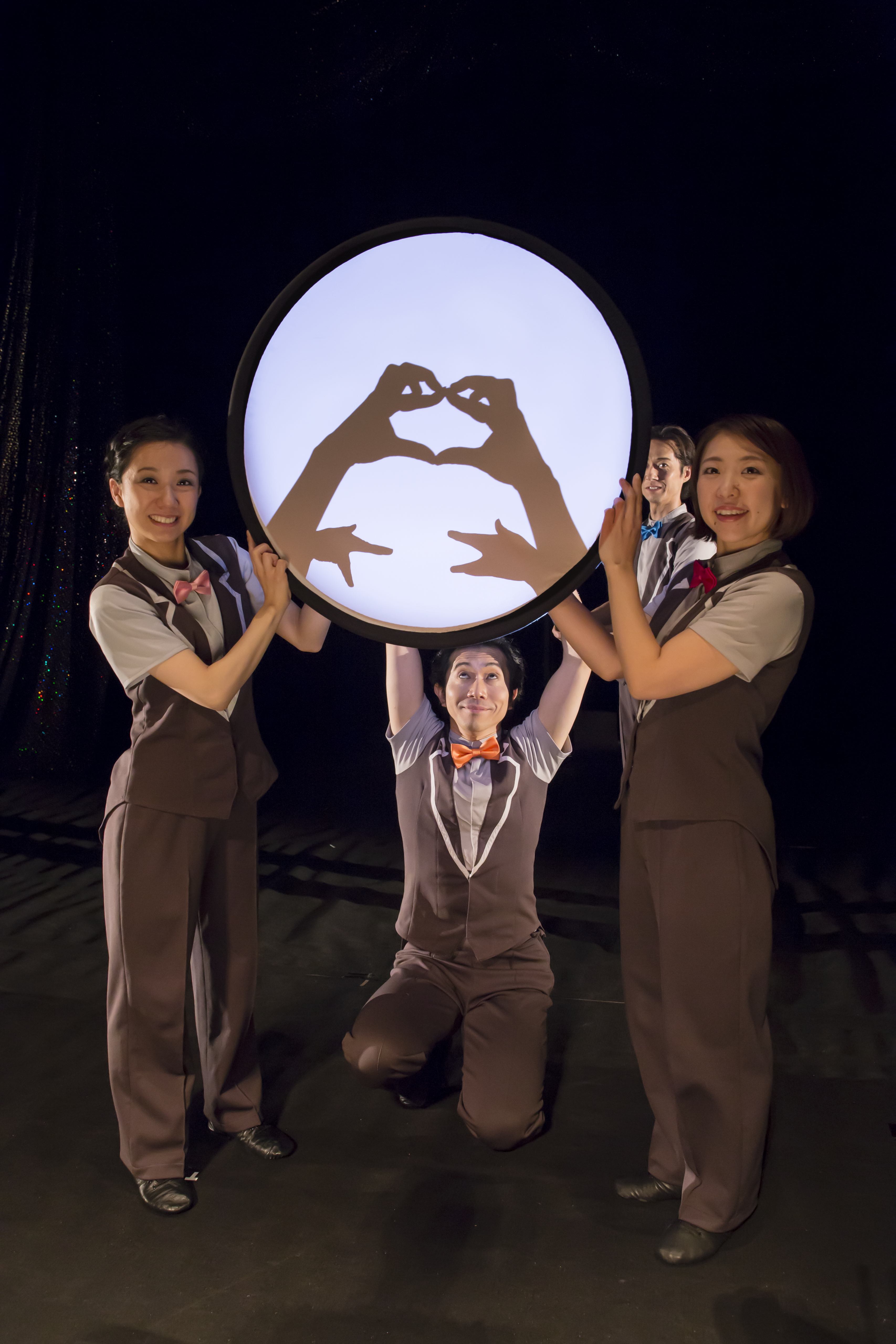 "At TPAM, we are planning to perform" Hand Shadows Animale "in the standard form. We hope that many locals will come and see the customers happy," he said. Mr. Goto.
It will also give a fresh surprise to those who have a biased image of shadow play.
* "Hand Shadows Animale" is such a stage!
https://www.youtube.com/watch?v=Dm2rWio8Td0
This event has ended.
"" Hand Shadows ANIMARE ""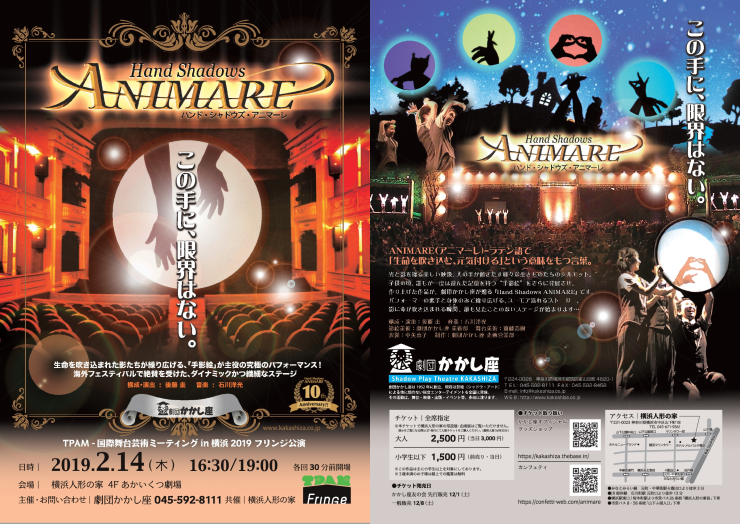 ■ Schedule: Thursday, February 14, 2019
■ Start time: 16: 30/19: 00
■ Venue: Yokohama Doll Museum Akasou Theater
■ Composition / Direction: Kei Goto
■ Music: Kuni Kawachi / Hiromitsu Ishikawa
■ Performing arts: Hiroki Saito
■ Costume: Keiko Nakaya
■ Sound: Mamoru Tsuto (Sound Method)
■ Lighting / Ryuzen Stage Lighting Research Institute
■ Shadow play art production: Theatrical company Kakashiza Art Club
■ Shadow play supervision: Kei Goto / Junji Oda (design Bee)
■ Ticket price: All seats reserved 2,500 yen / Same day 3,000 yen, elementary school students and younger 1,500 yen
* Free for children under 3 years old. However, if you need a seat, you will be charged.
* This work is mainly aimed at elementary school students and above.
* TPAM registration 2,000 yen
■ Inquiries: Theatrical company Kakashiza Tel 045-592-8111