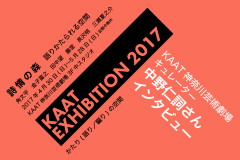 Art / Photography
"KAAT EXHIBITION 2017" Forest with poetic imagination: Space that itself speaks and spoken
"KAAT EXHIBITION 2017" Forest with poetic imagination: Space that itself speaks and spoken
– What kind of exhibition is KAAT EXHIBITON 2017?
Six emerging artists who produce Japanese paintings and sculptures exhibit their works, utilizing the space that Kaat Kanagawa Arts Theater studio, where we showcase performance and performing arts usually.
Normally museums are surrounded by white walls and can not hang objects from the ceiling or strike a nail on the floor or wall, middle studio is permitted to do such things and it is also the rehearsal hall of the theater.
This is an exhibition trying an experimental approach in this space called a dark "black box" while applying light with lighting.
Japanese paintings painted with Japanese paper, ink, rock paint, etc.,there are huge works that can hang from the ceiling,some are self-sustaining with folding-screen-type.
Sculpture works produced from stone, glass, metal are carefully interrelating rhythms with each other, in the "Forest" of contemporary art full of emotion, we want visitors to take a stroll as it drifts in the words that go into the work and spring up.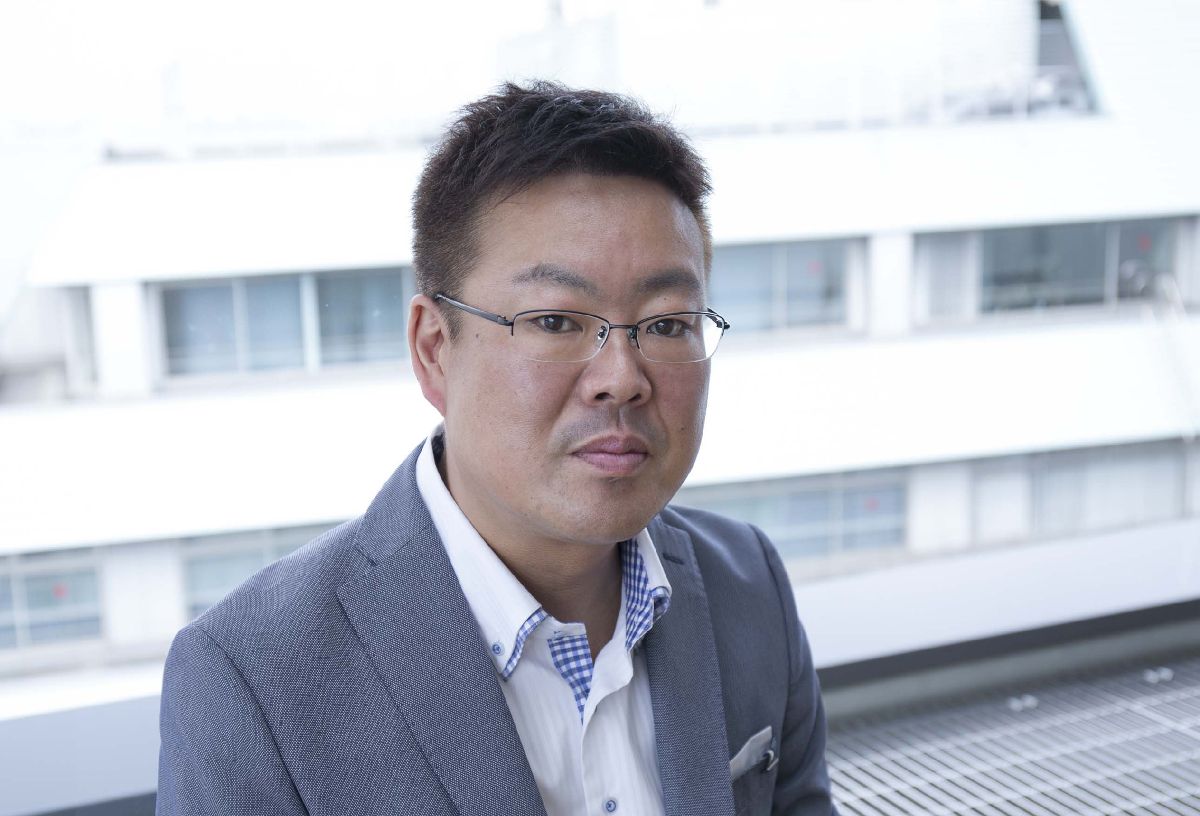 Nakano Hitoshi

– In detail, what kind of artists are involved?
Mise Natsunosuke (Japanese painting) is a professor of Tohoku University of Art and Design in Yamagata Prefecture, and the artist who creates huge paintings, which is joined with inks, pigments, and Japanese paper drawn with metal foil.
He identifies himself as "painter" and takes a consistent production style, and its style creates works by accumulation of precise drawing, his work group transformed the traditional style of Japanese art such as folding screen and hanging scroll, it can be said that it is not captured by the existing concept, beyond the framework of "Japanese painting".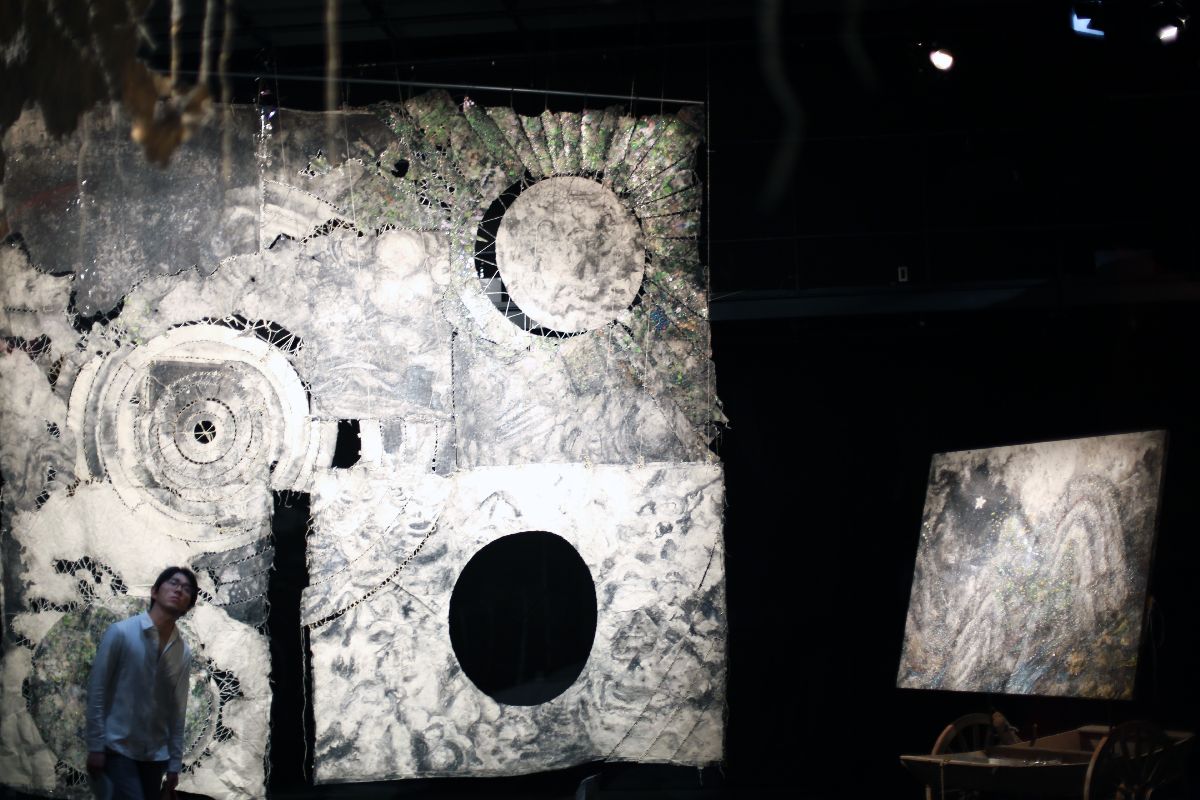 Mise Natsunosuke

Akira Nagasawa (Japanese painting) is a professor of Tohoku University of Art and Design, in Yamagata Prefecture like Mise, and he is also classified as a Japanese painter, and he mainly produces large works like a sled wall as a theme of "Contemporary Japanese Painting".
He has been working mainly paintings of tigers as a motif at this time, in our eyes, the work is drawn like a tiger is a mythical existence, because it is abstracted to the limit.
Nagasawa continues his creative work without limiting its work style, not limited to paintings, installations and 3D works etc.his work is exactly "modern Japanese painting" beyond the existence of "Japanese painting".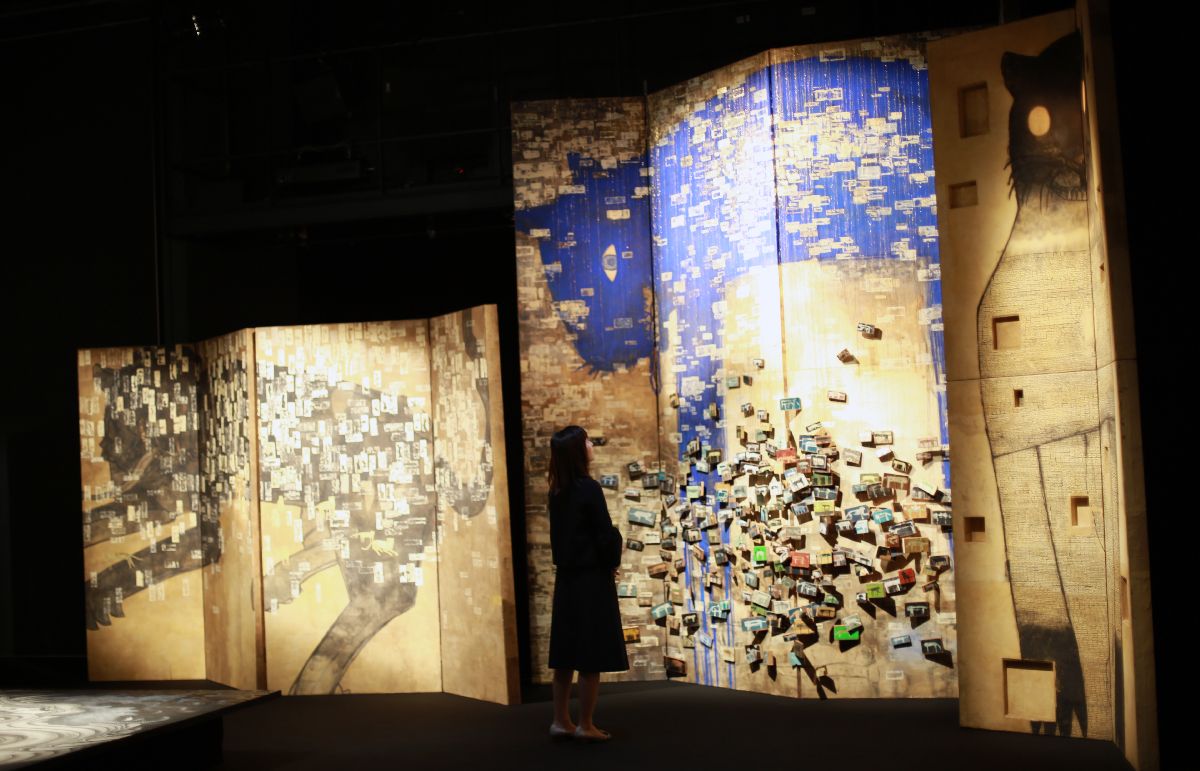 Akira Nagasawa

Kaneko Tomiyuki (Nihon Gakujin) graduated from the doctoral course of Tohoku University of Art, where Mise and Nagasawa taught and is working based on a certain village in Yamagata Prefecture.
Based on traditional Japanese painting materials such as rock paint, ink and metal foil,he is creating his works with motifs of folklore and legendary existence and numerous writings stand out on the whole screen. Because of the nature of the motif he draws, there have very strong impact, so each impression of the person who see the picture is very different.
However, it seems that the fine description which can be said to be persistent also exudes the universality in a sense.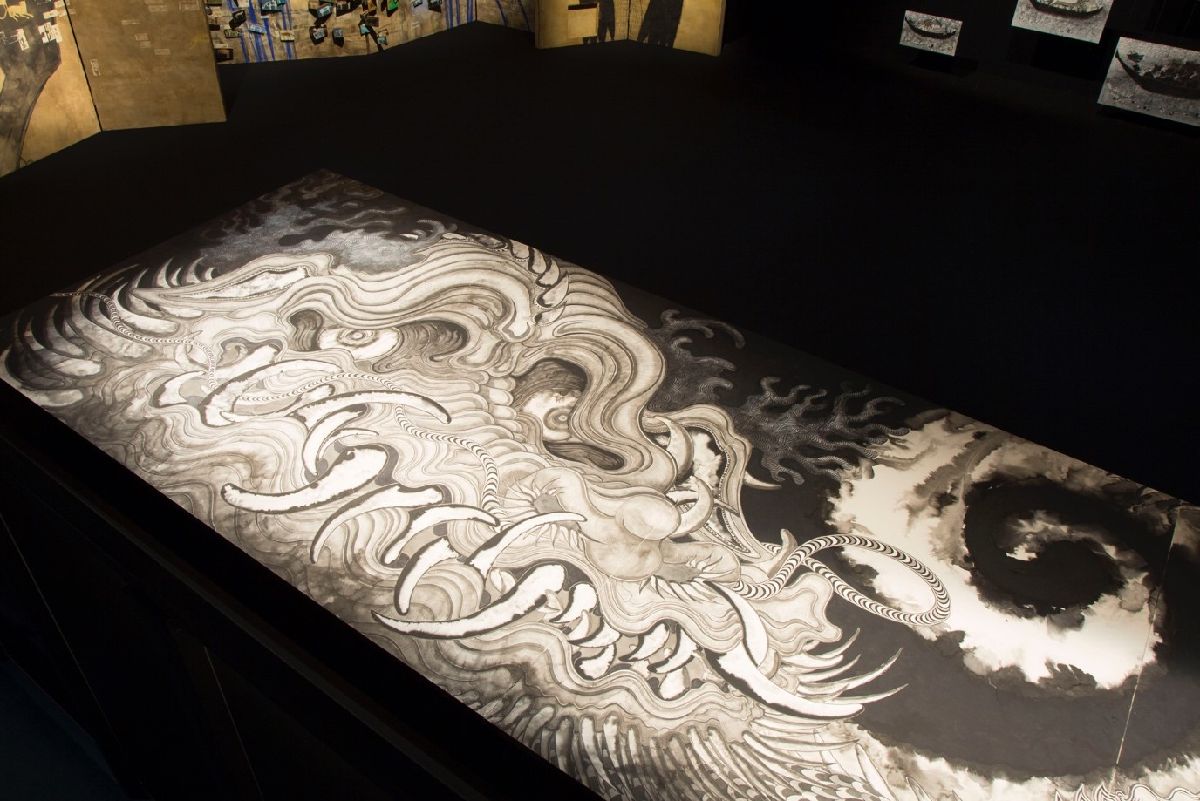 Kaneko Tomiyuki(photo:Nishino Masakado)

Tanaka Nozomu (Japanese painting) is the youngest and the only woman among the artists of this exhibition. She is an up and coming artist who received the VOCA Award Grand Prize while studying at Tohoku University of Art and Science in 2014.
Her work has its own world, because she covers and studies the culture, progress, tradition and so on that are conveyed to every region of Japan.She did not get caught up in the paintings she used, and has been digging the climate of Japan, she has built her world of Japanese paintings.
There are countless rabbits on the screen that are reminiscent of wild animal caricatures, but they are not the flat style like a picture scroll, but by drawing from the perspective that looks down on the ground from above it and stories are born in various scenes, and it is expressing how they are connected with involvement.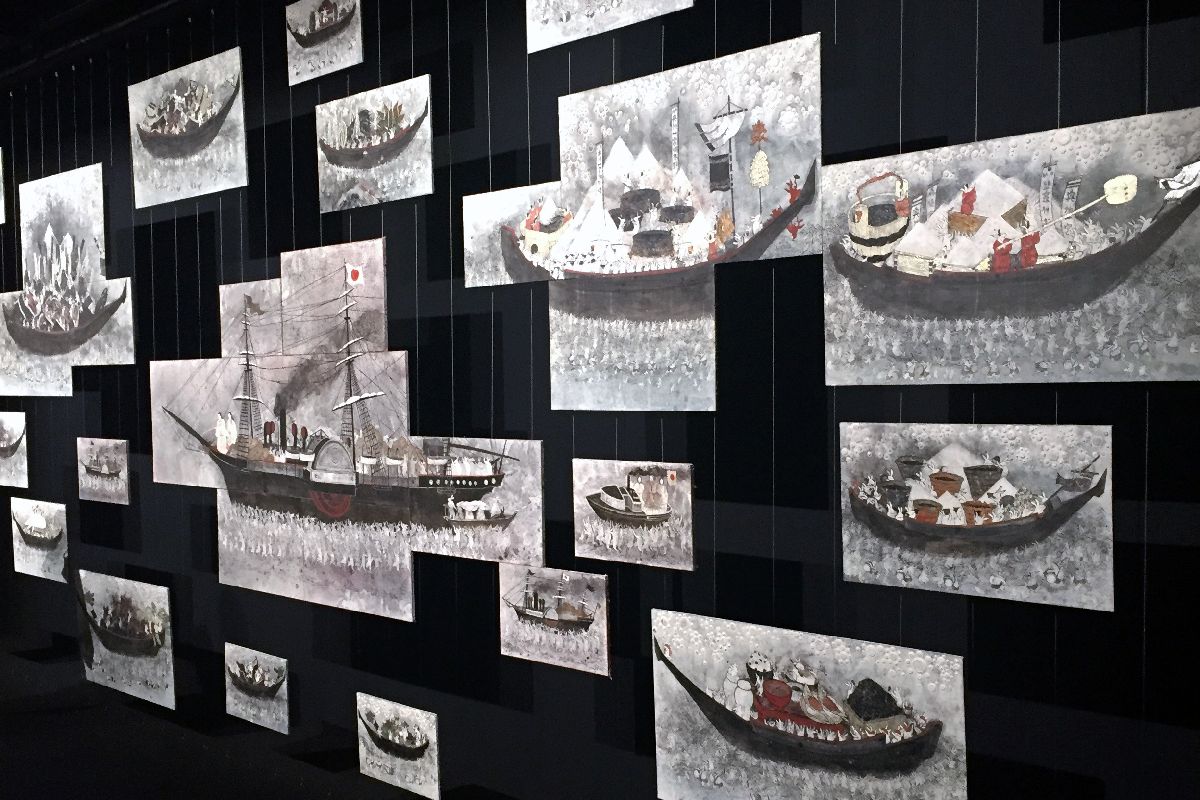 Tanaka Nozomu

Kado Bunpei (sculpture) received numerous awards in contemporary art such as TOKYO MIDTOWN AWARD and Taro Okamoto contemporary art grand prize, currently he is an artist such as Seto Inland International Art Festival and Ichira Art Mix.He has sent not only to exhibitions but also to various art festivals.
Kad cleverly combines wood, iron, paper and other things around us and he devises the meaning and function of each material, while he creates and publishs his work inspired by a new meaning.
Its subtle deviation suggests a disturbing relationship between modern city and nature, for example, highlighting "discomfort" that lurks in ordinary everyday life.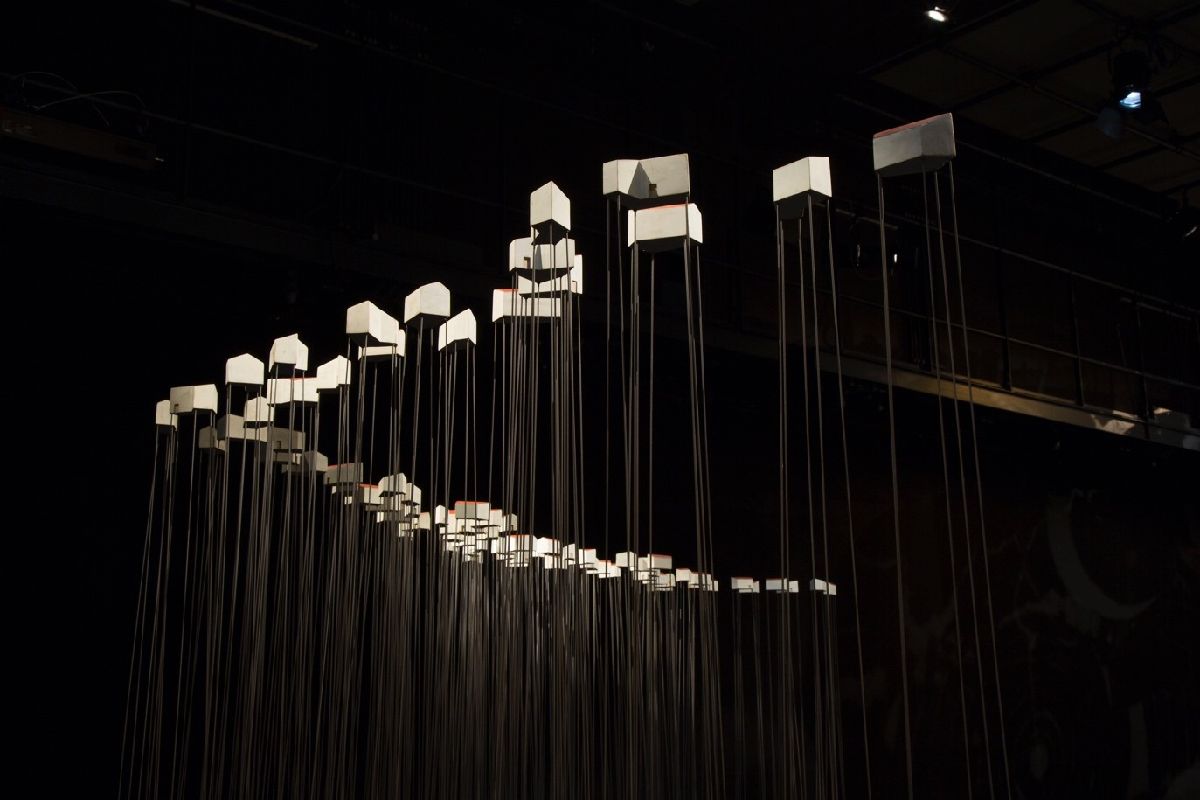 Kado Bunpei(photo:Nishino Masakado)

Todo (sculpture) lived in Germany and worked on creative activities in the past, but recently moved to Japan. The number of people viewing his work in Japan is increasing and attracting attention.
The work that he often creates is an object with laminated glass sandwiched between stones, not only stones but also books and debris, and works such as excavated bricks and many things developing themselves with a certain narrative nature and time axis, and the accumulated time the material contains and the accumulated substance that permeates are superimposed.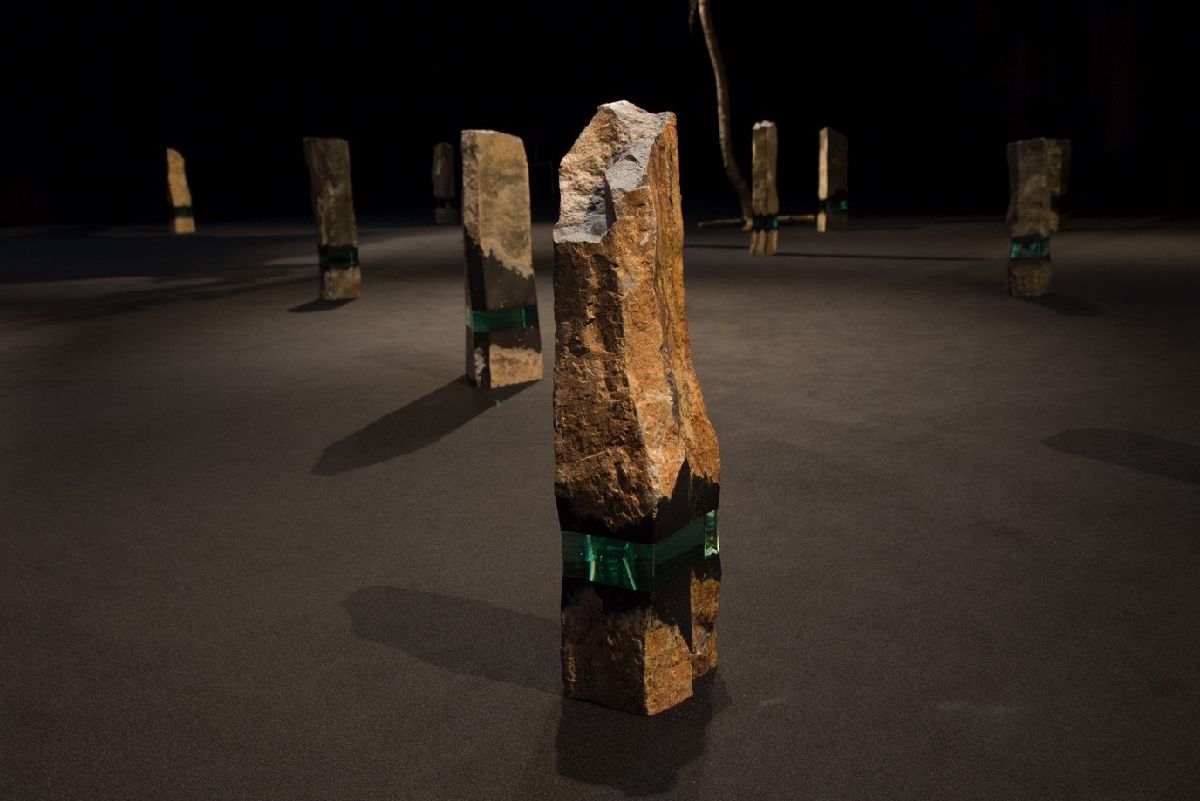 Todo(photo:Nishino Masakado)

ーーFinally, please tell us about the Open Theater 2017.
On the last day of the exhibition, in addition to the six artists of this time, four contemporary artists, who are creating the sculptures, images, photographs, lacquer arts,
their work will be installed everywhere in the theater, and on that day all the venues of KAAT will turn into the museum.
Gallery talk by artists, workshop, Video installation and dance, Poetry Reading, Khoomei,Theremin and other various events will also be held.
From Magcul editor
 
When I opened a solid door, the first thing I saw was the huge work of Misé Natsunosuke (Japanese painting).Lighting was shining like a moonlight on its precise screen, I cannot help but holding my breath.
When I was walking in the hall, I could not take my eyes off the objects displayed around the site, and the time passed quickly.
What is innovative is not only the object but also the style in which the work is displayed, which is different from the ordinary art museum.
And it is the last day of the exhibition on the 28th, many events that can be enjoyed free of charge are planned so that we can enjoy contemporary art without hesitation.
「詩情の森 —語りかたられる空間」
Forest with poetic imagination: Space that itself speaks and spoken
Bunpei Kado
Tomiyuki Kaneko
Nozomi Tanaka
TODO
Nagasawa Akira
Natsunosuke Mise
Period: Sunday,30.April.2017 to Sunday.28. May (Sunday)
No closed day during the exhibition
Venue: KAAT Kanagawa Art Theater 3F middle studio
Opening hours: 10: 00~ 18: 00 (customers are allowed to enter until 17: 30)
Admission fee: general guest 600 yen/Students and aged 65 and over 500 yen/Younger people than high school students are free
Customer with "disability certificate" and one accompanying person are free
Groups of 10 people or more will be discounted by 100 yen(each person)
"Open Theater 2017"
Takehiro Iikawa
Genta Ishizuka
Kojiro Kobayashi
Akira Miyanaga
Period: May 28 th (Sun)
Venue: KAAT Kanagawa Arts Theater
Opening hours: 10: 00~ 18: 00
Admission: Free
Organized by: KAAT Kanagawa Arts Theater
Cooperation: ART FRONT GALLERY, IMURA ART GALLERY, MIZUMA ART GALLERY, Tama Art University, Tohoku University of Art and Design, NHK Yokohama Broadcasting Station
281 Yamashita-cho Naka-ku, Yokohama-shi, Kanagawa Prefecture 231-0023
Contact: 045-633-6500 (main phone)
[Additional event information]
The latest information on events such as performance, workshops, talks will be announced on the official website as soon as it's decided.
About Repeater Discount
If you would show us a half of the exhibition ticket at the 3F reception, the admission fee will be reduced by 100 yen (It will be applied any number of times during the exhibition).
Relevant URL http: //kaat-seasons.com/exhibition2017/
Related URL:
http://kaat-seasons.com/exhibition2017/