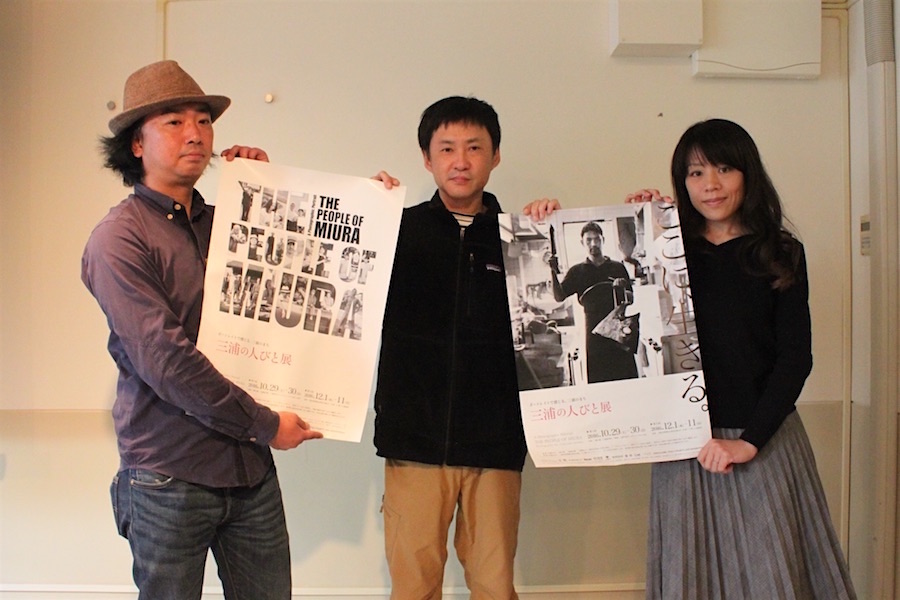 Art / Photography
'Exhibition: People of Miura' – Recreating a German project from 100 years ago
Expressing Miura town in portraits
――I hear Mr. Aritaka recently moved to Zushi, and Mr. Kuwamura to Miura.
Aritaka:While I lived in Tokyo for over 20 years and frequently visited Zushi for work, I happened to find a house that suited my taste in Zushi. So I moved here 4 years ago. At first I found it quite hard to commute to Tokyo, but train connections are convenient and I gradually got used to it.
H. Kuwamura: I am from Kansai area, and lived in Tokyo for many years. I was an editor of a music magazine and so I had deadlines every month. I got quite weary of a life where I had to sleep in the office. That's why I moved to Miura, in search of a more relaxed personal life.
S. Kuwamura:Miura is very rich both in agriculture and fishery. With great food and abundant nature, it is a very attractive town. While we as migrants knew many locals already loved Miura, we were inspired to do an artistic project where young people can rediscover the beauty of their hometown. When I released an app a few years ago that introduced fresh grocery stores in Miura peninsula, I had an opportunity to visit each farmer in order to collect its contents. That is how I started communicating with locals and learned about the issues the community faced, which led to the idea of an art project.
Aritaka:I also got connected to Miura locals because of work involving food. I participated in an event by Shokusai network and met many interesting people. That's how I started taking pictures of farmers and fishermen.
H. Kuwamura:Since I knew Mr. Aritaka worked on such photos, we talked about some sort of exhibition for quite a long time. Then Kanto Gakuin University got in touch with us via SaMAL, an organization that connects art projects around Sagami Bay and Miura peninsula. The university had been chosen to partner with the Agency for Cultural Affairs in their 'promotion of art and culture with university' project. That was such a timely offer, and so we really started working on the project.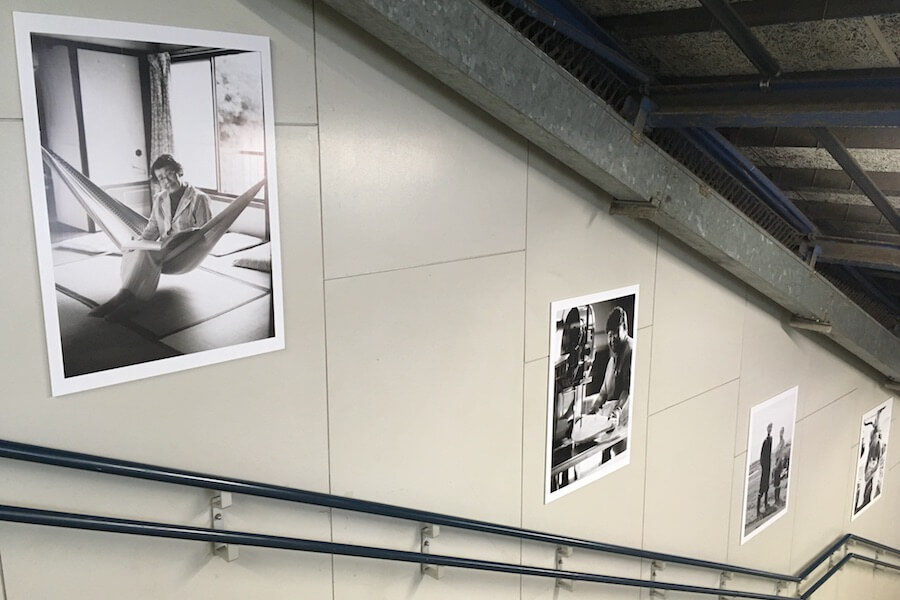 Display at Misakiguchi station

――The pieces in this exhibition are different from the work that you stocked over the years?
Aritaka:Yes, they are all freshly taken specifically for the exhibition.
H. Kuwamura:There was a photographer called August Sander from about 100 years ago. He worked on a project where he took portraits of farmers, brick makers and chefs in Rhine region, Germany. That was his way of trying to express one era in pictures. I guess it would be difficult to do a similar project in, say,Tokyo or Yokohama. People who work in cities wear suits and it is hard to describe their livelihood from their appearance. But since Miura is very rich in primary industry, we thought perhaps the German project from 100 years ago can still be implemented in Miura. That's how we came up with this project.
Aritaka:When Mr. Kuwamura talked of Sander as our concept, we decided that perspective would work well in Miura.
'People of Miura' from locals' eyes
――How did you choose your models?
Aritaka:Since I come from Zushi, I didn't know everyone at Miura. So I talked to people like Mr. Kuwamura, and also the committee members looked for many of my models.
H. Kuwamura:Having migrated about 5 years ago, I was also relatively new in Miura and had no connection with people who lived here from a long time ago. As we kicked off this project, first we organized a committee that consisted of indigenous Miura people and youths. We discussed what kind of models we needed in order to express Miura. Some said we should have people like the doctor who has been doing school health checkups in Miura for decades. That doctor is 87, and has served as a doctor in Miura for 50 years. Almost everyone who grew up in Miura knows him. However, outsiders like us would never come across him. The committee really helped us reach out to such characters. By the way, this doctor specialized in skin and urology treatments. He was so knowledgeable about the history of men in Miura and we were well entertained by his interesting stories.
Aritaka:For instance, he talked about how Miura was when it was a wealthy town during Showa era.

Display at Misaki port

H. Kuwamura:Miura was affluent during Showa period, thanks to sales of tuna. There were even many cinemas in town. Fishermen who came back from a long fishing trip used to spend money at the port for entertainment. We enjoyed listening to such stories.
As for choosing models, it was crucial for this exhibition that we were able to speak with locals and decide our models.
――What kind of members did you have in the committee?
H. Kuwamura:Young farmers in their 20s to 30s, a wallpaper dealer, shop owners selling seeds, donuts, a noodle maker, public workers, and we also had a movie creator.
H. Kuwamura:Not all of them were artists. Some came there as locals. We had some others whom we met through an art project we did in Miura, called 'Town project planning lectures'. We had held that event twice in the past.
Aritaka:There were farmers and noodle makers in a committee of a photo exhibition. Their professions had nothing to do with photography. It was interesting to work together with various people and create a project.

Members of the committee

H. Kuwamura:In preparation of 'Exhibition: People of Miura', we held another event called 'Think in Miura!: Town project planning lectures' twice. Its aim was to plan how we can organize an art event in Miura. This event consisted of two parts. In the first part, we invited members of committee from Manazuru Machinale and Hayama Art & Music Festival, and asked them what it meant for a town to host an art event. In the second part, we discussed with participants what type of art event would be suitable for Miura. Some of the most passionate participants in this event became members of our organizing committee. I believe art should not be something unapproachable. It can start from a simple idea of something fun. This event provided an opportunity to invite a wide range of people to participate in 'Exhibition: People of Miura'.
S. Kuwamura:We came to understand that quite a number of youths wanted to do something useful for the community, in order to solve problems such as decrease of population and more and more houses going vacant, as well as lack of quality infrastructure. We even saw high school students there.
'One-on-one' with models
―― Did you manage to get cooperation of locals smoothly?
Aritaka:Of course we had to spend time talking to them in detail, as it was the first time we were doing this. I remember there were so many things we wanted to talk about and we could go on and on.
H. Kuwamura:None of our models were shy.
Aritaka:I decided to invite models to come into the camera frame while I waited for them with a tripod, rather than me chasing after them. This made them more prepared and bold. I felt it was like a one-on-one match with each model.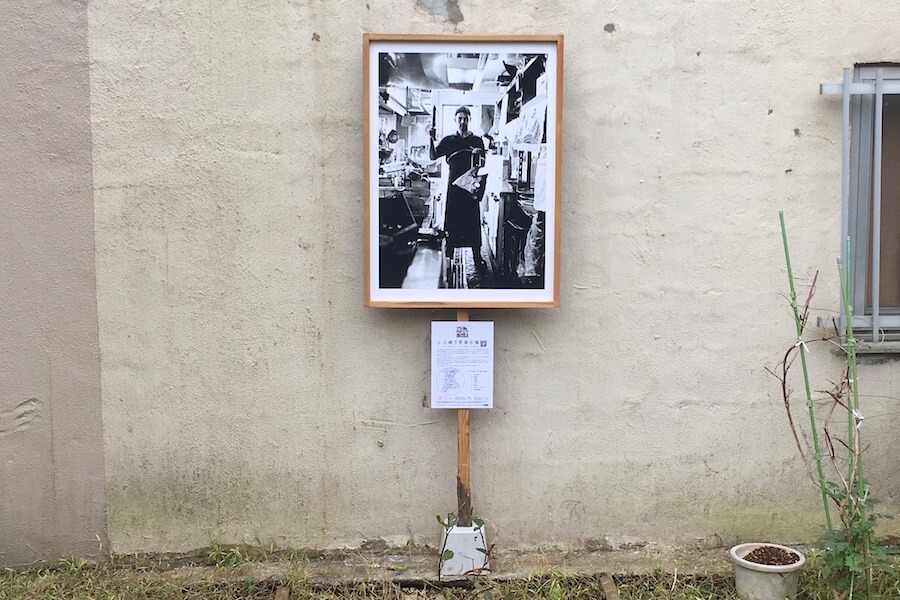 Display at Misaki downtown

H. Kuwamura:Some models asked if they should smile. But we asked them not to. Even though there were elements of intentional photo production, we didn't want to have fake smiles. While we paid attention to how the model was described in photos, we didn't want anything to do with superficial smiles or lies. That's one of the things we were really careful about.
Aritaka:I remember requesting them not to smile quite often, especially in the beginning.
H. Kuwamura:We wanted them to try and look cool. We also believed they were cool. However, they do not keep smiling when they are actually at work. Well, of course some jobs require that. But anyway, we wanted their natural expressions.
Aritaka:If they smile, it will be like I am being forced to take their photos. That will not produce any art work. It won't even be interesting. I strived to set my tone in the sessions, without necessarily being pushy. Mostly the lens I used was the same lens with a single focus. I didn't have much headache like having to design many details for the sessions, as the theme was consistent from the beginning: capturing various faces from the same perspective and distance.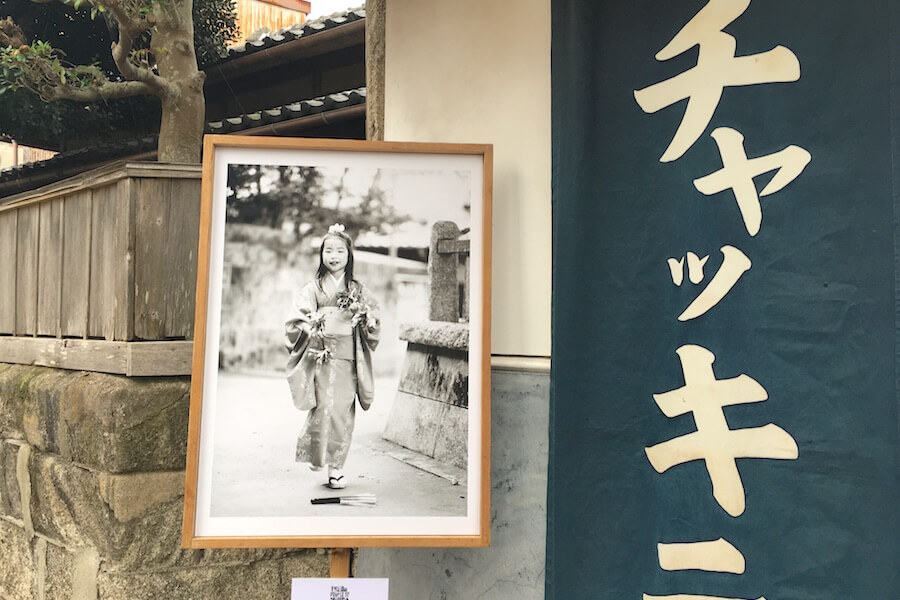 Display at Misaki downtown

H. Kuwamura:Location was an extremely important factor, too. When we photographed fishermen of Shirasu, we had to start at 5AM to board on his ship and accompany the trip for about 4 hours. Since he couldn't sail when there was no Shirasu in the sea, we had to reschedule our session for about three times before we could actually take his photos. Some pictures required a lot of time like that. Others only took 5 minutes to take. For example, there was a time we just chatted a waitress at a café and she let us take her pictures very quickly.
 We also took video interviews at the same time. At the exhibition, you can listen to their real stories in a movie, in addition to photos.
Scenery that supersede time
――Did you know from the beginning that you were going to take black and white photos?
Aritaka:When Mr. Kuwamura said he wanted an exhibition at a fish market, we went to see the place. Then I was convinced that black and white pictures would definitely match this crude, huge space.
H. Kuwamura:We also thought that black and white has a possibility to supersede time. We can't deny the fact that colors always suggest at which time the picture was taken. We reckoned black and white would allow us to display Sander's photos from 100 years ago and our modern photos, as if they are from the same era. I don't think anyone used a fish market as an art gallery before. It is such a unique place, and so we are certain that this exhibition will be unprecedented. This fish market is as long as 100 meters in length. For example, we rarely find a straight road that goes on for 100 meters in Tokyo. We are planning a display that taps into this straight space. It is a humongous venue, and thus our display has to match its scale. We would love to see people who love photos or art there.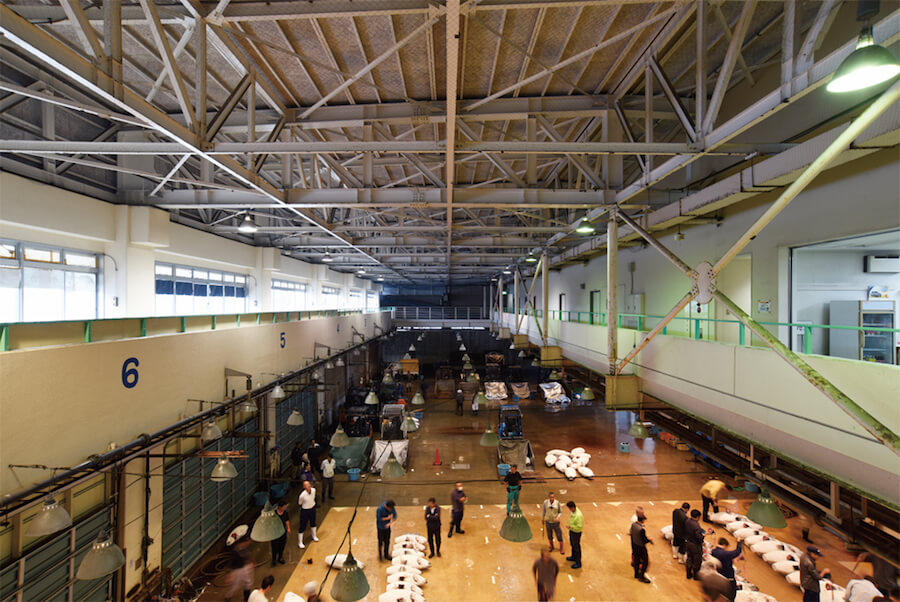 Misaki regional fish market

――What are your future plans?
H. Kuwamura:Miura is a photogenic town. At the time of our first exhibition, there were approximately 250 amateur cameramen from all around Kanto area. We learned that there was some sort of a photography session then. Misaki downtown still maintains old scenery from Showa period. Locals who live there look amazing in photos. There is something in this town's scenery and people that deeply attracts photographers.
Aritaka:That was the first reason I started frequenting this town, too. There are so many elements, for example in backstreets, that surprised me how they survived all this time. There is some retro atmosphere and I am always inspired to walk about with a camera.
H. Kuwamura:The theme of 'Exhibition: People of Miura' is to express the town using portraits. I am now thinking of a new photography project from a different perspective. Since we have a variety of people in our committee, including music lovers, I know we can also do an art event that is not related to photos. We hope to create opportunities in Miura where people can express themselves through art and culture.