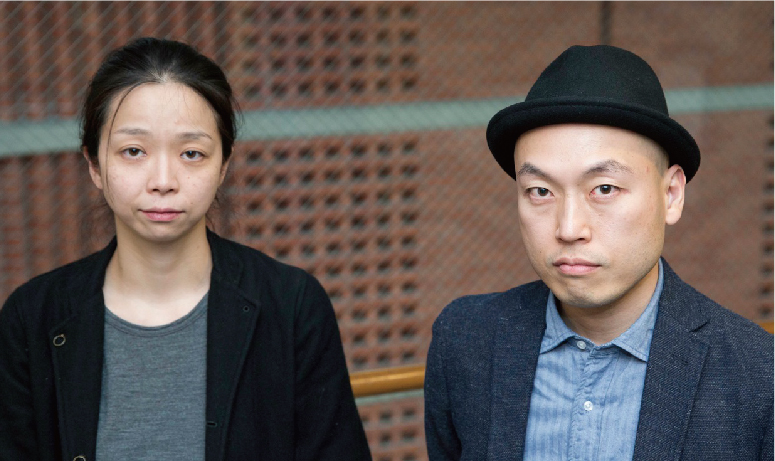 Playwright and director Tomohiro Maekawa and director Eriko Ogawa, who have received many awards for theater awards and are developing a variety of activities that can be called the hope of contemporary Japanese theater. In the summer of 2012, after the lively performance "Mission" directed by Ogawa, "The play for children and adults" Coming from a dark place "" was born from the tagging of the two again.
Born from a breathtaking combination of actors and staff, this work literally boiled the audience across generations, and this summer, the first replay in two years, toured eight theaters in Japan. He talked about everything from "creating a play for children", which was the first time for both of them, to their thoughts on the replay.

Text by: Sora Onoe
photo: Masanobu Nishino
■ Tomohiro Maekawa | tomohiro MAEKAWA

Born in 1974. Playwright / director.
Born in Niigata prefecture. It presides over the theater company Ikiume (formed in 2003) and makes it a base for activities.
Draw a different world that appears next to familiar life.
Even outside the theater company, he continues to take on a wide range of challenges, such as teaming up with Sarunosuke Ichikawa in Super Kabuki II "Sora Okimusha" and Yukio Ninagawa in "Taiyo 2068". In 2014, he won the 21st Yomiuri Theater Grand Prix Outstanding Director Award for directing "Katascale" and "Notes from the Basement". In addition, he has received numerous theater awards such as the Tsuruya Nanboku Drama Award, the Kinokuniya Theater Award, the Yomiuri Literature Award, and the Newcomer Award for Fine Arts.
http://www.ikiume.jp/index.html

■ Eriko Ogawa | eriko OGAWA

Translation and direction. Born in Tokyo in 1978.
2004 Actors Studio Graduate School DirectionGraduated from the club. 2004-05 Trainee at Lincoln Center Director Training Institute.
2006-07 2005 Trainees in the overseas dispatch system for up-and-coming cultural artists.
In 2010, he won the Odashima Yuji Translation Drama Award for Sam Shepard's "Now Dead Henry Moss" (CAT Produce / Jay Clip). In 2012, he won the 19th Yomiuri Theater Awards Haruko Sugimura Award for "12 People-A Miraculous Story-" (Office Kottone), "Night Visitor" (Hibikito), and "Pride" (tpt). In 2014, he received the 48th Kinokuniya Theater Award Individual Award, the 16th Koreya Senda Award, and the 21st Yomiuri Theater Awards Outstanding Director Award. One of the most notable directors right now.
Maekawa: It was my first time to create a play based on the premise of watching children, but I didn't make any unusual preparations or change my thinking. As I said in the production announcement of the premiere, even when I remembered my childhood, I had many experiences such as "something I don't understand a little will be remembered later", so I took a lot of hands. I thought that people who weren't too kind would be able to concentrate on watching. However, I was aware that my style was a little logical (laughs), so I was worried that story development would be as simple as possible, and if hints were laid, the time to develop it would be shorter than usual. ..
Ogawa: I didn't have to worry about it either. If anything, there was a great expectation that it could be used while having fun, using direct production as a play and gimmicks that seem to be gimmicks, which cannot always be done.
Maekawa: When writing drama, I usually ask actors and staff to listen to the development, and I listen to other people's opinions a lot in order to elaborate, but I wrote this work almost at once without consulting anyone. Something like.The main character, Teruo, reflects his actual childhood experience to a great extent, and when I screened a video recording the stage in my hometown of Kashiwazaki City, Niigata Prefecture in January this year, what did my mother and sister know? I was wondering if I might be thrust into it (laughs).

Ogawa: I now know that Mr. Maekawa's actual experience was reflected so much (laughs).
Maekawa: Normally, I don't mix my personal experiences with my work. However, I think that by adding my own experience, the work has become independent of the ages of children and adults. Teruo feels vague anxiety and fear about his grandmother's house because of the "guilt" in him. It's a normal horror way to feel something that other people don't feel from the unconscious guilt, and something that shouldn't be seen appears in a different shape and is frightened by it.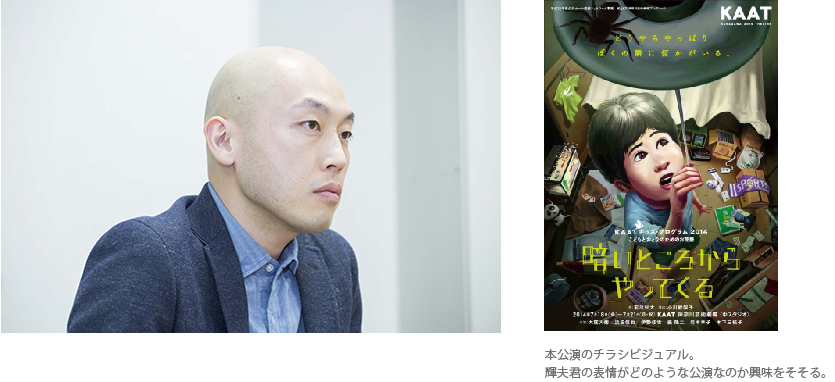 We felt that we were doing something interesting, but at the final stage, we were worried, "Will the children be happy?" Since this is the first time, their reaction is unknown. So, just before the first day, we decided to have more than 20 pairs of parents and children watch it as a preview. The staff couldn't do it, but that reaction really saved me.
Maekawa: Yeah, he laughed a lot more than I expected, and he watched me when I was concentrating.
Ogawa: I immediately swallowed the rule that "people in the dark world can only be seen by Teruo-kun," and Teruo's slight surprise was also interesting. However, when I heard his impressions after the performance, he gave me a sharp tsukkomi such as "The position of the shadow is out of alignment!" Projected by the projector, and he hurriedly fixed it (laughs).
Maekawa: I was impressed and relieved that I was watching it often.
Ogawa: Even in the real world, you can clearly see that the children are creating the atmosphere of the theater. Some children laugh or get scared before adults, and sometimes say "I'm not scared!", And they are drawn into the world of play so that adults can be caught by such straightforward emotional expressions. Existence of childrenHowever, I was keenly aware that he completed this work.
Maekawa: It was good to have face-to-face seats that surround the stage. In particular, there are children in the front row, and the reactions of the children can be seen as part of the work from the audience seats facing each other. Therefore, I think that the direct reaction of the children strongly influenced the work.
Photo: Aki Tanaka (from the 2012 KAAT Kanagawa Arts Theater premiere)
Ogawa: Also, for me personally, I can say that it's a little nostalgic theatrical gimmick that I couldn't usually do even if I wanted to do it. I was able to try various things such as how to create a contrast between light and shadow to express the sign of something invisible, and how to use simple and straightforward methods such as the wind that shakes the curtain, with precise calculations. It was with the cooperation of art, lighting, and sound, but it was also a personal harvest to realize once again that "theatre should be enjoyed obediently like this." As a result, my family, who usually complain that the stage I direct is "long and dark," even said, "There is no work that goes beyond this" (laughs).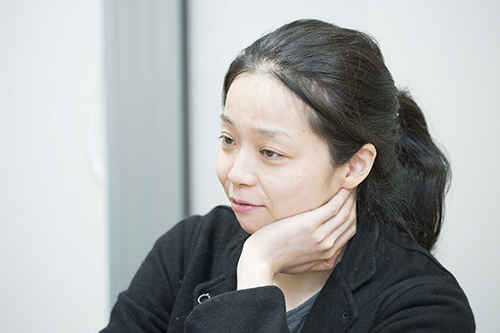 Maekawa: When I went to the rehearsal hall for the first time, Mr. Ogawa was directing too precisely as usual, and he said, "For children, I'm not conscious of it at all …" It was (laughs), but the correct answer was how to make it so that it wouldn't be flirting with children.
That's why I think the audience, who are more honest and severe children than anyone else, has helped me. I will bring my works to various areas such as Chubu, Kansai, and Kyushu on this tour, but I want you to see the works with children in every theater.
Ogawa: Really, the existence of children is a must for this work.
We would like adults to come with their children so that they can enjoy watching it better and more enjoyably.
Maekawa: The cast and staff are all the same members for the replay. That's why we aim to evolve and deepen, so I'm sure that those who have seen the premiere will find another fun.