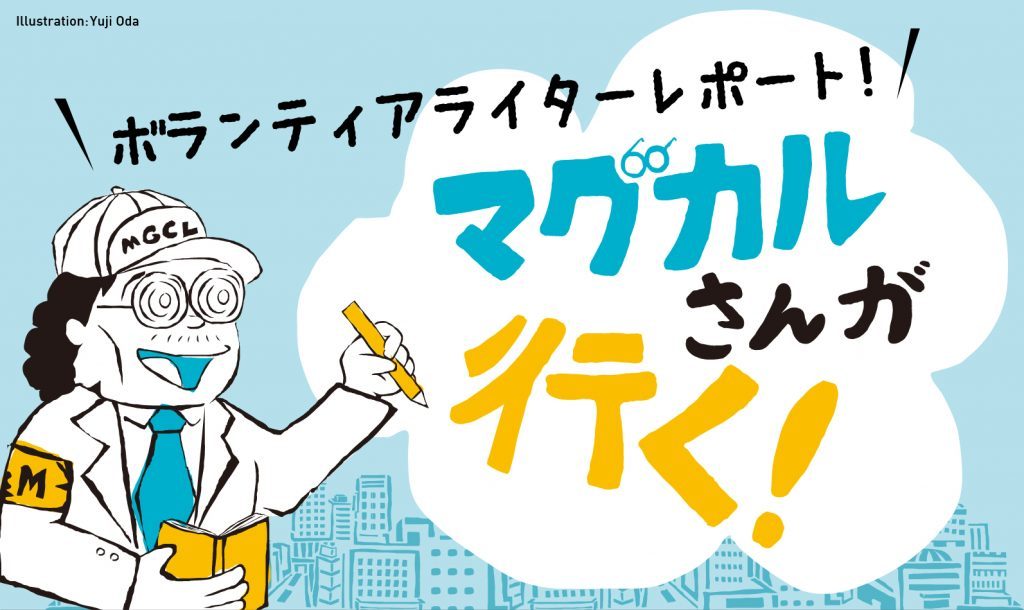 I participated in the private viewing of the "SIMONDOLL Yotsuya Simon" exhibition held at the Sogo Museum of Art from May 31st (Sat) to July 6th (Sun)!
In this exhibition, you can meet 46 dolls, from early works to the latest works.
For me, who wanted to see the real thing with my own eyes even just once, it was a spectacle that made me want to dance.
A doll that you've only seen in books is right in front of you... Impressive!!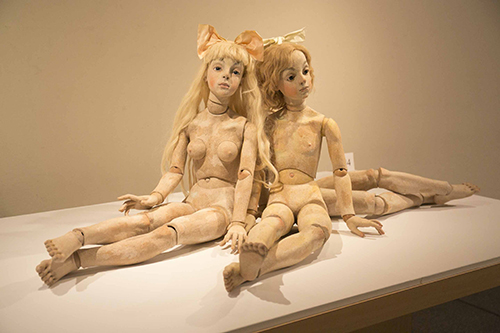 "Sisters" 2012 Collection of the artist
After experiencing this exhibition, I can say from the bottom of my heart that I want you to actually witness it.
Mr. Simon's doll is thinking. Mr. Simon is making it while thinking about it.
I have a strong sense that the crystal is right in front of me, and I feel that how I read it and how I feel about it is entirely up to me.
I would like you to experience the presence of the work that stands pretty without saying anything in the dimly lit venue.
I think it doesn't matter if you don't have any preconceived notions or knowledge.
This is because Mr. Simon himself continues to ask, "What is a doll?"
"Hmm. What exactly is a doll?"
With that alone, I feel that "SIMONDOLL" throws something back.
Also, at this preview, I was blessed with a dreamlike opportunity to interview Mr. Simon directly, so I will also report on the conversation.

From the exhibition scenery
Q: I was curious about the earrings when I saw the real dolls up close for the first time. Why do you wear earrings that are disproportionate to the size of a girl's face?
Yotsuya : I don't think about anything outside of the doll, it's just the doll.
That's why it's okay to wear the bare minimum, for example, a watch for a boy's doll.
I personally think that girls' earrings are cuter than necklaces.
In fact, the things that the dolls are wearing are large enough for a human to wear, and they are not disproportionate. It's a little big, but it's cute.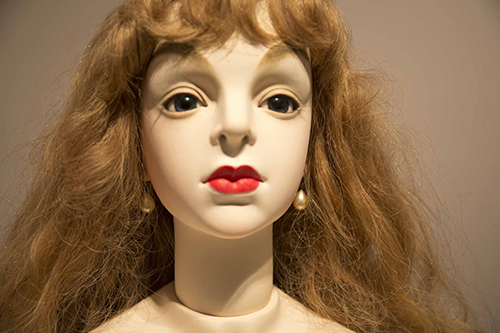 Girl Doll (detail) 2008 Kamata Mutual Aid Association
Q: Do you have any intentions with the doll wearing only shoes and no clothes?
Yotsuya : Putting on shoes means that 'contact with the outside world is cut off'.
The toe is the tip of a human being, and by putting shoes on it, the doll is established as a doll.
Of course, even if you don't wear shoes and go barefoot, it still works as a doll.
In my selfish image, "Oh, it's melting. That's something wrong."
Q: Is the doll in the box also intended to cut off contact with the outside world?
Yotsuya : I like things like specimen boxes. It's like a world that exists through a sheet of cold glass. For example, a shop window.
A hard and transparent thing, a world that is established through it...it's not such an exaggeration. It's a sample box
Q: Simon's work is different from Joseph Cornell's "box work".
After all, it looked like a "box" with dolls.
Yotsuya : You have an angel series, right? I wanted to play around with pasting letters and making collages. It's a little different than Guard.

The collage part that was mentioned in the story 《Immediate Love 2》(Part) 1995 Kamata Mutual Aid Association
Q: There were several black-haired male dolls, but I didn't see any black-haired female dolls.
do you hate black hair?
Yotsuya : Girls' dolls have an image of something like that in a nursery rhyme, like "Dolls with blue eyes...".
Maybe I'm just embodying what's called a French doll with blond hair and blue eyes.
When you give a girl black hair, something pretty strong comes out, the color tone and all that stuff.
If you're blonde or light-colored, no matter how much hair you have, it's fluffy and doesn't feel heavy.
I have never made a black-haired girl doll.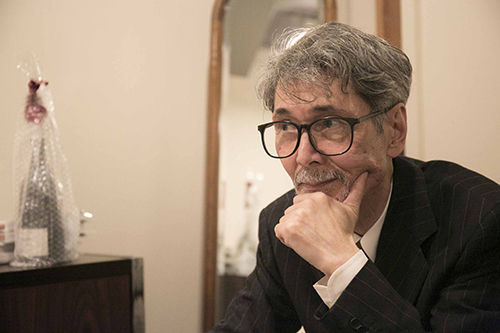 Mr. Simon Yotsuya answering the interview
Mr. Simon responded with a warm smile all the time, saying, "I wonder if I answered correctly!" wonderful. It was a short time of 10 minutes, but it was a moment with a dense and light spread. A lovely and precious experience that makes you want to lock it in a specimen box and look at it again and again. I'm really thankful to you.
AO
Living in Tokyo
Currently studying at Tokyo Zokei University, majoring in painting
I grow bean sprouts.