Zoni is interesting! Zoni festival with Hiroko Kasuya, a ozoni researcher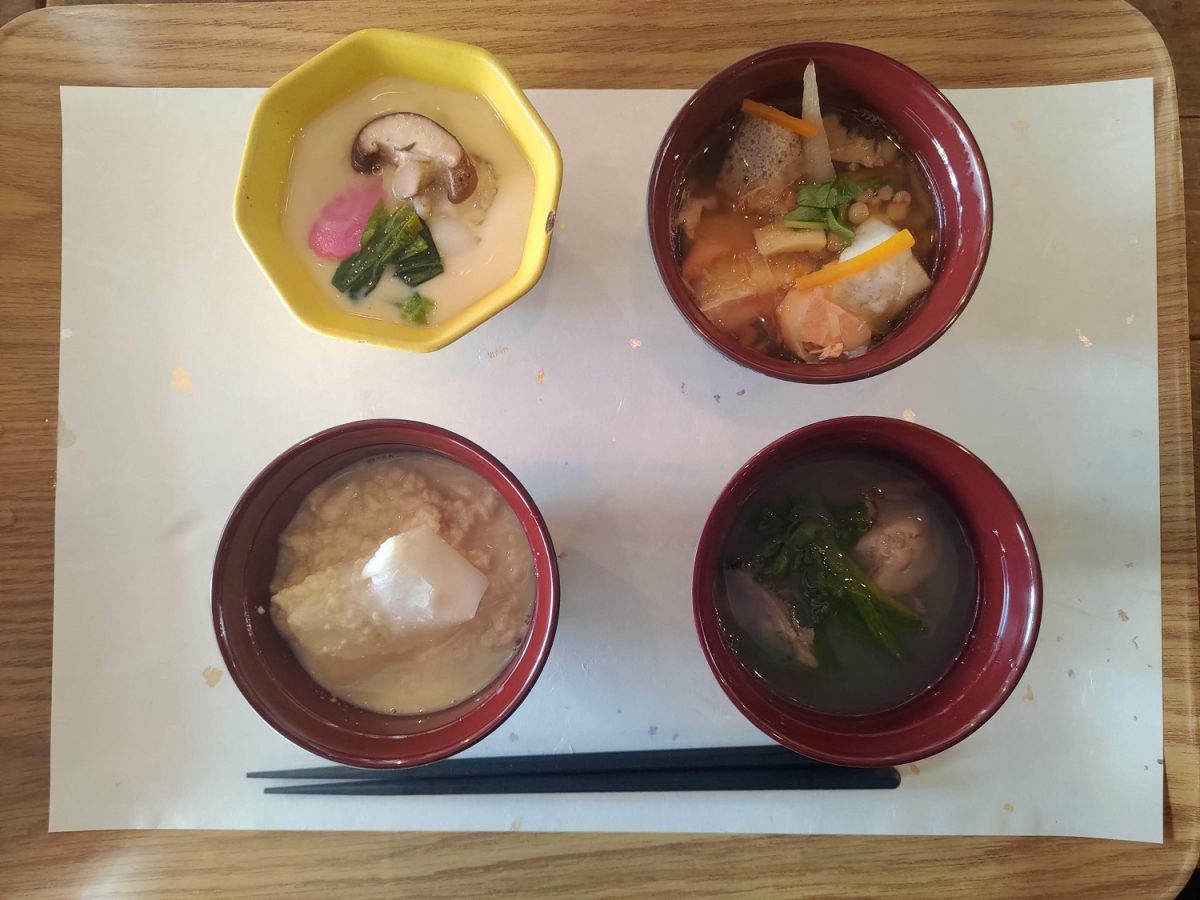 皆さんのご家庭ではどのようなお雑煮を召し上がっていますか?
我が家のお雑煮は鶏で出汁をとり、大根とニンジンの飾り切りが入ったものだ。お餅はうっすらと焦げ目がつくまで焼いて、出汁に浸す。

子どものころからこの味に親しんできて、「これこそがお雑煮!」と思ってきたが、そんな私の概念は鎌倉で開催された「お雑煮フェス」であっさりと覆されることになった。
そこで出会ったのは今まで見たことのないお雑煮の数々であった。牡蠣雑煮、甘いお豆腐のスイーツのようなお雑煮・・・中には茶碗蒸しにお餅の入ったものまで!

多種多様なお雑煮に目を白黒させて驚いている私に、主催者の1人である(株)お雑煮やさん代表、お雑煮研究家の粕谷浩子さんはこう語る。
「(お雑煮とは)同じ市町村内でも違う。日本全国、そのご家庭では自分達のお雑煮が普通だと思っているんです。各家庭で違うらしいと皆さん知っていても、ここまでも全然違うというのがある。」
お雑煮によって見えてくる、地域の歴史、文化、そして人々の暮らし。粕谷さんのお雑煮にかける情熱と、お雑煮という食文化の魅力について、今回お話を聞いてきた。
粕谷さんがお雑煮に興味を抱くきっかけとなったのは中学生のころ、父親の転勤で新潟県上越市に引っ越した時だった。それまでは牡蠣入りのすまし汁か、香川県出身の母が作る、白味噌に甘いあんこ餅の雑煮が彼女にとって「普通」のお雑煮だった。しかし正月に友人宅に招かれた際、ワラビやズイキがたっぷり入った茶色の雑煮をごちそうになり驚いたとのこと。各地域、各家庭でお雑煮の「普通」が違うことを知った。
その時の衝撃を、粕谷さんは社会人になってからも忘れられずにいた。中小企業診断士として忙しく働いていたが、2009年に女子栄養大学に入学し、栄養学を学びながら、雑煮をテーマに人々への聞き取りを始めた。2年前からは九州に拠点を移して活動している。
「今おばあちゃんナンパして九州を歩いているんですよ(笑)。あっちこっちで「すみません~」って聞いてまわっています。本当にそうしないとその地域のお雑煮ってわからないんですよ。みんなにとっての「普通」がたくさんあるのかもって思っています。
東京だと菜っ葉と鶏で「なとり雑煮」。だから小松菜と鶏なんですけど、神奈川の厚木や秦野とかになると大根と里芋に青のり、かつおIt will change into a fist. It's interesting that we don't always use fish in areas where we can catch fish, and we value the use of roots such as radishes and taro to "put our feet on the ground." .. "
I grew up in Kanagawa prefecture, but my ozoni doesn't contain green laver or dried bonito flakes. "Ordinary" for me becomes "ordinary" even within the same prefecture after a short distance.
For example, even one shape of mochi reveals various stories. I have also seen on TV that the shape of mochi is round or square, and that Sekigahara is the boundary. Sekigahara is a division of various food cultures, and it is generally said that Kakumochi is used in the east and Marumochi in the west of Sekigahara. This is because the Edo Shogunate was born and mass production of rice cakes became necessary as the population of Edo increased, so the mainstream production method was to stretch the rice cakes that had been attached and cut them all at once.
However, in some areas of Kagoshima, Kakumochi is used. It is said that Mr. Shimazu, who stayed in Edo for a long time, brought back Kakumochi to Kagoshima. Various histories are mixed and fused with the local culture to create ozoni that is unique to the region and unique to the family.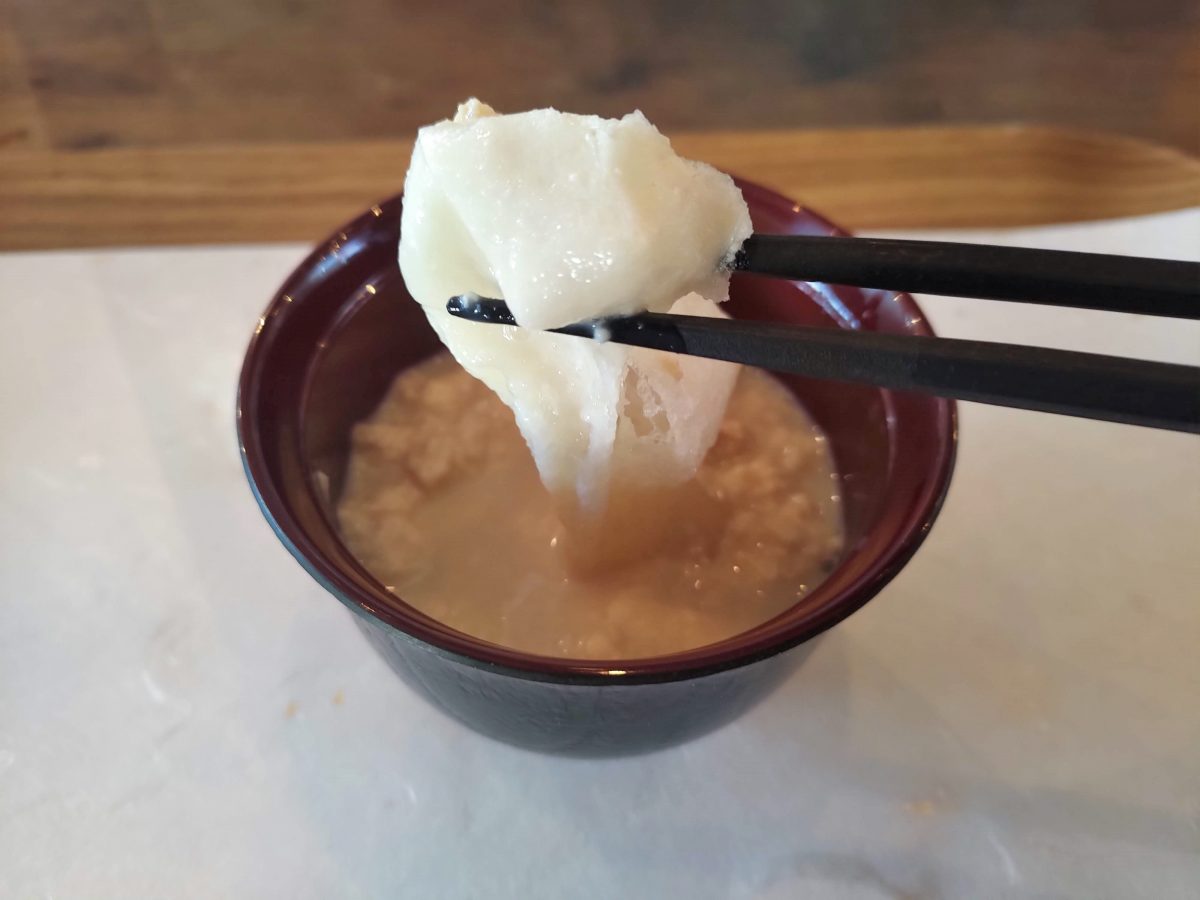 Even though there is such a difference in one area, there are few opportunities to eat ozoni in other areas.It feels like a waste. For me, ozoni is something I eat at home on New Year's Day, and I had only a few chances to eat it at other times. That's why everyone thinks that their ozoni is "ordinary" and common.
So I asked Mr. Kasuya, "Do you have the opportunity to boil ozoni and eat it outside of New Year?"
"I think" Steamed Zoni "in Asakura City is a good model case, and in fact, there are about 10 stores in the area that serve steamed Zoni throughout the year with the help of the Tourism Association. It's becoming a local specialty. Then, people who have traveled to the land will be able to know the culture behind it. I think it's so unique because it's home-cooked. Not in the culture of a cook, but in a closed place in the home. That's why I think that the old ones are still there. I wish I could eat it when I traveled around the country like this. "
Foreign tourists do not know the existence (of ozoni) because it is not offered at restaurants. I want to make it possible for such foreigners to eat it. Through Mr. Kasuya's ozoni, the desire to promote and protect Japanese culture is conveyed.
Mr. Kasuya said with a cheerful smile about his future activities.
"From this year, I'm thinking of going into food education or making friends. Instead of doing my own" Grandma Nampa ", the locals themselves can listen to the local grandmas. I want to create a fun mechanism like this. "
Why is it possible to eat such ozoni in this area? The story is often known to grandmas over 90 who know the culture before the spread of gas. One person cannot go around the country in detail. Therefore, in cooperation with the locals, knowledge and information about the food culture of ozoniHe talked about his desire to pass on the news to the next generation.
The "Ichiban Zoni Festival", which Mr. Kasuya was involved in planning, was a great success, and by the time I arrived, two of the six types had already been sold out.
lineup:
① Hokkaido "Chicken soup stock ozoni"
② Niigata Prefecture "Shibata Zoni"
③ Ibaraki Prefecture "Hitachiota Zoni"
④ Nara Prefecture "Kinako Zoni"
⑤ Hiroshima Prefecture "Oyster Zoni"
⑥ Fukuoka Prefecture "Asakura Steamed Zoni"
The taste, soup stock, ingredients, shape and hardness of the mochi were all different, and they were delicious. As Mr. Kasuya said, if you can enjoy ozoni at your travel destination, you will have more fun traveling.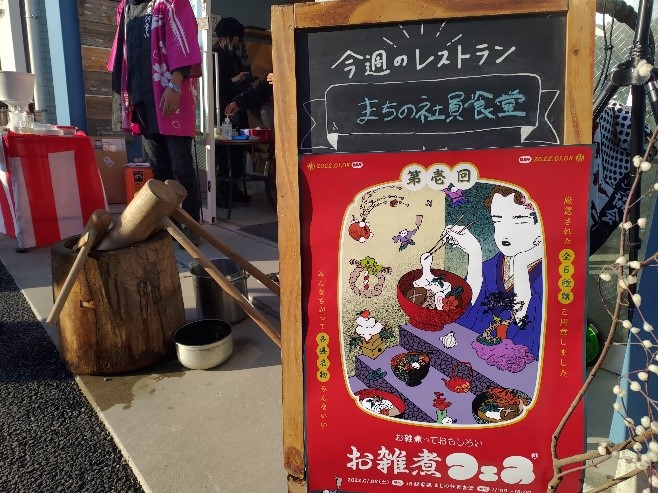 And if there is "2nd", I definitely want to visit again.
While rubbing my swelling stomach with ozoni, I decided to ask my grandmother about the recipe for ozoni at home when I got home.