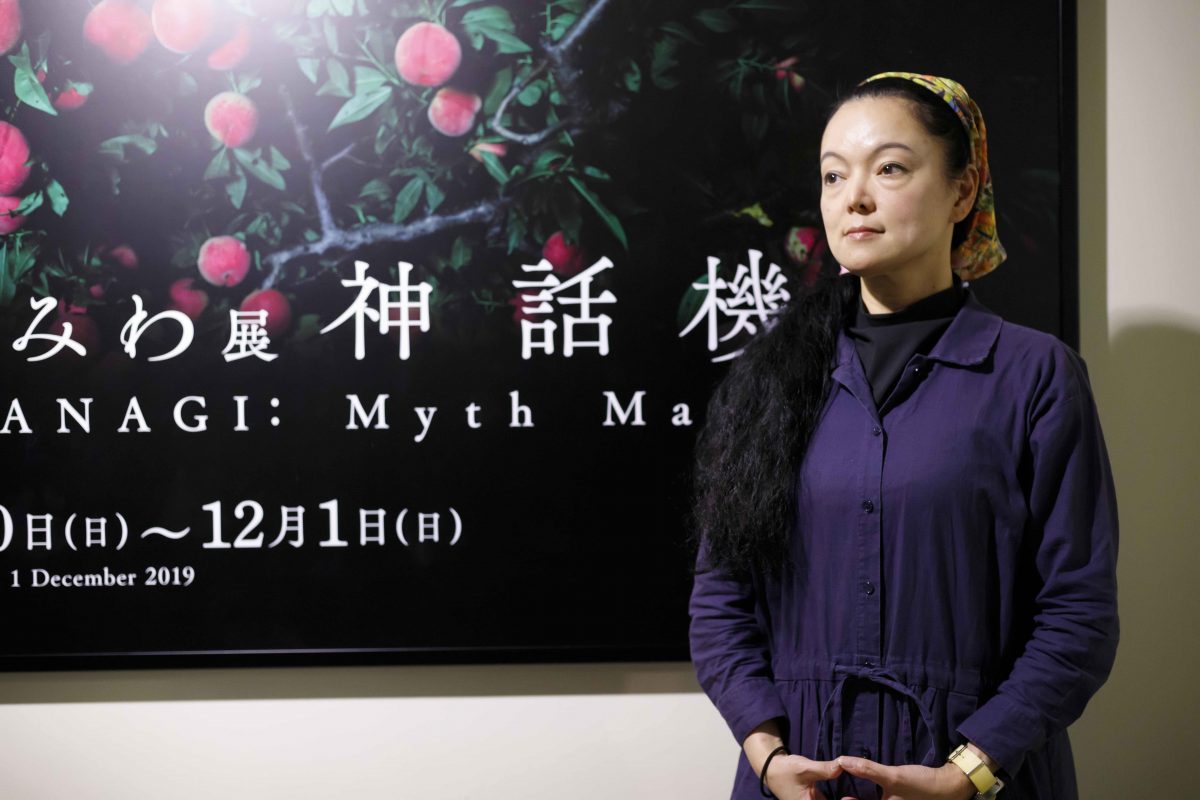 "Yanagi Miwa Exhibition Mythical Machine" has started at Kanagawa Kenmin Hall Gallery.
Mr. Yanagi is a contemporary artist who has been acclaimed worldwide for his photographic works that make full use of CG and special make-up in the 1990s. From 2010, we started a theater project in earnest. In the "Stage Trailer Project" launched after the Yokohama Triennale 2014, he is one of the artists closely related to Kanagawa Prefecture, such as performing the outdoor drama "Hiwa no Tsubasa" at the Yokohama Red Brick Warehouse Square.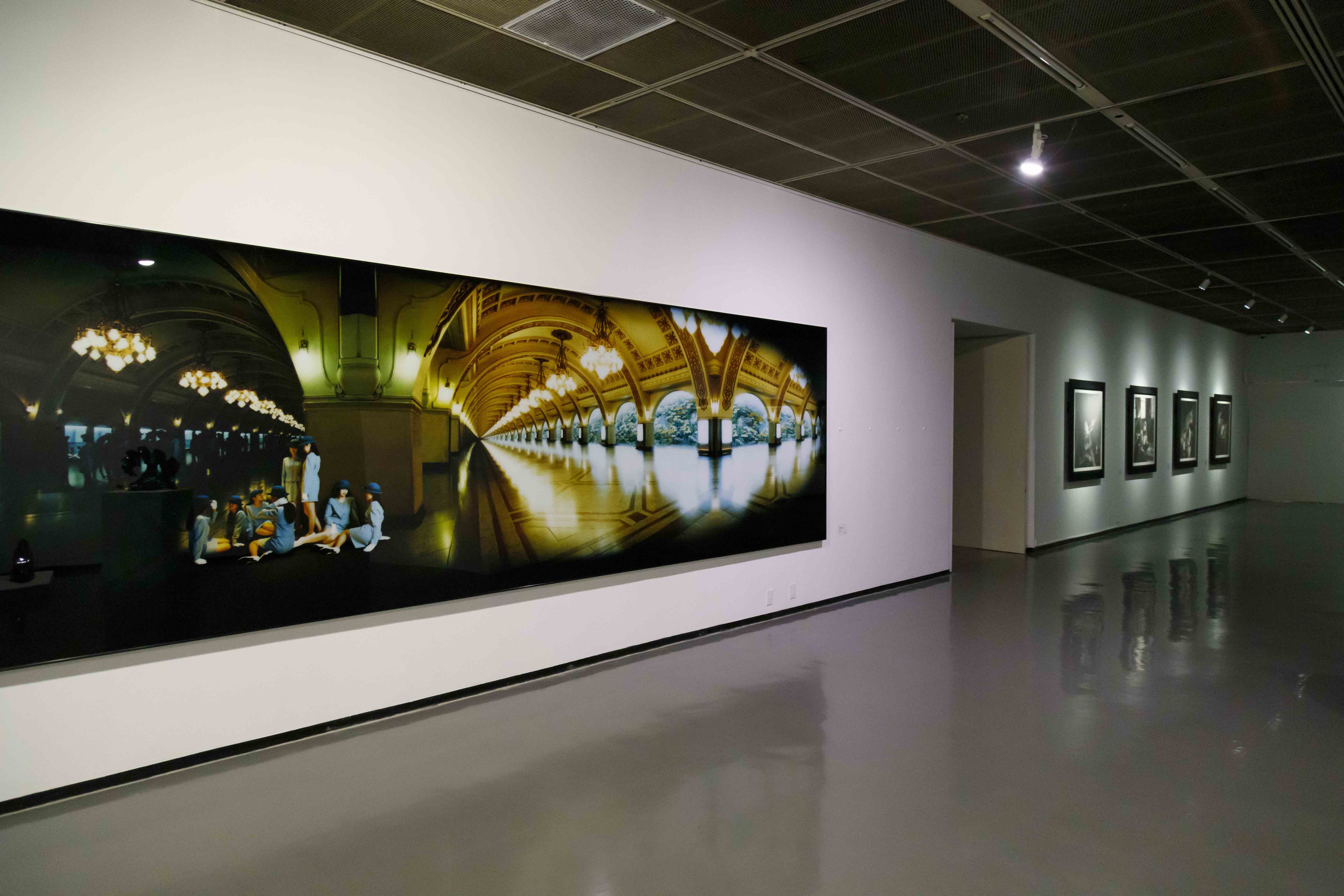 This is the first large-scale solo exhibition in 10 years, including representative works such as "Elevator Girl" and "My Grand Mothers", as well as the theater archive and the new work "Goddess and Goddess under the Peach Tree" shot in Fukushima. A large collection of works such as "Farewell at" and "Mobile Theater Project" produced for this exhibition. It is a great attraction for fans to be able to comprehensively appreciate the transition of contemporary artist Yanagi.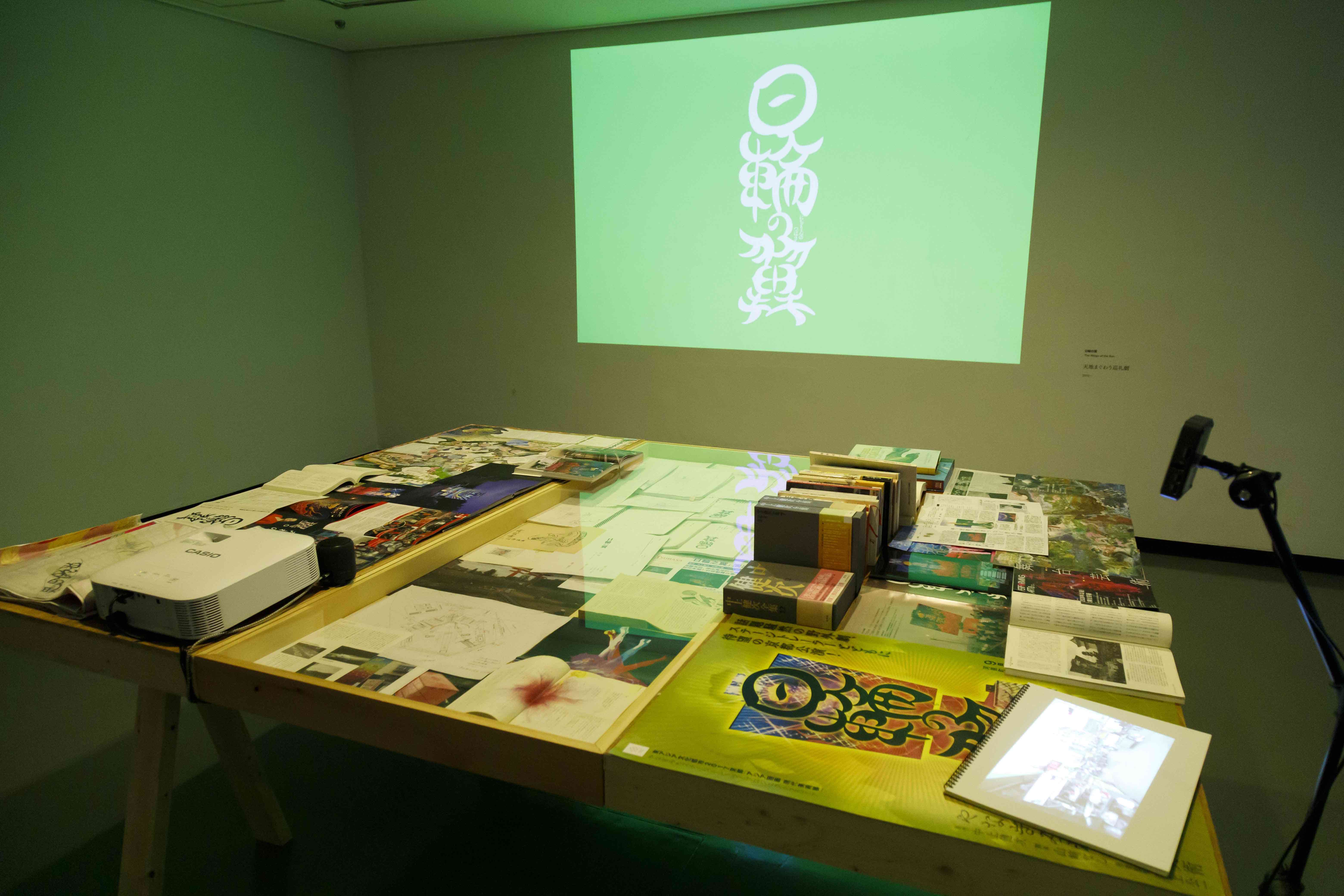 In the theater archive, original books, performance pamphlets, movies, etc. are lined up. The exhibits devised for each corner are interesting and enjoyable even for those who are new to Miwa Yanagi.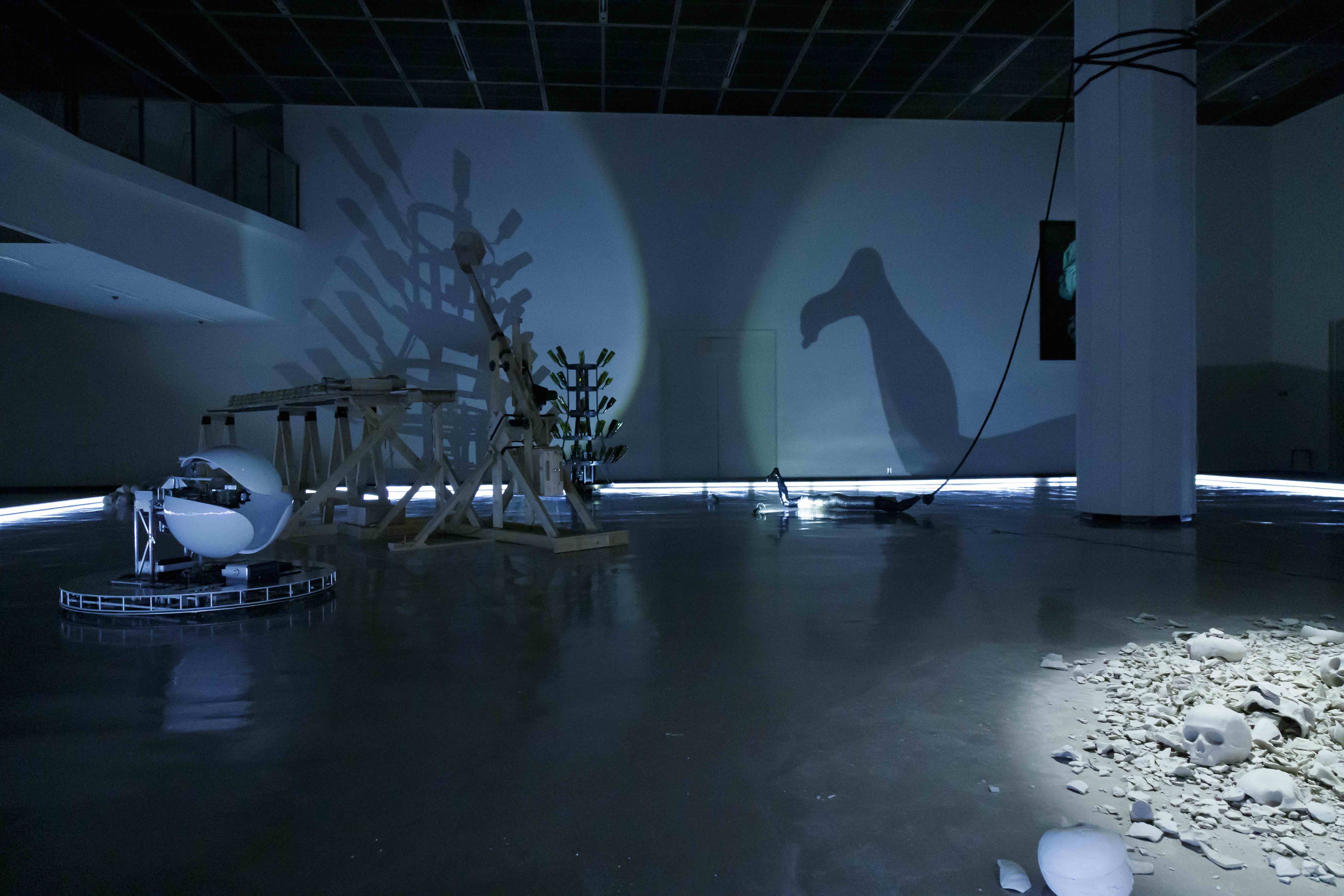 This is the latest work "Mythical machine ". The "drama" progresses by playing music and dialogue while the main machine "Thalia" is running. The machine is produced by the "Mobile Theater Project," which is a collaboration between art and mechanical engineering universities, colleges of technology, and high schools.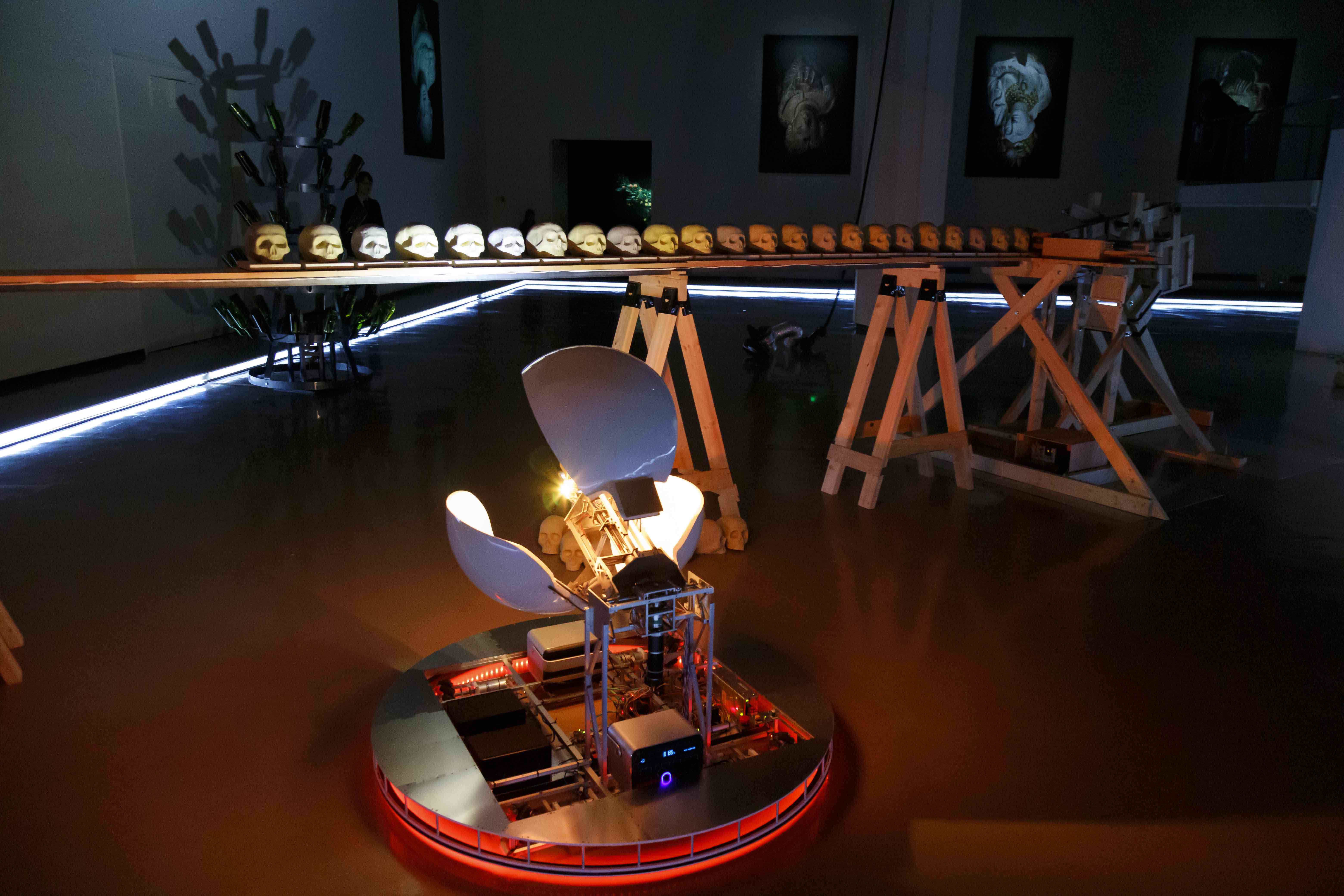 As part of the project, on November 29th (Friday) and 30th (Saturday), an experimental stage where machines and humans will co-star, live performance "MM" (composed and directed by Miwa Yanagi) will be performed.
---

《Interview with Miwa Yanagi》
What was the intention of the title "Mythical Machine" in this exhibition?
Originally "Deus ex machina" (* Editor's note: A production method that was popular in the ancient Greek era, the existence (God) who has absolute power in a situation where the contents of the play are intricately intertwined and difficult to solve. Appeared, a method to solve the confused situation at once and end the story. "Absolute existence" was introduced using a wooden crane etc. I like being translated) .
Originally, the thread entwined in the story should be unraveled at the end, but it's a very violent technique (laughs). It is the power of nature to cut off no matter what the situation of human beings. At Deus ex machina, machines play that role. I haven't organized it well, but nature (= God) and machines are very similar.
nagi_MG_6489_mini.jpg "alt =" "width =" 6240 "height =" 4160 "/>
The "mythical machine" as a work is an "automatic performance device" that permanently and automatically exhibits the "drama" that disappears from the moment it is performed.
However, since it is a machine, I thought that it would work properly if programming was perfect, but in reality it was not so, and I had a lot of trouble (laughs).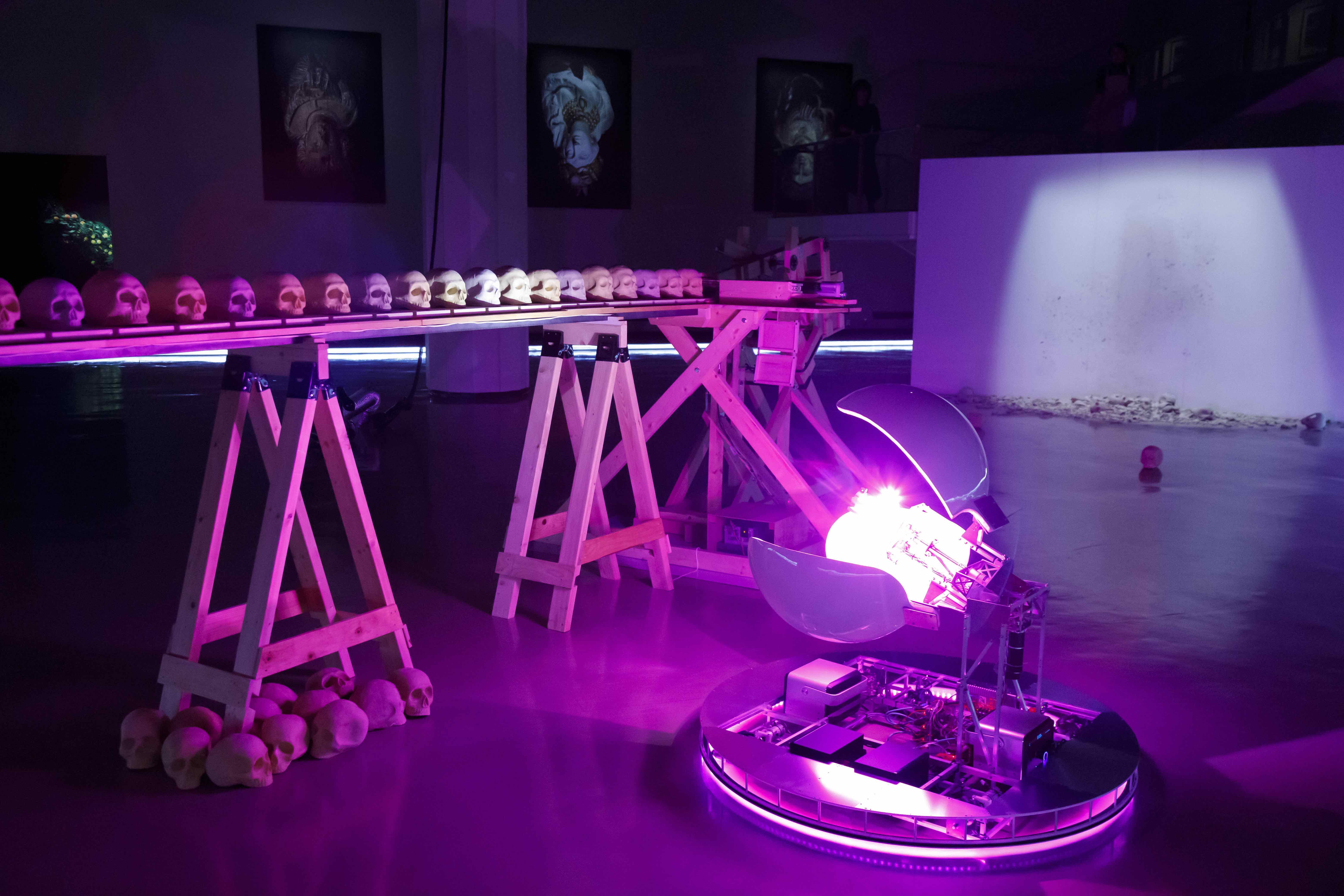 "The goddess and the goddess break up under the peach tree" was shot at an orchard in Fukushima.
At night, I set the camera in a pitch-black peach field and took a picture of a peach tree spreading up while lying on my back on the ground. It's a precious 8×10 film now.
If you illuminate it with a flashlight after exposing it for about 90 seconds, you can see only the part that was exposed to the light, but it was too bright or pitch black, and it failed a lot. Since the lens is facing straight up, it is NG if it rains lightly, and it is useless if the wind blows even a little because it is a long exposure.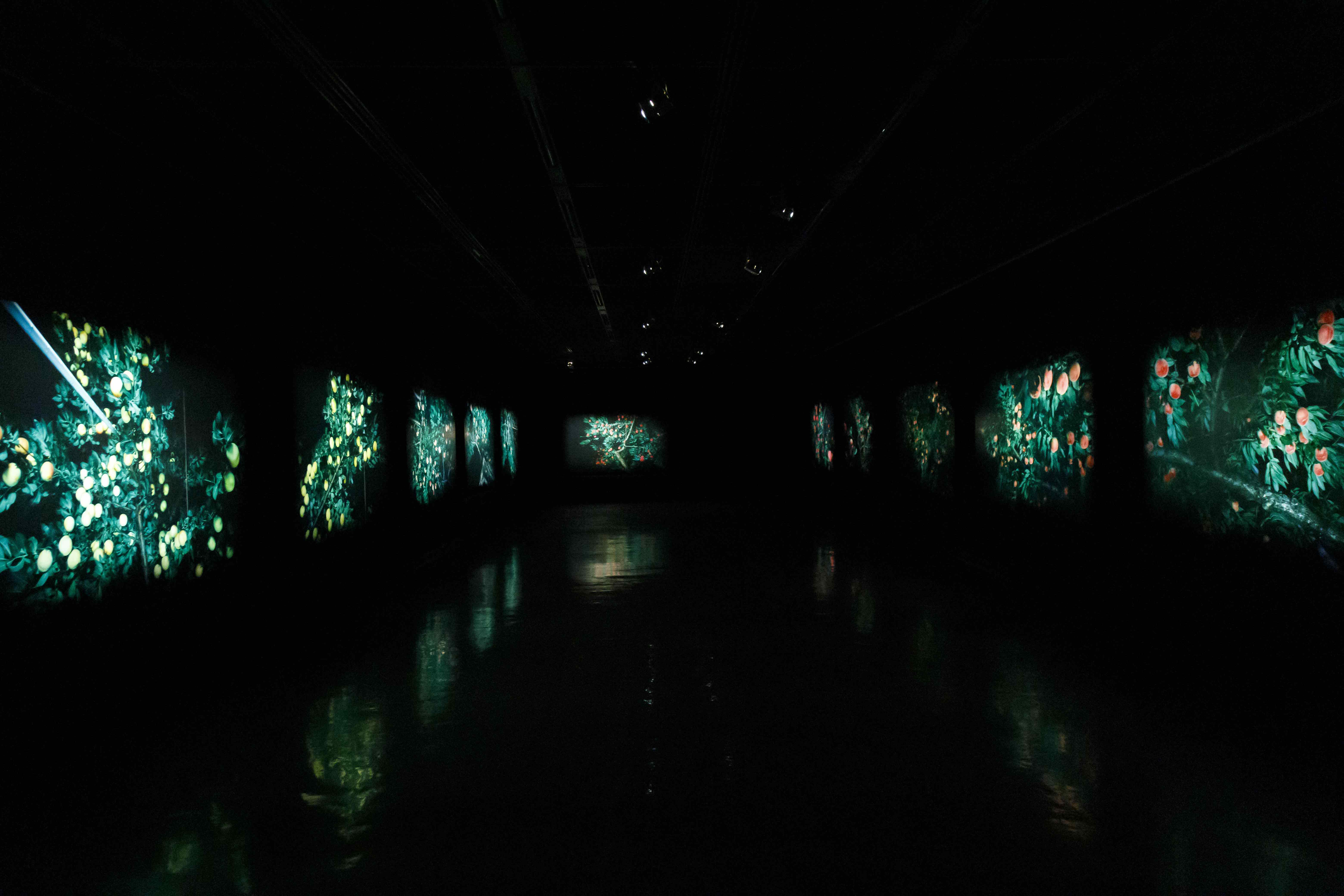 A work that enjoys chance?
That's not true. I'm not showing a performance, and it's meaningless if the photos aren't fixed. However, from the experience of lying on the soil and taking pictures, there was a big harvest. It was so dark that I was a little scared at first, but I really feel the softness of the soil and the ground… I realized once again that although I can only leave photographs that have taken root, I am not just taking pictures visually.
The camera is an optical device, and although it is a "machine" that symbolizes modern European values, for some reason magic realism (* Editor's note: An artistic expression that fuses things that are not in everyday life. Also called fantastic realism) Will produce. In that sense as well, I feel that machines and myths are close. Technology interacts with pre-modern ones, so it will surely connect somewhere.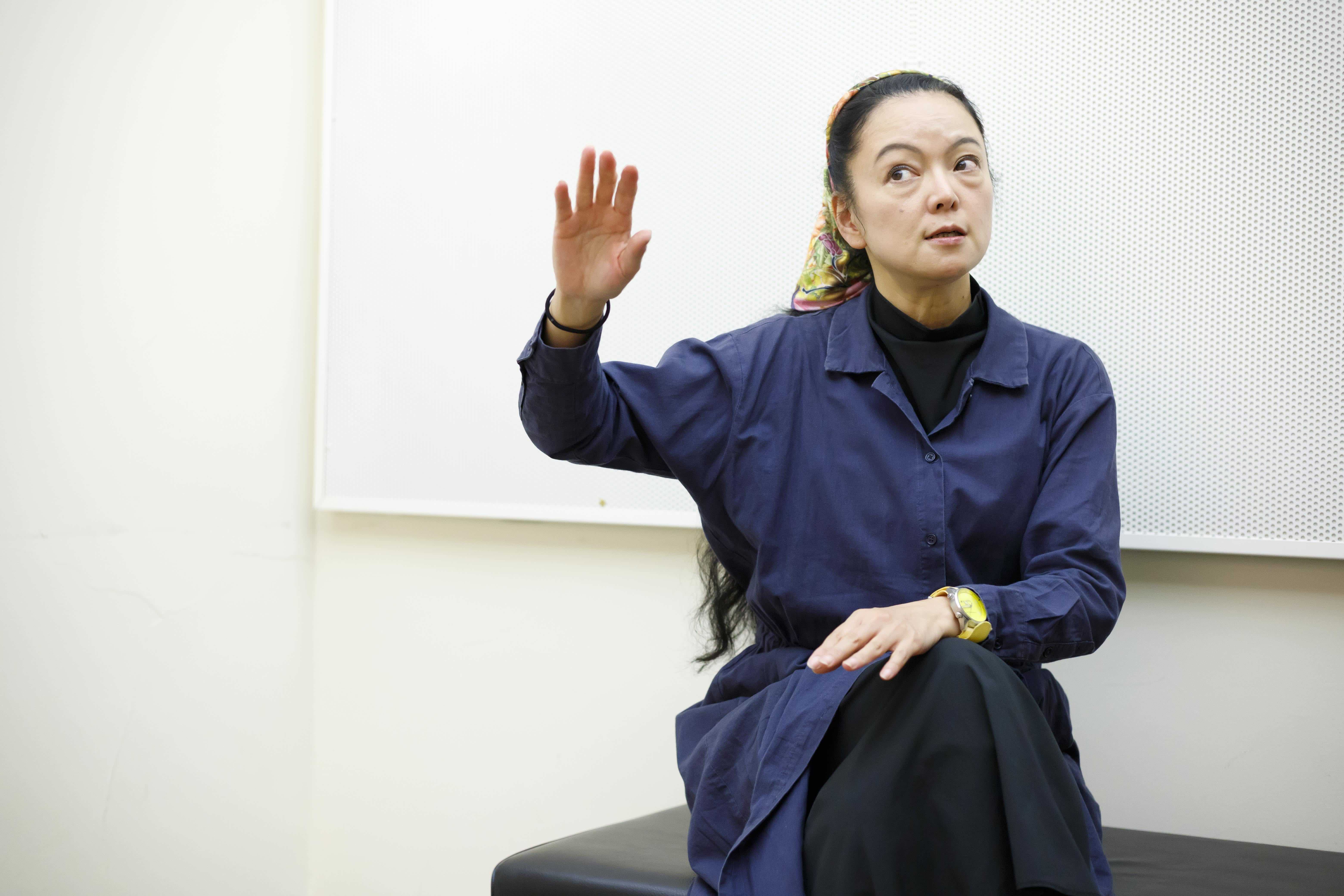 To Europeans, peaches look very oriental. Certainly, it may be a symbol of oriental mythology, such as being spoken as Senka in China for a long time.
On the other hand, apples appear in European mythology. In that sense, I would like to take an apple next time.
This event has ended.
Miwa Yanagi Exhibition Mythical Machine
MIWA YANAGI : Myth Machines
[Date and time] October 20th (Sun) -December 1st (Sun) 10: 00-18: 00 (Admission is until 17:30)
[Venue] Kanagawa Kenmin Hall Gallery
[Closed] Thursday
[Fee] General ¥ 1,000, Students / 65 years old and over ¥ 700, Free for high school students and younger, Free for those with a disability certificate and one accompanying person
***********************************
<span style = "color: # ff0000;"> The application for the present has been closed. Thank you for your many applications.
[Summary of gift application]
Follow & retweet the official Twitter account " @MAGCUL " of Magcal.net, "Yanagi Miwa Exhibition Mythical Machine" to be held at Kanagawa Kenmin Hall Gallery from October 20th (Sun) to December 1st (Sun). We will present 5 groups of 10 people with a viewing ticket.
【Application method】
1. Follow the official Twitter account of Magcal.net, " @MAGCUL ".
2. Please retweet the post for ticket present application with " #myth ticket " posted from the official Twitter account during the application period below. The application is completed above.
[Application deadline] Until 24:00 on Sunday, November 10, 2019
* Retweets made within the above period are eligible for application.
[Lottery / Winning Announcement]
Winners will be notified after the campaign period by direct message on Twitter from the official account of Magcal.net.
Winning announcement will be replaced by sending a direct message. At that time, we will confirm the applicant's name and gift delivery address, so please use the direct message.Please reply as it is. Please note that if you do not reply to the direct message for a certain period of time, the winning will be invalidated.
* The personal information you receive will not be used for any purpose other than the lottery.
[Eligibility / Conditions]
● Those who have a valid e-mail address.
● You must be following "@MAGCUL", the official Twitter account of Magcal.net.
* If you cancel the follow-up before the announcement of the winning, the application / winning will be invalid.
● Retweet the tweet for application posted from the official Twitter account within the application period.
* Please be sure to make your account "public" before participating. If your account is private, you will not be considered a participant.
* If you have set to reject direct messages, you will not be considered as a participant.
* Quotation retweets are not considered to be participation. Please join us by retweet.
● Accounts that do not have a profile, user name, self-introduction, icon, etc. may not be considered as participating due to the specifications of Twitter.
● Accounts that do not take frequent actions (tweets, retweets, likes, replies, etc.) may not be considered as participating due to the specifications of Twitter.
● After opening a Twitter account, an account that has not undergone the process of confirming that the email address belongs to the person may not be considered as a participant due to the specifications of Twitter.