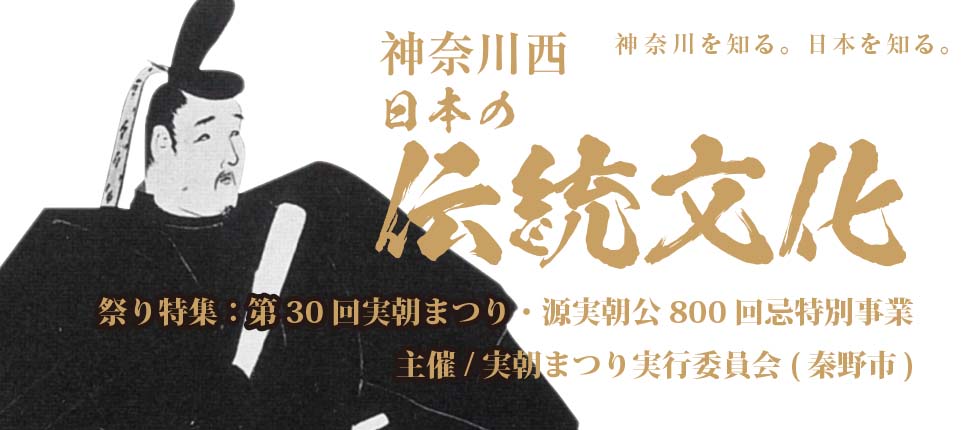 traditional culture
30th anniversary and 800th anniversary after Sanetomo's death.
I feel a heated atmosphere for being held the festival because you prepared for a lot of poster advertising at all 72 Otakyu line stations.
is 30th anniversary and 800th anniversary after Sanetomo's death.
800th anniversary is particulary special.
Buddhist memorial service was held 100 years ago at this district which hill of Minamito-no-Sanetomo is located.
Unfortunately, only Torii gate which reminds us of the time is still remained and we don't know how the service was like and how people felt and prayed for Sanetomo in these days due to great Kanto earthquake.
However, we are preparing the festival carefully as a ceremony of festival at Hatano-Higashi district associated with Sanetomo history to make it a perfect one which remains in all people.
I heard it took long terms to prepare.
A year and half has passed since 2016, June.
In other words, we have been prepared even before the previous festival was held.
I have been a chairman of executive committee since 28th festival but this time, a term, numbers of people involved in this festival, scale of event are all different compared with every year so I had a hard time at the beginning
Sanetomo festival is the festival which was completed by everyone living in Higashi district.
So various people such as children, elderly, some organizations of district and experts join the project.
As the special public work of 800th anniversary after the death students of kindergarten, elementary school, junior high join and volunteers from high school join for the first time.
On the other hands 36 organizations such as youth association, women's association join as well.
We have 12 more people of previous resident's association who support preparation and operation and other 35 or more members of event planning such as chief priest of Kongo temple associated with Sanetomo history, principal of elementary school with the cooperation of previous chairman of resident's association.
I am required to suggest a plan, control the progress, check and share of informative matters and it is so hard.
You also wrote manuscript of picture story show schedules as an event, didn't you, Takahashi-san ?
That's right.
Actually, manuscript is divided 4 into 4 sections and each different writer handles his own part.
As an entertainment picture story show is much fun but I found it is so hard to write after trying.
I focused on whereabouts of Sanetomo's head in the story because mound of Mishirusi is located at east district.
First of all, I will tell you a brief history. Sanetomo was assassinated by Kughou, nephew of him at Tsuruoka hachimangu shrine when Sanetomo was 27 years old.
Kugyou took away Sanetomo's head but he was killed by Yoshimura Miura, retainer of
Sadakage Nagao.
Then, Tsuneharu Take, also retainer of Miura clan regained Sanetomo's head and buried at the place where mound Mishirushi is located. This is the story.
Paper story show titled whereas of Sanetomo's head and includes emotional topics such as personality of Sanetomo, mentality of Masako when she lost his real son, Sanetomo even following the real history as long as possible with references of "Sagamifudoki", "Azuma-kagami","Gukan-shou".
It was so hard to consider a story as a history basis that even kids can enjoy.
However I could have a help of descendant of Tsuneharu Take who served as a supervisor and children enjoyed at the first performance the other day. Now I have confidence.
I'd like more people enjoy and will prepare for Mizu-ame, (Soft mocha produced by adding sugar and glutinous malt-sugar to glutinous rice and kneading it) which is necessary for paper story show.
I heard you enhanced the main event this time.
 I think it is hard to experience this. It is Garaku performance of traditional Japanese instrumentals, Shinobue (Japanese transverse bamboo flute) and Biwa(four-stringed Japanese lute).
It is scheduled to perform " Aoba-no-fue"(flute of green leaves) with Shinobue and "Biwa-gatari"with Biwa, which is said to be performed by Sanetomo.
I suppose that there are many people who never listen to sounds of both instrumentals especially among young people. However I am sure that unique sounds and tones of talks move Japanese hearts beyond generations.
We also invite famous Garaku music band.
The band belongs to Hibita shrine located in Isehara city next to Hatano city and their performance is fantastic.
They play overseas positively and is known as a Garaku band famous all over the world.
To tell the truth, I had a hard term that I could not decide the main event.
At that time performance was on the air by chance, then I was inspired by this.
I became sure that this would be a great event fit with special public work of 800th anniversary.
It sounds the festival is going to be the one which we feel more inspiration of historic roman of Japan. By the way you prepare for original hand towels as gifts for visitors in first-come, first-served basis.
I went to a meeting of production. We are on the last step.
I am sure this also become well done.
Logo titles of Sanetomo festival, seated statue of Sanetomo, Japanese poems chanted by Sanetomo are designed.
We will invite mayor of Kamakura city and people associated with Kamakura as guests and give them Sanetomo designed masu containers to enjoy Sake with them.
There is also a bit for enjoying food, one of the charms of festival.
We serve Kenchin soup(Japanese tofu and vegetable chowder) for free by using so called big hermit pot.
Diameter of the pot is 4 meters.
It is much powerful even as an exhibition.
On the other hands, we follow traditional recipe of Kenchin soup.
We studied how to cook traditional one at Kenchou temple origin of Kenchin soup in Kamakura.
Hermit pot is unique and we can separate the sections inside the pot.
Then we prepare for "Oshiruko"( sweet bean paste soup) and onion soup as well.
Oshiruko will be big fun of visitors and onion soup is good as well.
It is so good after drinking. This is my taste.
Food stands by each resident's associations and organizations and citizens offer ramen, Soba noodles, fried noodles, corns, rice cake with soy sauce and Nori see weeds, Japanese buns and vegetables so I hope everyone from kids to elderly fully enjoy the festival.
Please give me enthusiasm to the Sanetomo festival.
I also serve as a chairman of resident's association of east district and consider Sanetomo festival is one of the campaign of town planning.
Sametomo festival makes life at the district richer and more abundant.
So I will be head for the festival which makes visitors and all people related to the festival feel fun and enjoy.
And I'd like more people come because this is special 800th anniversary and we arrange a lot of new events.
Children waring Samurai warrior armors are waiting for you the day.
Please enjoy Sanetomo festival with feeling the history of Sanetomo and climate of Hatano and Higashi-tawara.