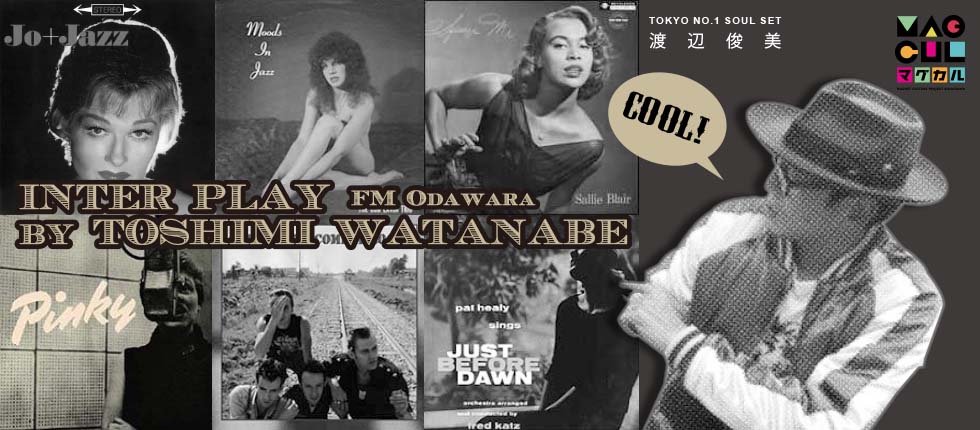 "Jazz in life" by Toshimi Watanabe
-I heard that "Toshimi Watanabe's INTER PLAY" originally started as a DJ-style event.
I agree. But actually, it wasn't that first, it was a compilation CD called "INTER PLAY". It was in 2000, but I played songs by energetic Japanese jazz bands such as "PE'Z" and "SOIL&"PIMP"SESSIONS, who were still young at the time. It all started with the selection and supervision of the songs. Developing it into a public DJ event--, that's the flow.
For the event, we rented a space in various places, played various songs while having a talk, and at the end I played and sang. Since 2005, I have had the best experience sharing music with many people in many places. After that, I started radio in October 2016 and have continued to the present day...I want to convey the charm of jazz to as many people as possible through the production of "INTER PLAY", events and radio. That's the basics.
See, jazz generally has an image of being "fashionable" and "high hurdles", right? Especially when it comes to hurdles, there is also an image that you can't enjoy it if you don't know the theory. But that's not the case. I think it's more casual and intuitive, it's aggressive music, it's healing music, and it's music that connects people. I want people to experience such richness and depth. That's why, based on the concept of "jazz in your life," the program introduces a variety of songs from a different angle than the stereotyped image.
-Are there any reactions from listeners who haven't been exposed to jazz?
There are many happy voices such as "It's cool" or "I met my favorite". Also, "You're so kind" (laughs)
So, especially for the young generation, there are a lot of songs that they don't know. That's why I'm devising ways to post information on SNS so that listeners can always look up the band name and song title when there's a song that makes them think, "Wow, that's good." Also, I value the fact that it is accepted as a 'new record'. However, even if I say a new record, it doesn't mean that it's new, but that it's something new if you haven't heard it before. In other words, rather than the history of jazz, this technique, etc., I want listeners to be able to touch jazz without holding stereotypes as much as possible.
Because it's amazing, isn't it? More than half a century later, songs from decades ago are still covered by modern musicians as a matter of course. That's what makes it attractive to listeners, and it's rare to find music that deepens your affection and inspiration over time. That's why I'm thinking of becoming a bridge between listeners and jazz.
The "true self" that I learned from the sounds of jazz artists
-Are there any artists who have influenced your lifestyle?
First of all, my first encounter with jazz was long ago. One of the approaches of TOKYO No.1 SOUL SET is hip-hop, and if you trace the original story of hip-hop that inspired you, it will lead to jazz. That's why I listened to it on a daily basis and frequented record stores.
Among them, I would say "Wes Montgomery" and "Chet Baker".
I once got sick while recording. We were constantly trying new things to create the sound for TOKYO No.1 SOUL SET, but that may have been the pressure. My physical condition was bad, I didn't feel well... At that time, their music gave me a lot of courage. Furthermore, at that time, I felt that I was able to affirm myself as I am. So, going back to what I was talking about earlier, "Jazz in your life" is my real feeling, and I want to continue to convey that wonderfulness.
Not just for music fans, but for all people with a "heart"
-I heard that the program also provides information about the city.
From creativity to clothing, food, and housing, the focus is on interesting and lively local information.
I've been fascinated by rural towns for a long time, as I've been to various parts of the country for live performances and reconstruction support activities after the Great East Japan Earthquake. Once upon a time, when I moved to Tokyo from my hometown of Fukushima, Tokyo was the only place for local people to pursue their dreams. I used to think, ``I'm definitely going to lose. This is because we live in an era in which information can be obtained and disseminated from anywhere, and a new culture can be established regardless of location if we act with heart.
And in fact, there is soil in the region that accepts it. Speaking of jazz, the same applies to the long-established jazz cafe "Bacy" in Ichinoseki City, Iwate Prefecture. It's not a place where people from all over the world can easily go, but fans gather from all over the country, and it continues to be loved by jazz artists all over the world. Of course, it's probably the result of sticking to it, but there are actually a lot of cultures like this in various places, not just music. That's why I want to send out that kind of information and make it a program that can be an opportunity for all people with hearts.
Also, when I think about rural areas, Kanagawa Prefecture is a very attractive place. I have lived in Yokohama and Fujisawa before, so this is my experience. Each city has its own pride...it's a rare thing, isn't it? In the first place, I think that culture is something that is born out of an environment that supports the desire to act.
-Finally, I heard that you have a live concert at a cafe in Chigasaki.
yes. It's an event called "FRIDAY NIGHT LIVE" hosted by "MOKICHI WURST CAFÉ" in Chigasaki, and this cafe is really good. The only existing brewery in Shonan, Kumazawa Sake Brewery, is a café attached to it. The store has many fans.
Fans of MOKICHI WURST CAFÉ, fans of our artists, and various other people gather to create new exchanges through music, alcohol, and food. I think it will be that kind of live.
I think that any big culture starts with a small number of people. There is such a sense of anticipation in the upcoming live as well.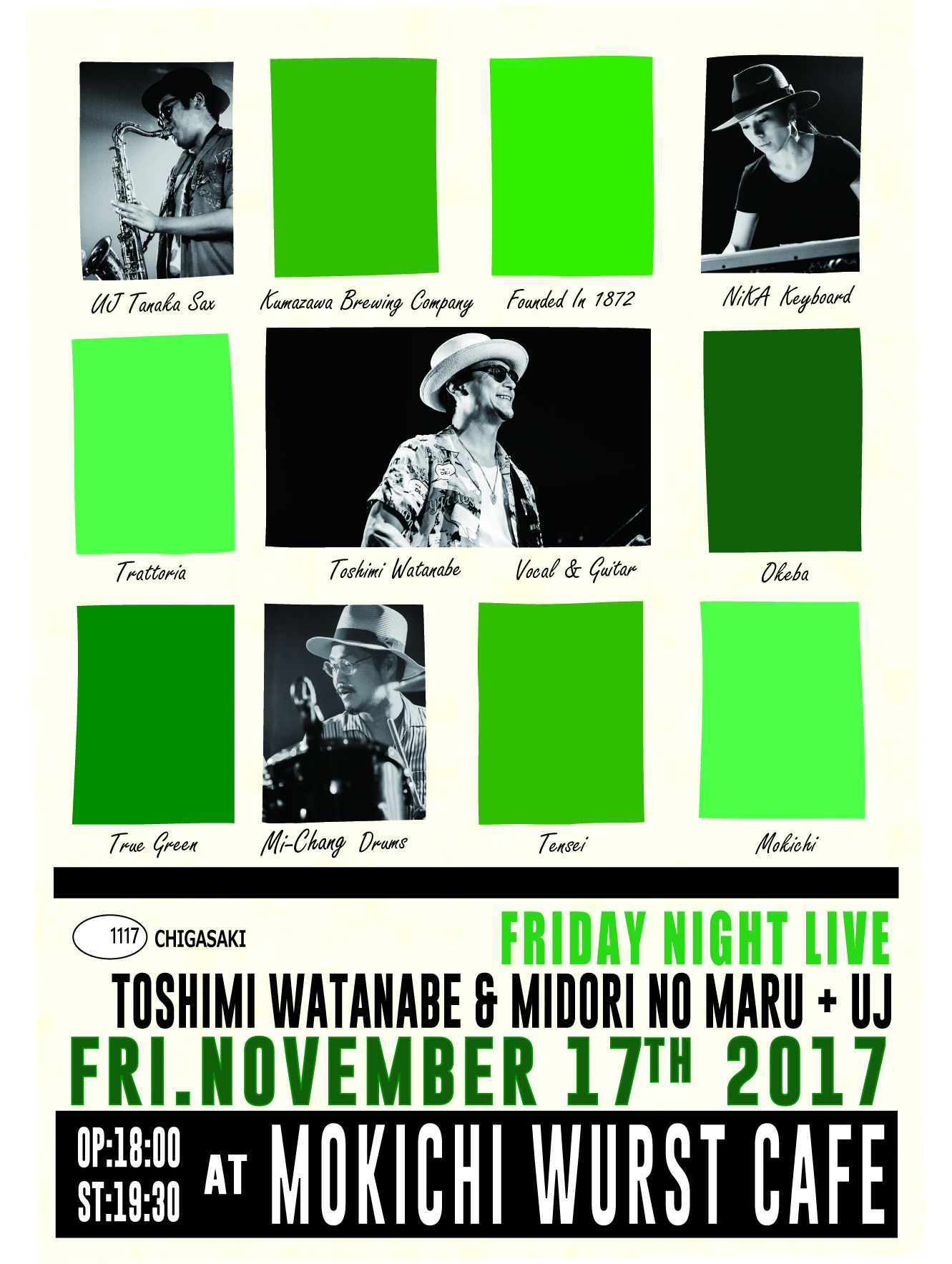 "MOKICHI WURST CAFE FRIDAY NIGHT LIVE"
Date: November 17th (Friday) OPEN: 18:00 ・ START: 19:30
Starring: Toshimi Watanabe, Green Maru, UJ (Yuji Tanaka)
Price: 5,000 yen (live, special dinner plate, 1 drink included)
Place: 7-10-7 Kagawa, Chigasaki City, Kanagawa Prefecture
Inquiries: 0467-50-0202