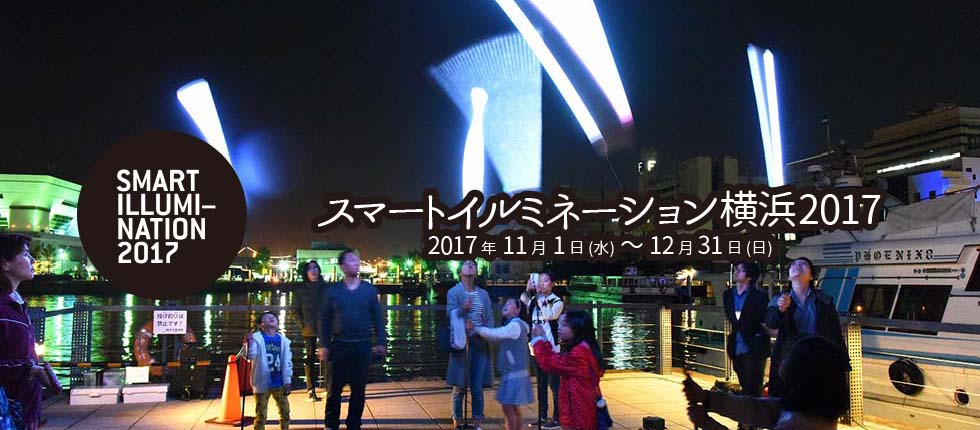 Art / Photography
Smart Illumination Yokohama 2017
You are Queen!? "Face Panel the world"
In the opening event, the girl, who belongs to elementary school student 2nd grade lived in Yokohama City, challenged "Face Panel the world" which is reflected in Height 51m Yokohama customs if you put your face into hole. Yokoyama Customs 5 story building reminds us of Islamic temple, and everyone knows that as "Queen tower".
"Hi! I, am Queen? So excited" It seems that the girl enjoys with smile while her eye is turning, or cracking.
It seems that the same works is set up also in China Shanghai. "你好(Hello)!" and children smile in Shanghai are reflected in Yokohama custom via Real time.
"Face Panel the world" provided by Kyota Takahashi
Takahashi: "I like Face Panel who everyone participates and enjoys. Panel connects via real time between Yokohama and oversea, we aim unique International exchange with smile. I am supposed that international dialogue and exchange is regarded highly as important due to Tokyo Olympic in 2020. Hole arisen smile is opened. I would like to suggest New communication, and that smile is provided for the world from this works."
In addition, this work's power supplying is according to Fuel-cell vehicle "MIRAI" which is provided by Toyota which makes Official vehicle in Yokohama City.
"UVLS" by Takayuki Mori
This works is based on Greek Mythology curves which reminds us of polygon plaster figure for bright thread by reflected Ultraviolet rays. Apparently it seems to be made by digital, but in fact many triangle aspects are made via a pin by hand, and thread is provided between one pin and other pin.
Mori: "I wondered if I can introduce two dimensions Digital world as PC, to three dimensions space. It looks like Digital, but it is analogue in fact. I made this work because I want everyone to feel obscure space, as if it is between actual and imagination.
"Night sky Kotatsu" provided by Takahito KIMURA
Curve mirror seen in road is used for Kotatsu table, and Hot water bottle is included in inside. So, it is warm if you sit dow.
Kimura: "You can see Yokohama 360°scenery if you sit down, and you can see air plane if the plane is in the sky. This Kotatsu is the table which you can't put something on, or you can't eat something on even if you are in Kotatsu. So, People will talk to the person to sit next to you, because people think unsatisfactly. This is the work to make the opportunity to take conversation with the person to meet while heating to be sit, although people usually enjoy Yokohama scenery to be stood. Pattern with Kotatsu cover is made by the sunlight picture reflected by sun light by put plant. Light is not used for this work, but this cover holds the sun light. "
"Musical Chairs" provided by Naho Kawabe
Ms. Kawabe, who lives in German Hamburg to manufacture, hopes to take actions for the work named after ZOU-NO-HANA TERRACE . So, she paid attention that Europe chair is made by shipwright and is prevailed in Japan when Yokohama harbor is opened.
Kawabe: "Musical Charis means Musical chairs game. Chair is used from ancient Egypt. I hope that everyone realizes the chair history made by human by seen colorful chair hung up.
"Magical mixer project" provided by Taira Ichikawa
Ichikawa has taken care of Mixer vehicle for Moving type Planetarium since he was student. This is version up for the work which he made about 30 years ago. This is Mixer vehicle which Projection apparatus to be able to run on public road is included.
Ichikawa: "We usually see Planetarium in the dome. But you can project via planetarium everywhere vehicle is available. I want everyone to see the light art which reflects to close building, and can't be seen in just this place. "
"ON/OFF" provided by Lilian Bourgeat
She is from France. She has made the work to enlarge the stuff which you usually use.
It seems that it is possible to turn this significant light bulb on or off in fact.
In addition, power is supplied by "Prius PHV" for Plug in Hybrid.
"The primitive projector" provided by Ibanez&Jornt Duyx
It is the project that one person projects the animation by hand but the other person sounds while treating light and shadow. They are from Netherlands. Ibanez operates screen, and Jornt Duyx plays and makes the funny story.
We ask the best part to see to Smart Illumination Yokohama 2017 Art Director Tsutomu Okada!



-Please let me know for the best point to see in this year, although this is held as seventh in this year.

It is easy for people to find "Face Panel The World", which can be experienced to put face, made by Kyota Takahashi. It is true that this is event in Yokohama, but it is possible to connect with China Shanghai with real time. It is able to said that this work make people in world scale enjoyed. This year, 5 groups from oversea such as Ukraine and Swiss, Neitherland, Austria, France are invited, and everyone can enjoy the various work. I am glad if we can share with you, what future should be, what light should be, how to live, how to communicate, while seeing.

―Please tell me if you think what kind of world view should be aimed in the future.

On 2 November, we invited guest from Taiwan and Spain in Yokohama Port Opening Memorial Hall, and international Symposium is held under the theme named "Art working in the city". While using Energy-saving technology from the global view, and using the artist creativity, we would like to take actions related to impacts for the city. I think that it is wonderful if such an idea is expanded into worldwide, and then Global warming speed is delayed.

By MAGCAL Edit Team
We introduced "Core Festival" on 1 to 5 November on this time, but Smart Illumination Yokohama 2017 has been continued by the end of year around each location in Yokohama city.
Held period: 1 November (Wed) ~ 31 December (Sun) 2017
 Please confirm in HP because the held period is different from program.
Place; In Yokoyama City whole area

Art project related to illumination or Christmas, light up by Kanagawa prefectural office is held. Please come with warm dressed.
Related URLhttp://smart-illumination.jp/

Related URL:http://smart-illumination.jp/
Area

Yokohama Bay Area (Naka-ku and Nishi-ku)