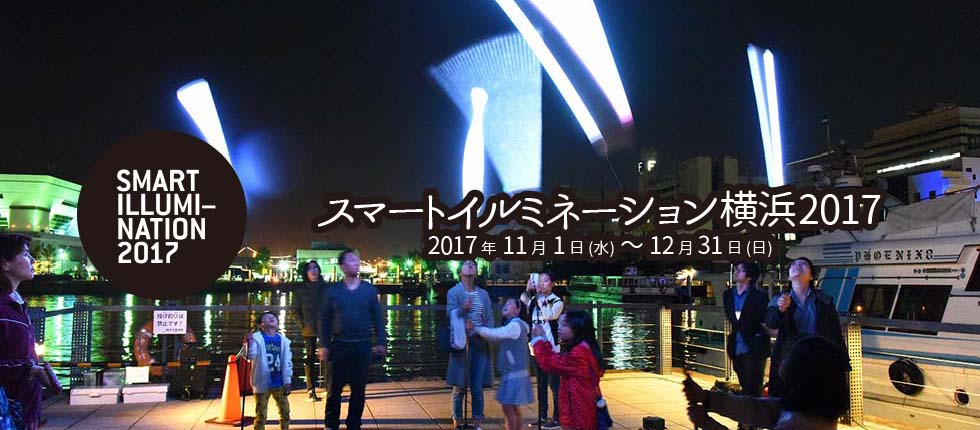 Art & Photography
2017.11.05
Smart illumination Yokohama 2017
You can be a queen too! ? "Khaohame the World"
At the opening event, a girl from the second grade of elementary school in Yokohama challenged "Khaohame the World", which is projected to Yokohama Customs at 51 meters in height when the face is put in a hole. Yokohama Customs is a five-story building reminiscent of an Islamic temple, nicknamed "Queen's Tower".
"Good evening ~! I became a queen? Very interesting," the girl seemed to be enjoying her smile and cheerfully while letting her eyes beating and turning.
Also in Shanghai, China that of the same work is installed, real-time "你好 (Hello)!" And of children who are in Shanghai smile it has been projected in Yokohama Customs.
"Khaohame the World" by Ryota Kashihashi
ent: 1em; margin-bottom: 30px "> Sahashi:" I like the face-to-face signboard that everyone can participate and enjoy. We aim to connect Yokohama and overseas in real time and aim for a unique, international exchange. The Tokyo Olympics and other events were held in 2020, and I think that the importance of international dialogue and exchange is increasing, but there is a hole in it that makes you smile. , I want to propose a new communication "
In addition, the power supply of this work is by the fuel cell vehicle "MIRAI (Mirai)" that runs on hydrogen of Toyota Motors, which is also a official car of Yokohama City.
"UVLS" by Takayuki Mori
A work based on Greek mythological sculptures, such as a plaster image made of polygon threads in response to ultraviolet light. At first glance it looks like it was made digital, but in fact, by hand using insect pins to make a lot of triangular faces, a thread runs between the pins.
Ms. Mori: "I thought it would be possible to bring a two-dimensional digital world such as a personal computer into a three-dimensional space, but it's like digital, but actually it's analog, between reality and imagination, or vague I made this work because I wanted you to feel the space. "

8.jpg "alt =" IMG_6705_th "width =" 50% "/>
"The Night Sky Kotatsu" by Takato Kimura
The Kotatsu table uses a curved mirror seen on the road, and a hot water bottle is inside, so it is a warm work to sit on.
Mr. Kimura: "When I sit down, I can see the scenery of Yokohama 360 degrees, and I can see an airplane if I fly in the sky. This kotatsu is a table that I can't put on or eat at that. Is a work that creates a space where you can feel the lack of something and probably start talking with the people who are sitting together, sitting in front of you, changing your eyes, sitting down and talking with the people you met. The pattern attached to the Kotatsu cover is from a photo of a sun placed on a plant etc. and exposed to sunlight, which is a work that does not use light, but it is like this sun light is confined. It's
"The Musical Chairs" by Naho Kawabe
Kawabe-san, based in Hamburg, Germany, wanted to work on the elephant nose park, and in the age of opening this port, Western chairs were made by ship carpenters and spread throughout the country. I focused on things.
Mr. Kawabe: "The name of the work Musical chairs is a chair taking game. Chairs have been used since ancient Egyptian times. The history of the chairs that humanity has made so far by hanging colorful chairs I want you to feel those Katagiri "
s: //magcul.net/wordpress/wp-content/uploads/2017/11/smart11.jpg "alt =" IMG_6705_th "width =" 100% "/>
"Magical mixer project" by Mr. Hirakawa Ichikawa
Mr. Ichikawa has been working on mobile planetarium mixers since he was a student, and this is an upgraded version of his work made about 30 years ago. It is a mixer car carrying a planetarium projection device that can also travel on public roads.
Mr. Ichikawa: "Normally, a planetarium is confined to the dome and admired, but you can jump out of the dome and project a planetarium wherever you can go. I want you to see the art of light that can only be seen in Japan. "
"ON / OFF" by Lilian Bulgea
This is from Lilian Burgea, who has been working from France and is making works that make things that are familiar to life huge. In fact, this huge bulb can be turned on and off.
The power supply is from the plug-in hybrid Prius PHV.
"The primitive projector" by Jaime Ibanez & Jornt Duix
One person plays a sound while dealing with light and shadow coming from the Netherlands And, a project that one person manually projects animation. Jaime Inverness manipulates the screen, and Jornt Duyx plays and sings a fun story.
Smart Illumination Yokohama 2017 We asked the art director Tsutomu Okada the highlight!
―This is the seventh time this year, but what is the highlight of this year?

It will be easy to understand "Khaohame the world" of Yuta Ayuhashi who can experience the world's largest face-to-face experience. It is an event in Yokohama, but it can also be linked to Shanghai China in real time, and it may be said that it is a work that can be enjoyed on a global scale. This year we invite five foreign artists from Ukraine, Switzerland, the Netherlands, Austria and France to enjoy a variety of works. I hope that they will be able to think together with everyone while appreciating how they should be in the future, in the light, in the way they live, and in the form of communication.

-Please tell me what kind of view of the world you would like to go from now on.

On November 2nd, we invited guests from Spain and Taiwan at the Yokohama Port Opening Memorial Hall, and held an international symposium on the theme of "the action of art in the city." While utilizing energy saving technology from a global perspective, I would like to work on the impact on the city while utilizing the creativity of artists. I think that such a way of thinking spread around the world and it would be great if the rate of global warming slowed down.

1em; margin-bottom: 30px ">
The contents introduced this time from the Magcal editorial department were the contents of the "Core Festival" from November 1 to 5, but after 5 days, Smart Illumination Yokohama 2017 will continue until the end of each year in Yokohama City.
Session period November 1 (Wednesday)-December 31 (Sun)
※ As the holding period varies depending on the program, please check on the website etc.
Venue As Yokohama-wide illuminations and art projects on the theme of Christmas and light-ups at the Kanagawa Prefectural Government Office Main Building will be held, everyone should wear warm clothing.

Related URL:http://smart-illumination.jp/
Area

Yokohama Bay Area (Naka Ward / Nishi Ward)