traditional culture
2017.08.23
Kanagawa / Japan Traditional Culture Festival Special Feature "Fujisawa Inn / Tourist Bon" (Fujisawa)
(Please note that this page was created using Google's automatic translation service and understand that because of this, its translation may not necessarily be accurate.)
◇ "Dance Nenbutsu", which is said to be the origin of Bon Dance in various regions, began at Yugyoji Temple in Fujisawa.
How and when did Fujisawa-juku / Yoko no Bon come from?

President Masuda
As part of the town development in 2005, this festival began with the desire to bring back the bustle of the shopping streets around Fujisawa Station and raise awareness of Fujisawa City nationwide. When you say Shonan, you will see Kamakura and Chigasaki immediately. The place name of Fujisawa is rarely heard, and it seems that it is still not well known nationwide. It was an idea that came out after thinking about how to make a festival unique to Fujisawa where you can feel some originality like no other. Fujisawa was once developed as a post office in Tokaido, the monzen town of Joukoji Temple, the head temple of Tokijong. Jōko-ji is also called "Yuko-ji" because the ancestors of the founder of Tomune founded the country for training. The roots of the Bon Odori are said to be "Dance Nembutsu", but it is said that the disciple suddenly began to dance while chanting the Nembutsu, and the people they were watching danced accordingly. Surely, even if he only chanted the Buddha, he couldn't get the attention of the people. If the dancing Buddha is handed down to Yugyoji, Fujisawa, where the main headquarters is located, could be said to be the origin of Bon Dance in various places. Taking advantage of the history and culture left in Fujisawa, the "Fujisawa Inn / Yuko no Bon" was born.
What exactly did you do with the Bon Odori dance?
= "http://magcul.net/wordpress/wp-content/uploads/2017/08/343eb1830c24c6a7efd4d378b7c998c4.jpg" alt = "IMG_6705_th" width = "100%" />
A state of a contest
Initially, over the course of a year, I visited the famous Bon Odori area in Japan and investigated the Bon Odori event. Although this is good, even if I wish to invite you, it may not be possible to realize it quickly because there are various aspects depending on the region besides the budget. For the sake of the town, "If you come to Fujisawa, the place where Bon dances are related, you can see a unique Bon dance on a nationwide scale at once." Is trying. The Nishima Onnai Bon Dance, which is one of Japan's three major Bon Dances and is designated as an important intangible folk cultural asset of the country, has been participating since the first time and has a really good relationship.
In addition, in order to appeal Fujisawa nationwide, Fujisawa's new Bon Dance called "Shonan Fujisawa Yudori Odori" was commissioned and created by experts. Mr. Seiji Shiraishi, a playwright and director, was involved in the production and control of the dance. The motif is the "Dance Nenbutsu" transmitted to the Yugyoji Temple, and it consists of six group dances. The main dance is called "Yuyayayashi". There is also a fun-bill contest where citizens dance and participate, and the festival climax holds a large Bon Odori tournament in the precincts of the Yugyoji Temple.
What were the characteristics of this year's Fujisawa-juku / Yoko no Bon?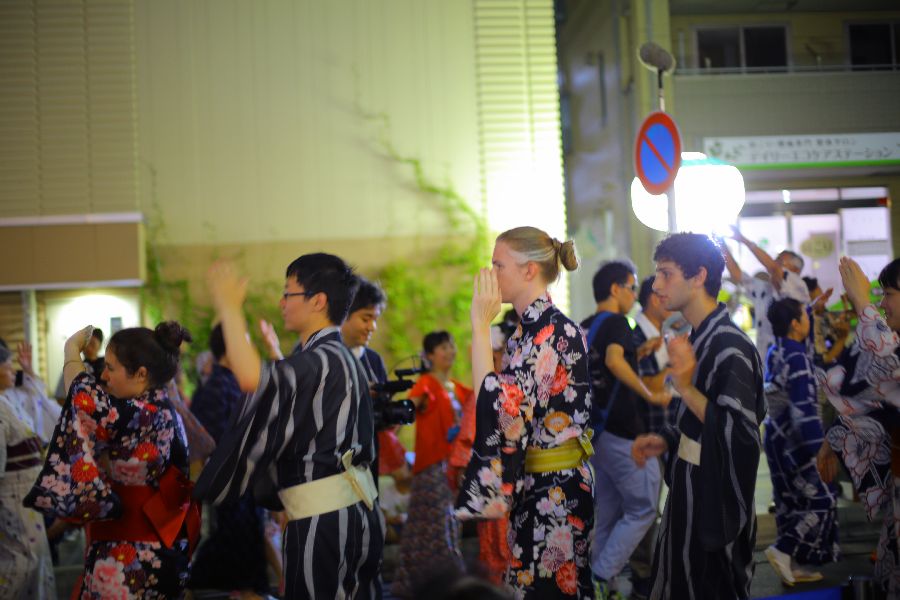 lor = "# 808080"> Foreigners also participate
This year, in addition to the three largest Bon dances in Japan, the Nishima Onnai Bon Dance, Gujo Odori and Awa Odori, this year we invited Morioka-san dance as a representative summer festival in Tohoku, and we performed a Bon dance that dances with a taiko drum at a light tempo. It was. New initiatives included mini festivals and Bon Odori at the station's south exit "Ranburu Shopping Street" and Bon Odori at the North Exit Sun Palette. In addition, a series of international students from Tama University Shonan Campus and foreigners living in the city also appeared this year, and it has become more international. There are still few foreigners participating, so I would like more people to participate and have fun in the future.
At the Tokyo Olympics held in 2020, there is a sailing competition on Enoshima. Please tell us how you plan to develop this festival.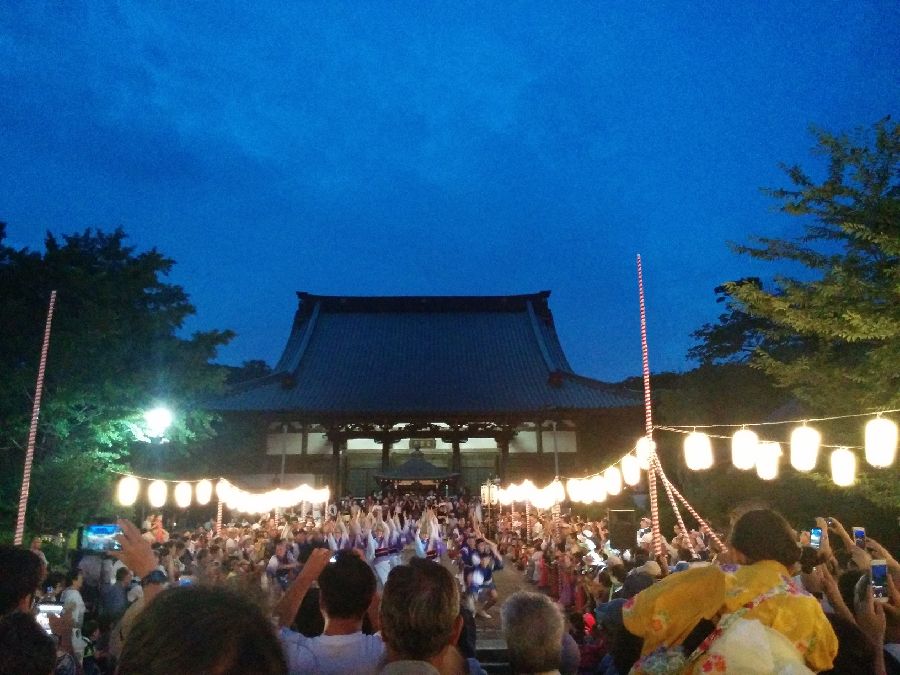 Awa dance in Yugyoji Temple
Awareness of the Bon Festival is increasing year by year, and there are people who come to see Bon Dance all over the country not only from the city but also from far away. The Bon Odori is a wonderful traditional culture that can be sung and danced together from small children to the elderly. I would like to take on challenges in the future when the Tokyo Olympic Sailing Competition will be held in Enoshima in 2020. First of all, I would like to share information with everyone who participated in the Yu-no-Bon to raise awareness of Fujisawa. I hope this festival will lead to the success of the sailing competition Enoshima and attract customers.
ent: 1em; margin-bottom: 30px ">
It is more enjoyable to participate than to tour the Bon Odori. It would be nice if the economic linkages will increase further, with the participation of various people and the focus on Bon Odori. Thank you very much.
Gujo Odori is the longest dance festival in Japan that dances for 33 nights from mid-July to early September. For 400 years, he has been singing and dancing in Gujo Hachiman (Gifu Prefecture), a castle town. The Gujo Dance Preservation Society performs dance with the eggplant from Gujo Hachiman, Gifu Prefecture.
Nishima Onnai Bon Odori is a traditional dance that has been designated as an important intangible folk cultural property of the country and has been handed down to Ugo Town in Akita Prefecture for about 700 years. Featuring lively eggplants and beautiful dances, they wear ancestral end-stitched kimonos and wear knitted shades with beautiful curves. A minor young woman dances wearing a headgear called "Hikosazukin" from the head. Appeared as a guest every year from the Bon Festival of the first tour.
What is Awa Odori Awa Odori has a history of about 400 years. It is held all over the country including Tokushima. This year's tour will showcase the Suzaku Ren of the Koenji Awaodori Ren Association and the Shonan Nagisa Ren of the local Fujisawa.
What is Morioka-san dance? Held in Morioka City, Iwate Prefecture as a summer festival representing Tohoku for four days every year from August 1st. Wadaiko simultaneous performances The world's best taiko drum parade and supple and gorgeous dances color the summer night sky. Traditional Sansa dances that have been handed down in and around Morioka vary in choreography and costumes.
Future activities planned
The 44th Fujisawa Civic Festival is held! -Don't miss the great parade! ~
September 23 (Saturday) around Fujisawa Station, Akibadai Park Stage Event, Yatai Village
September 24 (Sun) around Fujisawa StationFujisawa Station Namboku University Parade, various stage events, professional wrestling performances, Yatai Village, etc.
Related URL:
http://www.fujisawa-cci.or.jp/yugyou2017/