traditional culture
2017.08.23
Kanagawa / Japanese traditional culture Festival special feature "Fujisawa hotel · Yuko no Bon" (Fujisawa ed.)
踊 り The "Dance Nembutsu", which is said to be the origin of Bon festival dances in various places, began from the Yugyouji Temple in Fujisawa 沢
How long has it been since the festival of Fujisawa hotel and Yuko?

Masuda, President
This festival started with the desire to bring back the bustling shopping district around Fujisawa Station as part of the town revitalization in 2005, and to further raise the awareness of Fujisawa City towards the whole country. It is Kamakura and Chigasaki that come out immediately when saying Shonan. There are few places where you can hear the name Fujisawa, and when you look at it from across the country, it's still not well known. It was an idea that came out at the end of thinking about how to do a festival that looks like Fujisawa, where you can feel some originality that you would not do elsewhere. Fujisawa used to be developed as a post town of Tokaido, Monjo-machi of Seikoji Temple, which is the main mountain of Tokimune. Seiko-ji is also called "Yugyo-ji" because the Tokimune founders traveled throughout the country for their studies. The roots of the Bon festival dance are said to be "dance dance Buddhas", but this is said that the disciples suddenly began to dance while chanting the Buddhas, and the people who were watching danced according to this. Certainly, I guess I was singing and dancing like Singing because I could not get the attention of the people, even if I only sang it. If dance Buddha is lore to Yugyo-ji Temple, it may be said that Fujisawa, which is the main mountain, is the origin of the Bon festival dance of each place. Taking advantage of the history and culture left behind in Fujisawa, the "Fujisawa-Yon-Yu Yuno Bon" was born.
What kind of things have you specifically done to bring up the town with the Bon festival dance?
= "http://magcul.net/wordpress/wp-content/uploads/2017/08/343eb1830c24c6a7efd4d378b7c998c4.jpg" alt = "IMG_6705_th" width = "100%" />
State of going on and running contest
At first, I spent over a year visiting the famous Bon festival dance area of the whole country and repeated research on the Bon dance event. Even if you wish to invite it by all means, there are cases where it can not be realized immediately, such as having various problems in addition to the budget depending on the area. In addition to the Three Great Bon festival dances of Japan, as a plus one, inviting a different dance or festival every year as a festival where you can see distinctive Bon festival dances across the country at a time if you come to Fujisawa, a place related to Bon dances. I am trying. In particular, Nishi-Mahonai Bon-dori, one of Japan's Three Great Bon Dances and designated as a National Important Intangible Folk Cultural Property, has continued to participate from the first, and I am allowed to have a really good relationship.
Furthermore, in order to promote Fujisawa nationwide, we asked the expert to create Fujisawa's new Bon festival dance called "Shonan Fujisawa Yuko Odori". It is Seki Shiroishi, a playwright author and director, who is a related person of the dramatist Shuji Terayama who requested the production and supervision of the dance. The motif is "Dance Nembutsu" transmitted to Yugyo-ji, which is composed of six dance groups, and the main dance is called "Going going palm". We also hold a running contest where citizens dance and participate, and at the climax of the festival, we hold the Obon dance event in the Yugyoji grounds.
What kind of characteristics were there in this year's Fujisawa hotel / playing boat tray?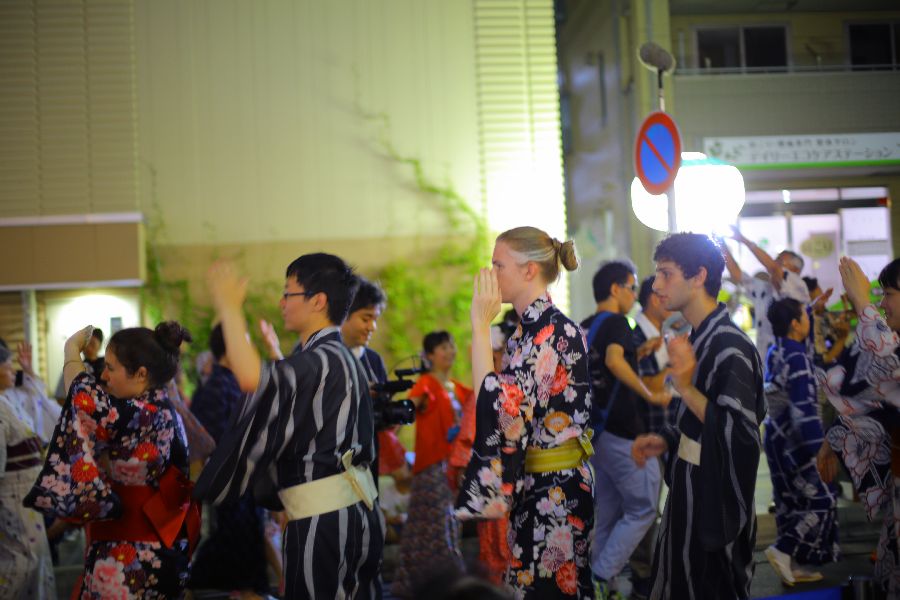 lor = "# 808080"> Foreigners also participate
This year, in addition to the Nishimahonuchi Bon Odori, Gujo Kami Odori, Awa Odori of Japan's Three Great Bon Festival Odori, this year we invited Morioka Sansa Odori as a summer festival representing Tohoku, and exhibited the Bon Odori dancing with drums at a light tempo The As a new initiative, we performed a mini festival on the station south exit "Ranburu shopping street" and a Bon festival dance with the Bon festival dance at the North Entrance Sun Palette. Furthermore, this year, international students from Tama University Shonan Campus and foreigners living in the city have been joining us, and have become more international than ever. There are still few foreigners participating, so I hope that more people will be able to participate and enjoy it in the future.
At the Tokyo Olympics held in 2020, there is a sailing competition on Enoshima. Please tell us your thoughts on how to develop this festival.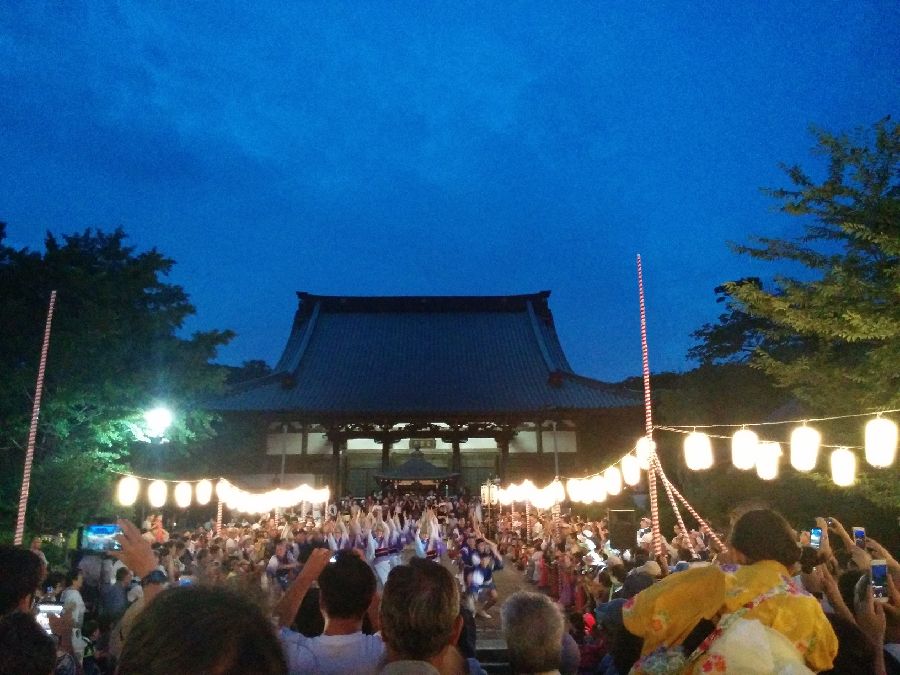 Awa Odori at the Yugyouji Temple
There is a growing awareness of the festival's going on, and there are people who come to see Bon-Odori from around the country as well as in the city. The Bon festival dance, where you can sing and dance together from small children to old people, is still a wonderful traditional culture. I would like to take on challenges in the future as the Tokyo Olympic Sailing Competition is held on Enoshima in 2020. First of all, I would like to disseminate information together with everyone who participated in the Yukon Bon, and try to raise awareness of Fujisawa. I hope this festival will lead to the success of the sailing competition Enoshima and the attraction.
ent: 1em; margin-bottom: 30px ">
It is more fun to participate in the Bon festival dance than a tour. It is hoped that the economic linkage will be further enhanced by calling on the participation of various people and focusing on the Bon dance. Thank you very much.
Gujo Odori is a Bon dance that dances over the night of 33 nights from mid-July to early September. It has been singing and dancing in the castle town of Kamihachiman (Gifu prefecture) for 400 years. The Gujo Kami Odori Preservation Society from Osaka, Gifu Prefecture Gujo Hachiman shows dances with dumplings.
Nishi-Mahonai Bon Odori is a traditional dance that has been designated as an important intangible folk cultural asset of the country and has been passed down for about 700 years in Ugo Town, Akita Prefecture. It features lively lions and beautiful dances, and wears ancestral end-stitched kimonos and dances wearing beautifully curved knits. A young girl of a minor dances wearing a headpiece called "Hikosa Zukin" from head to head. Appears as a guest every year from the tray of the first excursion.
Awa Odori is about 400 years of history. It is held at various places throughout the country, including the original Tokushima. Koenji Awa Odori Ren Association Association Suzaku Ren and Shonan Nagisa Ren of the local Fujisawa will be unveiled this year at the Yukon Bon Festival.
About Morioka Sansa Odori As a summer festival representing Tohoku, it is held in Morioka City, Iwate Prefecture for four days from August 1st every year. A brave drum parade that has achieved the best in the world of simultaneous drumming and a brilliant and beautiful dance, the summer night sky. Traditional Sansa dance, which has been handed down in and around Morioka City, has different choreographies and costumes depending on the area.
Future activity plans
The 44th Fujisawa Citizens Festival! ... A large parade is a must-see! To
September 23 (Saturday) Fujisawa Station, Akihadai Park Stage Event, Food Village
September 24 (Sun.) Fujisawa Station and Yugyouji Temple groundsFujisawa Station North and South University parade, various stage events, wrestling performance, stand village etc
Related URL:
http://www.fujisawa-cci.or.jp/yugyou2017/