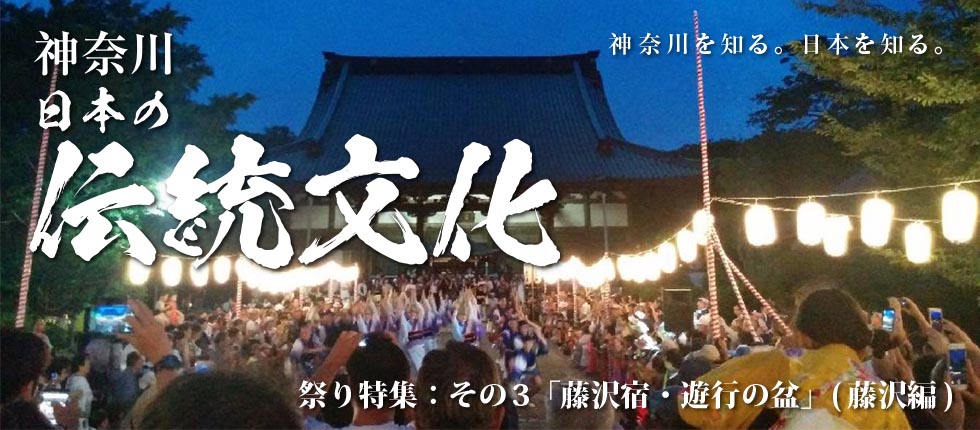 traditional culture
Feature of festival, traditional Japanese culture in Kanagawa Fujisawa-shuku obon festival( Fujisawa version )
◇Odori nenbutsu, origin of bon dance in Japan began with Yughou temple in Fujisawa.◇
When did "Fujisawa shuku Yugyou-no-bon" begin?

President Masuda

This festival began as one of the city revitalizations with an aim that we wanted to recall the bustle back and raise awareness of Fujisawa city to our country.
Kamakura and Chigasaki occur to people's minds at first when I say Shounan.
I have hardly heard the name of Fujisawa and it has not common yet in Japan.
We came to the idea after deep discussion to produce the festival that other city had never tried and had originality of Fujisawa city
Fujisawa was prospered as a post town for Tokaido national road and temple town for Seijouko temple, which used to be a head temple of Ji-shu sect.
Seijouko temple is also called "Yugyou temple" because Ippen holy priest, originator of Ji-shu sect wandered Japan by the meaning of training.
It is said that origin of bon festival is "Odori nenbutsu" and this comes from the story that disciples started dancing while their master chant sutra then audience started dancing as well.
Maybe, priest chanted sutra like singing while dancing because audience never paid attention to the priest just chanting sutra.
We say, if it's O.K that Odori nenbutsu has been handed down in Yugyou temple it is also O.K to regard Fujisawa city includes head temple as an origin of Bon dance
Fujisawa shuku Yugyou-no-no was began with referring these history and culture having been handed down in Fujisawa city.
What kind of exact activities have you tried to revitalize the city by bon dance?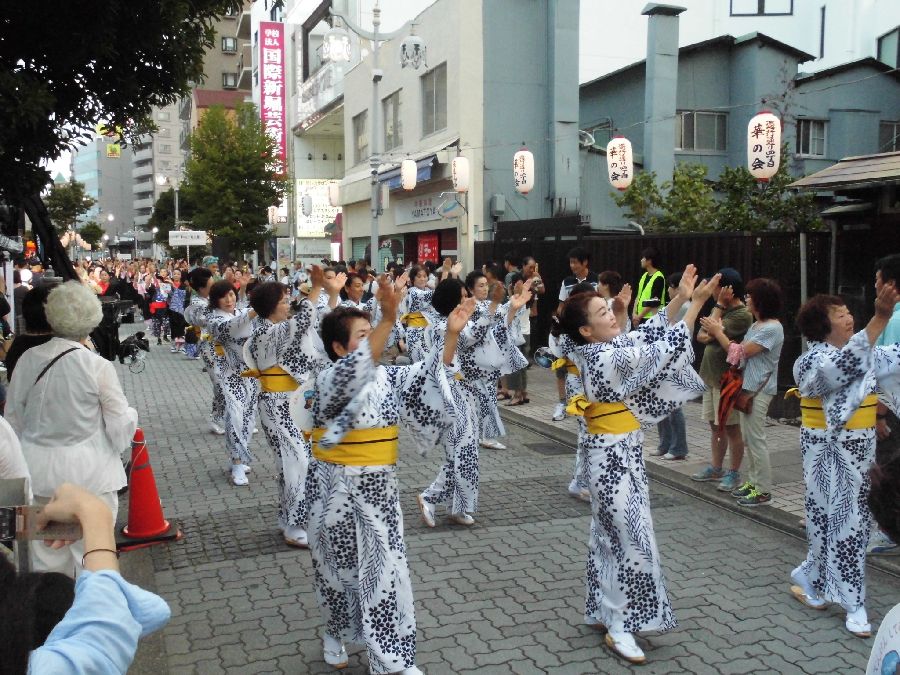 Image of Yugyou bayashi contest

Visiting famous regions of bon dance we did a lot of investigations about bon dance events at the beginning.
It was hard to make the invitation for specific dance happen immediately because of budgets and some complicated reasons between regions even we did want to invite.
We try to invite different or plus one dance and festival every year in addition to 3 biggest bon dance in Japan for revitalization of the city with reputation that people can enjoy various bon dances from all over Japan at the same time if you come to Fujisawa associated with bon dance.
Especially, Nishimonai bon dance regarded as a 3 biggest bon dance in Japan and national intangible folk cultural property has been joining since 1st festival and we have a great relationship.
Moreover, to appeal Fujisawa more as a nation-wide I ordered new Fujisawa bon dance "Fujisawa Yugyou dance" to an expert.
I hired Sei Shiraishi as a producer and observer of the dance, who is dramatist and director associated with dramatist, Shuji Terayama.
Otori nenbutsu having been handed down in Yugyou temple is the motif and it consists of 6 different dance part. Main dance is "Yugyou bayashi".
What was the feature of Fujisawa shuku Yugyou-no-bon this year?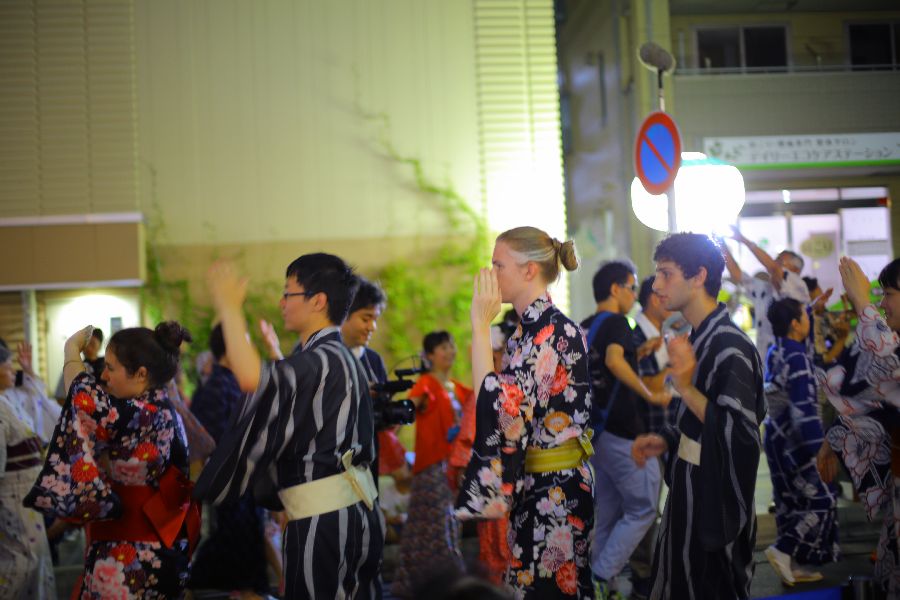 Participations of people from foreign countries

We invited 3 biggest bon festivals in Japan of Nishimonai dance, Gujyou dance and Awa-odori dance plus Morioka Sansa dace with Japanese drums of good tempos, which is represent of summer festivals of Tohoku region.
We tried Bon dance and mini fair at Station south exit, Ranburu shopping street and arranged bon dance at Sun palette north exit as a first trial.
Moreover, foreign students at Tama university, Shounan campus and foreigners living in the city joined so the festival became more international.
There are few foreigners joined so I hope more foreigners join and enjoy the festival in the future.
There is a sailing competitions at Enono-shima islands in Tokyo Olympic being held in 2020.I need your advice how you develop this festival.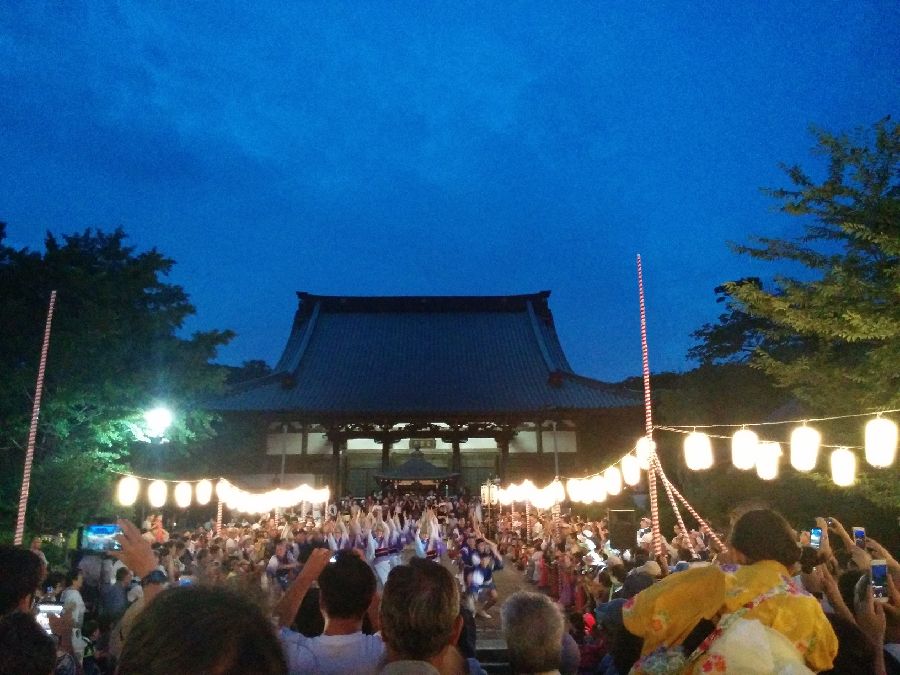 Photo of Awa-Odori dance at Yugyou temple precinct

As the awareness of Yugyou-no-bon is raised year by year and ever people living far formthe city come to visit the festival to see bon dances from all over Japan.
The dance which kids and elderly can join together and dance is good traditional Japanese culture.
From now on we'd like to challenge the effort starting from sailing competitions being held at Eno-shima islands in Tokyo Olympic 2020.
We cooperate with people joined at Yugyou-no-bon and generate information then, we try to raise the awareness of Fujisawa city
We hope this festival is the first step to success the sailing competitions at Eno-shima and attract people.
Bon dance is much fun to join than to see.I hope you invite all sort of people and the have the city revitalize by the power of bon dance. Then relationship between economy and bon dance is going better.
Thank you very much.
What is Gujou dance?
It is longest term bon dance which people dance 33 nights from middle of July to the beginning of September.
It has been singing and dancing for 400 years at castle town, Gujou-hachiman (Gifu prefecture)
Gyujou dance preservation association perform Hayashi and dance from Gujou-hachiman, Gifu prefecture, home of Ghujou dance.
What is Nishimonai bon dance?
It is traditional dance regarded as an important intangible folk cultural property and has been handed down for 700 years at Ugo-machi in Akita prefecture.
It is featured by lively music accompaniment and beautiful dance, and performed with ancestral hemstitching Kimono and beautiful curved braided ha.
Ladies who are not coming to the age dance with wearing Hikosa-zukin, which hide ladies faces from top of their heads.
They have been appearing since 1st Yugyou-no-bon every year as guests.
What is Awa-odori dance?
Awa-Odori has 400 years history.
It is performed at Tokushima, home of Awa-odori dance and all over the country.
Suzaku-ren belonging to an association of Koen temple Awa-odori league and Shounan Nagisa league perform at Yugyou-no-bon this year.
What is Morioka Sansa dance?
It is annually held for 4 days starting from August 1st at Morioka-shi, Iwate prefecture as a represent of summer festival in Tohoku region.
Brave parade of Japanese drums, which was achieved No.1 in the world as Simultaneous Japanese drum performance and elastic and beautiful dance color sky of summer nights.
Sansa dance which has been handed down in Morioka shi and around the city are different each other from choreographies and dancing costumes.
Future activities planned
44th Fujisawa citizen festival will be held! Don't miss a big parade!
September 23rd Saturday around Fujisawa station and Akiba-dai park
Stage events, food stands
September 24th Sunday around Fujisawa station and Yugyou temple precinct
Fujisawa station south and north big parade, variety of stage events, wrestling demonstration and food stands etc…
Related URL:
http://www.fujisawa-cci.or.jp/yugyou2017/