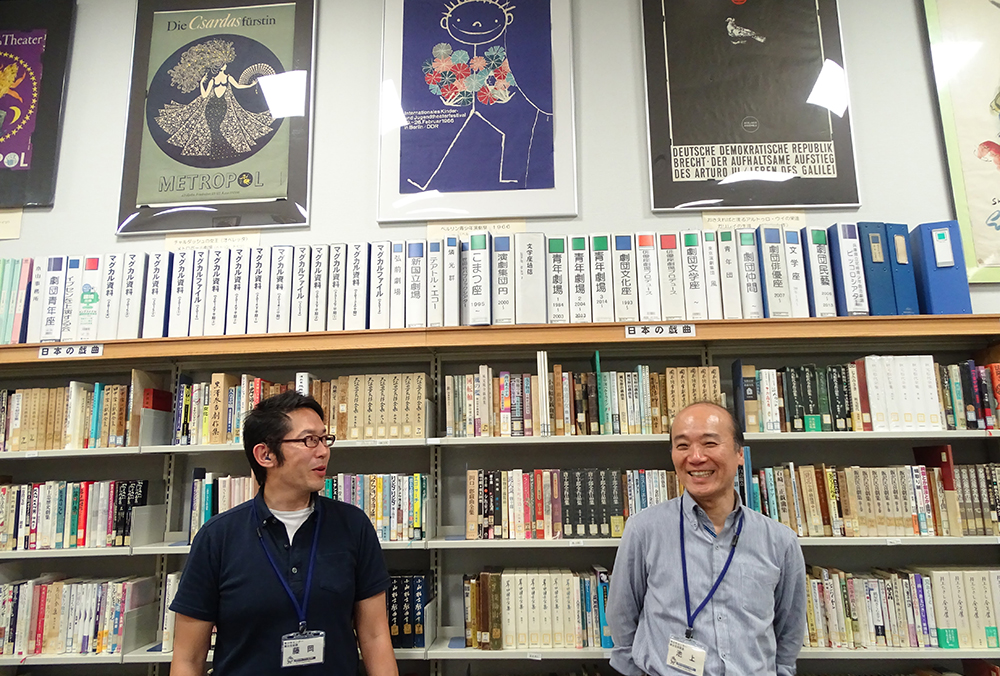 Theater / dance
2016.07.21
Efforts of the Kanagawa Prefectural Youth Center to support performing arts by developing human resources and providing venues
(Please note that this page was created using Google's automatic translation service and understand that because of this, its translation may not necessarily be accurate.)
Youth Center is an "open area for youth culture"
――The Youth Center supports performing arts activities in addition to youth policies. Please tell us the purpose.
Ikegami : Our main task is the healthy development of young people. The Youth Center is also a place for youth development and is an "open area for youth culture." It functions as a place where you can freely use it for practicing and presenting performances such as theater, dance, and music.
Meanwhile, Kanagawa Prefecture started the "Magcal" initiative in 2013. "Magcal" is an abbreviation for "Magnet Culture", in which the culture of Kanagawa itself becomes a magnet, attracting people and bringing charm and liveliness to the city. With the connection between "Magcal" and the Youth Center, efforts related to performing arts are expanding further.
――Specifically, what kind of efforts are you doing?
Fujioka : "Magcal" has various aspects such as promotion of cultural arts centered on performing arts, creation of liveliness in the city, digging up the charm of the region, and human resource development. Among them, the Youth Center is in charge of human resource development.
Ikegami : That is the following four pillars. First, "Magcal Friday". This is an attempt to lend the facilities and equipment of the multipurpose plaza free of charge every Friday for performances such as theater and music. The second is "Magcal Theater". You can use the multipurpose plaza for free for a week. Thirdly, "Theatrical School for Youth". In order for young people from high school to 29 years old to enjoy making plays, they not only act but also make props and costumes themselves, and this performance is held in August. And fourth, "High School Theater Festa". Achieved good results at the high school theater prefectural convention to support school theaterThe play is open to the public.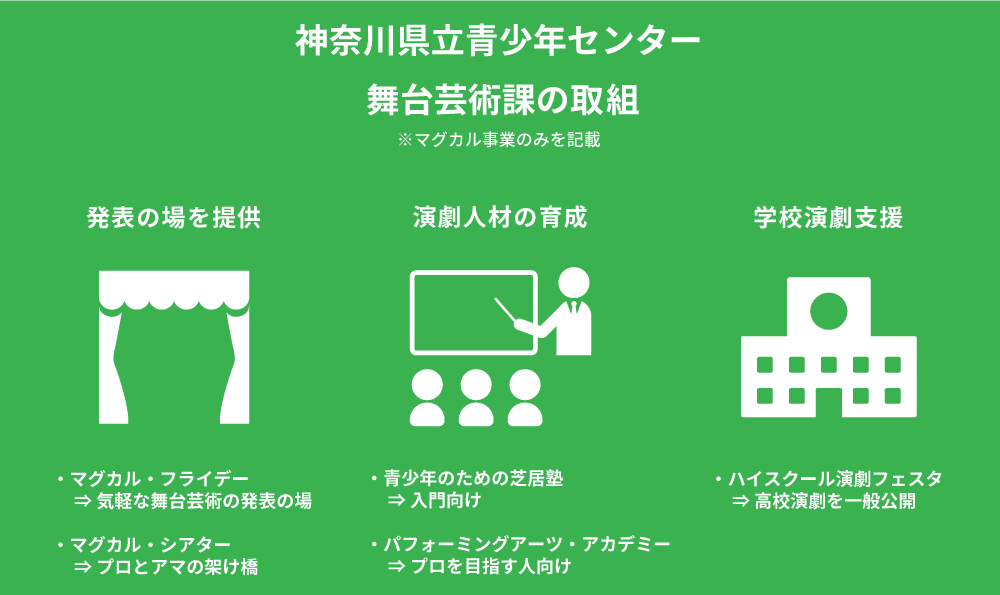 Fujioka : Governor Kuroiwa says he wants to make Kanagawa a Broadway. However, it is not so easy to increase the number of theaters. Therefore, the prefecture decided to launch "MAGCUL.net", a virtual Broadway, and "Magcal Friday" and "Magcal Theater" four years ago. At the Apollo Theater on Broadway, we continue to discover new talent as an "amateur night." It has produced many stars and has become a gateway to entertainment. "Magcal Friday" and "Magcal Theater" also started from this idea.
In the first place, the Youth Center has been working on theater for more than 50 years since the opening of "Magcal" even before it started. Not everything started anew with "Magcal", but we incorporated new ideas into our original efforts and now we have the current lineup.
――You are supporting the performing arts with both human resources development and provision of a place.
Ikegami : For example, at the KAAT Kanagawa Arts Theater, there will be long-run performances by the Shiki Theater Company and theater performances directed by Akira Shirai. Invitation of these leading artists is also part of "Magcal," but the Youth Center plays a role in expanding the base of performing arts. Even young people who say that it is difficult to rent a theater on their own can easily use it at the Youth Center. Use the Youth Center as a place to make presentations on theater, music, dance, etc.I hope you can put it on.
Fujioka : We sometimes recommend to KAAT the group that produced the work that I think "this is" from the performances performed at "Magcal Theater". The performance of the group may be realized at KAAT in the next year. There are still many issues to be solved, but we are aiming for a cycle in which younger generations of human resources are nurtured through the efforts of the "Magcal Theater", and some of them are professionals, stepping up to KAAT and other areas to grow further.
Ikegami : We also provide technical support for behind-the-scenes staff. Last year, we held a script course and a tool course this year. Students rarely have the opportunity to know how to make props. So I actually held a hammer and held a workshop to make props.
Aiming to develop human resources who will lead the performing arts of the prefecture
--From 2014, the "Magcal Performing Arts Academy", which raises musical actors, has also started. Please tell me the difference between this and "Theatrical School for Youth".
Ikegami : "Theatrical School" is a citizen-participation-type theater business where you can experience the sense of accomplishment on the stage. It's a place where you can get to know for the first time that "the stage is so much fun". It would be a high hurdle to join the theater company suddenly, but you can feel free to join here. On the other hand, the goal of "Academy" is to develop human resources who will lead the performing arts in Kanagawa Prefecture.
――How is the result?
Ikegami : It's difficult to determine what will be the result ... However, at the Academy, students who are active in movies, theatrical performances, and television are already growing. I was not good at the time of enrollmentThe students have also achieved remarkable growth, and it seems that they were approached by production personnel who saw the results presentation in April this year.
Fujioka : You're young, so you have a lot of room to grow. Like sports, it draws a rapid growth curve.
Ikegami : We will have a paid performance in August, and next year we will be performing a new work by Kensuke Yokouchi, who will be the head of the school, so I think the true value of the "Academy" will be questioned.
Surely it would be difficult for everyone to be a TV star. However, if people from the "Academy" can teach performing arts in Kanagawa Prefecture as leaders in the future and develop the talents of the next generation, I think that will be a great achievement. With the addition of new students this year, we are currently working hard with 34 people. Some students decided to enroll after seeing the results presentation in April. That may be the result of the "Academy".
――What kind of response do you feel about other initiatives?
Ikegami : The number of applicants for "Magcal Friday" and "Magcal Theater" is increasing. I feel that the content of the performance is gradually improving. After all, it will grow by being exposed to the eyes of many people. In addition, university theater competitions are held, and some people create new theater companies from the connections, creating exchanges between people involved in performing arts.
Fujioka : The Youth Center also has a theater reference room. It is a theater special library that holds more than 10,000 theater materials. What makes this facility unique nationwide is that it is also rented out of the building and that its operation is supported by the enthusiasm of the volunteer staff. The students of the drama club, I often see scenes where the script is selected while receiving advice from the staff in the reference room. We recognize that it is an important initiative of the museum to prepare several entrances to the performing arts for young people. As part of that, I would be happy if it plays a role in supporting school theater.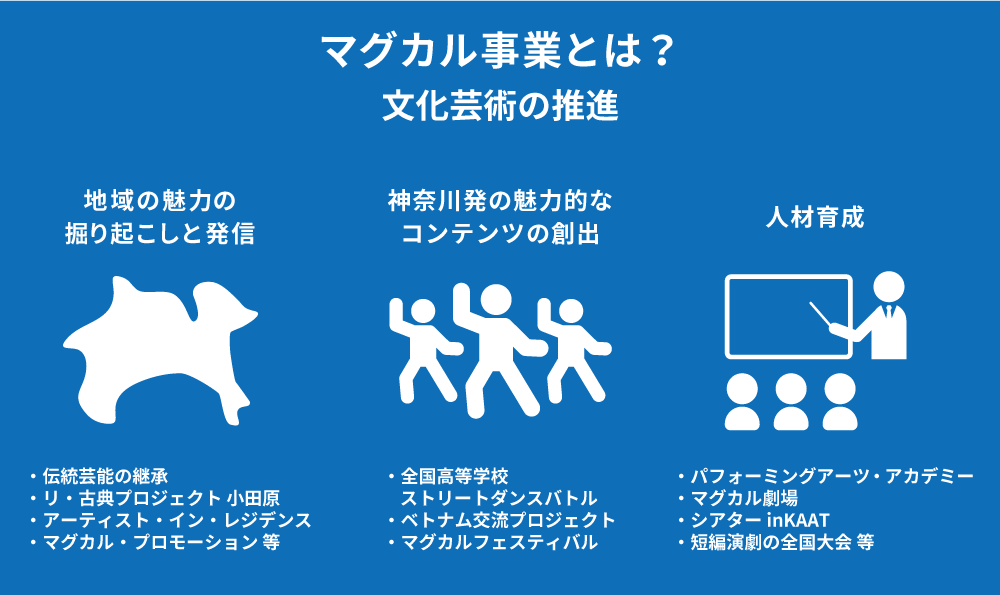 I want to lower the threshold of performing arts and increase the audience
--Please tell us about the future outlook for the Youth Center.
Ikegami : We will continue our efforts as an "open area for youth culture." School theater for junior and senior high school students is supported by schools and federations as club activities, but until now there has been no effort to train and support college students and young actors in their twenties. I think we were able to support it a little through the "Magcal Theater". I hope that it will continue to play the role of a youth center and be a place where young people can engage in performing arts activities.
Fujioka : The same prefectural facility, KAAT Kanagawa Arts Theater, plays a role as a place for creative activities with top-level artists, but the role of the Prefectural Youth Center lowers the threshold of performing arts and makes it suitable for young people and beginners. Isn't it possible to say that you will know the fun?
While the number of facilities in the prefecture, such as the Sotetsu Honda Theater and the Prefectural Women's Center Hall, is decreasing, the performing arts are supported by providing performance venues, making people aware of the wonders of school theater, and developing human resources. It is our raison d'etre. Amateurs, including young people, have grown upIf so, the professional fire at the top will also be extinguished. I want to continue doing what we can to keep this fire on.
Ikegami : By lowering the threshold of performing arts, I would like to increase not only the actors and staff but also the number of viewers. If you suddenly pay a ticket fee of 10,000 yen, you will be reluctant, but you can easily watch the performances of "Magcal Theater" and student plays. High school theater is really interesting. It's an amateur play, so it's a big mistake if you think it's an amateur level. There are many works that have a strong message and make you groan. I would like many people to come and experience a part of the performing arts.
――――――
Click here for more information on the "Summer Magcal Festa 2016" to be held at the Youth Center from July 8th to September 25th, 2016.
Related URL:
http://www.pref.kanagawa.jp/cnt/f531313/