Art / photography
Nadegata Instant Party (Toru Nakazaki + Daisuke Yamashiro + Tomoko Noda) presents ENJOY ZOU-NO-HANA 2014 Elephant Shutter Chance - Yes, cheese! Photo studio for one day only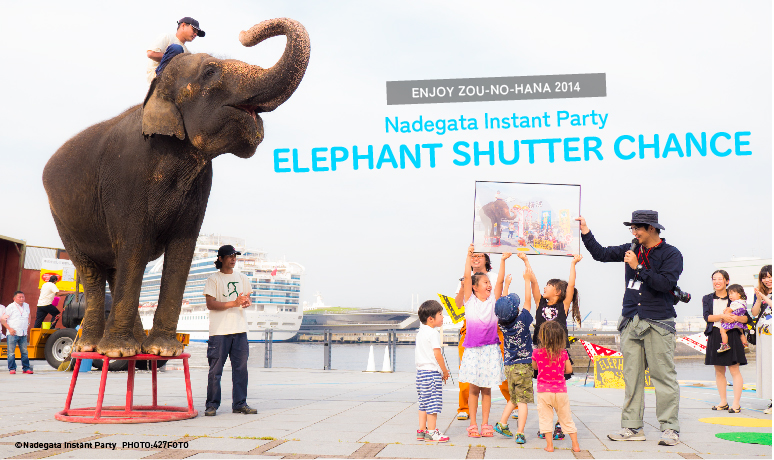 The other day's one-day event "ENJOY ZOU-NO-HANA 2014 Elephant Shutter Chance-Yes, Cheese! In the one-day photo studio ~ ", in fine weather, Randy, an elephant from Ichihara Elephant Country, and a total of 15,000 visitors gathered at Zonohana Park on the day of the 155th anniversary of the opening of the port.
The scenery with elephants that suddenly appeared in the paved Zonohana Park, which has various relationships but no cages or fences, created the illusion of extraordinary life suitable for a festival day.
At MAGCUL.NET, with the question of how this project was born ..., the artists who invented the project, Toru Nakazaki, Daitoku Yamashiro, and Tomoko Noda, were asked. I hit directly after the event.

A mechanism in which the cameraman releases the shutter by the "signal" of breaking the elephant Randy's Kusudama. The photo shows the test and the presentation of the photo to the group that was actually taken. Is Randy breaking the ball taking a picture? Is it taken by a cameraman? Or can it be said that the elephant who follows Randy is taking a picture? The mysterious scenery where various layers overlap was a pleasant event.
-Did you propose to call the elephant to Zonohana Park this time from Nadegata Instant Party (hereinafter referred to as Nadegata)?
Nakazaki: Well, by the time we were called out, it had already been decided to call an elephant.
On the contrary, as the organizer, how did you decide to call the elephants?
Elephant Nose Terrace Staff: In 2012, we launched an exhibition called "Enjoy! Zonohana-How to Play Elephant Nose", utilizing the creativity of artists such as Yasuhiro Suzuki, Noboru Tsubaki, and artist units. We have also proposed a way to play that is unique to Zonohana Park. It's an elephant nose terrace, and I've always wanted to call an elephant, but this year is also the 5th anniversary of the opening of the elephant nose terrace, so it's overwhelming as a special program of "Enjoy! Elephant Nohana 2014". I wondered if I could invite a real elephant with a strong presence to the elephant's nose as a guest and create a special day to spend with the elephant. ..
-So, why did you ask Mr. Nadegata for the event when you decided to call an elephant?
Elephant Nose Terrace Staff: This time, as an event to commemorate the 5th anniversary of the opening of Elephant Nose Terrace, people who were present at the place not only called the elephant but also the mysterious scenery and events where the real elephant was in the elephant's nose. I wanted to make it an initiative that I could share and keep in my memory for a long time.

"We will launch the best" excuse "for the occasion, and the" reality "will change depending on the" excuse ". Looking at their approach of "making the process into a story" so far, could you make a general participation type work that uses the fictional day of the arrival of a real elephant as an "excuse"? I asked for it.
-But it's new that Mr. Nadegata is called under all the conditions.
Nakazaki: When we fell into an identity crisis and usually called an elephant, it seemed that the artist thought of calling an elephant, but "while it has already been decided that an elephant will come. So I really thought about what I could do.
-At this event, how much did Nadegata have the consciousness of "creating a work"? Is the idea of "staging" stronger?
Nakazaki: After all, I'm worried about "where to make a work", and I don't really know. While making this plan, the place of this elephant's nose is like Yokohama, and the fact that there is an elephant in that place is a very mysterious landscape like a composite, so it is a real elephant, but fiction I wonder if we at least took the method of intervening as a work by creating a stage set such as a writing style that looks like a place in Yokohama, or a mechanism that puts characters in the photo like a photo booth.

At first, I was thinking of a theatrical day's highly entertaining work, but if there was an elephant in that part, it would probably be possible without us, so at the stage of packing it. I thought it wasn't a channel. Therefore, I proceeded to establish the photograph itself, which was completed by taking a commemorative photo, as a critical work.
Yamashiro: This place is really difficult, isn't it? It's a place where you can easily create a state where there are no boundaries, and since it's an open free space, everyone thinks that anyone can enter it, and it's a public place. Everyone has that kind of feeling, so when I thought about creating a special space here, I thought that everyone was having a hard time. So, this time there was an elephant, and we were able to enjoy it a little in the time that was established.
-Please tell us how this event came to be like this.
Noda: While talking, I think the elephant didn't come and do something with the elephant, but slide the story in the direction of what the elephant would do.
Nakazaki: I got a lot of lists that Randy could do this kind of trick ...
Noda: That's right. There were things like Kusudama, lifts, and so on.
So why not give the elephant a role and do something?
Nakazaki: I thought we didn't have to intervene as much as possible. I thought this event was a one-off show for a couple of hours, but I also thought that no one would actually be watching it all the time.
Noda: It seems that even the casual customers were conscious of the structure itself, which says, "Oh, the elephant is a cameraman" just by looking at it.
Nakazaki: It was a live concert with elephants, but I wish I could get a picture of the finished photo itself, which is a mixture of virtual images and reality. Depending on how it is assembled, this movie or recording may be original.
-As a result, the photos and movies that come out as a result are the best points to drop, rather than the event on the day. Will such records be exhibited?
Noda: That's right. The photos taken this time will be exhibited from the 14th. *
Nakazaki: Also, the objects used as a set may be exhibited together.
* << Elephant Shutter Chance-Yes, cheese! One-day photo studio ~ >> Record exhibition
Dates: June 14th (Sat) -June 29th (Sun) 10: 00-18: 00
Venue: Zou-no-hana Terrace
-Please tell us your frank impressions after the event.
Nakazaki: I don't really understand it for humans, but I think I understand it, and sometimes I want to understand it, but for elephants, the feeling of "I don't know" was great, and "this kind of other person" I'm not close to you "(laughs). I think it's good to feel this kind of existence close to you.
Yamashiro: Certainly, the tactic of "bringing someone you never know" may be interesting.
Noda: That's right. Living in a completely different dimension.
Yamashiro: Normally, there are cages that separate the elephants, so the elephants that I saw in different worlds were in the center like this time, and it felt very strange to be with them.
Nakazaki: But when I say that, we are usually in a situation where we can't understand each other, and it's easy to understand and we don't understand.
But isn't that just a bad thing?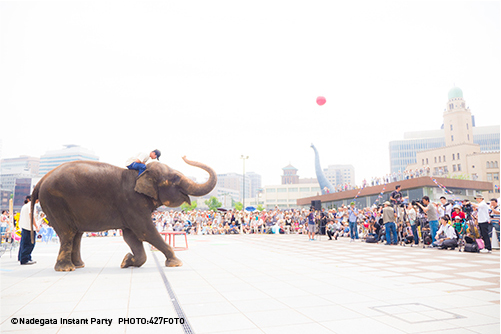 Randy was surrounded by people who happened to pass by, people who came to see him, staff who moved the event, and various other people, but Randy didn't move at all. The natural appearance transformed the extraordinary scene of "an elephant by the sea" into a more mysterious space. Also, during the event, the moment when a large number of spectators were just staring at Randy's meals and bathing was a space with an indescribable sense of happiness.
-Are there any plans to introduce the method of introducing others who do not understand the work like this time?
Nakazaki: The work I made just the previous week has a group photo as a motif, and I feel like I'm linking to this event.
Noda: As Mr. Nakazaki mentioned earlier about this project, I wonder if the point was "the degree of incomprehension of elephants". So I don't know if it will be adopted as a method, but I feel the possibility.
-I think it's a big thing that I'm glad that there were no accidents at this event, but I'm running out of time, so I would like to conclude this article with a final word.
Yamashiro: ... I'm very happy to be able to produce such a day (laughs).
Nakazaki: Coexistence with big others is an art or art that accepts the existence of something that you can't judge, such as taking an interest in something you don't understand and taking a step forward. I think it's similar to the fun of, but I think it was a day like that today. I think that such a place was created.
////////////////////////////////////////////////// ////////////////////////////////////////////////// ////////////////////////////////////////////////// ////////////
[Editor's note]
There was an expression "I don't understand" in the story, but I still don't understand what that "I don't understand" was.
There were a lot of people around Randy with artists, passing tourists, participants, people involved, but the atmosphere of "Randy is the usual Randy" creates a feeling of happiness that can not be said. "A feeling of happiness with a tremendous sense of incongruity" may only be understood by those who were actually in the field ...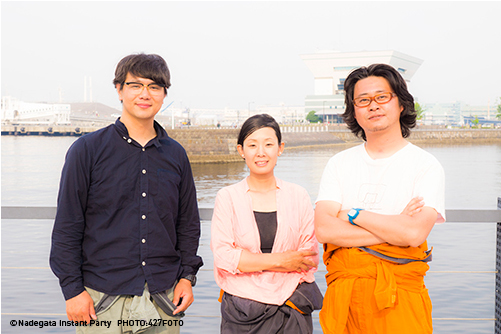 Nadegata Instant Party (Toru Nakazaki + Admiral Yamashiro + Tomoko Noda)

An artist unit by artist Toru Nakazaki (born in Ibaraki in 1976), Daisuke Yamashiro (born in Osaka in 1983), and art manager Tomoko Noda (born in Gifu in 1983). We will set up an optimal "excuse" for the place and situation where the project will be implemented, and create an event as "reality" while involving many participants in order to achieve the excused purpose. The process of changing "reality" by "excuse" is made into a story, and the work is developed by combining documents, theatrical methods, and installations. A 24-hour Internet TV station "24 OUR TELEVISION" 2010 (Aomori Contemporary Art Center) that involved local media with more than 100 citizen staff as a masterpiece, as an exhibition that has participated in recent years "Country Road Show / COUNTRY ROAD SHOW》 "MOT Annual 2012 Making Situations, Editing Landscapes If the wind blows, the tub shop will be profitable" 2012 (Museum of Contemporary Art Tokyo), "STUDIO TUBE" "Aichi Triennale 2013" 2013 (Chubu Electric Power Honmachi switchyard site), etc. There is. Scheduled to participate in "Rokko Meet Art 2014" to be held in Hyogo Prefecture in September.

http://nadegatainstantparty.org/