traditional culture
2019.10.23
New work Kyogen "Rokujizo" worked with children
(Please note that this page was created using Google's automatic translation service and understand that because of this, its translation may not necessarily be accurate.)
Cypress stage of Kyogen teacher living in the 21st century
Vol.10 "Rokujizo" Workshop
Okura Doctrine (Nohgaku Kyogen Style Okura Style)
You can see the sea and mountains from the gymnasium.
In a great location, I was working on a new Kyogen with my kids.
The theme this time is to turn the story of the land into Kyogen. The theme was "Rokujizo".
In the past, it was a simple story that children who had been told by the palace to beg for rain had inadvertently mistakenly poured water on Jizo and it had rained.
So I added a little adaptation and ended up like a Kyogen, saying, "If the children are dancing for rain, the Jizo will start dancing too."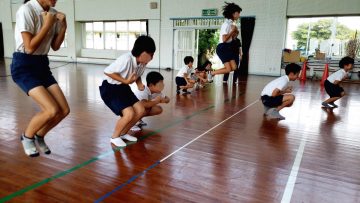 First, give a script and practice voicing and acting.
At first the children who are nervous gradually get used to and relax. Then, the child who couldn't speak out (it came out very hard but couldn't do it in public) gradually became able to speak out, smiled more, and memorized the lines well.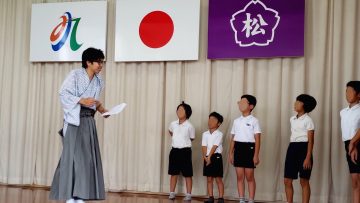 Next is KyogenMovement.
Kyogen's performances are all "typed". It is important to refine what you learned as a technique.
Here I stopped.
Is it important to start with a fixed "type" if you are working on a "new work" with your children? Given that time is limited, it can be rather annoying. What is needed to stimulate children's sensibilities is to create them with free ideas, without being bound by the pattern.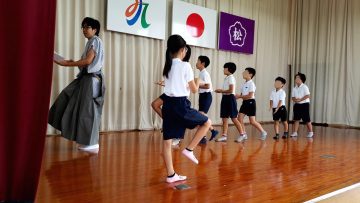 I felt like that and let the children decide how to pose and express Jizo. Ask for their independence and creativity and get them to move as they want. We collectively teach it in a "type", and so on.
What is important for children is not to teach correct or incorrect answers, but to snuggle, recognize, and guide the ideas they come up with.


I think the children felt the joy of expressing their thoughts as "types". The children's smiles and serious expressions when they stood on the stage recounted that.
The three days we spent together with a lot of smiles were irreplaceable for me.