Art and Photography
2018.11.21
A sparkling universe where Yumitsu Bunzuki creates words from the paintings of Tetsuro Komai
Yokohama Museum of Art 
(Please note that this page was created using Google's automatic translation service and understand that because of this, its translation may not necessarily be accurate.)
Go, see, feel the world of art
File.7 Yokohama Museum of Art "Tetsuro Komai-A Sparkling Universe on Paper" Related Event "When Words Birth from Drawings"
Miyuki Inoue (copywriter)
Tetsuro Komai is one of the pioneers who has made the Japanese art world aware of new print expression and its appeal through copperplate engraving. However, personally, I am interested in the cross-genre activity called "Experimental Studio" in which Komai participated. When I heard that various talents such as composers, critics, lighting artists, photographers, engineers, modeling artists, etc. were gathered, he said, "It's like ballet Ruth!"

Ballet Luz, who was active mainly in Paris at the beginning of the 20th century, is a talented melting pot where ballet dancers Nijinsky, Cocteau, Sati, Picasso, Laurentin, and Coco Chanel gathered. That there was such a wonderful avant-garde activity in Japan!
On November 10th (Saturday), a related event was held with poet Yumitsu Fumizuki as a guest.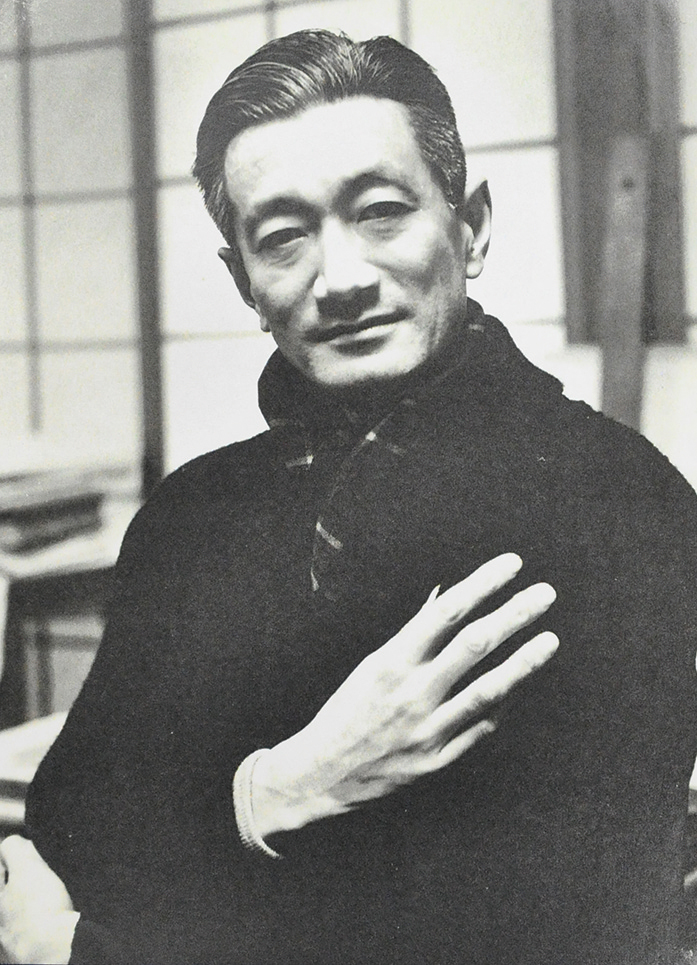 * Tetsuro Komai (Photo by Kiyomi Kawaguchi)
Exhibits visited before the event The first thing that caught my eye in the room was Tetsuro Komai's portrait. How rude, good man!
Born in Nihonbashi, Chuo-ku, in 1920 (Taisho 9), he entered Keio Kindergarten, entered junior high school and high school, and entered Tokyo Art School (currently Tokyo University of the Arts). It is a splendid profile. When he was teaching at university, he said he was paying close attention to his clothes, such as "white shirts and dark blue suits and ties." He freely thinks that the freedom of the work and the kind of unbridledness are not unrelated to the artist's birth and growth.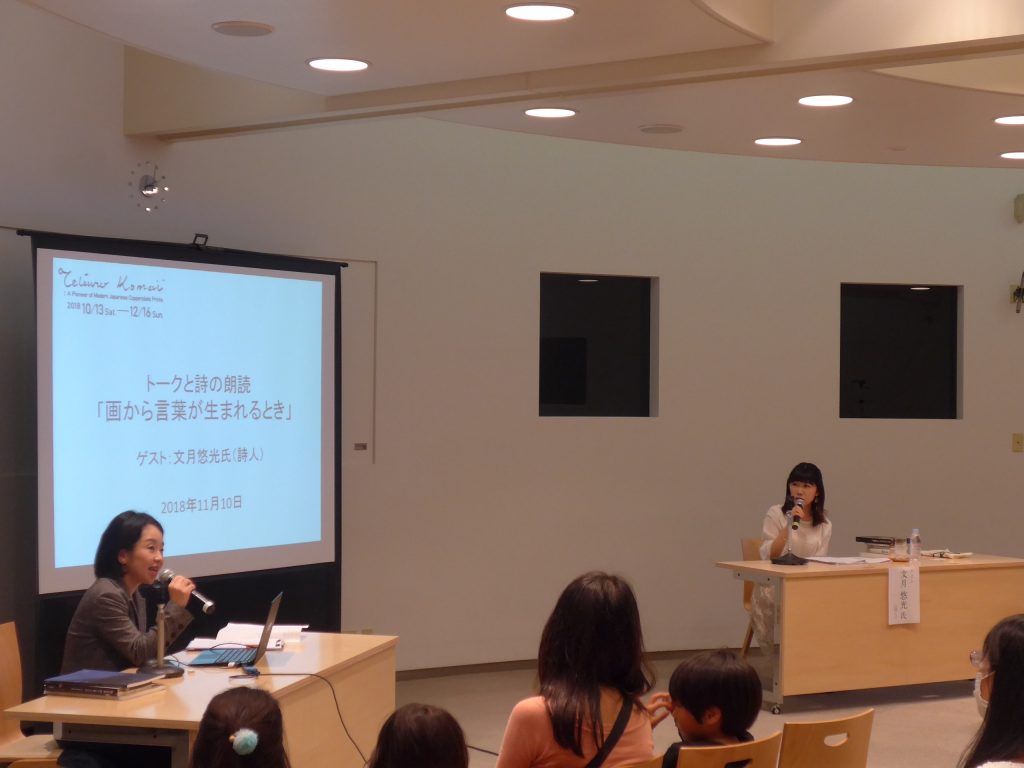 Then, the talk and poetry reading "When words are born from paintings" begin.
"Because I'm a poet, it's rare to be invited to a museum event," said Fumitsuki. Having said that, he was a member of junior high school, high school and the art department, so he has a deep knowledge of the art world and communicates while carefully selecting words.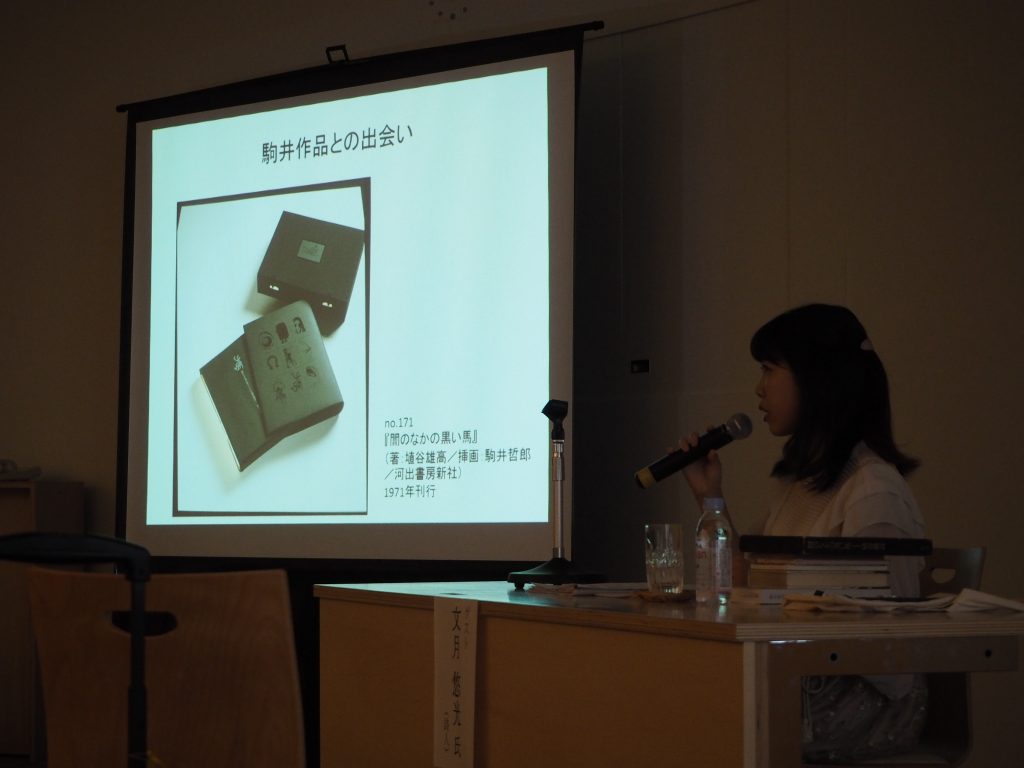 The special book "The Black Horse in the Darkness", which is on display, is a short compilation of Yutaka Haniya, a "work" with illustrations by Komai. Komai, commissioned by Haniya, carefully reads the novel and contains illustrations that visualize the worldview.
While saying, "I didn't know the name Koetsu Tetsuro," Bunzuki-san's bookshelf seemed to have "black horses in the darkness" lined up.
"It wasn't a special book, but I found it at a secondhand bookstore when I was a student and bought it by accident."
Did the genre be different, but there was a connection attracted by talent and talent?
/2018/11/P1090120-1024x768.jpg "alt =" "width =" 1024 "height =" 768 "/>
Since there was no tradition of copperplate engraving in Japan, Komai learned the technique on his own. There is no studio because of the new genre, that is, no craftsman. For this reason, when publishing the poem book "Maldrool's Song", Komai himself used a press machine to print more than 2,000 images for the publication of 350 copies. The exquisite balance of poetry and painting seems to be related to the artist's "handmade" one by one.
"I feel the power beyond the relationship between poetry and painting. I was drawn to the fact that the relationship between the master and the slave was not solidified and opposed."
Mr. Fumizuki recited one of the bulbs, "The Bulbs," selected from "Kandendo Rie".
After that, talks with curators and poetry reading continued, and I feel that the distance between Fumizuki and Tetsuro Komai is getting closer.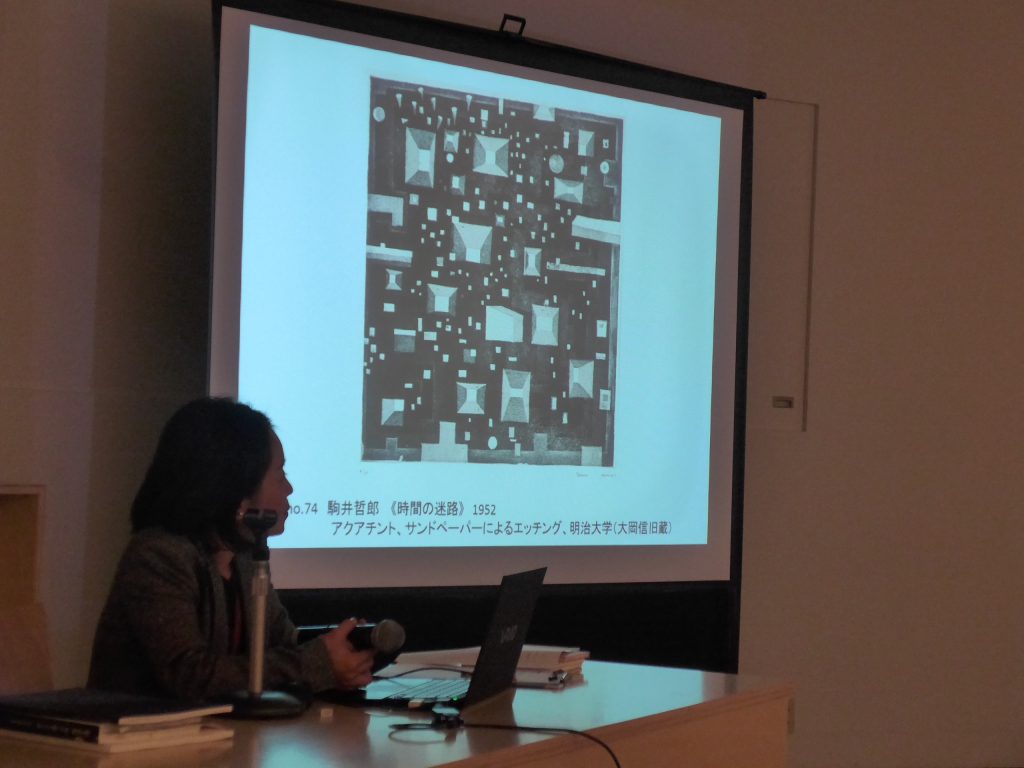 Finally, the work of Komai chosen by Fumizuki was "The Maze of Time" (1952).
He wrote a new poem for this picture and read it himself.
The poem includes Komai's text from the catalog of the exhibition. There is such a fun way to write poems, and it feels a little lower.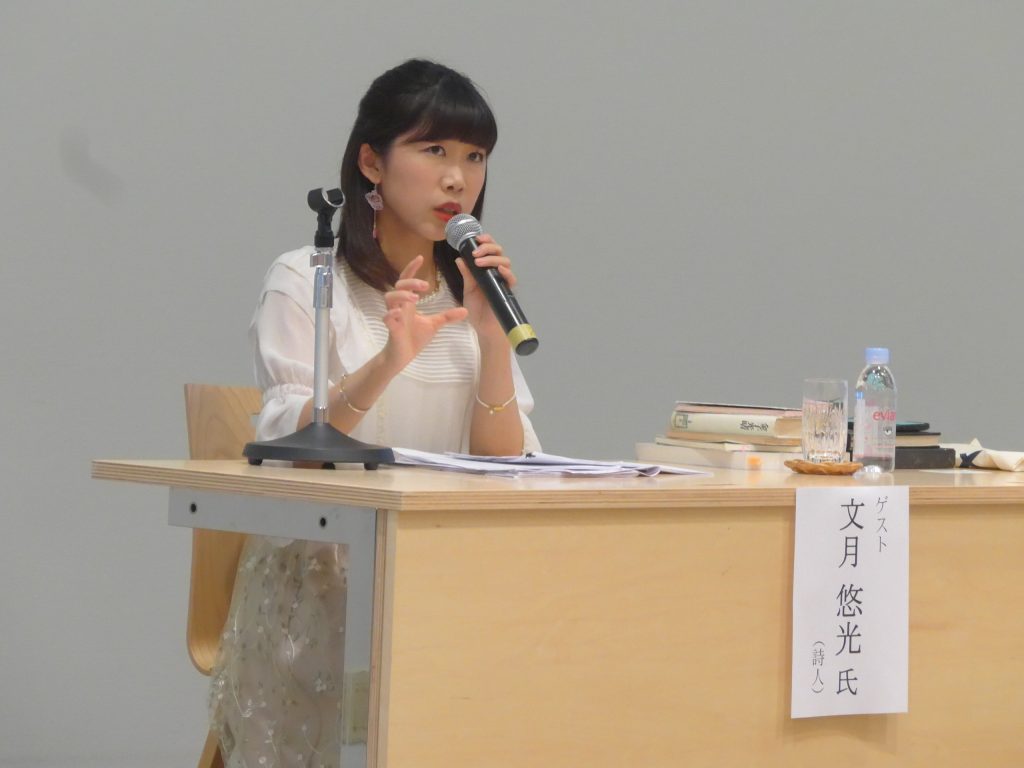 In the Q & A session, we will introduce one interesting theme.
In the Q Fumizuki's the same generation, I think there is cross-genre alternating current, such as Komai?
style = "color: # 800080"> I think it is wonderful that A copperplate printing has been established as a genre, but I feel a bit lonely because I feel that I have become separated from other genres. The ability to create new things beyond genres, such as "Experimental Studio", and the poetry art book published in that exchange more than 50 years ago, I think that it is amazing that I look back even now. You.
I myself do not want to limit my generation, and I would like to work with the works of writers and painters who have already died.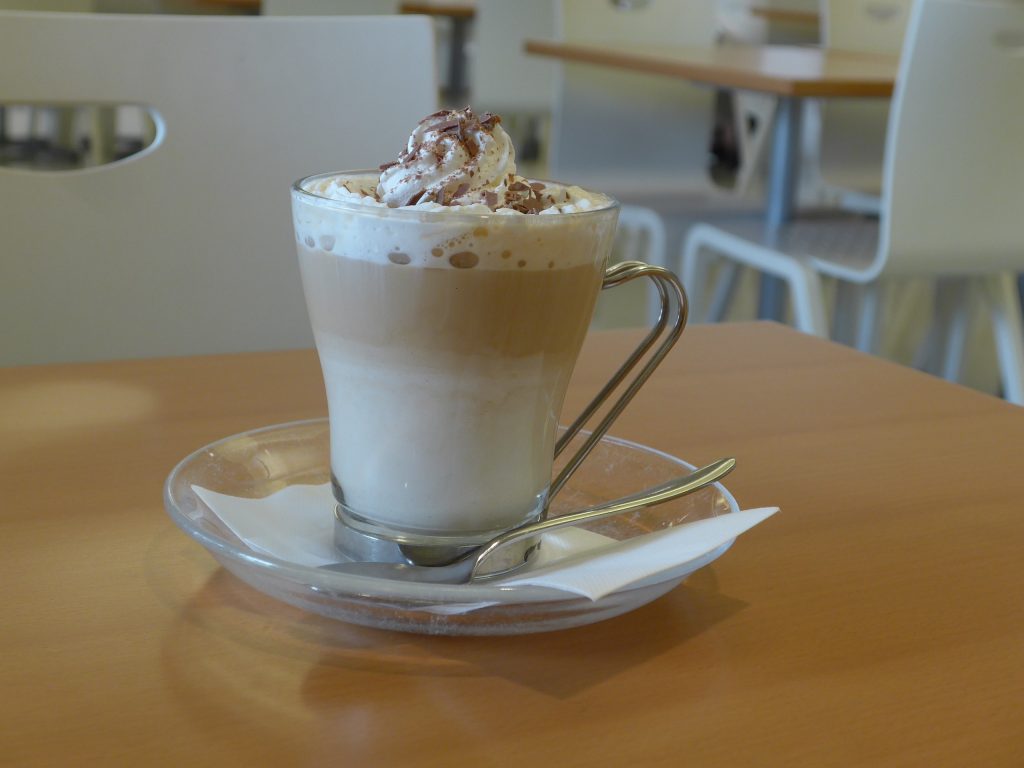 After the event, the exhibition limited menu "Monochrome Vanilla Cafe Mocha" will be exhibited at Café Kokurayama in the museum. Mix the crispy chocolate on the whipped cream and dissolve.
The taste of Paris that Komai longed for?
A symbol of Komai who continued to produce works with esprit while interacting with poets and musicians?
For the time being, I felt that it would suit the deepening autumn scenery.
《Tetsuro Komai-A Sparkling Universe on Paper》
Period: Until Sunday, December 16, 2018
Venue: Yokohama Museum of Art
Closed: Thursday
Opening hours: 10: 00-18: 00 * November 23 (Friday / holiday) until 20:30
(Admission until 30 minutes before closing)
Yokohama Museum of Art opened to the public on November 3, 1989. It is one of the largest art institutions in Japan. With its iconic architecture, featuring the expansive space of the Grand Gallery, the museum is made up of a total of seven gallery spaces, as well as an Art Information and Media Center that holds over 110,000 art-related books, ateliers hosting a wide range of workshops for children and adults, and many other facilities.
Located in the international seaport city of Yokohama, the museum focuses on collecting and showing modern and contemporary art created since the late 19th century, when the port of Yokohama opened, alongside many special exhibitions.

【Photo】
The outward appearance:KASAGI Yasuyuki / Grand gallery:KASAGI Yasuyuki / Exhibition room:TANAKA Yuichiro

Address

3-4-1 Minatomirai, Nishi-ku, Yokohama-shi, Kanagawa

TEL

045-221-0300

Business Hour

10: 00-18: 00 (last entry until 17:30) Closed on Thursdays and New Year's holidays

Map