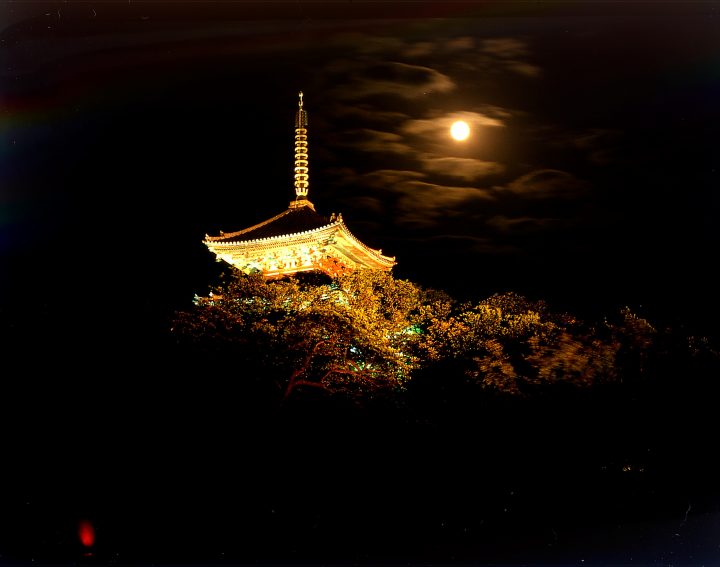 Born and raised in Yokohama, there are spots that have been familiar and attached to me since I was a child. Yamashita Park, Marine Tower, Minato-no-Mieru Oka Park, Nogeyama Zoo, Yamate's elegant Western-style building, beautiful Japanese garden Sankei-en, majestic temples and shrines in Kamakura, and the coast. When I was a child, I used to go to tourist spots with my parents on excursions. I've been able to play it often.
Yokohama has changed a lot since I was a child. In an elementary school social studies class, I remember my teacher pointing out Tokyo Bay near Sakuragicho and saying, "In the 21st century, a city will be built on this sea." At the time, I thought, ``No way, it's on the sea?! I think that new towns and old-fashioned townscapes, buildings, and valuable cultural properties should be carefully preserved.
Currently, I am performing mainly in the unit Shanti Dragon (Kongo, saxophone/Akemi Hayashi, piano, composition, arrangement) and Shanti Dragon 3, which includes cellists Christopher, Satoshi, and Gibson. Shanti Dragon's repertoire includes classics, popular songs, nursery rhymes, folk songs, movie music, popular songs, and originals, and performs original arrangements of these songs.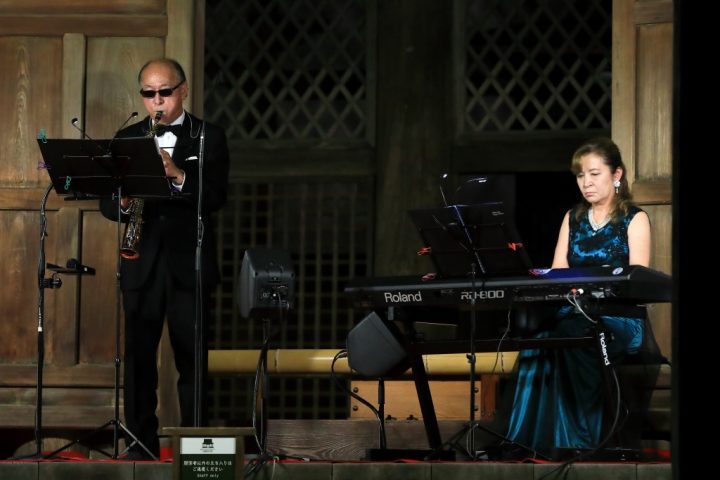 When I was a child, I went to my relative's house in Kamakura for piano lessons. I studied under my relatives Jo Matsutani (1910-1995) and Midori Matsutani (1943-1994), and was able to come into contact with various kinds of music, including classical music. Thanks to both teachers, I am grateful to be able to enjoy and play music that is not limited to genres. Mr. Jo graduated from the University of the Arts (Tokyo Music School), but he was a pianist who played a wide range of genres from classical to jazz, as he led a jazz big band after the war. He also taught vocals, and produced many famous jazz vocalists such as Nancy Umeki, Ayako Hosokawa, Takako Ueno, Teruhisa Togo, Shigeo Maruyama, Mizue Yamazaki, who won the Academy Award after moving to the United States. In the scene, Candies and Hiromi Ota were also instructed. One day, during a piano lesson, I was handed a sheet of music saying, "Yes, let's practice solfege today." I remember chanting with sight so as not to mistake the music score I saw for the first time. It was a new song by Hiromi Ota, and I found out later that the song was on a TV song program (laughs).
Mr. Midori is also a classical pianist who graduated from the University of the Arts and Berlin University of the Arts, but after returning from Germany, he also put a lot of effort into performing contemporary music. Among the many recordings, the LP "Rhapsody in Blue / Midori Matsutani Plays Gershwin" released in the 1980s (CD release in 1997) is one of my favorite albums. It is a performance that beautifully expresses the wonderful world of Gershwin, which has both classical and jazz atmospheres.
By the way, a moon-viewing party will be held at Sankei-en this fall as well.
Sankei-en is a charming Japanese garden, beautiful seasonal flowers, quaint old architecture is a national important cultural property, Yokohama city designated tangible cultural property building is also included. The trees, flowers, buildings, and spaces in the park are filled with an aura of good vibes, and every time you visit, you will be immersed in a soothing and happy mood. The harmony between nature and architecture is also wonderful. The mid-autumn moon that appears above the three-storied pagoda from Rinshunkaku, the beauty of nature and human-made architecture nestling together is so beautiful that it cannot be expressed in words. was.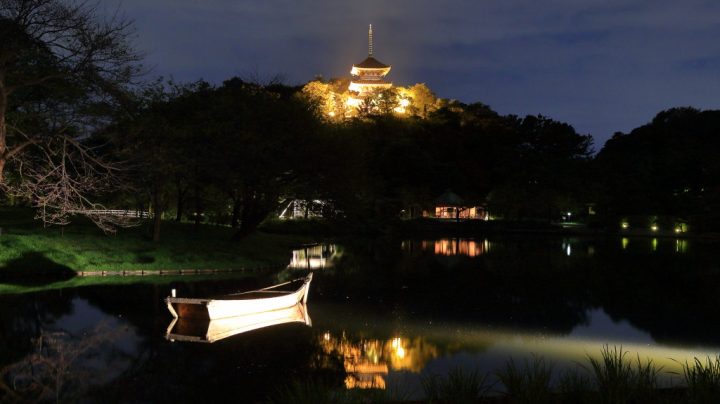 This year's Sankeien Moon Viewing Festival will be held from September 18th to 23rd. People of all ages, from children to the elderly, come to the moon-viewing party every year. For everyone to enjoy, this year we will also play songs related to the moon, nursery rhymes, movie music, anime songs, J-pop, Showa Kayo, and Hiromi Ota's cotton handkerchief. This year's moon-viewing party will be performed at Shanti Dragon, and the performance will start at 18:20 on the 21st (Tuesday). Please join us for this collaboration of the Japanese garden, the moon, and music.
【profile】
Shanti Dragon 3 / Shanti Dragon Trio
Shanti means "inner peace" in Sanskrit. The Dragon is not the dragon that is seen in the West, but in Asia it is a dragon that symbolizes powerful and auspicious power, and is the god of water.
Shanti Dragon was originally a duo of Akemi Hayashi on piano and Soukon Kongo on saxophone, but when cellist Christopher Satoshi Gibson, who was also a student of Hayashi's piano and solfege, joins, it is written as Shanti Dragon 3.
This trio began with the Yokohama Museum of Art concert at Yokohama Art Live 2003, the CD/Yume Futaya composed entirely by Akemi Hayashi in the same year, and the recording. In addition, he has actively performed volunteer performances at facilities for the disabled.
Christopher Satoshi Gibson left Japan and went to college in the United States to temporarily suspend his trio activities, but after returning to Japan, he participated in Shanti Dragon again in 2019 while he was active in various scenes. She resumed her activities as Shanti Dragon 3.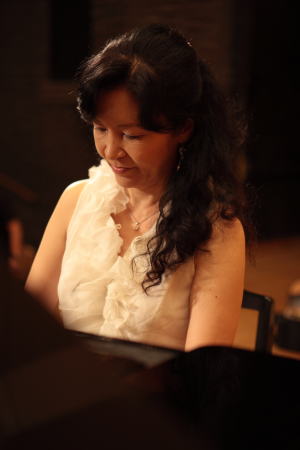 Akemi Hayashi (piano, composition and arrangement)
Pianist, composer, arranger. Born in Yokohama, currently living in Yokohama.
From an early age, he started playing piano and electronic organ, studying piano under Mr. Minoru Matsutani and Mr. Midori Matsutani, who are also relatives. Under the guidance of both of them, he came into contact with a wide range of music, from classical music to contemporary music, popular music, pops, and jazz, and started performing while attending music college.
After graduating from a music college, he worked as a music school instructor at the Yokohama Contemporary Conservatory, and as a solfeggio instructor at the Yokohama Municipal High School Brass Band Club before establishing the Maple Piano School (Isogo Ward, Yokohama City). Taking advantage of his career in piano instruction and experience as a player, he strives to teach younger students from infants to adults.
Concerts hosted by Yokohama City, Yamate Seiyokan (British Pavilion, Berwick Hall, Bluff 18th Pavilion) Sankeien "Moon Viewing Concert", Yokohama Jazz Promenade, etc. Performing in various places, mainly in halls and live houses in Yokohama and Tokyo. there is He often performs original songs, and has released more than 100 original songs, including those recorded on CDs. Released 5 CDs so far.
Volunteer performances are also actively participating.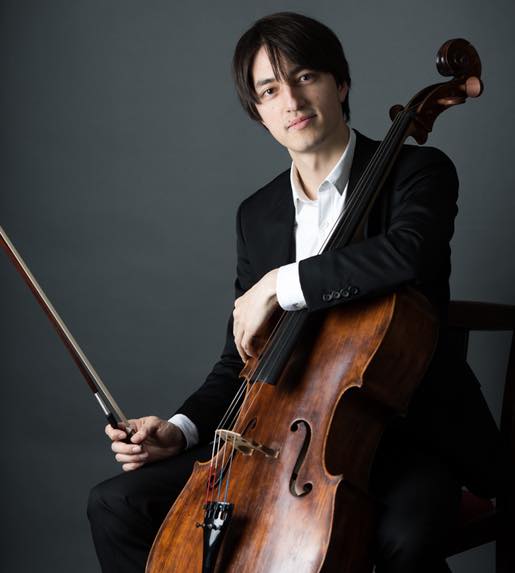 Christopher Satoshi Gibson (cello)
Born in Michigan, USA. Started playing the cello at the age of four. Participated in summer programs at Tanglewood, Indiana University, and Interlochen while in high school. After graduating from Yokohama International School, entered Yale University in 2005, where he double majored in philosophy and political science.
While still in school, he passed an audition with cellist Aldo Parisot and studied cello under Ole Akahoshi, the youngest student of Pierre Fournier and a longtime assistant to Janos Starker, at the Yale School of Music. He also studied chamber music with Wendy Sharp of the same conservatory. In 2009, he won a prize at the university's FOM competition. In the winter of 2012, when he won the Newcomer Audition of the International Association of Musicians, he was praised by violinist Narimichi Kawabata, one of the judges, as "a performance that allows you to enter the world of music".
In 2017, under the sponsorship of the NPO Emotion in Motion, the "BACH Solo" unaccompanied cello recital series was held at Minato Mirai Small Hall, Tiara Koto, Tokorozawa Muse, and Suntory Hall "Blue Rose". Co-starred with violinist Ikuko Kawai at TV Tokyo's "100 Years of Music" program recording and concert, BLUE NOTE TOKYO (2020), Cerulean Tower Noh Theater (2019), Mitsukoshi Theater (2018). Active mainly in Tokyo, Kamakura and Nagano.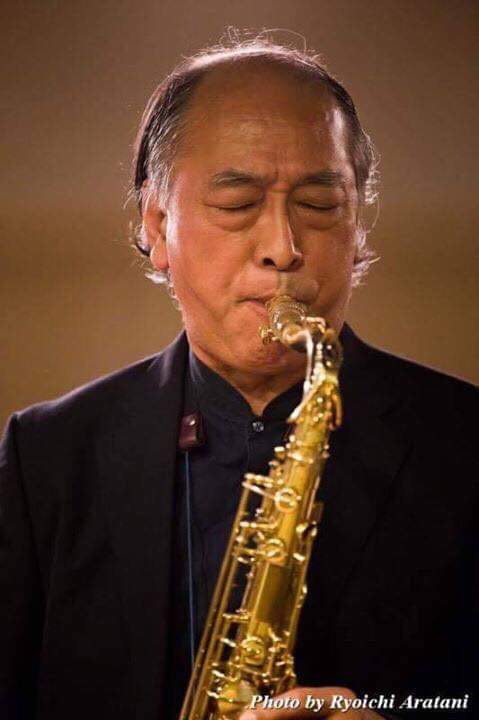 King Kongo (sax)
He started playing the saxophone at the age of 12, studying under Hisahisa Muta (Chairman of the Japan Brass Band Teachers Association, former head of the Metropolitan Police Department Band) and Minoru Suda (Professor at Musashino Academia Musicae). Joined Yanagisawa Wind Instruments Co., Ltd., one of the world's three major saxophone manufacturers.
After working as an instrument manufacturer, researcher, instructor, and manager, he became independent. In 1995, he established Congo Saxophone Studio and started saxophone repair, lessons and performance services. 1997 Released CD /OUR TRIBAL MUSIC, Jazz Life Magazine Best New Artist Award. Received an appointment from the Yokohama City Board of Education and worked as a lecturer at Yokohama Municipal Minato Commercial High School for four years. In addition to concerts and recordings at Yokohama Museum of Art Hall, Minatomirai Hall, Kanagawa Prefectural Ongakudo, Sankeien, Yamate Seiyokan, etc., Yokohama City University Hospital, and facilities for the disabled and welfare facilities in Tokyo, Kanagawa, Kyushu, and Hokuriku. They are also actively involved in volunteer performance activities.
He has performed with top Japanese musicians, as well as musicians visiting Japan from England, Italy, Switzerland, and France. Bokusei Mochizuki, holder of intangible cultural properties, and others. There are also many collaborations that transcend genres. He also teaches a citizen saxophone ensemble that plays mainly Bach's chorale.
Several CDs and DVDs have been released so far.