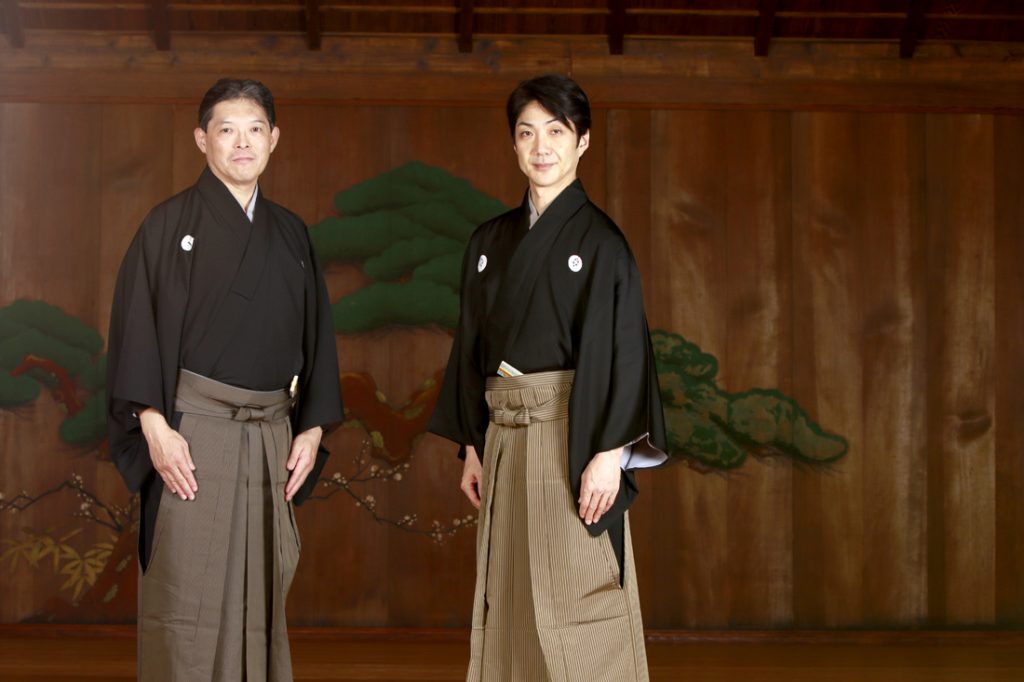 traditional culture
2019.02.28
Kanta Nakamori x Mansai Nomura "It's fun to know! The world of Noh and Kyogen" -Part 2-
(Please note that this page was created using Google's automatic translation service and understand that because of this, its translation may not necessarily be accurate.)
In the second part of the dialogue between Mr. Kanta Nakamori and Mr. Mansai Nomura, they talked about their thoughts on the present and future of Noh and Kyogen, which are highly evaluated overseas.
* You can read the first part from here >>
Nomura My grandfather and dad loved overseas, so I have a lot of overseas performances. I went to Beijing and Paris this year, and I have plans for next year and next year.
However, I feel that there is not much difference between Japan and overseas these days.
Nakamori That's right. If you don't bring something that Japanese people find "interesting", overseas people will not be happy. In that sense, the current situation is that we have no choice but to choose songs that are entertaining. As is the case with Takigi Noh, songs that can appeal to the movement and gorgeousness are more pleasing than listening to the lines firmly in a quiet world.

Nomura Kyogen is a dialogue drama, so subtitles are added as a matter of course overseas. In that case, the translated word is basically modern, even if it is a little old-fashioned. You don't have to force it to be confusing (laughs). Therefore, you can understand the details rather than performing in Japan. So, before, "BoshibaI chose songs that I could understand with movements like "Ri)", but recently I've been bringing in songs that are centered around lines such as "Kawakami" and "Tsukimi-zato".
Nakamori Certainly, it's an interesting song as a script.
Nomura It is a song with the theme of blind people, and although there is little change in sound just by the sound of a wand, the story is deep. Sometimes people ask me, "Is this a new work?"
Nakamori Even at the "Noh Knowing Party" that I sponsor, there were many songs that I avoided saying "not for beginners", but it has changed since I started to put out subtitles. For example, "Kagekiyo" has few movements, but with the help of subtitles, you can enjoy the fine movements unique to Noh.
The same can be said overseas. Many of the flashy songs with movement are more like reviews than stories, so from now on, it's "possible" to bring songs that you can enjoy the story.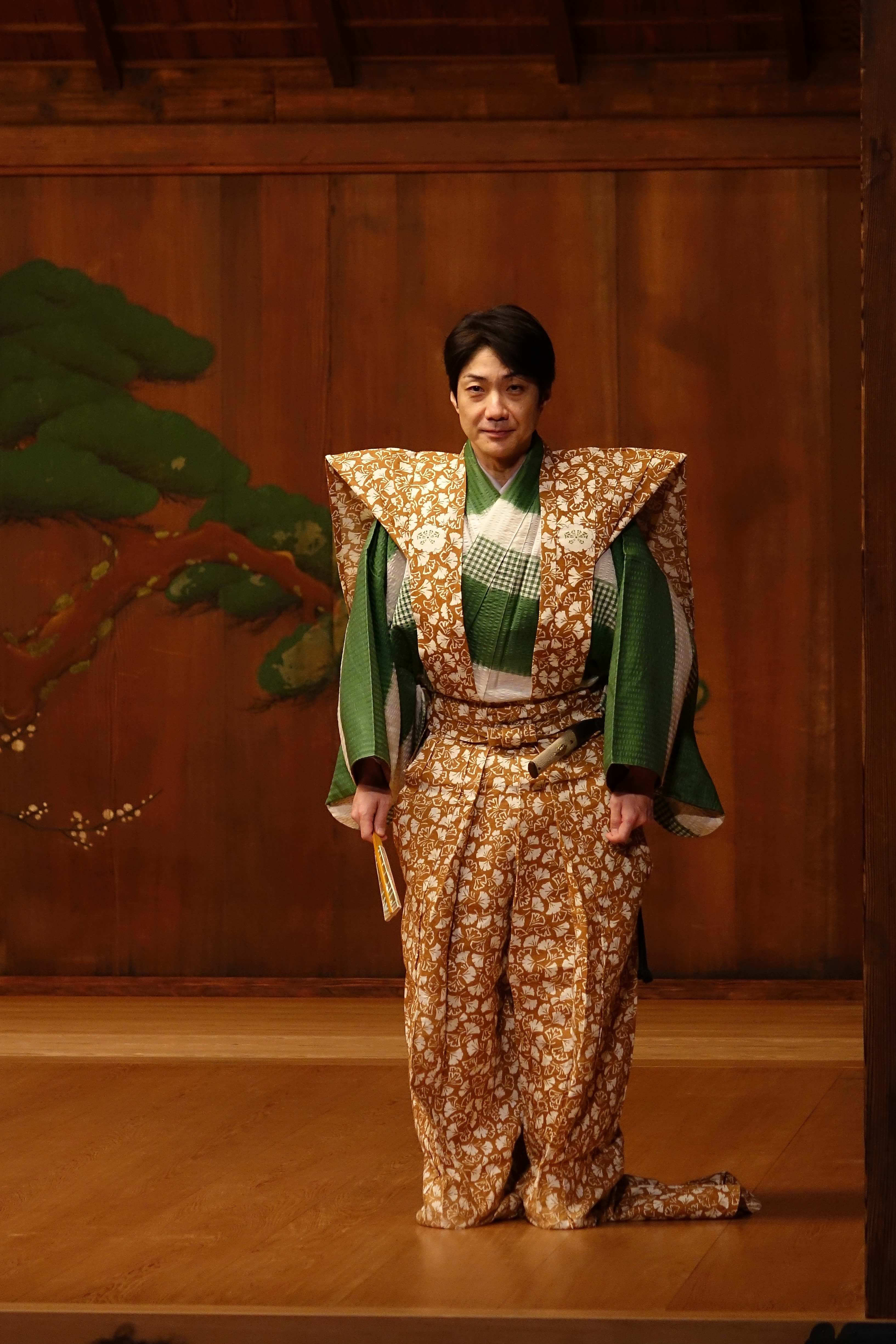 Nomura : Whether I collaborate with other genres or go abroad, I'm not just doing it based on my own values, it makes sense to see Kyogen in the cultures of other countries. ,I think. Sometimes what I have thought is valid, and sometimes it is not. I also think it is necessary to go abroad to see what I have done so far.
For the performance of Noh NakamoriSince it requires a lot of manpower, there are also problems with profitability, so there are not many opportunities to go abroad. However, if it is meaningful for cultural exchange, I would be happy to take on the challenge, even if it is a lunch box.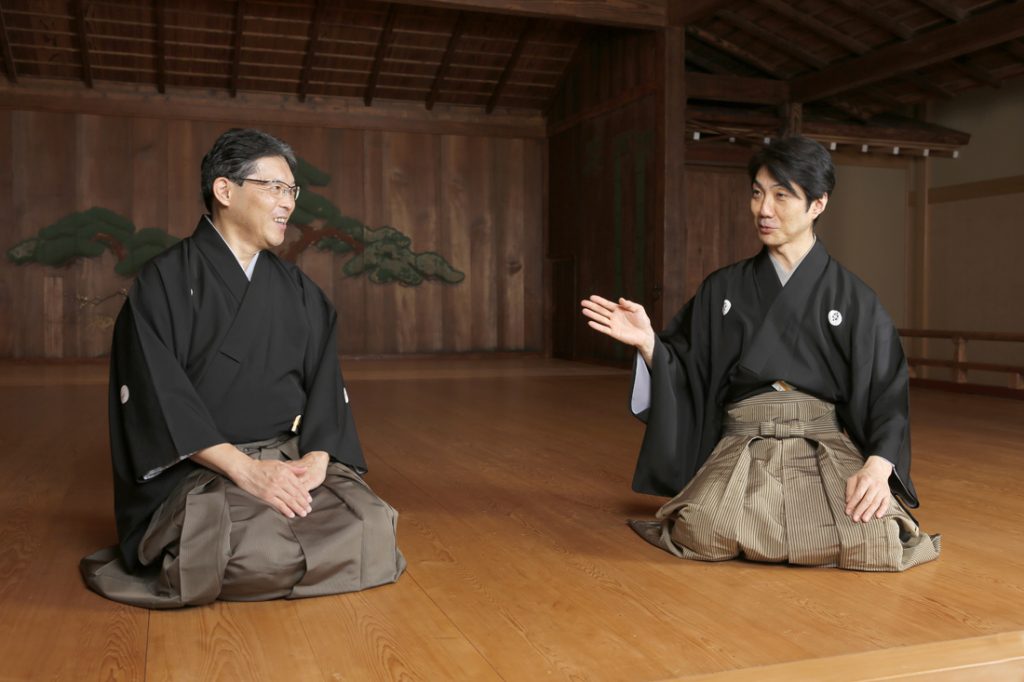 Nomura: Even overseas, these days, just playing a classic isn't enough to get you interested. Ideas such as playing "Sanbaso" in the third generation, partnering with contemporary artists, and creating new works that incorporate the "local things" of the country are required.
There are a lot of interruptions now in preparation for the 2020 Tokyo Games, but I would like to continue working on new works. Since we live in classics, we want to replay our self-confident work as many times as we want, but we also have a strong desire to create a new work that is comparable to previous songs.
Nakamori I'm wondering if I can do a proper Noh out of the frame of "Noh stage". My dad is so innovative that he says, "The pillars of the Noh stage are just hard to see, so you should set up a laser beam." During the bubble era, I even put lights on the acrylic stage to play Noh (laughs). I am also wondering if it would be possible to create a stage that pursues clarity by utilizing lighting and projection mapping. Traditional and standard things are also importantHowever, as an entrance to Noh and Kyogen, I think it would be nice to have a production that the general public can enjoy as a form of entertainment.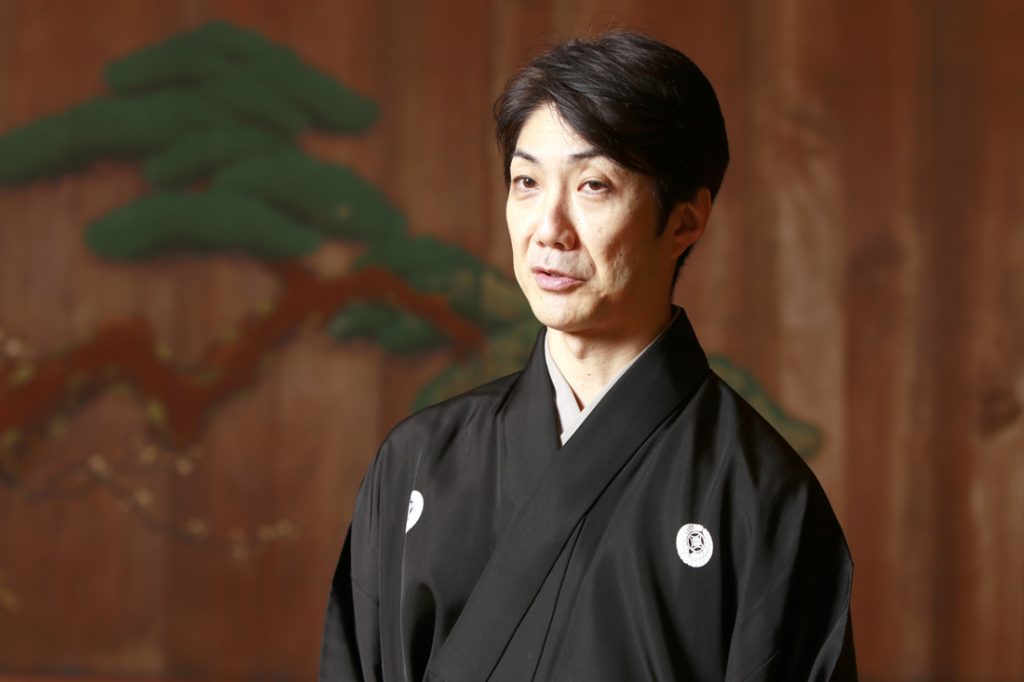 Nomura The theme of the 2020 Tokyo Games is "reconstruction." There is also a festive nature as a sports festival, but in the first place, "festival" means thinking about "death" at the same time as "living alive". In the press release, I used the word "requiescats and rebirth", which is also the world view of Noh Kyogen.
Nakamori Obon festival is also an event that returns to our ancestors, so it can be said that it is the world view that underlies the Japanese people.
Nomura That's right. As a result of the continuous life and death, we are living in the present time. I think that gathering the living human beings and fighting their vitality is a suitable figure for a sports festival. Based on these ideas, I take in the ideas I have cultivated as a Kyogen master and share them with new creators while proceeding with the project. Some are in the high-tech field, while others are good at entertainment. Aiming for a lofty thing, it does not mean that "only those who understand it need to know", so in a sense, I am thinking of expressions that anyone can understand.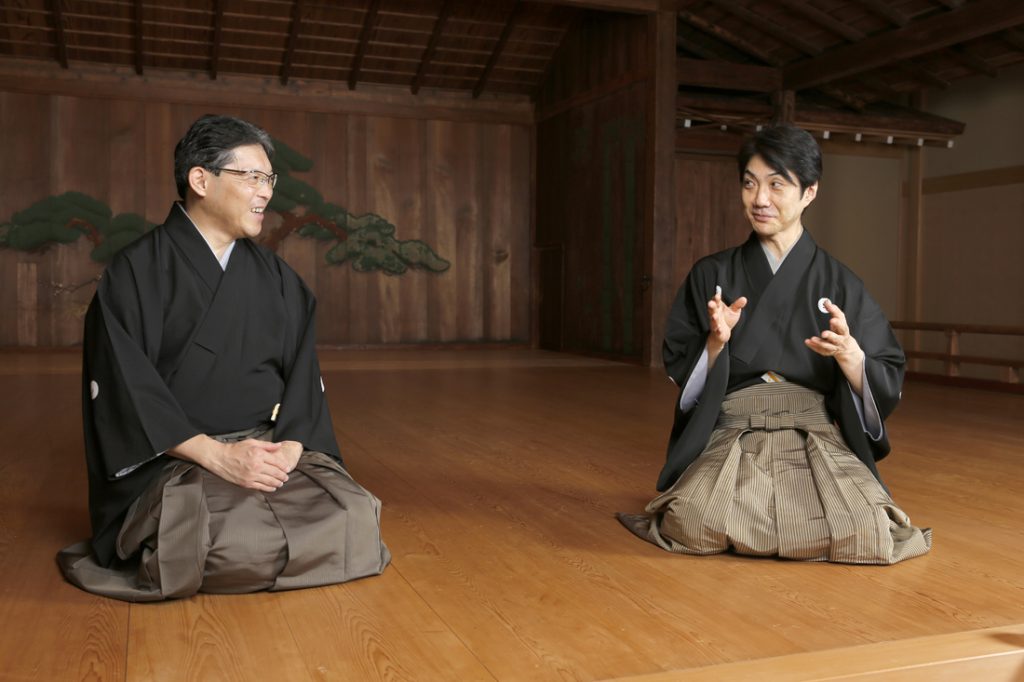 ; "> Nakamori Finding the greatest common divisor may be the most difficult.
Nomura That's right. How much spirituality and core can be expressed in entertainment. It's not awkward, but I'd like to add a part that makes me realize, "Oh, that's what it is."
《Special gift》
Mr. Kanta Nakamori and Mr. Mansai Nomura gave autographed colored paper to the readers of Magcal Dot Net!
We will give you a set of 2 pieces, so please apply by sifting!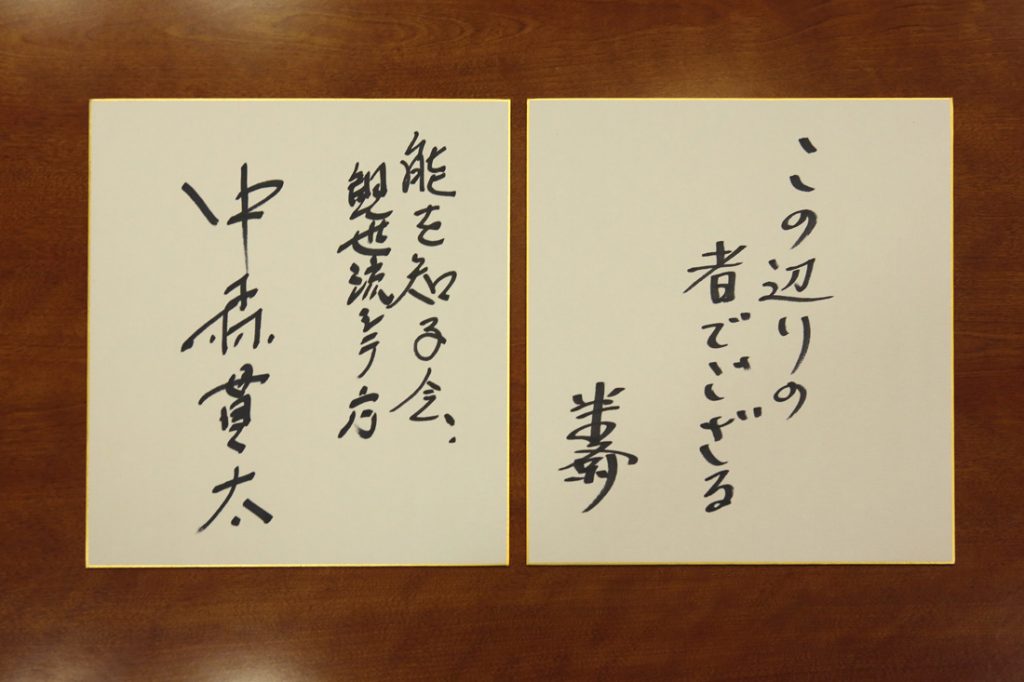 ***********************************
The application for the present has been closed. Thank you for many applications.
[Application Summary]
Autographed Shikishi by Kanta Nakamori and Mansai Nomura will be presented to one person as a set of two.
If you would like a gift, please apply from the following two methods. It is OK to apply from both. In that case, the chances of winning are doubled! We are looking forward to your application.
[Application deadline]
Until 24:00 on Sunday, January 20, 2019
① From the application form
【Application method】
Apply from the application form belowPlease.
[Eligibility / Conditions]
● Those who have a valid e-mail address.
[Lottery / Winning Announcement]
Winners will be announced when the gift is shipped.
② From Twitter
【Application method】
1. Follow the official Twitter account of Magcal.net, "@MAGCUL".
2. From the official Twitter account, please retweet the post for gift application with "#Magcal Shikishi" posted during the application period below. The application is completed above.
[Eligibility / Conditions]
● Those who have a valid e-mail address.
● Follow the official Twitter account of Magcal.net, "@MAGCUL".
* If you cancel the follow-up before the announcement of the winning, the application / winning will be invalid.
● Retweet the application tweets posted from the official Twitter account within the application period.
* Please be sure to make your account "public" before joining. If your account is private, you will not be considered a participant.
* If you have set to reject direct messages, you will not be considered as a participant.
* Quote retweets are not considered participation. Please join us by retweet.
● Accounts that do not have a profile, user name, self-introduction, icon, etc. may not be considered as participating due to Twitter specifications.
● Accounts that do not take frequent actions (tweets, retweets, likes, replies, etc.) may not be considered as participating due to the specifications of Twitter.
● After opening a Twitter account, an account that has not undergone the process of confirming that the email address belongs to the person is considered to be a participant due to the specifications of Twitter.It may not be available.
[Lottery / Winning Announcement]
Winners will be notified after the campaign period by direct message on Twitter from the official account of Magcal.net.
Winning announcement will be replaced by direct message winning notification. At that time, we will confirm the applicant's name and gift delivery address, so please reply to the direct message as it is.
* The personal information you receive will not be used for any purpose other than this campaign.