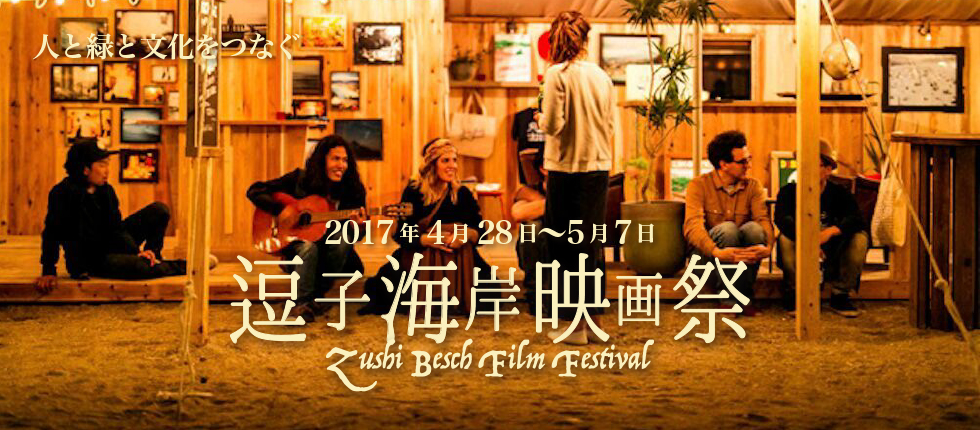 Image
"Zushi Beach Film Festival"--the performance event of travelers which connects people and culture.
What specifically are the film festival and activities through a year?
The activities are that Cinema Calavan, which is a cinema and a cafe and is a local base of CINEMA AMIGO are making connections with outside. Zushi Beach Film Festival held once a year is the event which visitors experience various connections we have made inside and outside Zushi in some ways such as films, artworks, workshops; so to speak, watching films is not only the main thing in this film festival. It is rather an event of culture experience.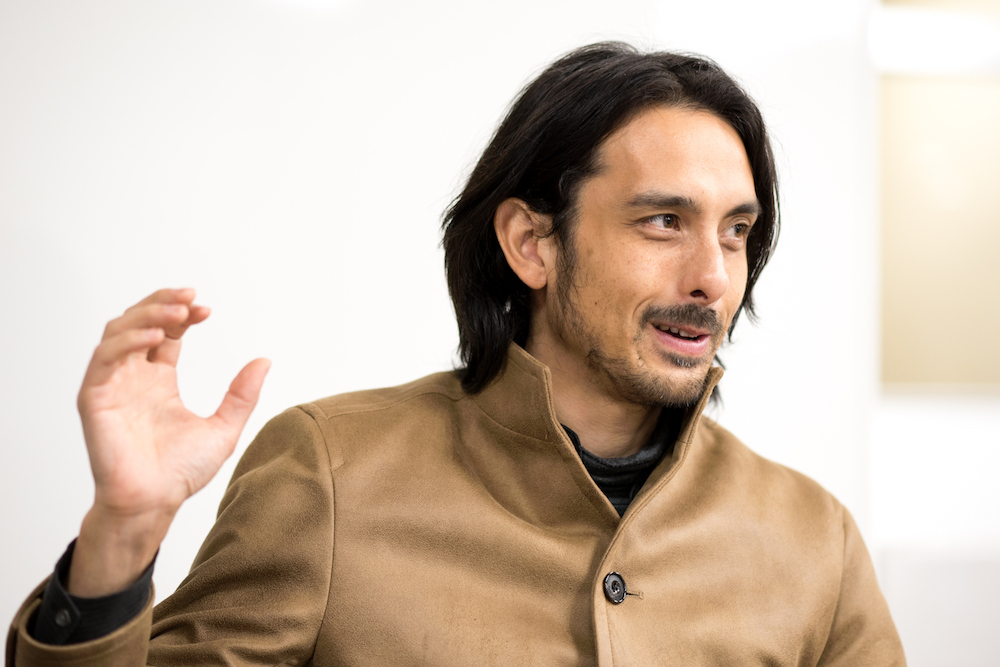 As all the members like travelling, I had a concept of "travellers having a hub" from the beginning. I think usually, connections we have made through travels don't last longer, but if we have a hub which we can foster by ourselves, we can bring back what we have got through travels and reflect that to the hub, or invite people we met during our travel, which makes the difference of intimacy when we interact with each other. By doing those things, we can make our connections stronger.
What was the trigger that started interregional exchanges between Basque?
A Japanese who wanted to spread Basque culture to Japan visited CINEMA AMIGO and asked if there was a chance to show video works he or she created with local movie writers in Japan, which was the beginning of our relationship. So I held events such as film screening in CINEMA AMIGO and inviting people in Basque there. Then, Rai Shizuno in Cinema Calavan had a chance to go to San Sebastian for an interview, which was when our interaction began.
Since we invited people in Basque from around 2010, we made a booklet . When he showed the booklet to the director of San Sebastian International Film Festival, the director said, "If they come here, how about doing Cinema Calavan during the film festival?". So in 2013, about 25 or 26 people including 10 core members of Cinema Calavan participated in San Sebastian International Film Festival from Japan.
Since when we made friends with much more local people there, artists or cooks from Basque started to come to Zushi Beach Film Festival every year.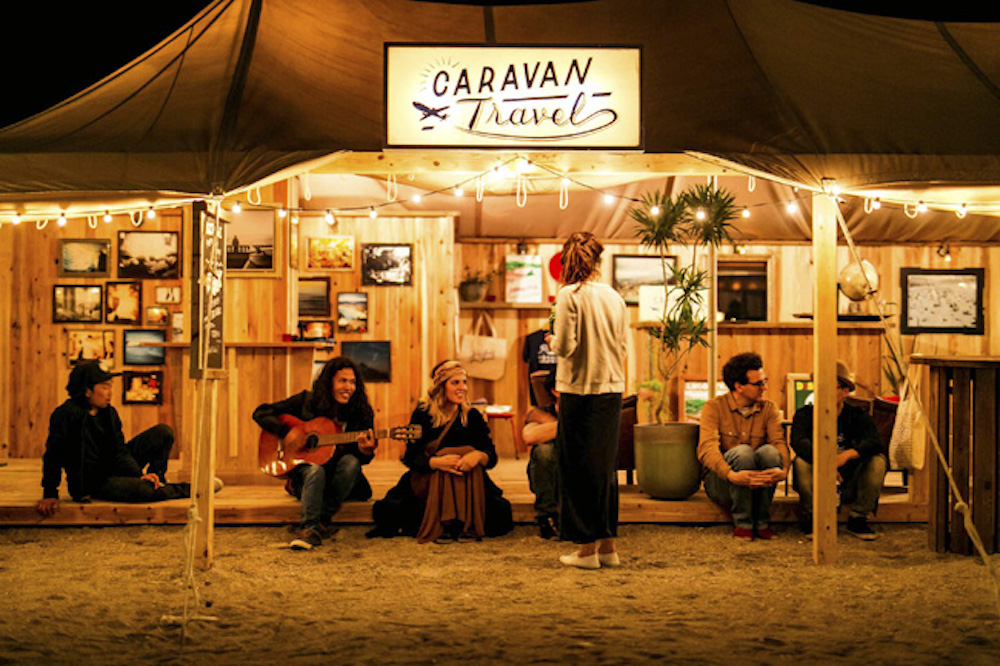 (c) ZUSHI BEACH FILM FESTIVAL
How about Indonesia?
Ryu Kuribayashi, who is a modern art writer and also a member of Cinema Calavan moved his base to Jogjakarta in Indonesia. Jogjakarta is where art scenes are very prosperous, so we can make various connections. Besides, prices there are cheap,so It is easy to make a big work in Jogjakarta.
After Cinema Calavan was invited to "ART JOG" which is the modern art festival in 2015, local people began to come to Zushi Beach Film Festival. Future artists such as assistants of Ryu and students come to Japan for study, show their works, and help arrange a venue during the festival.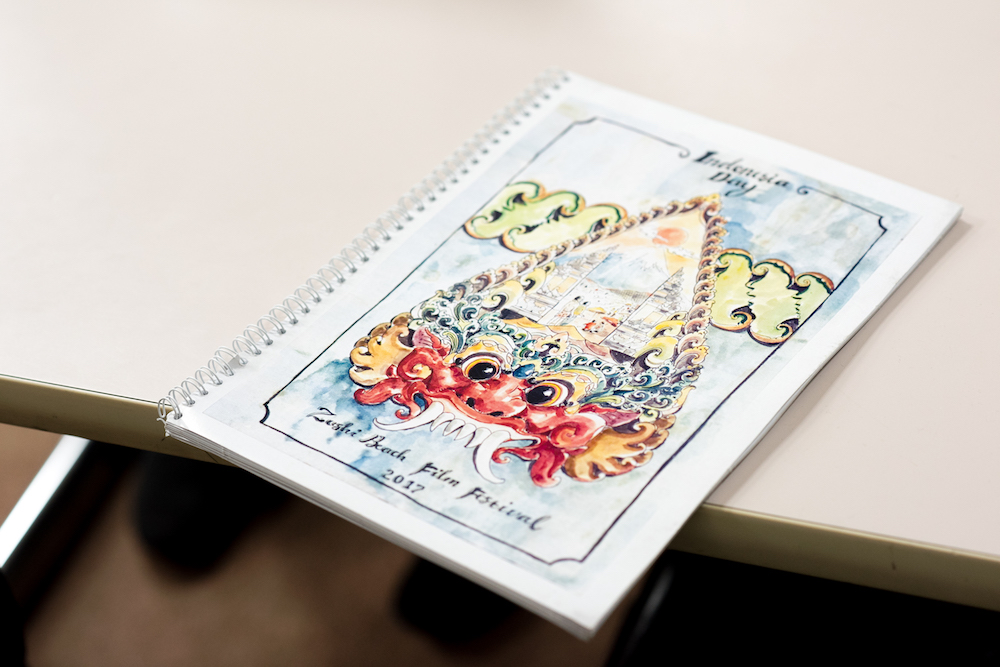 "Sister city as we like", the phrase we often use is an expression that people in route culture of NPO in Kamakura started to use, but we consider its meaning not as connecting Japan and Spain, or Japan and Indonesia, but as locally connecting such as Zushi and San Sebastian, Zushi and Jogjakarta. In Japan, there are some regional relationships such as Shirakawago and Yubari, or Nozawa, and I want to extend this kind of relationship to any regions inside and outside Japan.
Creating the innermost attraction in regions
How does Cinema Calavan make atmosphere while travelling?
Cinema Calavan is mainly asked to do two things; town revitalization, or to perform as an artist group and it depends, but basically I keep in mind to create something together with local people, and make use of anything in every region.
When we went to Shirakawago, we made our screen with Mino Japanese paper which is a traditional craft, and made the screen frame with materials used for a Gassho style. We also provide an innovative menu for local people while using local foodstuffs, and suggest new food styles to them.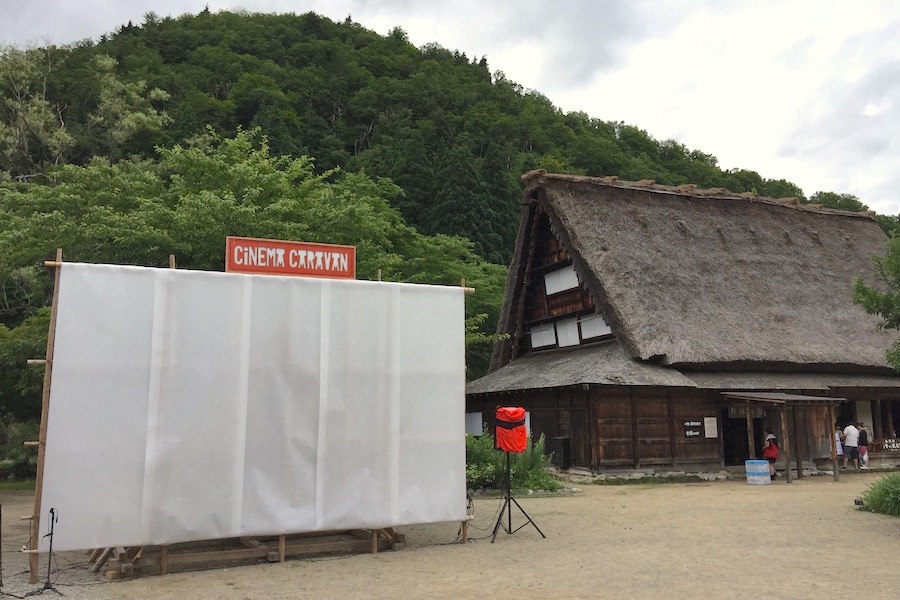 (c) ZUSHI BEACH FILM FESTIVAL

On the Echigo-Tsumari Art Triennial, we were asked to make a work with a motif of local marginal village, so we made an installation and showed a film, and performed.
How about the San Sebastian Film Festival?
Though it is an introduction of Japanese culture in name, we have a concept of introducing culture of regions in Japan which Cinema Calavan has connections with, and we create a venue by collaborating with local artists. Besides, we invited artists we made connections with when we as an artist group went to the art event "SONSBEEK" held in the Netherlands last year, which made interaction between these three cities.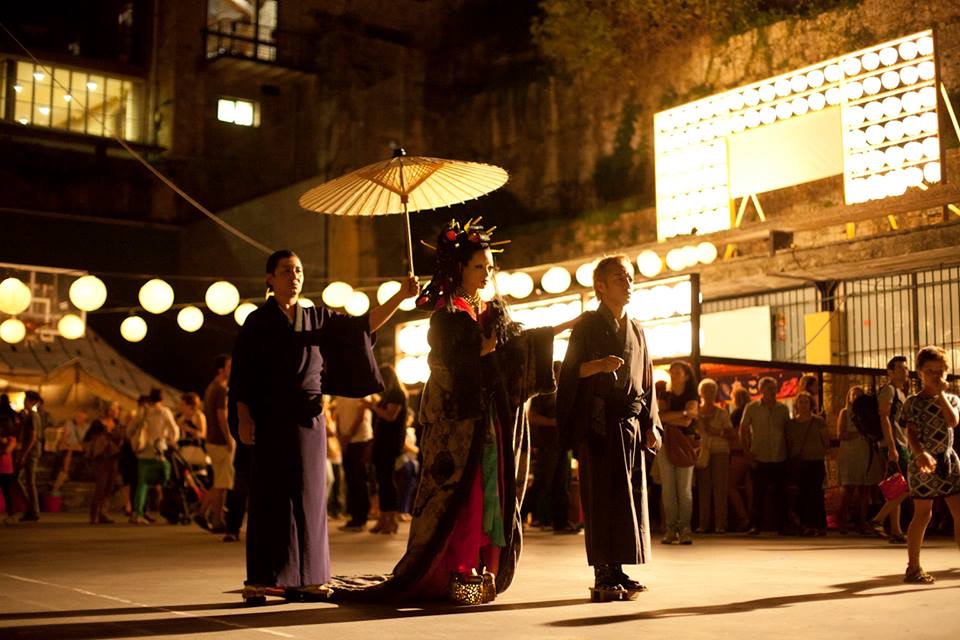 (c) ZUSHI BEACH FILM FESTIVAL
The venue of Zushi Coast Film Festival has very sophisticated atmosphere, and there are many visitors from Tokyo.
I think about 80 percent of them visit there to experience a little bit unusual atmosphere as if they come to a foreign amusement park. We are strongly particular about making the venue, and we do not want to make commercial atmosphere filled with company logos, or like in a school performance. Therefore, we are making the venue with only sponsors which agree with our idea.
We are happy that even just a little percentage of people who visited here with such an image get culture and messages of other regions from this festival and bring them back.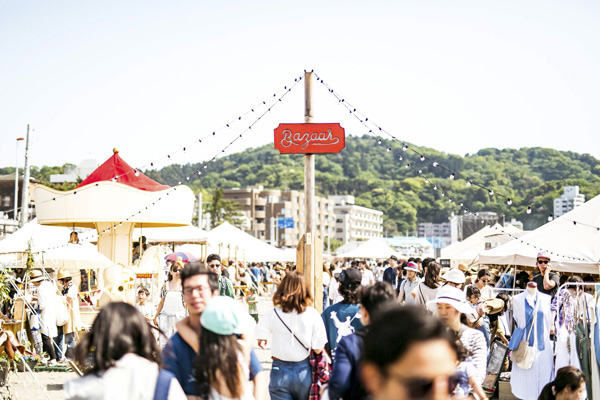 (c) ZUSHI BEACH FILM FESTIVAL

What do you want to tell people the most?

Cinema Calavan always has a key concept, "playing with the earth". For example, Zushi Coast Film Festival sometimes experiences a direct hit of storm, but overcoming such an accident one by one becomes the radical strength of living of people involved, which also becomes the strength of our community.

I hope that we want to make our city attractive not only by introducing culture, but also by practicing what other regions are doing in Zushi, and spreading efforts to improve local living environments.

Related URL:http://zushifilm.com/