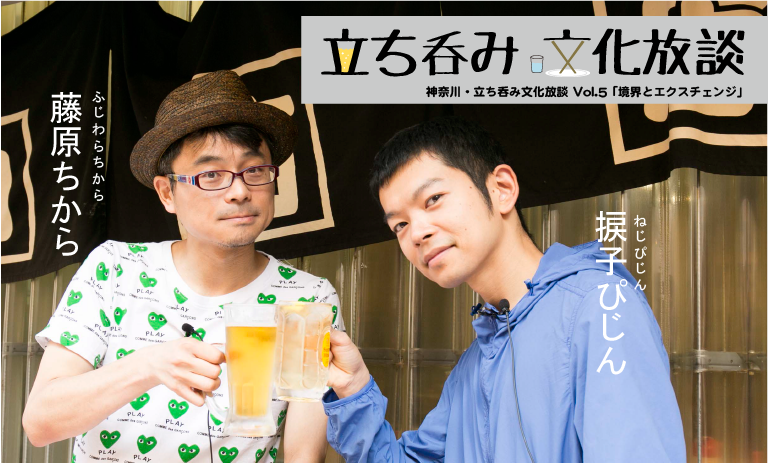 2015.5.8 TEXT: Akiko Inoue PHOTO: Masamasa Nishino
Chikara Fujiwara | Chikara FUJIWARA
Editor, critic, presided over by Bricola Q. Born in Kochi City in 1977. Moved to Tokyo alone at the age of 12 and started living alone in Tokyo. After that, after working for a publishing company, he became free. In charge of editing Musashino Art University public relations magazine "mauleaf" and Setagaya Public Theater "Caromag". Co-edited with Riki Tsujimoto, "Book Guide as <Architecture>" (Meigetsudo Shoten). Co-authored with Kyoko Tokunaga, "The Strongest Theory of Drama" (Asukashinsha). Currently living in Yokohama. A member of Theater Center F. In addition, he has created "Theatrical Quests" in various places, where he walks around cities and peninsulas with a gamebook in his hand.
Screw Pijin | Pijin NEJI
Born in Akita Prefecture in 1980. From 2000 to 2004, he belonged to Dairakudakan and studied under Akaji Maro. Based on the peculiar physicality cultivated in Butoh, he will present solo dance with a microscopic approach to his own body and choreographic works dealing with the body materially. In recent years, he has been observing the system in which songs and dances are born, taking out the elements accumulated in the individual's body and life, and trying to invent contemporary dance as a folk performing art in modern cities. In 2011, he won the Yokohama Dance Collection EX Jury Prize and the Festival / Tokyo Open Call Program F / T Award. Appeared in works by Joseph Naji, FAIFAI, ASA-CHANG & Pilgrimage, Toshiki Okada, etc.
l wp-image-15682 "height =" 240 "src =" http://magcul.net/wordpress/wp-content/uploads/2015/06/6f2897df1be46f392098e5bc2f1bd3b1.jpg "width =" 800 ">
This time, we will have a talk with a butoh dancer and choreographer, Mr. Neji Pijin, at Shimoda Shoten, which is a 2-minute walk from Tsunashima Station. Chikara Fujiwara, a navigator, rushed to Japan the day after returning to Japan from the production of her stay in Manila. Mr. Neji was worried that Mr. Fujiwara's complexion was purple at the time of the meeting, but he himself said that he was hungry after completing his research trip to Kyoto-Korea-Fukuoka. The theme of the standing-drinking culture talk Vol.5 sent by these two people is "Boundary and Exchange".
Chikara Fujiwara (Fujiwara) : No, it seems that Japan is already in the air conditioner.
Neji Pijin (hereinafter referred to as Neji) : It's quite hot today, though.
Fujiwara : Today's theme, but when you think of Mr. Neji, you cross the boundaries between dance and theater, and you also go back and forth between Korea and Japan, so you have the image of a "boundary." Also, when you go across countries and boundaries, you will be able to survive by exchanging something, such as currency exchange. I wanted to ask what Mr. Neji thinks about such boundaries and exchanges.
Neji : First of all, when it comes to "boundaries," Chikara-san didn't feel like he was on his way home from Manila.I'm sorry, but I've been hungry for a week … I've seen a lot of things in Korea and Kyoto, but I have indigestion of information. After watching contemporary art in Kyoto and the Miryang Arirang Festival in South Korea, I stopped by Fukuoka to meet my friend, Natsuko Tezuka. I threw it away. That's why I've been spending the past week without boundaries of internal organs. Today I'm going to eat Nukazuke, take lactic acid bacteria, and talk while segmenting the internal organs little by little.
Fujiwara : I see (laughs)
Then, do you want to toast for the time being?
Neji : That's right.
Cheers ~~!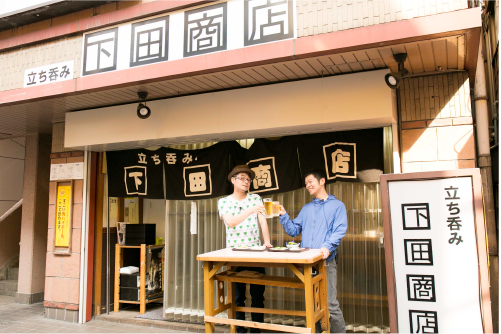 Fujiwara : Even so, moving is quite difficult, isn't it?
Neji : Especially since I can only see what's in front of me, I can't think of Tokyo when I'm staying and producing in another land. I'm making a Tokyo-based work right now, but I haven't taken what I did in Korea back to Tokyo and put it to good use.
Fujiwara : I am in exactly the same situation. While I was in Manila, I didn't feel like watching Japanese news.
Neji : So for the time being, do you enjoy Tsunashima here now?
Fujiwara : That's right (laughs)


At Shimoda Shoten, there is a tray right at the entrance, and you can put what you want to eat and take it to the cashier.
When you place an order at the side dish corner in the back, the clerk will warm up the side dish and hand it to you.
Yakitori and fried foods that are not on the table or refrigerator will be cooked and brought to you after ordering.
Neji : I'm just talking about illness because it's salty, but when I made a stay in Busan last June.I got urethritis due to stress. People in Busan always feel like they are with someone and the boundaries between themselves and others are loose. Even when I want to think alone, there are people who come into the room saying "Who do you like AKB?" In Japanese in Katakoto. It was pretty painful. At that time, I was made aware of the boundary between myself and others, and I thought that the artificial technique for eliminating my boundary would be dance for me. I realized again that I enjoy dancing as a procedure to serve the place, get involved in movements, and prevent myself from being myself.
Fujiwara : Oh, I think I understand a little. People from Australia and the United States also came to Manila, but since they are all sociable, they always talk to me when I work alone in a cafe, for example. It feels natural. So, Filipinos like to talk, so they talk to me (laughs). But when I got sick, I didn't want to speak English anymore, so I thought I'd leave it alone …
Neji : What does Filipino accent English mean? Filipino Glish? ??
Fujiwara : There are more than 7,100 islands in the Philippines, and it seems that they have 172 mother tongues, but Tagalog is used in Manila. The English with the Tagalog accent is called Taglish. Compared to the Australian accent, the English of Taglish people is very easy to understand. English is an official language in the Philippines, but it's not native, so when it comes to English, it seems to be a little different. Often, it seems that the condition can be painful, and it is called English panic.
By the way, are you going to the second cup soon?
Neji : That's good. I was curious about the gully highball, but …
Fujiwara : Then I'm Woolong High.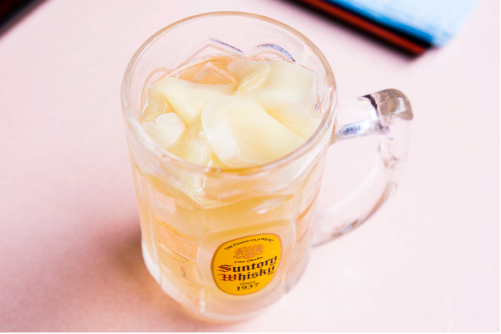 "Gari highball" with gari topping on highball
Neji : Eh! Gari was this gully! I thought it was a tight, tight highball without permission (laughs).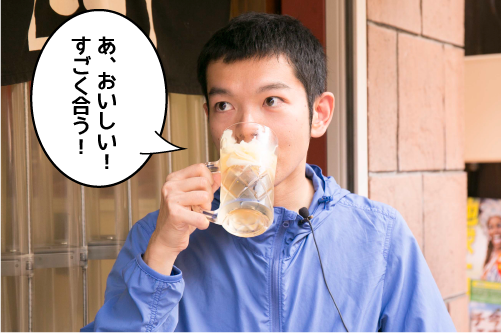 About accents-Tatsumi Hijikata and Shuji Terayama
Fujiwara : Continuing from earlier, Filipinos can speak English well because of national policy. In other words, there is always the feeling of having more than one languagehand. That's amazing, isn't it?
Neji : Chikara-san is from Kochi, right? Is the standard language completely different from Tosa dialect?
Fujiwara : Ah, that's completely different. What about Akita dialect and standard language?
Neji : I seem to be intonation for a short time. "Ka-" becomes "ga-". However, it's easy to understand how to divide the accent and the standard language, but in reality, the accent comes first and the standard language comes later, so it's strange in terms of expression (laughs).
Fujiwara : Certainly. By the way, about the same butoh dancer from Akita as Mr. Neji-Tatsumi Hijikata's accent, Mr. Neji pointed out that it was the word of a person who once had no accent.
Neji : Yes. I think Mr. Hijikata is a person who actively adopted Tohoku. He is a very smart person from modern dance, and he created a completely new term called "Butoh". It's a great invention, and I think it really thought out and broke through.
As for the dialect, it seems that Hijikata-san's funeral return was a record of Hijikata-san's speaking voice. A company made a CD of it, which is now being traded at a fairly high price, but when I heard it, I thought, "Oh, this is the Akita dialect I'm making." Personally, I've become able to see Mr. Hijikata, who had been deified until then, a little further away, and I myself am not doing "butoh" but making original things.It was an opportunity to think that it was.
Fujiwara : I see. By the way, how about Shuji Terayama from the same Tohoku region?
Neji : I don't think Mr. Terayama's accent is the accent he makes. It's a type that is easier to hear than the locals,
I feel that it is different from Hijikata-san's operation. Somehow, I really like the way that the movement of the body and the accent of Tsugaru are mixed in various ways.
Fujiwara : Maybe it's related to today's theme "Exchange", but when I'm in a certain land, I absorb various things, and talking with the people around me has a lot of influence on my words. Isn't it going to be received? It's interesting to think that traces of various lands remain in the individual.
Theater as media
Neji : Chikara-san went to Manila this time to make a stay for a theater quest, right?
Fujiwara : Yes. With TPAM2015 as an opportunity, I was invited by that director to participate in a young festival called KARANABAL2015. Actually, this festival seems to be a three-year plan. Since this year is the first year, I focused on research and presented it as a short work by connecting the videos I took every day in Manila and the stories I interviewed in the field.

Neji : By the way, what was your first inspiration for the theater quest?
Fujiwara : The reason was a request from the art space blanClass in Idogaya. "Why don't you try something?" (Laughs). When I was little, I used to read game books a lot, so it was the first time I thought it would be interesting to do it outside. However, there are security issues in Manila, and I thought I couldn't do the same thing, so I thought I should see the city, meet people, listen to stories, and assemble from there. That's why I'm not particular about the format.
So, I don't know if they have something in common, but Mr. Neji often talks about "media" lately. Actually, I also think that "theatrical quests are media". Maybe I'm the editor myself, but I think I can communicate with various people through theatrical quests, or gather various things, package them, and edit them. What do you mean by "media"?
Neji : Nowadays, so-called media is not functioning as media. Is it that literacy is needed? That's why I think theater can play that role now. I'm thinking that what's happening in this world doesn't affect my body, but when I see a theater production in a theater, it seems like I can understand the world, simply in that sense. It's called the media.
Fujiwara : Oh, as a reflection of the present world.
Neji : That's right. Even if I lived without thinking about anything, something should be written on my body, and of course even if I show it on the stage as it is, it will not be transmitted, but I think that there will be a production to bring it out. is. At least I want to focus on that.
In fact, around 2003-4, when I was inevitably chasing the contemporary dance scene, I had a vague sense of "what's happening in this world?" The work I went to see does not refer to social issues or deal with political messages, but by watching it, I feel that I know what is happening in this world. It was inside me in the audience. That's why I think the contemporary dance movement at that time played a role as a medium. At that time, I had the feeling that when I went to the ST spot, I could understand something.
Fujiwara : That's amazing. If you go to the ST spot, you can see something about modern Japan, right?
Neji : That's right. It was really like that. But now I feel that theater is playing that role, not dance.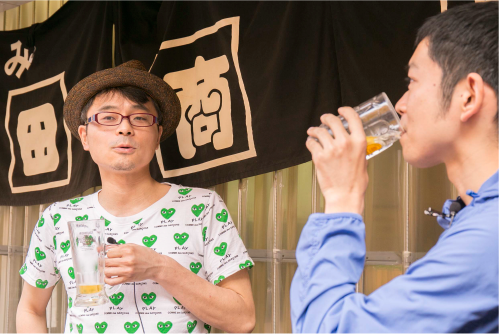 Fujiwara : 最近、鴻英良さんの「猿の演劇論」を受講したんですけど、そこで、鴻さんが「古代ギリシャの演劇の役割」について話されていて、それも、今まさに捩子さんが言っていた意味でのメディアに近いと思います。たとえばアテナイの市民に「今スパルタに攻められているけどどうする?」みたいな内容の演劇を見せたり、近親相姦についての倫理観を示したりして、観た後にみんなで議論するという、まさにメディアですよね。
捩子:それに通じる話題だと思うんですけど、実は僕、韓国には、密陽アリラン祭という祭を観るために行ったんですよ。そこで密陽百中ノリっていう伝統行事のデモンストレーションを観ることができると聞いて、本祭にいけないかわりにデモを観てきたんです。密陽アリラン祭のエンディングは、河から吹き出る霧と、川の奥にある山肌、その山の頂上に寺があってライトアップされてて、レーザー照明がそれらと共演する壮大なマルチメディアショーになっているんです。そのレーザー照明とともに、植民地時代に日本軍によって虐げられた朝鮮民族が密陽の自警団によって救われるという内容の寸劇が入るんですよ。もちろん日本軍役もでてきて、地元住民を射殺する長いシーンもある。
それを観たとき、最初はプロパガンダ演劇みたいなものかと思ったんですけど、福岡に戻ってそのことを友人の手塚夏子さんに話したら、「健全なナショナリズムと不健全なナショナリズム」の話になったんです。それでいうと韓国は健全、日本は不健全ということになるんですけど、なるほどなって思いました。ギリシア演劇の話もそうですけど、自分たちが過去に陥った凄惨な歴史を、演劇にして何度も観ることによって消化していくというプロセスを辿っているわけです。だから決してプロパガンダではないんですね。演劇それ自体がメディアだということにも繋がりますけど、そういった演劇をちゃんと観るということ、それは反日教育とかではなくではなく、必要なプロセスとして今なお、演劇が要請されているということだと思うんです。逆に日本はどちらかというと見ないようにするとか「まあいいじゃん」って言って年ごとにリセットする能力に長けているというわけでvinegar. To put it very simply, in the case of South Korea and Greek Shea, there is a play as a mechanism to see what you don't want to see.
Fujiwara : In that sense, the work that Mr. Okada of chelfitsch is working on recently may be conscious of that kind of thing. "How do you show what you don't want to see?"
Neji : I wonder if this process should be done in Japan as well. But no one will see it … Somehow, the principle of Japan is Latin in a sense (laughs).
Fujiwara : Where did it come from? I feel that the feeling of "I don't want to see it" is probably after the war …
Neji : Isn't it good for Japanese people to make things work without anyone deciding?
Fujiwara : It's probably old, and the story of the Tsushima elder in "Forgotten Japanese" (written by Tsuneichi Miyamoto) is exactly like that. I'm supposed to be discussing a certain agenda, but instead of discussing it, I endlessly talk about memories like "I used to have something like this …" and come to a conclusion before I knew it.
Neji : I'm doing things that aren't suitable for many things, Japanese people. Debate or democracy.
Fujiwara : In fact, it can be said that global capitalism has come in and that the demand for it has to develop the economy nationally, or that the debate is not good. However, when I said that the feeling of "not making a decision" is a good thing about Japan, I feel that I am in a society where things do not progress unless I make a decision within a certain sense of speed. By the way, when I returned from Manila, an American asked me what I miss you in Japanese, and after thinking about it for a while, I answered "No". Is there any? ?? ??
Screw : Hmm …
Fujiwara : In a famous story, Soseki Natsume translated "I love you" into "The moon is beautiful." If "I miss you" was an old Japanese word, I think it was rather entrusted to Japanese poems. That's why I need at least 5, 7, and 5, and if possible, I think it would be better to have 5, 7, 5, 7, and 7 (laughs).
Neji : It's long (laughs) It's long and I don't know what you're saying, so isn't it okay with "i miss you"?
Fujiwara : That's right (laughs) If you're an ethnic group that needs five, seven, five, seven, seven to express your feelings, then you'll be left behind in the world of global international competitiveness. But after all, I don't want to say "I miss you" so easily.
34 "src =" http://magcul.net/wordpress/wp-content/uploads/2015/06/PIJIN_BUNNER-10.png "width =" 501 ">
Encounter with Butoh
Fujiwara : The story changed, and I read the interviews from the point where Mr. Neji met Butoh and entered the Dairakudakan to the present, but it looks like a "rolling stone" (laughs). )
Neji : lol
I will link to the story of the media, but in Noh, for example, there is a feeling that a certain performing art that has been handed down until then is written on the body of the Noh actor, not "the dance of this Noh actor". I think. In the same way, it's not me, but the feeling that "there is this entertainment written on my body", that's the feeling that the body is a medium, but Miryang Hyakuchu Nori and Pyonshinchum There was a performance called (Byeongsin chum), and a 96-year-old grandma who couldn't walk by herself came out with a piggyback ride and danced for a few minutes and went home. That's really good. As we get older, it seems that the history of the person, the performing arts he is doing, and the time he has spent are all written on his body, rather than being a dancer. That's why I'm a dancer, but it's not what the dancer is doing, that is, it feels like "I'm not me." That feeling is really good for me. The one that comes to mind right away is Kazuo Ohno. Mr. Ohno's ego is overwritten on Mr. Ohno's body. Therefore, there is a feeling that it is Kazuo Ohno who is doing it, not Kazuo Ohno. Surely reach such an area and knowI think I want to live that long because I have a sense of it.
Fujiwara : I see. I think it's a big thing that Mr. Neji suddenly jumped into the core of Butoh at the starting point. I think it can be said that Dairakudakan was already quite historic in 2000 when Mr. Neji entered, but maybe there was a feeling that you could touch the history of physical expression through Dairakudakan. Isn't it?
Neji : That may be true. Butoh's technique is about how to create a system that works like you are not. To put it simply, it's just a paraphrase, such as "raise your right hand" instead of "raise your right hand", "place your body" instead of "standing", or "walk" instead of "walking". It depends on that. How to put yourself in a state of "not me" in that way is one technique, and I think it is a characteristic of Butoh. That's why it has an effect.
Fujiwara : Why do you think Mr. Neji fits in there in the first place?
Neji : Why …
You went to see the performance of Dairakudakan and wrote your resume and sent it that day. I think there is something deep inside, but at that time it didn't matter and it was cosplay for me. I just want to be that! I say.
Fujiwara : Neji : Yeah (laughs) That's why it's cosplay. Not wrong at all.
Fujiwara : Oh, can I ask for lemon sour?
Neji : Well then, with beer. Oh, and the bowl curry was 100 yen. I want to eat that too!
I want dance to be something that has no dullness
Neji : It's a little connected to the way Greek and Korean theater should be, but I have the feeling that I want to show something I don't like because it's a habit that is the underlying qualities. I feel like it.
There is an episode …
One day, I was sitting in the priority seat of the train. I have a stance of giving up if the person I need comes in front of me, and if it's vacant, I'm the type to sit in the priority seat, but that day was rattle, so I sat down and read the paperback book. The train was crowded before long, but I didn't notice it because I was too focused on the paperback books. Then I heard a voice saying "a little", and when I looked in front of me, my grandmother was standing in front of me. Next to that, there is a woman in her late 40s, who says, "Hey, this is a priority seat." So, of course, I gave up my seat by saying, "Oh, I'm sorry," but what do you think I did at that time? ??
Fujiwara : Eh …・. I don't know … Is it a tongue-in-cheek? ??
Neji : Well, maybe it's close. I didn't do it because I wanted to do it, but I was surprised to do it myself, but at that time I acted badly.
Fujiwara : Ah …
Neji : I have that kind of desire in myself, and I think that's quite a part of my work. It's like a habit. Saying that I felt a sense of mission, I am making works in various countries, but I was depressed when I realized that this is the root of my creation. But I was depressed but gave up (laughs)
Fujiwara : Is that what you are?
Neji : That's right . So what I want to say is that the part where I go to see someone's work and get impressed is that part of the person who makes it. I'm very moved by that. I can't say it well, but recently I've been saying that kind of thing is "unusable". Is it because it is such an "unusable thing" that it does not have to be used? But "I can't use it" isn't a very good word, so I have to invent a better word.
Fujiwara : "I can't use it."
= "color: # 4682b4"> Screw: That's right. I would like to talk about dance in the continuation, but first returning to the story of the Miryang Arirang Festival, in the final scene of the skit of the multimedia show, the Korean flag is projected on the river and mountain surfaces in a huge way. It will be a big chorus of Arirang. Up to that point, it's nationalism, but at the end, we all start dancing with that as a material. When I saw it, the babies jumped onto the stage and danced okkechumu (shoulder dance) without permission.
Fujiwara : Hey ~~~! !! !!
Neji : I think that the okkechumu at that time wasn't nationalism, it was just something like glue, but I feel that dance should deal with such "unused things."
Fujiwara : Oh.
Neji : Even nationalism is no longer just an ondo. It's something that doesn't have any dullness, but I want dance to be that kind of thing …
Here, the curry has been spilled.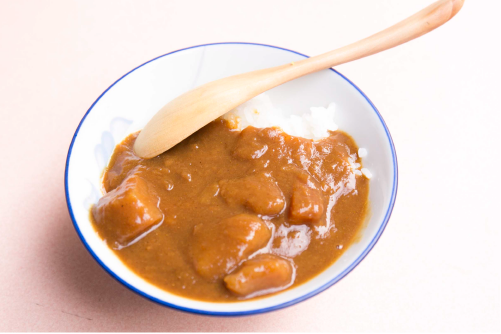 an style = "color: # ff9900"> Fujiwara: Oh! amazing! Home curry-like.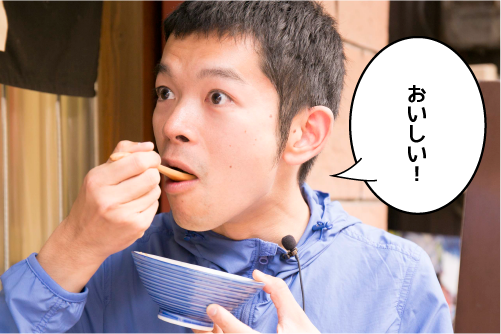 the next deployment
Fujiwara : By the way, you're about to have a new performance at the Red Brick Warehouse, right? ..
Neji : That's right. This time I'm sponsoring it, so I'm thinking about various things. Originally, the point that I was interested in was that something happened unexpectedly, so to speak, it was like an accident, but I think that 300 people are interesting and only 10 people are interesting. However, those 10 people may be shocked enough to cry and go home (laughs).
Fujiwara : It's amazing, isn't it? (Laughs)
Neji : Yeah (laughs) But it seems that everyone else doesn't know what happened. I don't want to do that.
5/06/PIJIN_BUNNER-13.png "width =" 501 ">
NEJI PIJIN / URBAN FOLK ENTERTAINMENT
<This event has ended. >
Date: 6/25 (Thursday). 26 (Friday). 27 (Saturday)
Venue: Yokohama Red Brick Warehouse Number 1
* Please see related events for details.
Neji : And one of the things I'm interested in right now is to think about what kind of situation there is in order to get out of the relationship of seeing and seeing and to establish a dance, and actually do it. That's it. I think that the relationship that people see people is theater, and I think that's really good. But dance is not the relationship itself. Until now, I have dealt with the physical reactions that arise from that relationship. If you continue to treat dance as it is, there is a feeling that you want to get out of that relationship. I feel that dance doesn't have to be seen by people somewhere. So, to give an easy-to-understand example, I would like to invent by actually doing such things as walking toward the eyes of a typhoon and getting involved in the whole body. What's more, I think it's better to share it with several people instead of doing it alone. For example, everyone may get the flu and have a fever of 40 degrees and share their physical condition at that time.
0 "> Fujiwara: It's dangerous … But if you catch a cold, you'll be conscious of your body.
Neji : Yes, it feels like it's not me. It's awkward to have a high fever and tremble, but it's fun (laughs)
Fujiwara : Whether you do it or not, it's an opportunity to be aware of what you do on a daily basis.
Neji : That's right . That's why I'm thinking of recruiting people who can deal with this kind of thing with the same amount of energy as I do, and when I get together, I'm thinking of working for a limited time of three years.
Fujiwara : Do you want to create a company?
Neji : Yeah. I thought it would be good to get together with such people to create a company. Right now, I'm more interested in that than making a new work. That said, you may suddenly want to make a new work, but that's fine.
Fujiwara : Of course. But why is it limited to 3 years?
Neji : After all, groups are difficult. Don't you really hate it when you're getting tired and quitting?
Fujiwara: The company is super fun.
Well, Mr. Neji is a "rolling stone" (laughs)
Neji : Lol. I pray that there are no slopes as much as possible …
Fujiwara : But I think the metaphor for "rolling stones" is that the corners gradually get rounded and rounded while rolling, but Mr. Neji may not. (Laughs)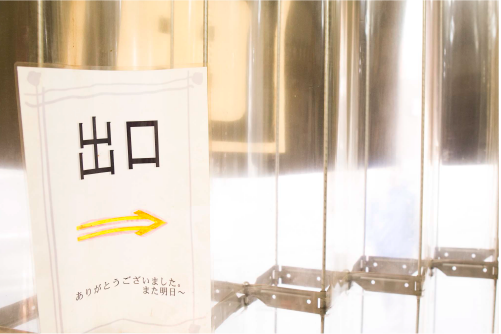 Complete
Here is the store information
Click here for the food I received this time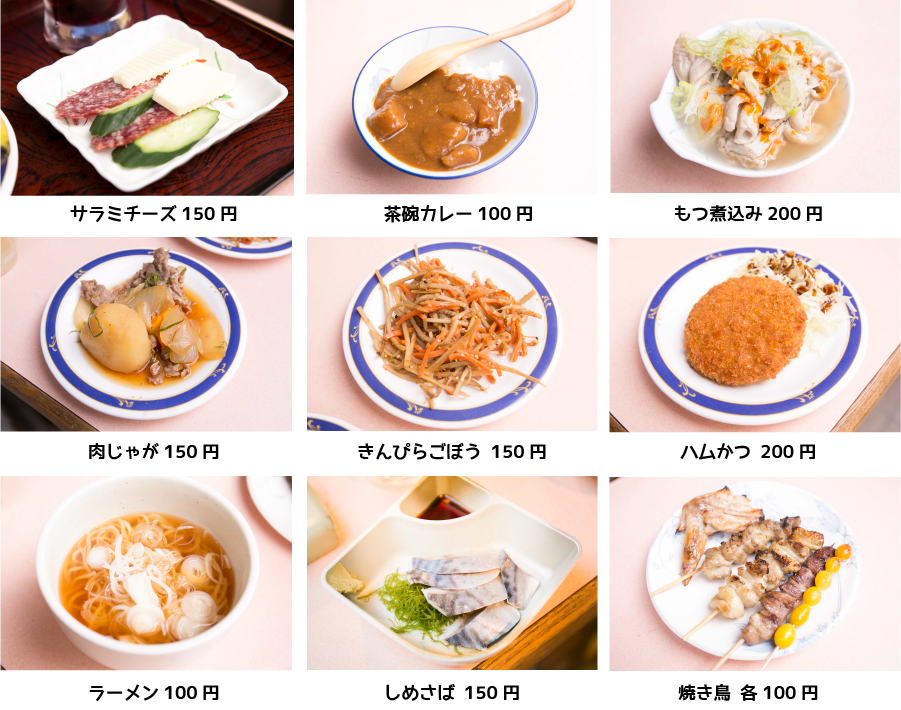 And today's recommendation is
Standing swallow Shimoda store
1-6-4 Tsunashimanishi, Kohoku-ku, Yokohama-shi, Kanagawa
TEL : 045-593-6437
Business hours : 16: 00-24: 00 (LO23: 30) * Open on Sundays
Access : 2 minutes walk from the west exit of Tsunashima Station on the Tokyu Toyoko Line
Related article