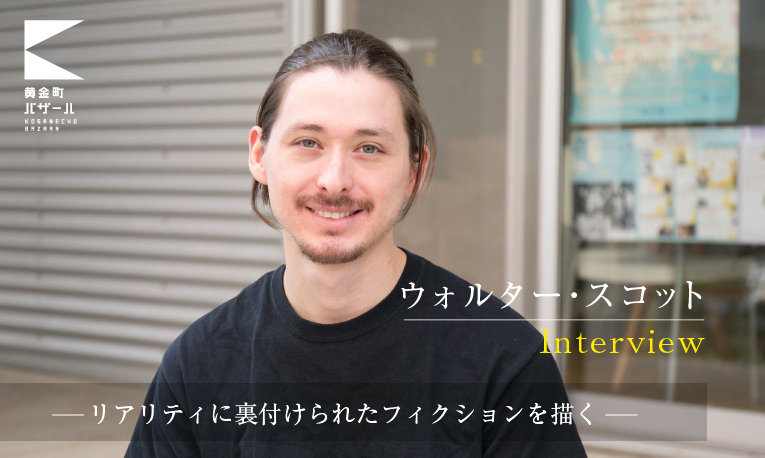 text: Akiko Inoue
interview: Sakiko Wakiya
photo: Masamasa Nishino
Walter Scott, an artist from Montreal, Canada, exhibited at Koganecho Bazaar 2014 (hereinafter referred to as Bazaar). His masterpiece is a comic series that depicts various events in the indie art scene unfolded by the main character "Wendy," who is an indigenous people of North America and projects his own identity as an artist. This time, I stayed in Koganecho for the bazaar and asked him to talk about his exhibited works, focusing on "Wendy: The Disaster of Yokohama" that he made based on his own experience. What was his impression of the city of Koganecho and Japan, where he experienced, recorded and analyzed it as an important process of his work? Even after the interview was over, Walter's back was smiling as he went out into the city and had a conversation with a stranger.
About the comic work "Wendy"
-First of all, I would like to ask you about Wendy's comic, which is also a masterpiece and is scheduled to be announced at this Koganecho Bazaar 2014. What kind of work is this work?
Walter Scott (W) : A series of stories about a girl named "Wendy" who projected myself. Wendy is making works in the indie art scene, but he does not have such expertise, he has something he is aiming for, but he draws a slightly unstable situation where it is not achieved. I am.
ads / 2014/07/77368d90c066aaa7563f10095ed80298.jpg "width =" 500 ">
-What was the intention of setting a character for a young woman when projecting yourself? And why is Wendy's dream shattered every time?
W : I have no special intention to set it as a woman.
At first, I drew a small drawing, and when my friend praised it, I started making this work. That's why I don't absolutely want to draw a woman.
Also, the difficulties Wendy experiences are based not only on myself but also on the experiences of my friends. I often hear from my friends the pain and worries of the creative world, and I want to know not only myself but also the experiences of people like that. Sometimes I hear very personal and deep stories (laughs).
-Please tell us a little more about the comic work "Wendy".
W : A 34-page comic with a color cover. Half will be set in Montreal, Canada, and the other half will be set in a Japanese town centered around Koganecho. There are three characters, and each story unfolds. And this time, the Japanese translation will also be handwritten. The work is almost complete, and all I have to do is wait for the bookbinding. The bound work is combined with the Koganecho Artbook Bazaar at Hinode Studio./bazaar-bazaar.html "> Bazaar I will sell it at Bazaar. By the way, I also designed the signboard for sale. I also plan to sell knapsacks on campus.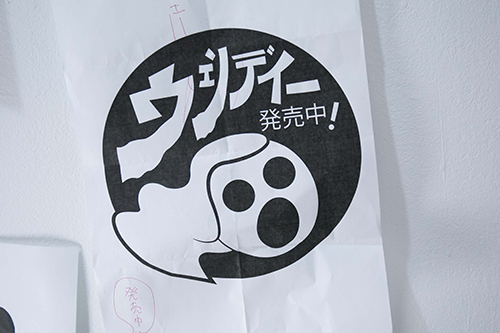 Signboard design (in the process of production)
-Why did you set the stage in two places, Canada and Japan?
W : One of my methods of creating works is to first record what happened to me, analyze them from an objective point of view, and then start drawing. But it's very difficult to do it in a short period of time. The original concept was to make all the events in Yokohama into one comic, but due to time constraints, I decided to incorporate half of the works in Canada.
-So, the two works are different rather than connected.
Now that the word "record" has come up, how far have you researched around Koganecho and the city of Yokohama?
Not to mention Koganecho, there are times when I made it based on my experience in Shinjuku. My work doesn't focus on drawing concrete signs or backgrounds that can identify the city where the stage is set, so the characters areI think there is a general atmosphere where you don't know where you are or where the stage is. However, a certain Shinjuku bar comes in an easy-to-understand form.
-It seems that you are making sculptures other than the comic series.
W : Sculptures are created with a purer part in mind, which is different from comics, so creating them in parallel with the Wendy series will enhance your inspiration. It is connected. By the way, the sculptures will be exhibited in the exhibition space above the Koganecho Artbook Bazaar.
-Specifically, what kind of sculpture is it?
W : I made some cubic lamps with a height of about 40 cm, and when I plug them in, they shine.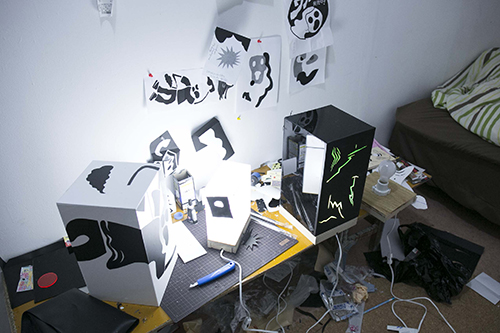 Sculpture work (in the process of production)
About Virtual Community Asia-Golden Town Bazaar 2014
-This time, you applied for the bazaar by open recruitment, but the application was successful.What is the kake?
W : The biggest reason was that Ms. Makiko Hara, the curator of this exhibition, gave me some advice.
-Is the title Virtual Community Asia also involved in your motivation when applying? Also, please tell us what you feel when you actually make a stay.
W : Wendy's work is a completely virtual story, so I think it fits very well in that sense. After actually staying there, I find it very interesting to draw fiction based on the reality I experienced in this real world. Also, I'm from an indigenous people in Montreal, Canada, but the indigenous people have a unique language, so I always replace my language with English. Since I came to Japan, I feel that there is a need for further conversion from English to Japanese, and that there is such a complicated community situation.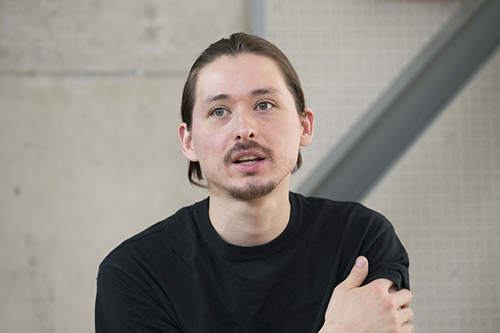 Koganecho / Japan as seen from Walter
-By the way, what kind of impression did you have when you came to Japan, lived here in Koganecho, and walked around Japan to research your work?
W : WellCompared to Canada, Japan is about 20% smaller in terms of people and buildings, but I have a very good impression of that. It's very elegant and inspiring. Especially the Yokohama area is less noisy than Tokyo. In that sense, I really like Koganecho. I get some impression every day.
-The word "elegant" has come up now, but please tell us a little more about that image.
W : I think that so-called elegance is a little different from this area, but I feel the elegance of the image of Japan as a whole, especially the way Japanese people live and architecture. Limited to the Koganecho area, there are new buildings and old houses with very narrow frontages, and that kind of imbalance is very charming and comfortable.
-Among all the research, what is the most recommended spot around Koganecho from Walter's point of view?
W : Ootoya in Isezakicho. Fried chicken is delicious (laughs)
-Laughs!
Now, the last question, what kind of people would you like to see this exhibition at Koganecho Bazaar 2014?
W : I was surprised that more people were watching my work than I had expected before, but it is a major premise that I want more people to see my work this time as well, especially. For people in the art industry, interesting parts that seem to project themselvesI think you can find something in common, so please read it. However, I would like people who are not specialized in art to know the contents of the art industry (and the core part that projects my own experience) through "Wendy".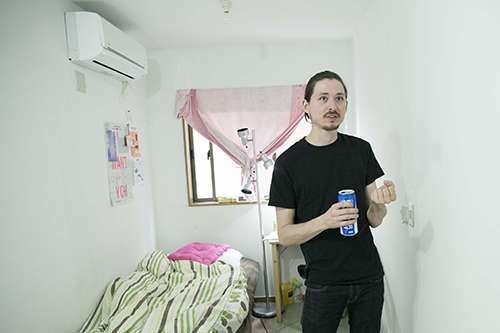 After the interview, in Walter's room
■ 《Wendy: Yokohama's disaster》
Sales location: Koganecho Artbook Bazaar , Bazaar Bazaar
Sculpture work exhibition place: Hinode Studio (work number 02)
* A passport (charged) valid during the exhibition period is required to view the exhibition.