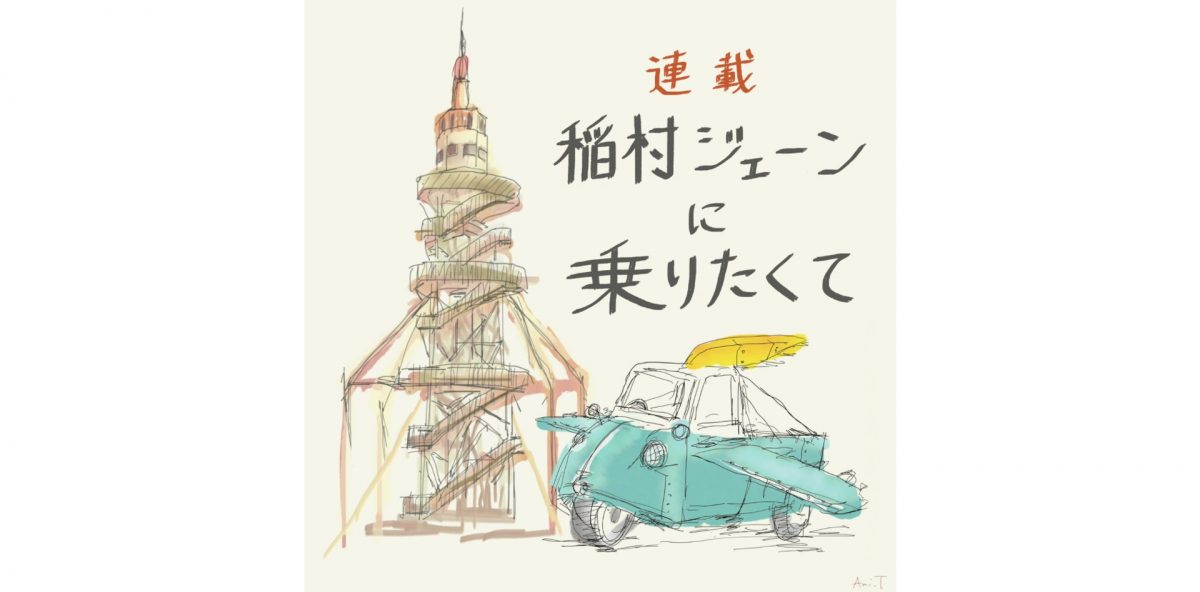 [Series] I want to ride Inamura Jane (1)-In search of Keisuke Kuwata's "summer"-
(Please note that this page was created using Google's automatic translation service and understand that because of this, its translation may not necessarily be accurate.)
It was released only on VHS / laser discs, and I thought I would never see it again.
That director Keisuke Kuwata's work is back! This series celebrates it and how to enjoy this summer
It is also a challenge to pursue "the original scenery of Shonan that Mr. Kuwata was seeing".
We hope you enjoy it with a cola in your hand. (Author)
This is Chigasaki City Brandin University, Shonan Culture Laboratory.
As a professor, I am conducting research that is not good for the world and for the sake of the world, from a two-sided approach of history and intellectual history, centered on Shonan's music culture.
The scoring of the summer exam was over, and this year I was stretching out to enjoy "Shonan's summer" and so on ..., ridiculous news came in.
"That summer's big wave is back"
Ami : Teacher, it's terrible to call to the laboratory during the summer vacation ~
Oz : And what's that email? "It's a pine! It's a pine tree!" ...
Professor : I'm sorry. But now, this summer, I have a request for you guys.
Ami : What are you doing, please.
Professor : Actually ... I want to ride Jane.
Oz : What?
① 30th year emotional
Professor : Did you guys go to the "Chigasaki Film Festival * 1"?
Oz : Yes! Both of them managed to get a ticket and see it.
Professor : Well, I was able to see it on a big screen and loud sound for the first time.
Ami : There was also a teacher!
Professor : Um, I was sucked into the remastered video. I wasn't aware of the poster for "Wakadaisho in Hawaii" on VHS. I'm disqualified as a professor, I wrote a resignation.
Oz : Hey! wait a minute.
Ami : No, teacher, super emo ...
Professor : There, with the last jobAnd this summer, I would like two people to help me with this research.
2 people : (Gollum ...)
Professor : What the hell is "Inamura Jane"! ??
* 1 On June 25, 2021, on the 43rd anniversary of the debut of Southern All Stars, it was screened as a special invitation film for the 10th anniversary of the "Chigasaki Film Festival".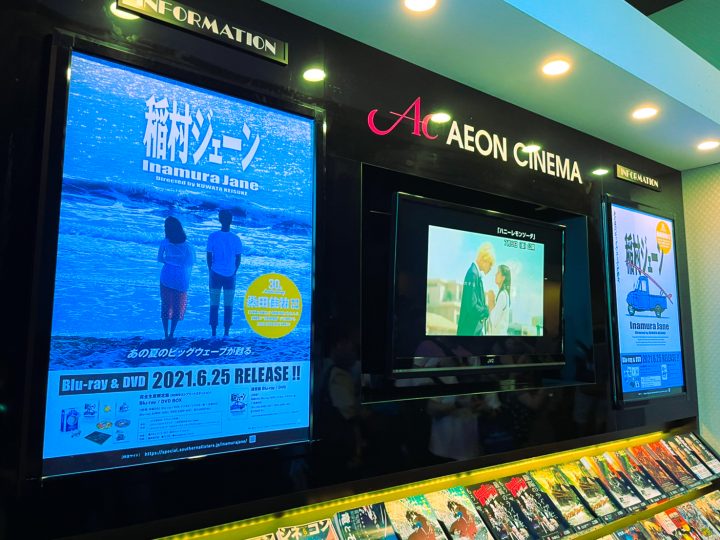 [Research Note]
On June 25, 1988, the Southern All Stars celebrated their 10th anniversary with the 24th Single "Minna no Uta". It has been revived for the first time in three years. Looking at Keisuke Kuwata's remarks around this time, there are many themes of returning to the origin. While the band activities since school days have become "a size that cannot be accommodated by the members alone", it can be seen that they are searching for a way of enjoying (lifestyle) that suits their own life work.
"I'll show you Southern, who seemed to have died three years ago, the energy to live well," he said, "I just don't want to cling to the Southern band's brand." ("Non-no", July 1988).
In front of this single and the summer tour "Great Resurrection Festival", music critic Kenta Hagiwara, who has been a friend since college, said, "Kuwata is now the most enjoyed music in the personal world in high school and college. There seems to be a desire to return to (...) The keyword is "70s pop music" "(" GORO "May 1988). Kuwata's youth is exactly the 70's, and Jane's era setting of 1965 is not yet real-time.
Here you can also see Keisuke Kuwata's longing for the 1960s. After all, it was the time when the Beatles were there. Kuwata liked the 27th single "Furi Furi '65" released in 1989 the following year, but the reason he liked 65 was the release year of "HELP" by The Beatles, and it was very natural that John wore a straw hat there. Because I liked it.
For Kuwata, this 1960sThe division between the 1970s and the 1970s is very large. The beginning of 70 years was the dissolution of the Beatles, and he himself, who was in the second year of junior high school, recalls that "the values so far have shifted". This sense of value is that the world of pop music, which had seemed healthy until then, has moved from a pure love song to an affair song, and I feel like I've seen the world become a get-together with "anything with affair (...)". Do it "(" Cosmopolitan "October 1988).
The era of student activism is over, and I can't be a bad student or an honor student. Debuted in 1978 while sending such a blue school era. Kuwata liked pop music and universal monogoto while sending a dizzying 80's in the entertainment world. A more innocent and simpler one is fine. In 1987, I went to New York with Hiroshi Matsuda and touched on the pureness of the musicians over there. "So I think I felt that'Sindbad'is a pretty great pop song." ("Esquire Japan Version" December 1987).
However, as a band, they always try to live in the present and continue to seek new things. It is believed that this was the significance of the Southern 10th Anniversary. Efforts and aspirations to continue the band.
First, Kuwata thought of a new "place" for music.
At that time, Amuse Cinema City, which was established as the movie division of Amuse, had a series of movie projects called "Amuse 10 Movies". It is well known that Masaharu Fukuyama passed the audition for this project in 1988 and became a member of Amuse (by the way, Fukuyama also participated in the "Inamura Jane" audition). It is presumed that the story of a movie project involving Kuwata came up from 1987 to the beginning of 1988 after "Aiko 16 sai" starring Yasuko Tomita.
The first report to the fans is not a newsletter or media such as TV and radio, but a LIVE MC. The above-mentioned "Great Easter" Chiakiraku in 1988, performed at Yokohama Stadium on September 19th. As a souvenir for the fans who kept them waiting for three years, "We will make a movie with the best director in Japan!"
-image-254774 "/>
② Legendary wave
Professor : So, at the beginning of the movie, it seems that the relationship of "music supervision" was supposed.
Oz : Speaking of which, in 1989, the 25th single "Song to the Goddesses (To the Unreported Y-type Beyond)" was released in the form of a video single.
Ami : The next single, "Goodbye Baby," is the theme song for the movie "If She Turns into a Swimsuit."
Professor : Yes, in other words, I sublimated PV into a work and put it out into the world, and I chose the image of a movie as a new "place". He said at the time, "I want to find the media in which music lives" (Fm fan, April 1989).
Oz : Recently, MV (music video) is the mainstream rather than PV (promotional video). This is exactly the MV ...
Ami : Making your own music, directing, directing, and appearing in the video ...
Professor : Yeah, it's the way music culture should be as of the 3rd year of Reiwa. It's no different from what young artists are doing on their PCs and smartphones. Kuwata-san and Southern were aware of that earlier than anyone else.
Ami : You're a director from a different industry, right? Today, entertainers make movies as a matter of course. Mr. Kuwata's sharpness of this antenna ...
Professor : At that time, there were few examples of successful film directors in different fields. It will be Heisei from January 8, 1989, but this year is exactly the "first year of video".
Oz : So Mr. Kuwata made a movie about the legendary wave in his hometown of Shonan.
Professor : Yes, I'm confronting the word "Shonan Sound" that I hated (laughs) Well, I think you all know the content of the movie, but this "wave" shows what it is. Do you think
Ami : What is "Jane"? That's the problem.
Oz : After all, the "picture" of this wave doesn't come out firmly ...
Professor : It's often said in this movie that there is no surfing scene, but that's not the case. "Wave" called "Jane"Even, it's not clearly drawn. It's the best.
Ami : Do you have any hints?
Professor : In response to these questions, he answered "an abstract thing that can be described as sex between men and women or replaced with the waves of the times" (Bungei Shunju, September 1990), 60. Whether it's the 1980s or the 1980s, on the premise of the spiciness of all ages, "It may be the" fantasy wave "that relieves that stress" ("GORO", February 1989). , Or "It is a symbol of catharsis" ("SPA!", March 1989).
Oz : What is it?
Ami : Catharsis ...
Professor : Oops, today is also the time for the "Red Dragonfly" chime. Next time, let's think about what "Jane" means.
※This story is a fiction.
Written by Junsei Shaku (Chairman of Shonan Rock and Roll Center AGAIN, Buddhist scholar)
Born in a temple in Chigasaki City in 1989. Specializes in Japanese Pure Land Buddhism and Japanese intellectual history. To commemorate the 40th anniversary of the Southern All Stars, a book "Our Chigasaki Monogatari: Japanese Pops Genesis Chigasaki Sound History" that summarizes the Chigasaki sound culture of Keisuke Kuwata, Yuzo Kayama, Kunihiko Kase, Kiyohiko Ozaki, etc. Publication.
Currently, he is the main DJ of "Shonan Rock and Roll Center RADIO" every Monday from 22:10 to Kamakura FM.
Official site: https://www.srcagain.com/
Editorial cooperation:
Ami Tazaki
Dai Ozawa
(Researcher, Shonan Rock and Roll Center AGAIN)