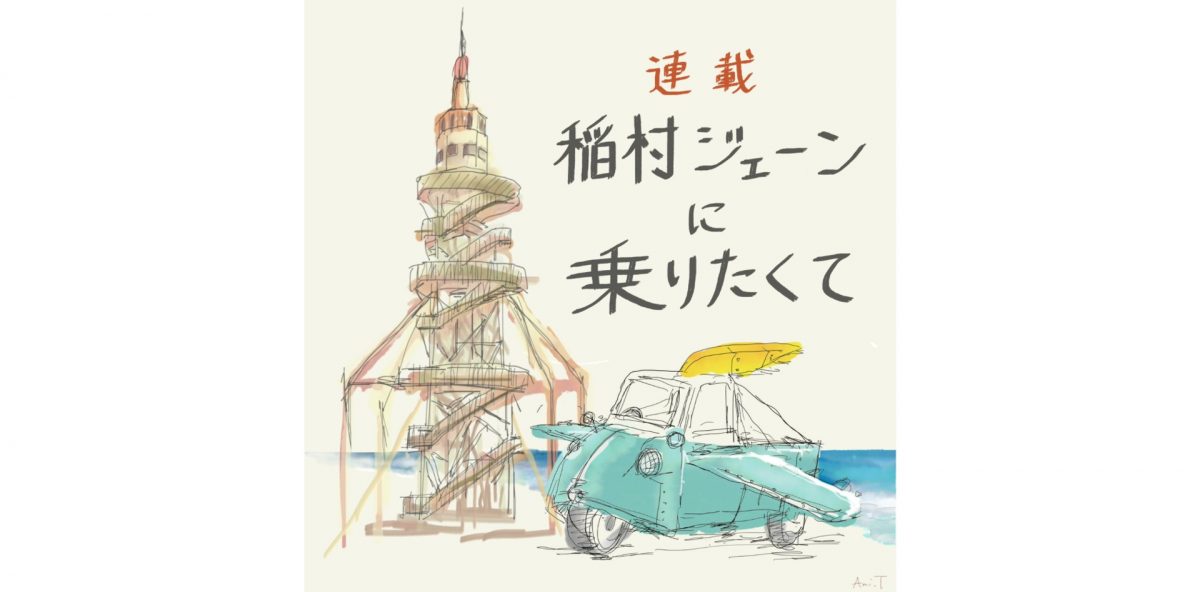 [Series] I want to ride Inamura Jane (2)-In search of Keisuke Kuwata's "summer"-
(Please note that this page was created using Google's automatic translation service and understand that because of this, its translation may not necessarily be accurate.)
The director Keisuke Kuwata's work, which I thought I would never see again, is back!
This series celebrates that and is also a challenge to pursue "the original scenery of Shonan that Mr. Kuwata saw".
What is Shonan? What is summer? We hope you enjoy it with a cola in your hand. (Author)
Chigasaki after the rainy season.
4:30 am after the "Akatsuki (still dark time)", which is the closest to the gods and Buddha in the Kamakura period.
I've been waiting! Just as I said, the cicadas began to cry all at once, trying to live today's life.
So far, many predecessors have challenged the problem, "Where is Shonan?"
However, as a scholar at the Shonan Cultural Laboratory, this problem cannot be avoided.
Yes, he says in this movie, "I wanted to portray the true Shonan in my heart."
Chigasaki City Brandin University is still hot today.
① There was no such thing as "Shonan" ...
Professor: Eboshi's ~ Summer is awesome ~ Nothing, it's summer ~, bang!
Ami: Teacher! is it OK! ??
Oz: Teacher! It's spring in Erimo! !!
Professor: Good morning, I'm sorry, I couldn't sleep because I noticed so much.
Oz: Did you notice? No way, teacher, Jane's true identity ...
Professor: No, no. You were born in Chigasaki and Hiratsuka, right?
Ami: Yes, I've crossed the Sagami River today too!
Professor: Then, did you know which part of that movie was actually shot in the Shonan area of Chigasaki and Kamakura?
Oz: Yes, in the place where Uba Rock is reflected, in Enoden, Inamuragasaki ...
Ami: There was also Pacific Park.
Professor: Apparently, the Western-style building where Chinese antique dealers live also used the Western-style building that was really in Kamakura. Actually, it seems that most of the shooting was set in Izu or the studio.
Oz: Yeah! Why is it a movie set in Shonan?ざわざ…

教授:つまりだね。当時すでに、25年前の1965年を再現できる環境が、この湘南エリアにはなかったことを意味しているんじゃないかな。
【研究ノート1】

 桑田佳祐は述べる。「いまの湘南って、シャレた建物が並んで海の見える青山通りみたいな感じだけど、オレの心象風景としては、素朴で淋しい海というイメージなんだよね。家の近所には、結核の療養所があって…。すっかり変わっちゃったよね。それは湘南だけでなくこの国全体にいえることで、地域性なんてなくなってサ、なにか、とり返しのつかない方向に進んでいる」(『with』1990年10月)と。

 この時期の「湘南」を評す桑田の言葉が、非常に痛快で、また我々に自己内省を促す。例えば上述の「海の見える青山通り」・「海の見えるキラー通り」化だったり、東京の人がイメージする「カリフォルニアの青い空」(『fm STATION』1989年 No.6)、「葉山とかは、まだ情緒あるからいいけど茅ヶ崎とかもうミニ東京になっちゃったもんね」(『AERA』1990年9月11日)だったりと…。

 彼は自分の中にある湘南はそんな表面的でキレイなものじゃないと、そのような「湘南」感覚を否定する。もっとクオリティの悪い清々しくない排他的だった湘南に愛着があり、また妙なもの悲しさがあったと言うのだ。

 しかし無常の波は例外なく湘南・茅ヶ崎にも押し寄せていた。その内実は、地方都市・田舎としての「東京への憧れ」である。「やっぱり東京に憧れているからそうなるんじゃないかな。でも海の見える青山通り化を目指してると、駅のたたずまいとか、道路とか、よかったものを根こそぎ捨てないと新しくなれない。捨てたものは、もう帰ってこないでしょう。だから、湘南と言われると、茅ヶ崎も浦和もみんな同じになったような気がしちゃうんですよ」(『週刊文春』1990年9月6日)。映画内ではレストラン・ビーナスを、東京の外食産業会社が買い取ろうとするシーンが描かれていた。

 サナトリウム・南湖院は明治32年(1899年)に開設され、国木田独歩や石川啄木などの文化人や上流階層の患者の入院があったことから、茅ヶ崎の知名度アップにつながった。そして開設の前年に東海道本線茅ヶ崎停車場が置かれたことにより、海沿いの別荘地として茅ヶ崎は発展する。

 桑田が生まれた1956年にHas also canceled the requisition of the hospital, which was already a US military facility camp in Japan. Even so, that atmosphere would still have remained in the land of Nanko where Kuwata grew up. However, in 1985, the station building opened, and chain stores such as Red Lobster and First Kitchen opened in the fisherman's town. Chigasaki at the time of making the movie was far from the original scenery that Kuwata knew.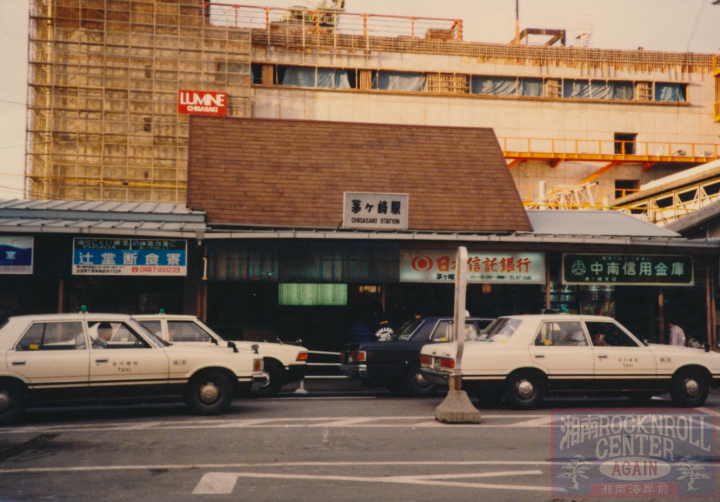 (December 1984, the last day of the old building at Chigasaki Station)
Professor: People who have lived in the Shonan area for a long time don't often use the word "Shonan". What would you say when asked where you were from?
Oz: This is Chigasaki!
Ami: Hiratsuka! !!
Professor: That's right, but for those who are not in the Kanto area, it is Shonan in Kanagawa Prefecture! Or say something like that (laughs)
2 people: Certainly ...
Professor: This is an interesting part of human beings. Mr. Kuwata didn't even know the word "Shonan Boy" until he entered university, and it's different that he himself is listed as a genealogy of Yujiro Ishihara and Yuzo Kayama. Of course, there is humility in saying "honor", but I think I felt the danger of categorization and tying such as "Shonan Sound". It is said that "individuals" will disappear.
Ami: Yujiro's Shonan, Wakadaisho's Shonan, and Kuwata-san's Shonan are all good.
Oz: You don't have to accept the clearly packaged "Shonan" image ...
Professor: Mr. Kuwata also says that he doesn't hate that kind of "summer! It's the sea!" (Laughs), but I think Chigasaki should be Chigasaki. I think so too, and when I look at the blue sky, the sea, the white sands, and the goods with palm trees, Chigasaki is just an illusion. This is a problem that still exists today, and in fact, "Shonan" no longer exists, right? I also think.
アミ:そこで桑田さんは「真実の湘南」を、映画の中で表そうとしたんですね。

教授:それも本業である音楽との合わせ技ですよ。前回お話したときに出てきた映画『彼女が水着にきがえたら』が「表湘南」ならば、自分は「裏湘南」をやると宣言しています。サザンの活動につきまとう「湘南サウンド」という言葉との対決です。彼は地元の人間としてのアンチテーゼであって、それに対する答えという意味でも、映画の中で「真実」を演出したいとね。

オズ:『真夏の果実』、略して「真実」ですね!

セミ:ミーンミンミンミーン…
②退屈と偶然

【研究ノート2】

 映画のパンフレットやポスターなどには、以下のキャッチコピーが書かれている。

「いつも、なにかものたりなかった。若者たちはいつの時代も退屈な日常の中で生きている。」

 桑田佳祐は若者たちの青春を「退屈」と表現した。もちろん実際は若者たちだけではなく、現代人全世代の生き方への問題提起でもある。

 彼は自身が辿ってきた道をふりかえり、「オレらも立派な青春なんか過ごしてないよ。でも、オレらの音楽とか、偶然が重なっていまになるようなことがあるじゃないですか?バカな純粋さっていうか、単に道歩いててコンテストのチラシ拾ってやっちゃったみたいなさ。だからねぇ、そういうものを信じてほしいなって思う」(『GORO』1989年2月23日)と夢や偶然を信じるといった純粋さを大切にしようと強調する。

 加山雄三と桑田佳祐は十八歳の年の差だ。「加山さんなんかが作った『湘南』にみんなが憧れているってのは分かるんだけど、僕らの時は、憧れる対象なんて漠然としちゃってもう何も無いっていう時代だからね」(『Number』1990年9月5日)と、世代による「湘南」に対する表現の違い。それは特に加山の青春時代と桑田の青春時代の間では顕著であった。

 ゼロ(0)を発見したインド人ではないが、「何もない」のだけれど、「何もない」がある。その「何もない」世界に投げられた(「被投性」ハイデガー、九鬼周造)この私という現存在で、可能性を生きるしかない。我々は存在しない可能性もあったにもかかわらず存在している、という有り難さ。このかけがえのなさこそが、偶然を信じるということに繋がるのではないだろうmosquito.
What if Kuwata says the movie "Inamura Jane" in one word? "Oh, Shonan has changed. It used to be poor, but it's a movie that seems to have been true" (Smile, September 15, 1990). ing.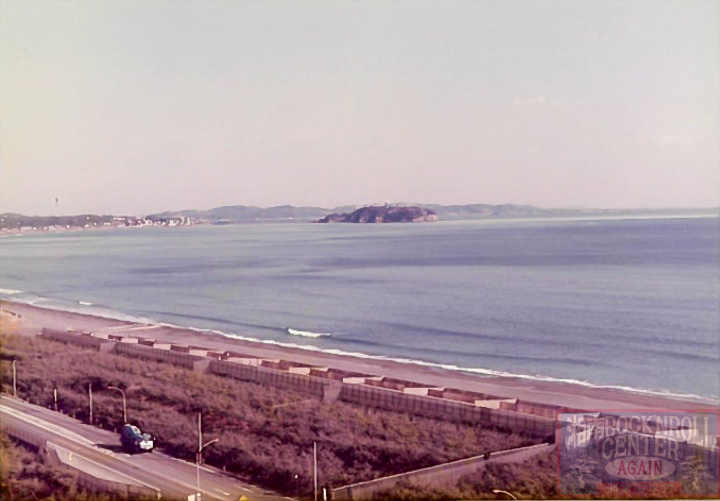 (View of Enoshima from Pacific Hotel)

(Shonan? No, the fox at Cape Erimo)
Professor: In this movie, Mr. Kuwata wanted to draw "Youth with nothing".
Oz: Oh, so did you sing "Cape Erimo" earlier?
Professor: That's right! It's composed by Takuro Yoshida and written by Osami Okamoto. Actually, when this song was first released, there was an episode in which the local people got angry, saying, "What is nothing!" Of course, we have settled by contributing to raising the name of the song by hitting it (laughs).
Ami: Aha (laughs) But it's difficult, isn't it? I feel that it would be nice to have "luxury to do nothing" in travel pamphlets, and the word "slow life" is often used for the Shonan area.
Professor: It's a Japanese wabi-sabi. If it is used to mean that Shonan people are living a relaxed and comfortable life, they will get angry. The teacher has no time for poverty (bitter smile), but the true meaning of this word is that it originated from the movement to keep the tradition in the Italian village against the expansion of fast food restaurants as mentioned above. is.
Oz: Then ... just affirm "nothing"You can take the meaning of it!
Professor: Yes, look back on the so-called youth of junior high school and high school. Was there a big wave?
Oz: Well, when you say that ...
Ami: It's not boring, but I might have vaguely thought that something should happen someday.
Professor: Someday fun will happen, someday we will be happy. It is now looking away from the current "life" and "life." The teacher calls this "modern nihilism", but it means that there was no "ripple" that is always present in everyday life, or even unaware of its existence.
Oz: The protagonists of the movie say, "It's with the master's big wave," as a word that denies existence and possibility. So "nothing" is just boring.
Professor: Yeah, but I don't think so. Certainly big waves rarely come. However, although it may be extremely flat, "ripples" are always occurring, and every wave has a different color shape.
Ami: Exactly the same waves won't come anymore I don't want to let go ~
Professor: Naminori Johnny may have been able to ride Jane (laughs), so people who surf predict big waves while actually feeling the waves at that moment in the weather map and the sea. Isn't it waiting?
Oz: It's not a vague wait, it's a prediction, but it's a clear wait ...
Professor: Well, it's difficult to express, but I'm waiting while thinking with all my heart. Also, if you live in that way, you may come across something that is "accidental" beyond your expectations or intentions. Philosophically " Encounter However, that is the relationship with others in the movie "Inamura Jane", and I think that is the reason for the existence of the heroine named Namiko.
Ami: Teacher ... it's emo, but it's difficult!
Professor: Yeah, it was boring that I didn't realize when I was a student (laughs) Well, it's August. You guys have your own antenna, catch the waves! Summer is overPlease submit a wave report for this summer! !!
2 people: Well, is it summer vacation homework ...
Professor: (I'll do it.)
※This story is a fiction.
Written by Junsho Shaku (Chairman of Shonan Rock and Roll Center AGAIN, Buddhist scholar)
Born in a temple in Chigasaki City in 1989. Specializes in Japanese Pure Land Buddhism and Japanese intellectual history. To commemorate the 40th anniversary of the Southern All Stars, Shinko Music published a book "Our Chigasaki Monogatari: Japanese Pops Genesis Chigasaki Sound History" that summarizes the Chigasaki sound culture of Keisuke Kuwata, Yuzo Kayama, Kunihiko Kase, Kiyohiko Ozaki, etc. Publication.
Currently, he is the main DJ of "Shonan Rock and Roll Center RADIO" every Monday from 22:10 to Kamakura FM.
Official site: https://www.srcagain.com/
Editorial cooperation:
Ami Tazaki
Dai Ozawa
(Researcher, Shonan Rock and Roll Center AGAIN)
Photo courtesy of:
Takuya Saito